Cost of IVF In Turkey- Updated 2022 | ClinicSpots
In this article, we will help you plan and make the necessary arrangements for undergoing IVF in Turkey. We will also provide you with a breakdown of costs and other formalities associated with IVF in Turkey.
In Turkey, in vitro fertilization procedures have been carried out for over 30 years. Thanks to outstanding medical care provided by expert doctors. It's no surprise that Turkey has become one of the most popular destinations for couples who wish to have a baby. Every year, about 42,000 IVFs happen in Turkey. Patients from across the world travel to Turkey for quality and affordable healthcare. Take advantage of the in vitro fertilization treatment offered in Turkey.
Let's read to see why Turkey is the best option for your IVF treatment. But before that let's start with cost.
What is the cost of IVF in Turkey?
IVF is one of the most effective methods of assisted reproduction. The least cost of getting IVF treatment in Turkey is $2400. The cost can be broken into a bracketed range. For every person, the price can vary, depending on their specific needs, requirements, and patient characteristics.
The success rate for a single IVF treatment cycle is about 50–72%. As a result, many IVF rounds can be performed to implant the fertilized embryo in the uterus.
IVF treatment costs vary from hospital to hospital and by doctor's experience. On average, each IVF cycle costs approximately $2400 to $8000.
| | |
| --- | --- |
| Average cost | $3500 - $3700. |
| Lowest cost | $2,100 |
| Highest cost | $8000 |
| Hospital stay | 1 - 2 days |
| Turkey stay | 4 - 5 weeks |

The basic In Vitro Fertilisation (IVF) package includes
Stimulation Drugs

A full couple diagnosis is conducted prior to IVF during stimulation

Blood tests are performed on a daily basis.

Daily ultrasound examination

ICSI or IMSI for anaesthetic oocyte collection.
In the course of your stay in Turkey, you may incur additional expenses. These are mentioned below:
Expenses

Cost range

Medication cost

$2000 - $2500

Embryo freezing costs

$500. (including one-year storage costs).

Lodging

$50 - $60( per day) for

Hospital stay: It varies depending on the city you stay in as well as the type of room you select.

Food

$15 - $20 (per day)

Transportation

$100 - $110 (per day)
Additionally, some tests need to be performed as part of the IVF process for both men and women. These tests give the doctor a better idea of what the problem is and how to approach it. These tests are discussed below.
Tests for men:
| Test | Cost Range ( approx) |
| --- | --- |
| Spermogram | $17 - $51 |
| Urethral smear | $10 - $40 |
| Smears infection test | $10 - $35 |
| Blood tests for HIV | $20 - $25 |
| Hepatitis B , Hepatitis C. | $10 - $30 |
Tests for women:
| Test | Cost range (approx) |
| --- | --- |
| Consultation with an Endocrinologist | $100 - $120 |
| Laparoscopy | $4000 - $5500 |
| Blood clotting test | $10 - $20 |
| General urine analysis | $10 - $12 |
| Blood test for syphilis, HIV, Hepatitis B, and C | $10 - $40 |
| TORCH screen | $20 - $30 |
| Pap test Pap test | $20 - $30 |
| Smears infection test | $20 - $55 |
| Consultation with a therapist is | $100 |
| Chest X-ray | $10 - $50 |
| Electrocardiogram | $10 - $25 |
| Ultrasound of the mammary glands | $50 - $400 |
| Talk with a gynaecologist. | $100 - $120 |
Specialists develop the diagnostic plan based on the results of your report and present it to the doctor. The doctor may order an additional test based on those results.
For your convenience, we have compiled a list of the costs of IVF treatment in different cities in Turkey.
| Cities | IVF costs in Turkey |
| --- | --- |
| | $2400- $2500 |
| | $2100 - $2300 |
| | $2500 - $2700 |
| | $2200 - $2300 |

What is the Cost of IVF treatment across the world?
You can see from the graph below that IVF treatment in Turkey is relatively affordable compared with other countries in terms of treatment costs.
In order to make a better informed decision, let us compare IVF treatments around the world first.

You can see from the image above that the cost of IVF treatment in Turkey starts at around $3,500, which is relatively lower than in other countries. This makes getting IVF treatment done in Turkey a great option.
Why choose IVF in Turkey?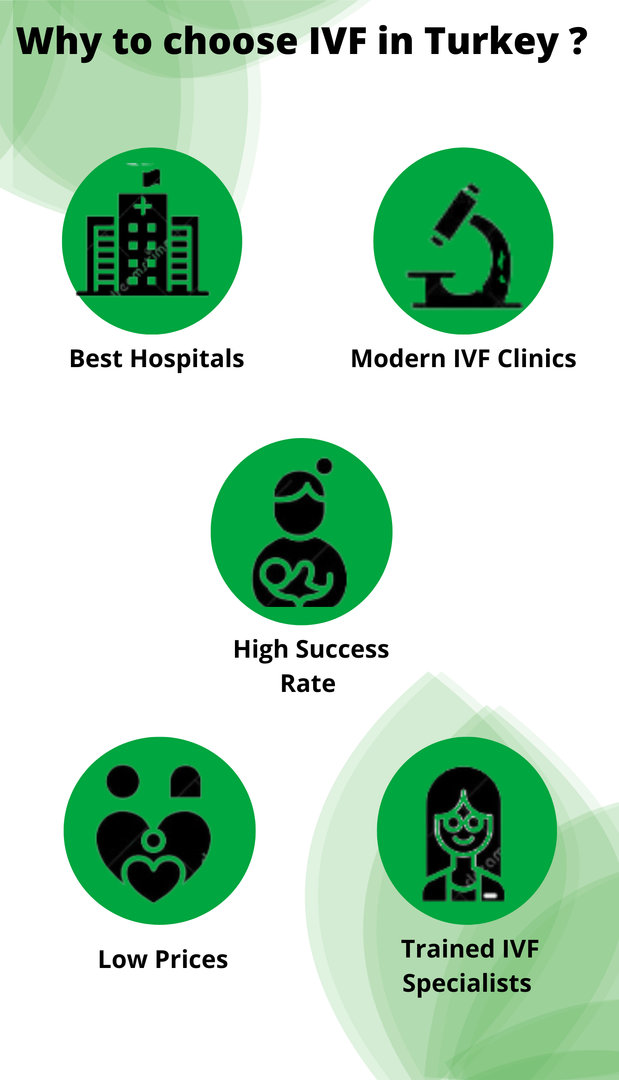 Many people travel to Turkey each year for IVF treatment. It has a large number of IVF clinics that treat domestic as well as international patients. These clinics have skilled IVF surgeons that offer their patients outstanding success rates. Let us see what the reasons people come here for IVF treatment are.
1. Best hospitals:
Turkey has

specialised centres

for fertility treatment. Many hospitals help people who wish to conceive through this procedure with complete care.
2. Modern IVF clinics
These reproductive clinics have ISO 9001 certification and Joint Commission International accreditation.

Advanced gynecological and obstetrical equipment and technology are available. Labor rooms and suites, ICUs for newborns, and fertility centers are also available.
3. Trained IVF specialists
IVF professionals in Turkey

are highly skilled, qualified, and knowledgeable about the most recent IVF procedures.

Istanbul has risen to prominence among various other cities in Turkey owing to their

trained specialists

!

They have the necessary training and knowledge of the most recent advancements in this area.



4. Low prices

IVF treatment costs in Turkey are lower than those for the exact same procedures in countries such as the USA, UK, Germany and many more.


5. High success rate

Turkey's success rate for IVF is very high, with experienced doctors and advanced medical technology.
You can also follow our page to get more information about renowned Turkish doctors and their wider range of treatments.
What is the success rate of IVF in Turkey?
Many factors contribute to the success of a pregnancy. It includes the couple's age, the quality and number of the male sperm, as well as the number of eggs available.
Now let's have a look at the rate of success of IVF treatment at various ages, in terms of the percentage of success.
Couples Age

(in years)

Success rate percentage

20-30

60-70%

30-35

51%

35 -39

45%

40-45

15%
What are the Factors affecting IVF Costs in Turkey?
The age of the lady is one of several parameters that will have a major effect on the final cost of IVF in Turkey. The probability of becoming pregnant during the first cycle decreases with age, and you may require several cycles to succeed. Your IVF procedure will thus be much more expensive.
The following are the factors affecting the cost of IVF in Turkey:
1. Difficulty in the case:
If there are many IVF failures, the cost of the procedure will increase because of the case's complications.



2. Embryo Freezing Cost:

Many couples choose to freeze their embryos so they may use them whenever it is most convenient. The expense of freezing embryos might raise the price of the procedure.



3. Age of the patient:

Women under the age of 30 have a more significant number of fertile eggs.

Women under 35 will experience successful IVF in the first few rounds.



4. Doctor's Expertise

The cost of the appointment and any additional care may differ. Turkish infertility experts are highly skilled and have dealt with more successful cases.



5. General health

While undergoing treatment, unhealthy habits may increase the cost, another cause for the increase in treatment costs.



6. Semen quality

If the semen is of low quality, the sperm may be unable to fertilize the egg. This could make IVF less likely to be effective.
To help you out through your research, we have listed treatment costs in IVF hospitals in Turkey
| IVF Hospital in Turkey | Cost Range |
| --- | --- |
| | $3500 - $3750 |
| | $3700 - $4300 |
| | $3500-$3750 |
| | $3500 - $3750 |
| | $3500 - $3750 |
How do ClinicSpots help in making your journey easier?
ClinicSpots is a medical platform that connects the best doctors and hospitals with patients around the globe. It offers a Q&A forum where people may ask questions and receive expert advice from licensed medical professionals.

Help international patients with medical visas.

Will help you to select the top treatment facilities.

Arrangement of lodging according to your budget.

Providing - the best treatment plan that suits your health condition.

An executive will be assigned to you, and they will help as your single point of contact for any issues you may have while in Turkey.
Frequently Asked Questions
Q.1) What are the four stages of IVF?
Answer: There is a standard procedure that is to be followed during an IVF; let's go through those steps:
Step 1: Control Ovarian Hyperstimulation (COH)
Step 2: Egg Retrieval
Step 3: Fertilization and Embryo Culture.
Step 4: Embryo Quality
Step 5: Embryo Transfer
Q.2) What weight is good for IVF?
Answer: The ideal BMI for a woman to go for an IVF is to be between 19 to 25.
Q.3) Do IVF babies look like their parents?
Answer: Babies don't always resemble their parents in appearance. However, if the sperm is used by their partner, the baby may look like their parents.
Q.4) Can you choose gender with IVF?
Answer: Yes, intended parents can choose the gender of their baby.
Q.5) Is IVF and test tube babies the same?
Answer: No, there is no difference between IVF and a test tube baby.
Q.6) What sperm is used for IVF?
Answer: It is recommended that at least 10 x 10 Spermatozoan/ml is used for IVF, which should have at least 30% motile and 15% progressive motility.
Frequently Asked Questions