What is the cost of Prostate Cancer Treatment in India?
On this page, you will get to know about prostate cancer treatment cost in India

The cost of prostate cancer treatment in India starts at roughly 4600 USD . Compared to the cost of surgery in the United States, this cost is significantly lower. Even when travel costs are included in, medical tourism packages save virtually tens of thousands of dollars.
This cost varies based on the facility, doctors' experience, the quality and type of device utilized, and various other factors.
The prostate cancer treatment cost in India may vary depending on the technique used, the skill and expertise of the prostate cancer doctors, surgeons, equipment, and many other variables. The cost can vary depending on the type of surgery and other patient medical conditions.
Compared to the USA and UK, India's prostate cancer treatment costs are pretty low. In India, prostate cancer surgery is a fraction of the cost of the same treatment in the United States and other developed countries. However, you will get the same treatment and care, there will not be any compromise in terms of the quality of the treatment.
Let's take a look at the cost of prostate cancer surgery in different countries around the world.
The table below shows the cost comparison of Prostate cancer surgery in various countries based on the type of surgery required.
The price comparison is given in USD:
| Prostate Cancer Surgery | India | UK | USA | Singapore | Thailand |
| --- | --- | --- | --- | --- | --- |
| Robotic Surgery | $7,500 | $28,500 | $35,000 | $11,500 | $10,000 |
| Laparoscopic Surgery | $7,500 | $23,000 | $28,500 | $9,000 | $7,000 |
| Cyber-knife Radiosurgery | $6,700 | $24,500 | $30,000 | $9,500 | $8,700 |
| High-intensity focused ultrasound | $8,000 | $28,500 | $35,000 | $11,000 | $9,500 |
| Open Surgery | $5,500 | $21,000 | $25,000 | $7,500 | $6,700 |
While developed countries generally charge huge prostate removal surgery cost to treat prostate cancer, some countries are more affordable in comparison to the USA and UK, such as Turkey ($15,000), Thailand ($17,000), and Germany ($13400).

However, India as a medical destination has a lot of potentials to offer, you can continue reading our article for your perusal and enlighten yourself on other aspects.
Read on to compare the cost of prostate cancer surgery in major Indian cities.
The cost varies by the city as well, depending on the type of procedure and the patient's medical condition. Here is an approximate cost of prostate cancer treatment in India's major cities is as follows:
| | | |
| --- | --- | --- |
| City | Cost (INR) Minimum | Cost (INR) Maximum |
| Bangalore | Rs.1,00,000 | Rs.8,50,000 |
| Delhi | Rs.1,05,000 | Rs.8,92,500 |
| Mumbai | Rs.1,10,000 | Rs.9,35,000 |
| Gurgaon | Rs.1,00,000 | Rs.8,50,000 |
| Chennai | Rs.95,000 | Rs.8,07,000 |
| Hyderabad | Rs.1,00,000 | Rs.8,50,000 |
| Pune | Rs.1,00,000 | Rs.8,50,000 |
Note: There might be a fluctuation in the anticipated cost based on your condition and other variables.
What are the various treatment options for prostate cancer?
There are different ways to treat prostate cancer. Depending on the cancer stage, a combination of therapies is provided to a prostate cancer patient. This combination of therapies majorly influences your cancer treatment cost in India. The therapies primarily used in India to cure prostate cancer are: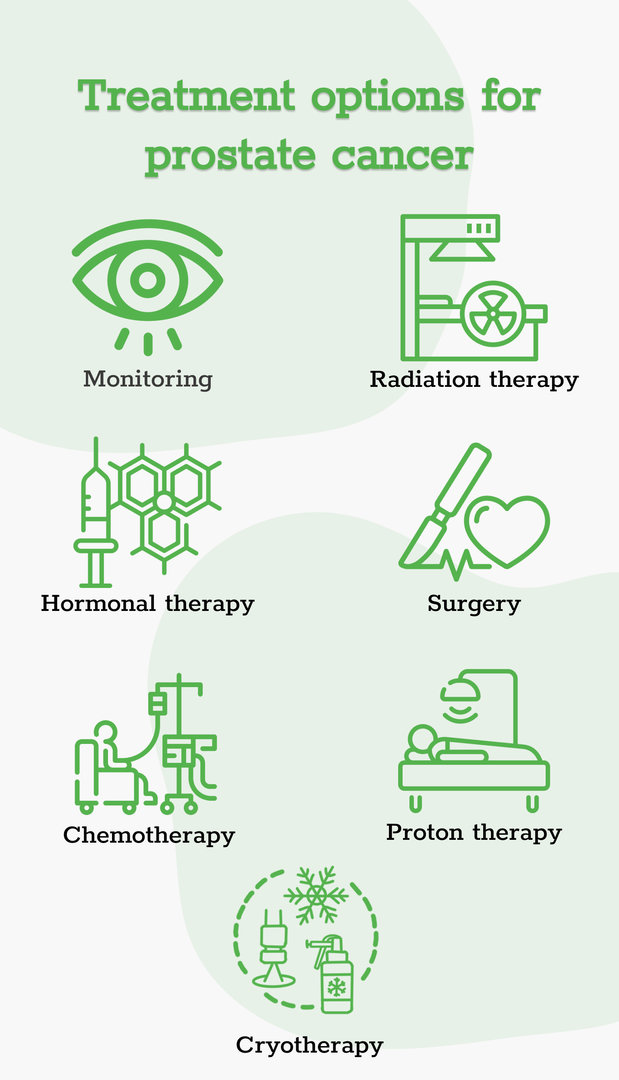 Monitoring: The majority of prostate cancers progress slowly. Hence, considering the side effects, doctors may ask you to notice the changes and recommend regular tests to check on the malignancy if it grows or spreads.

Radiation therapy: Radiation therapy is an option in the early stages of cancer or when it's not spread in the body. It's also possible that you'll get it after surgery to get rid of any cancer cells that were left behind. It also aids in treating cancer that has spread to the bones.

There are two types of radiation: internal and external beam radiation for prostate cancer. However, a combination of both therapies can sometimes be the most effective. Radiation therapy for prostate cancer costs Rs. 80,000 to Rs. 2,20,000 per cycle.

Surgery: The surgeon can also remove the prostate gland if you're healthy and your cancer hasn't spread. They could also remove the tissue that surrounds it. Surgery can be done either through laparoscopy or through open surgery.

Chemotherapy: If cancer has moved outside your prostate and hormone therapy isn't working, the doctor may recommend you for chemotherapy. Per cycle of chemotherapy for prostate cancer can cost from Rs. 25,000 to Rs. 1,50,000 depending on the stage of cancer.

Hormonal therapy: Prostate cancer cells need testosterone to continue to increase. Hormonal therapy prevents cancer cells from gaining access to them. In Hormonal treatment, some drugs can be used to modulate androgen levels, such as testosterone, to inhibit cancer growth. The cost of hormone therapy for prostate cancer in India is also affordable compared to other developed nations.

Cryotherapy: In the cases of early-stage prostate cancer, freezing the abnormal or cancer cells helps eliminate them.

Proton Therapy: As per a study by LLUMC, proton therapy improves the quality of life for patients and survivors of prostate cancer by providing a variety of compelling advantages:
It is painless because it is non-invasive.
Its accuracy is better than that of other types of radiation.

In proton therapy for prostate cancer, radiation is delivered in proton beams. The key difference from X-rays is that proton beams stop once they've delivered their energy to the target. By using proton therapy, doctors can target prostate cancer more precisely and at a great intensity with less risk of damaging tissues in the surrounding.
What is the most accurate test for prostate cancer done in India?
A prostate biopsy is the most accurate diagnostic for detecting prostate cancer. It is a procedure to remove samples of suspicious tissue from the prostate. Three out of four prostate biopsies are negative for cancer.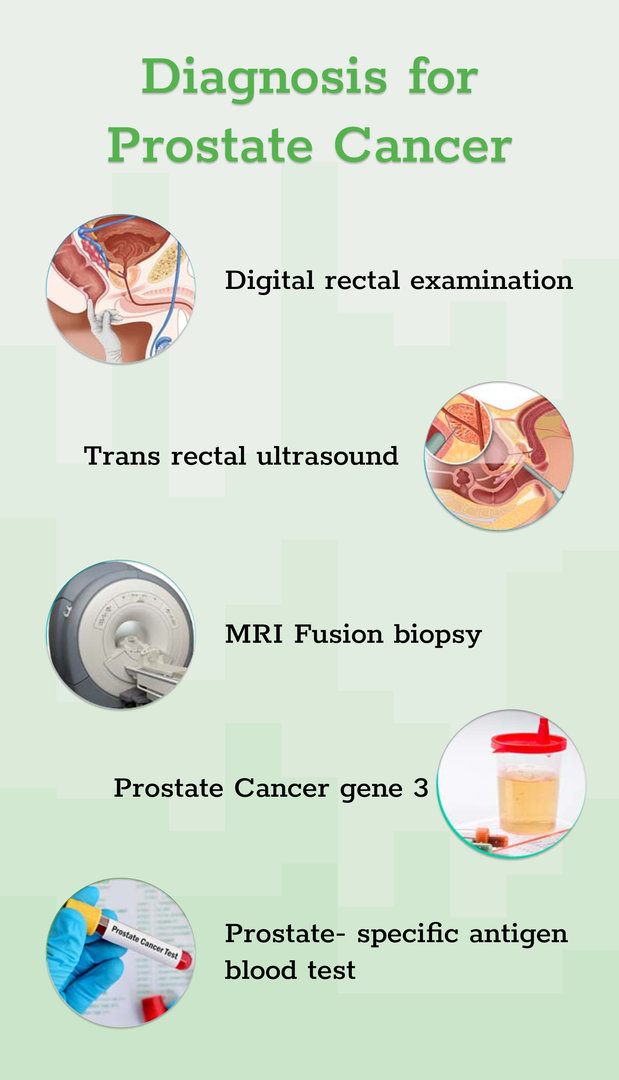 Here is a list of common tests done to know how abnormal the cancer is and what prostate biopsy tests cost in India:
| | | |
| --- | --- | --- |
| Biopsy Tests | What are they? | Cost in India |
| Trans-rectal ultrasound(TRUS) | The doctor or nurse uses a thin needle to take small samples of tissue from the prostate. | Rs. 1020 to Rs. 2100 |
| Transperineal Biopsy | This is where the doctor inserts the biopsy needle into the prostate through the skin between the testicles and the back passage | Rs. 58,000 to Rs. 90,000 |
What factors influence the cost of Prostate Cancer treatment in India?
On the other hand, the cost of prostate cancer treatment in India may vary depending on a few factors:
Types of treatment: The cost of Prostate cancer treatment in India varies depending on the type of operation and technique used. Chemotherapy and radiation therapy costs are determined by the number of sessions needed and the procedure of the radiation delivery system used.
Quality of Hospitals: The hospital's location and quality assurance are essential considerations. In India, the best hospitals for prostate cancer treatment in India can be found in major cities. These cities have international airports serviced by all of the major airlines in the world, and it is convenient to get from the airport to the hospital. There will also be a variety of lodging alternatives in the major cities, ranging from budget-friendly guesthouses to five-star hotels.
Surgeon's Qualification and Experience: The surgeon's fee is included in the hospital's expense package. This charge is determined by the doctor's years of experience, domain, qualifications, and training from prestigious medical institutes. Usually, experienced doctors are more reliable because of their excellent track records of positive outcomes.
Other costs of Hospitals: Single, shared, and premium suites are among the several hospital accommodation categories. These varieties have distinct pricing ranges, and patients can choose which one is best for them. The length of a patient's hospital stay will vary depending on the type and technique of the treatment procedure. The cost of the hospital room will be calculated based on the number of days spent in the hospital.
Apart from that consultation charges, the tumor's severity or the extent to which it has spread, medical condition of the patient, any post-surgery complications that are involved, pathology charges (Digital Rectal Exam, Prostate-Specific Antigen test, Ultrasound, and MRI Fusion are some of the tests used to identify prostate cancer) etc are also there.
Wondering why India is the most ideal destination for prostate cancer surgery? Read on to know all about it.
Why should you prefer India for your Prostate Cancer treatment?
Prostate cancer is a prevalent malignancy in men. Medical tourism is a fast-growing sector in India, with visitors traveling from all over the world to receive various medical services. India's main attraction is the high quality of healthcare provided at a reasonable cost and without a waiting list. When compared to other nations, the price of prostate cancer treatment in India is lower. For all sorts of cancer operations, most hospitals in India provide world-class facilities with advanced equipment. In Indian hospitals, medical professionals are also highly skilled, qualified, and experienced and they provide top-quality care to patients.
Reference:
Cost of Cancer Treatment in India
Frequently Asked Questions
Question and Answers (399)