What is the Kidney Transplant Cost in India?
In India Kidney transplant can be done a fraction of the price compared to other countries without any compromise on quality and care.
The kidney transplant cost in India ranges from ₹6,00,000 to ₹10,00,000 ($8,500 to $14,000). However, it may cost you up to ₹12,00,000 ($17,000) for minimally invasive surgery. This is the average cost of kidney transplant in India offered by some of the best hospitals.
International patients are required to come along with a valid donor as the transplant of the cadaveric kidney is only possible for domestic patients.
Let's take a look at kidney transplant cost in different cities in India.
What is the Kidney transplant cost in different cities of India?
The kidney transplant cost in India starts from ₹6,00,000 ($8,500). However, due to vast competition among healthcare providers several hospitals in India provide advanced treatments at economical rates. Hence, you will find an enormous cost difference when comparing various cities in India.
| CITY | COST |
| --- | --- |
| Bangalore | ₹5,00,000 to ₹12,00,000 ($7000 to $17,000) |
| Chennai | ₹4,00,000 to ₹10,00,000 ($6,000 to $14,000) |
| Hyderabad | ₹4,00,000 to ₹12,00,000 ($6,000 to $17,000) |
| Kolkata | ₹5,00,000 to ₹12,00,000 ($7000 to $17,000) |
| Mumbai | ₹4,00,000 to ₹10,00,000 ($6,000 to $14,000) |
| New Delhi | ₹4,00,000 to ₹8,00,000 ($6,000 to $12,000) |
| Pune | ₹4,00,000 to ₹9,00,000 ($6,000 to $13,000) |
Note: The above cost is an estimated value it can vary according to the surgeon, hospital, and location.
Cost for different types of Kidney Transplant:
Kidney transplantation is done by two different surgeries viz. open nephrectomy or laparoscopic nephrectomy. Below we have given the approximate value for both types of surgeries.
TYPE OF SURGERY
COST
Open surgery
₹4,00,000 to ₹12,00,000
($6,000 - $17,000)
Laparoscopic surgery
₹12,00,000 to ₹16,00,000
($17,000 - $23,000)
Note: The above cost is an estimated value it can vary according to the surgeon, hospital, and location.
Open Nephrectomy: Open surgery involves the removal of the diseased kidney and replacing it with a healthy kidney by making a large incision in the abdominal area. It requires a long recovery period of about one to two months.
Laparoscopic Nephrectomy: Laparoscopic surgery is carried out by making small incisions in the abdomen. Further, the laparoscope is positioned into the key-hole incisions to locate and dissect the kidney. The kidney is then removed through an existing incision. Comparatively, it is an expensive procedure as it involves the latest technology that requires more precision. Also, fewer stitches are made living fewer scars and require a short recovery period.
There are a lot of tests done before the transplant surgery. Read on so you can plan your treatment expenses better.
What is the cost of diagnostic tests for Kidney Transplant in India?
The preoperative tests help evaluate the medical condition of the patient. The below diagnosis facilitates the doctors to take further steps to decline the surgical risk. This will help you calculate the kidney transplant cost in India.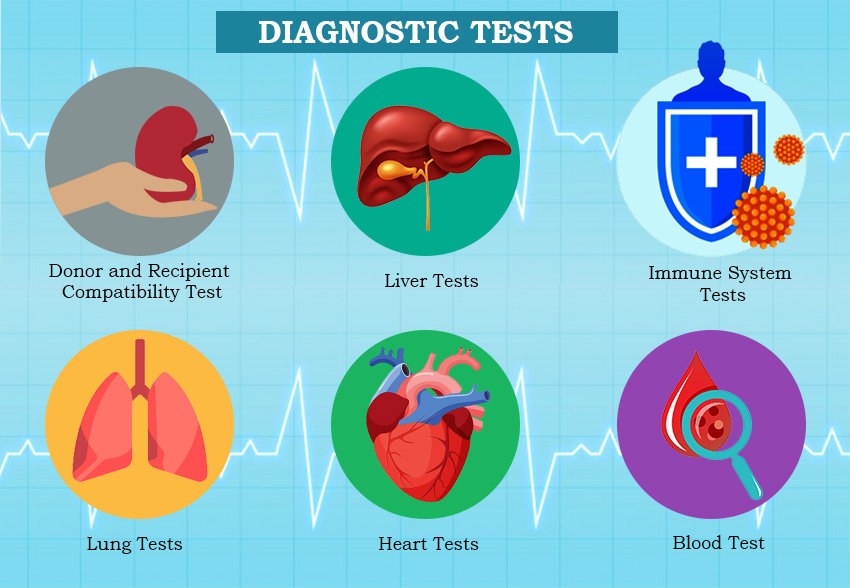 A. Donor and Recipient Compatibility Test:
A donor is examined by several blood tests and scans to confirm whether he/she is compatible and healthy to donate the kidney. This test includes:
Crossmatch test
HLA typing
All the below tests & scans
Cost: ₹1,00,000 - ₹2,00,000 lakhs ($1400 - $2800)
B. Kidney and Liver Tests:
Kidney and liver tests are performed to rule out infections and measure enzyme levels in the blood prior to transplant.
Metabolic panel blood test measures sugar level, electrolyte, fluid balance, kidney, and liver function.
Cost: ₹1,500 - ₹2,000 ($21 - $28)
Liver Function Test (LFT) measures protein, liver enzymes and bilirubin levels in your blood.
Cost: ₹300 - ₹1,000 ($4 - $14)
Lipid profile is a combination of tests conducted to detect cholesterol and triglycerides in your blood.
Cost: ₹1,000 - ₹2,500 ($14 - $35)
C. Immune System Tests:
Blood typing test determines the blood group and checks the compatibility of blood between recipient & donor.
Cost: ₹300 - ₹600 ($4 - $9)
CBC blood test evaluates overall health and detects blood disorders.
Cost: ₹200 - ₹300 ($3 - $4)
Coagulation test detects blood's ability to clot.
Cost: ₹300 - ₹900 ($4 - $13)
Antigen-antibody test detects the presence of specific antibodies in the blood.
Cost: ₹250 - ₹500 ($4 - $7)
HIV tests are designed to detect antibodies to the HIV virus.
Cost: ₹500 - ₹1000 ($7 - $14)
D. Lung Tests:
Chest X-ray diagnoses lung infection & produces images of airways, heart, blood vessels, and bones of the chest and spine.
Cost: ₹500 - ₹2000 ($7 - $28)
Pulmonary Function Test (PFT) examines pulmonary hypertension and lung capacity.
Cost: ₹800 - ₹1500 ($12 - $21)
E. Heart Tests:
ECG diagnose changes in heart rhythm and estimate the electrical activity of the heartbeat.
Cost: ₹300 - ₹700 ($4 - $10)
Cardiac Stress test measures the heart's electrical activity as you exercise on a bicycle or treadmill.
Cost: ₹12,000 - ₹15,000 ($170 - $210)
F. Blood Flow Tests:
Doppler Ultrasound measures the amount of blood flow through arteries & veins.
Cost: ₹1,000 - ₹2,000 ($14 - $28)
Pelvic CT scan helps the detection of diseases in the small bowel, colon & other internal organs.
Cost: ₹2,000 - ₹8,000 ($28 - $112)

Note: The above cost is an estimated value it can vary hospital to hospital.
Find out why India is the most ideal destination for kidney transplant surgery.
What are the factors that affect the Kidney transplant cost in India?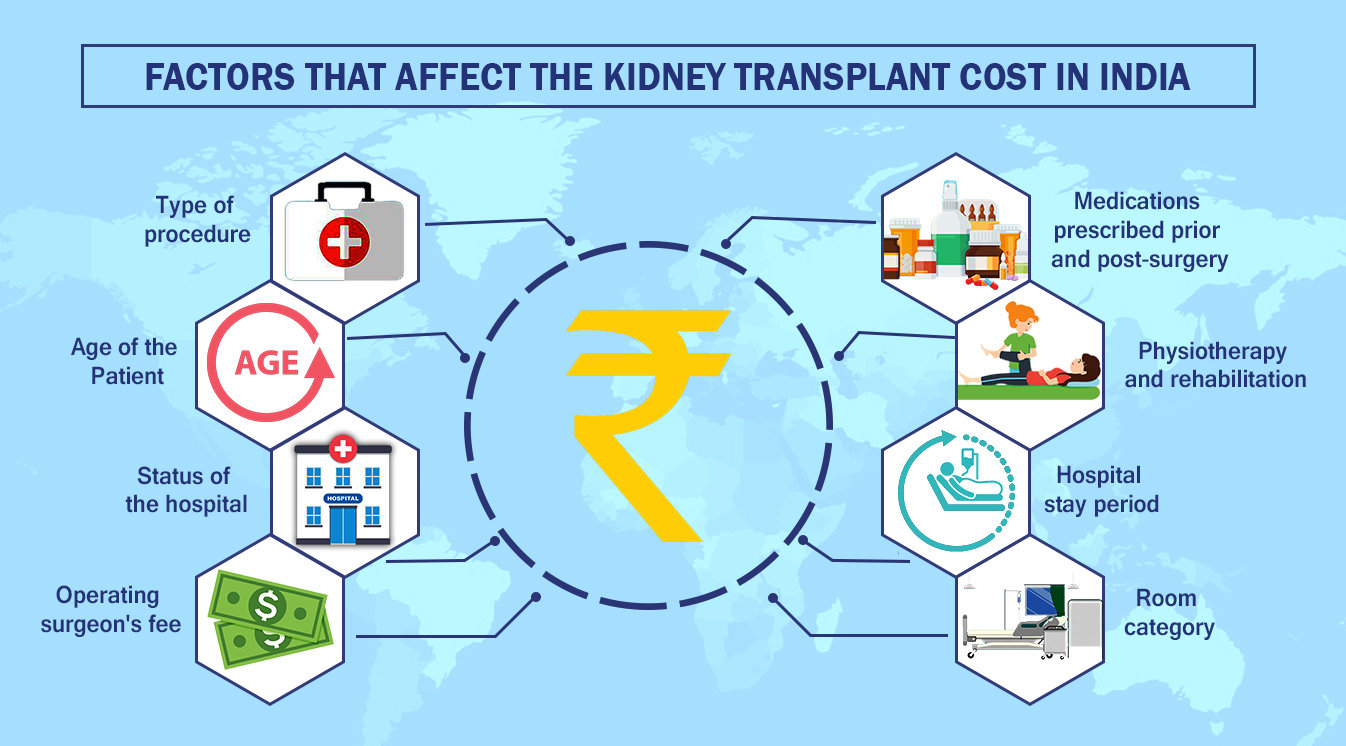 Type of procedure: Kidney transplant is carried out by two different ways viz. open surgery or laparoscopic surgery. Compared to open surgery, laparoscopic surgery is a valuable, stitch-less, less time consuming and fast recovery procedure. Hence, advanced operative techniques are charged more.

Age of the Patient: Generally, kidney transplant is done on elderly patients with diseased kidney. Many times, kidneys are donated by their family members. But younger patients, need to wait for a longer duration due to the unavailability of donors. Hence, the patients need to survive on dialysis until they find the appropriate donor.

In younger patients, kidney transplant surgery is more sensitive, requires more precision and time. Ultimately, the above conditions lead to an increase in the treatment expenses.

Type of the hospital: When you opt for a kidney transplant in a government or charitable hospital the expenses are less compared to private hospitals. The government hospitals serve valuable treatments at an economical price. Thus, numerous patients choose these hospitals for treatment. Hence, the waiting period is also longer and needs 1-2 months for your turn to come.

Operating surgeon's fee: A kidney transplant is a sensitive operation and needs great precision. This can be achieved by highly experienced and skilled surgeons available in India and major cities in India like Mumbai, Delhi, Bangalore, Hyderabad, Chennai . Surgeons with huge experience might charge more.

Medications prescribed prior and post-surgery: A kidney transplant involves the replacement of a diseased kidney with a healthy kidney received from a donor. Hence, you need to take long-term medications like anti-rejection drugs to make your body compatible with a foreign organ. The cost for pre and post-operative medications is charged separately from surgery cost.

Physiotherapy and rehabilitation: Physiotherapy and rehabilitation are implemented pre-& post-transplantation. It is effective in patients with chronic kidney disease and kidney transplants to help amplify the quality of life by upgrading muscle strength, prevention of extreme fatigue and strengthens aerobic capacity.

Hospital stay period: After a kidney transplant, it takes about 10-15 days for recovery. If the patient stays beyond the stipulated recovery time the hospitalization charges may increase.

Room category: The patient is admitted for 10-15 days post kidney transplantation process. The admission rooms are classified as general and private. According to your requirements and budget, you can select the room.
Why you should undergo a Kidney transplant in India?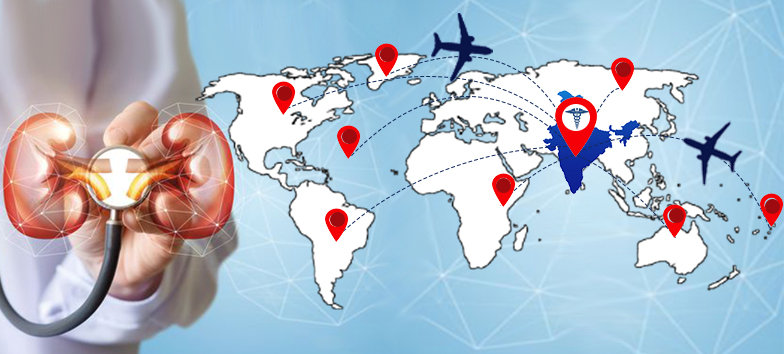 Kidney transplant in India and several similar procedures are regulated at about one-tenth of cost what it charges in USA hospitals with equivalent standards of service and medical treatment.
The kidney transplant price in India is moderately affordable compared to that of other countries.
Comparison of kidney transplant price in India with other countries:
| COUNTRY | COST |
| --- | --- |
| India | $8,500 to $17,000 |
| United States | $2,00,000 to $4,00,000 |
| United Kingdom | $49,000 to $56,000 |
| Canada | $28,000 to $35,000 |
| UAE | $28,000 to $35,000 |
| Singapore | $49,000 to $70,000 |
Apart from an economical kidney transplant cost in India, there are various other promising objectives for why medical tourists should select the country for this process. Some of those reasons are given below:
Currency: The value of Indian currency is comparatively less than the currency of other countries such as the dollar, euro, pound, etc. Hence, healthcare facilities are highly affordable in India.
Standard of Living: Indian living standards are economical compared to other developed countries. Hence, facilities like food, healthcare, transport and accommodation are relatively cheap.
Quality of Treatment: Over the years India has gained a reputation for its excellence in urology and nephrology. Here, thousands of extensive kidney transplants are implemented every year.
Top Hospitals: Most of the best kidney hospitals in India are specialized in conducting kidney transplants only by skilled surgeons. These hospitals are accredited by NABH and JCI certifications. The quality of healthcare services provided by these hospitals is as advanced and innovative as abroad.
The above factors reduce kidney transplant expenses in India. Hence, people across the world choose India for healthcare facilities.
Amenities for Domestic Patients
Health Insurance
Pathology services
Blood Bank
24-hours of pharmacy
24*7 Ambulance services
Travel assistance
General and AC Deluxe wards
Luggage room
Bank and ATM facilities
Psychological Counselling
Laundry service for patient/attendant
Wi-fi services
Parking zone
Amenities for International Patients
Online Consultation
Medical Visa Assistance
Medical Opinion
Currency Exchange
Affordable accommodation
Nursing Service
General and AC Deluxe wards
24-Hour Medical Assistance
Local Sim card
ATM facility
Language Interpreters
Disclaimer: To be on the safer side be prepared for 5% to 10% variation on the estimated cost for kidney transplant depending on your condition. These charges include surgeon's fee, operation theatre charges, anesthesia charges, hospital stay for a specific period and meals for the patient and one companion.
Cost of Nephrologyy Treatment in India
Question and Answers (15)