What is the Laser Hair Removal Cost in India?
This blog will walk you through a detailed analysis of laser hair removal cost and associated procedures. Read ahead!

You must be pleased to know that laser hair removal cost in India starts from Rs. 1500 ($22 only) approximately. To get a better understanding, here is the price for laser hair removal in India (per session) according to the area that is to be treated.
Laser Hair Removal Price List in India:
Service
Area covered
Minimum Cost
Maximum Cost
Facial
Upper Lips
Rs. 1,500
Rs. 3,500
Chin
Rs. 2,000
Rs. 3,700
Lower Face
Rs. 6,000
Rs. 8,500
Arms
Under Arms
Rs. 2,500
Rs. 4,500
Full Arms
Rs. 8,000
Rs. 13,000
Fore Arms
Rs. 6,500
Rs. 8,500
Upper Arms
Rs. 5,500
Rs. 7,500
Bikini
Regular Bikini
Rs. 3,500
Rs. 5,500
Brazilian Bikini
Rs. 4,000
Rs. 6,300
Legs
Full Legs
Rs. 12,000
Rs. 15,500
Lower Legs
Rs. 7,500
Rs. 8,500
Upper Legs
Rs. 7,700
Rs. 9,000
Other
Chest
Rs. 5,000
Rs. 7,500
Abdomen
Rs. 6,000
Rs. 7,500
Back
Rs. 7,500
Rs. 10,300
Butt
Rs. 5,500
Rs. 7,700
Full Body
Full Body
Rs. 30,000
Rs. 47,000
*The cost may vary from clinic to clinic and is subjected to change without prior notice.
No wonder, people from all over the globe be it young or old prefer coming for laser hair removal in India.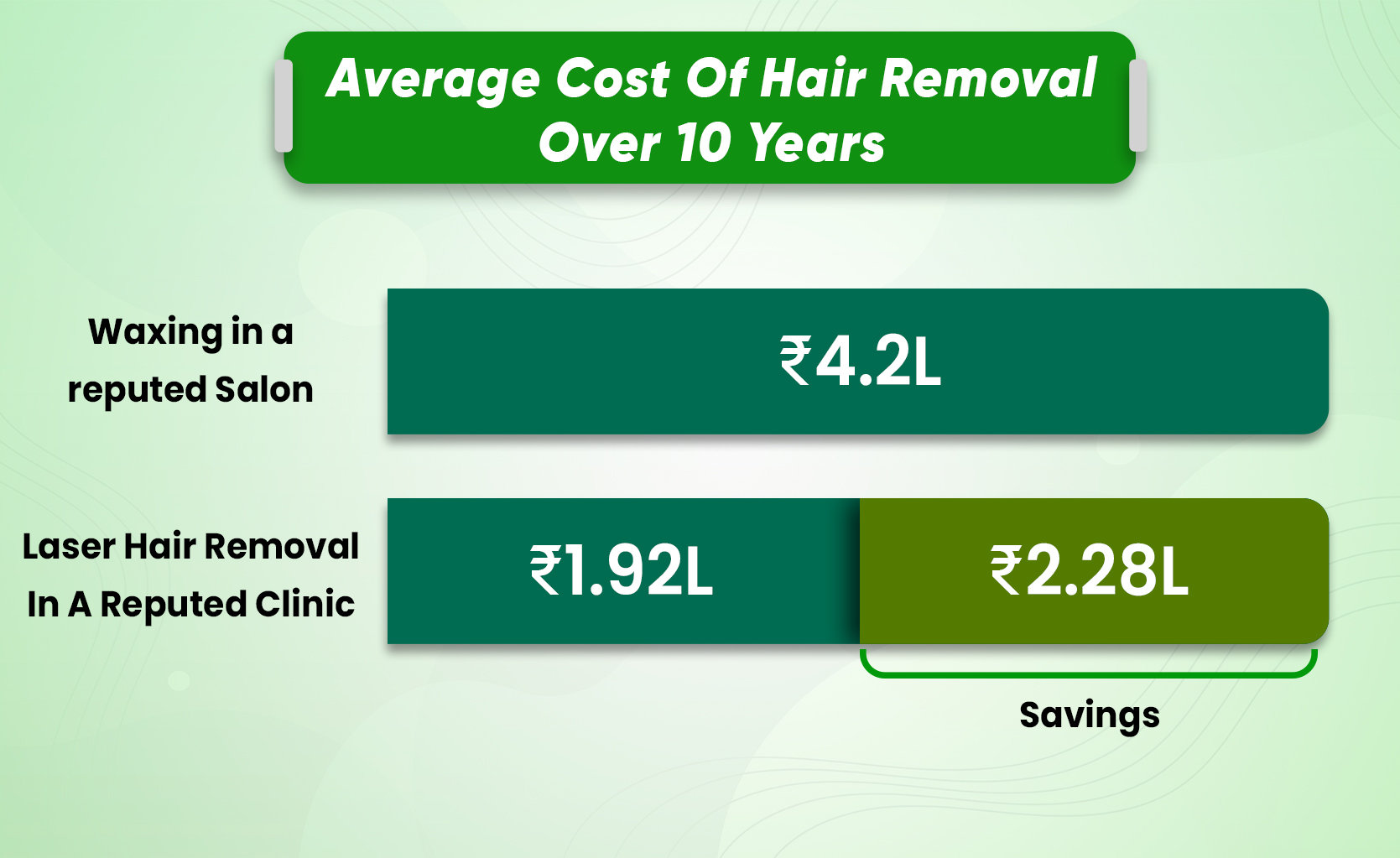 Laser hair removal cost is calculated keeping the following factors in mind:
Area : As you may be aware, treating larger area like – back, chest, full body, etc. will require more time as compared to smaller areas like – chin, eyebrows, upper lip, etc. So naturally you will have to pay much more for full body laser hair removal cost in India.
Number of sessions : It is much obvious that larger the area, the more number of sessions would be required to get a desired effect that would definitely increase the laser hair removal cost in India. It has also been noted that most of the clinics charge according to the number of sessions rather than charging for the whole treatment altogether.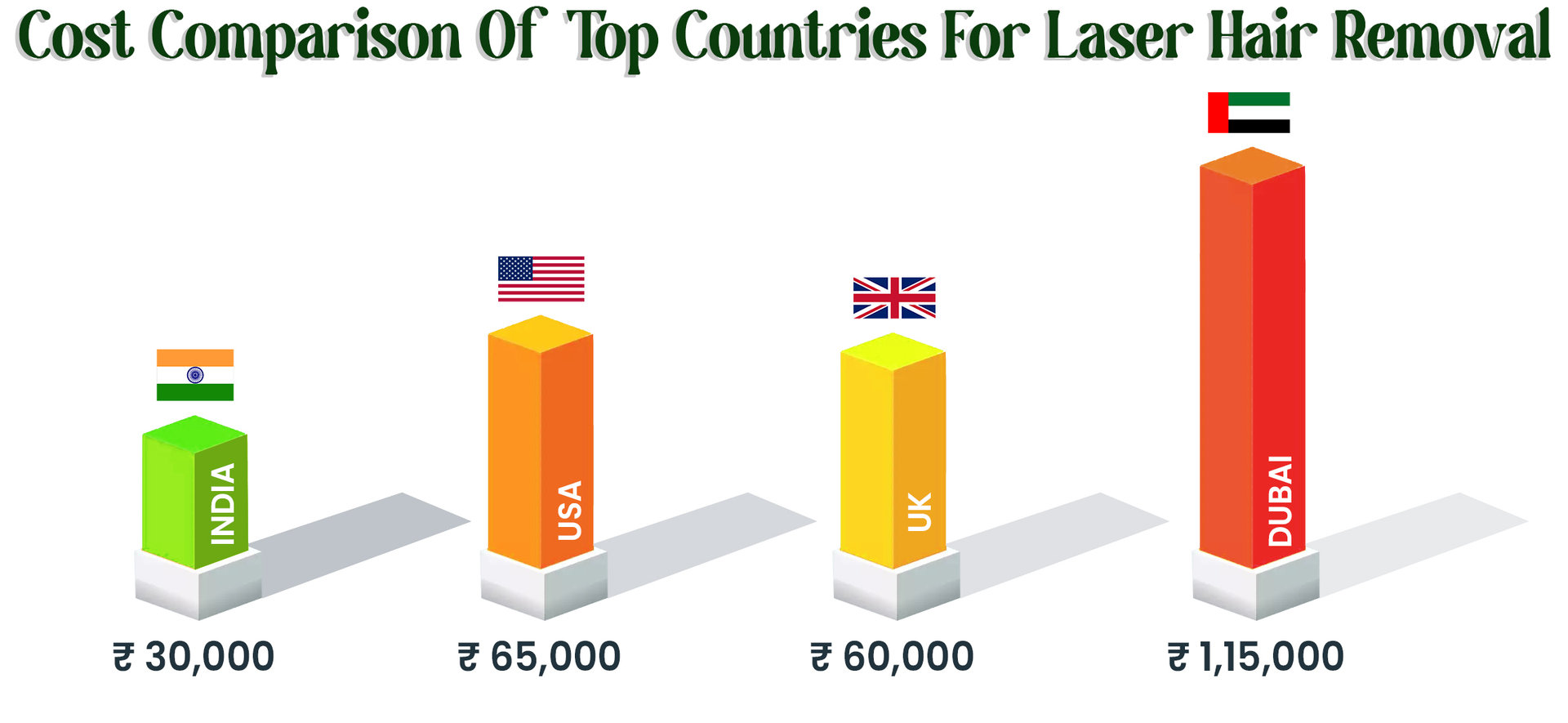 Colour of skin : Generally, laser is effective on light skin with dark hair. However, in India people usually have wheatish complexion, so advanced laser equipment is needed to treat this type of skin tone. Since it takes more time and precision to treat darker skin it becomes obvious that the laser hair removal cost in India will also increase.
Type of Hair : If the hair type is thick and dense, like on the chest and back then the cost would be high since it would take more time to destroy these hairs. Also, the total sessions required for the treatment would increase. On the contrary, the laser treatment for face hair removal cost in India is much less as the hair in that area are fine and thin.
Reputation of the clinic : The reputation of the clinic also matters. Here's why! A well-known and certified clinic would certainly charge more as they would be located in metro cities like Mumbai and Delhi and would be visited by the best doctors. And above all they use the latest technology for laser hair removal in India.

In the table given below, we have discussed the per session laser hair removal cost in India for different cities. Apart from this, it also pinpoints the most desired locations that people prefer to go for the treatment.
City

Cost starting from

(depending on the area of body to be covered)

Mumbai
Rs. 1,000 - Rs. 40,000
New Delhi
Rs. 1,000 - Rs. 65,000
Kolkata
Rs. 800 - Rs. 75,000
Bangalore
Rs. 900 - Rs. 70,000
Hyderabad
Rs. 1,700 - Rs. 50,000
Chennai
>Rs. 1,500 - Rs. 50,000
As you are aware, laser hair removal is a very convenient way to get rid of your unwanted hair. This procedure is popular all across the world and is a great alternative for the traditional way of removing your unwanted hair every month.
India is the right place to get your laser hair removal treatment as it resides some of the most experienced and talented doctors spread across the country. We have collaborated a list of best dermatologist in India and from Indian top cities- Mumbai, Delhi, Kolkata, Bangalore, Chennai, and Hyderabad. Also, you will be surprised to know that the laser hair removal cost in India is much more affordable than many other countries around the world.
Besides India, these kind of cosmetic procedures are booming in Turkey. The affordability and and quality of services are equally competitive to India. Turkey also has some of the most skilled doctors and employs the best in class technologies. Laser hair removal too is a very commonly performed procedure in Turkey and tourists are pouring heavily every year The price of laser hair removal in Turkey is $150 to $1500(INR 11900- 119000 ) for laser hair removal in Turkey.
To prove the point, below we have compared the average per session laser treatment for hair removal cost in India with various other countries :
| Country | Cost Per Session In Rupees |
| --- | --- |
| India | Rs. 1,000 - Rs. 30,000 |
| USA | Rs. 4,500 - Rs. 65,000 |
| UK | Rs. 5,500 - Rs. 60,000 |
| Dubai | Rs. 6,000 - Rs. 1,15,000 |