What is the Liver Transplant Cost in India?
Here you will get to know about the cost of liver transplant in India. Also, get the information regarding cost of liver transplant types, additional cost & city-wise costs.

The average liver transplant cost in India ranges from ₹16,00,000 ($22,500) to ₹23,50,000 ($33000).
Sometimes, it might cost you up to ₹30,00,000 ($42000). As overall cost depends on the complexity of the surgery, the patient's medical condition, the surgeon's experience, and the hospital's status.
For your reference and to ease your search we have shown the approximate Liver transplant price in India in a few of the major cities.
Liver Transplant Cost in India is as follows :
| CITY | LIVER TRANSPLANT COST |
| --- | --- |
| Mumbai | ₹8,00,000 - ₹30,00,000 ($11,200 - $42,000) |
| Delhi | ₹9,00,000 - ₹35,00,000 ($12,600 - $49,000) |
| Chennai | ₹10,00,000 - ₹16,00,000 ($14,000 - $22,300) |
| Bangalore | ₹11,00,000 - ₹15,00,000 ($15,300 - $21,000) |
| Pune | ₹10,00,000 - ₹15,00,000 ($14,000 - $21,000) |
Note: These are rough cost estimates which can change according to the complication of the case and the facility you choose. The cost varies even based on the location and type of hospital. For example, compared to private hospitals, the cost of liver transplantation in government hospitals is lower.
Here, we have listed some of the top liver transplant hospitals in India.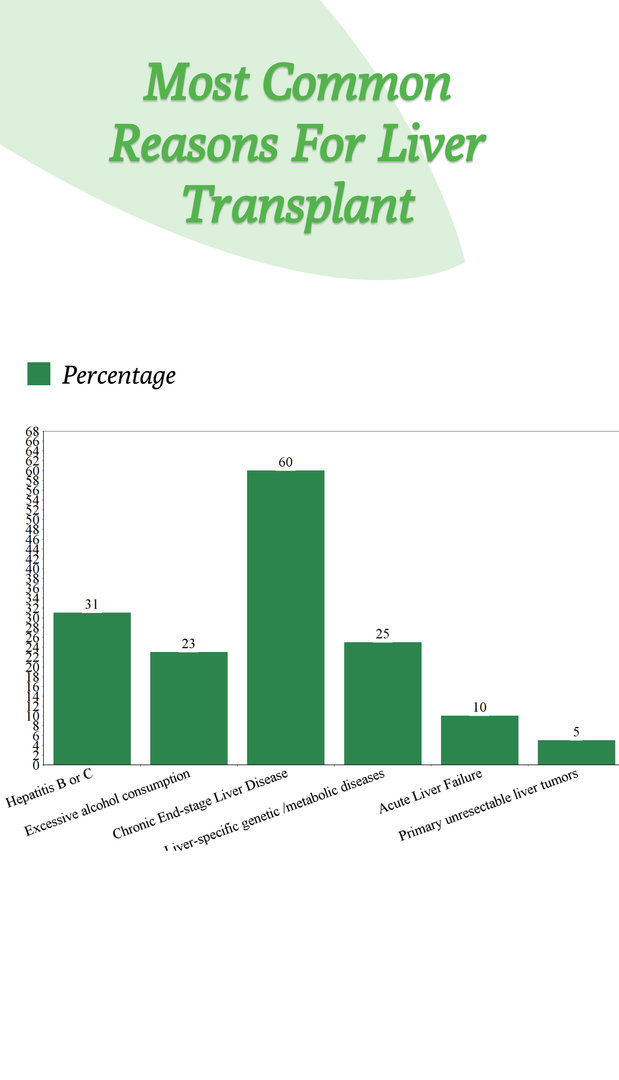 Now let us know about the types of liver transplant surgeries available in India and their costs.
How much do major types of liver transplantation cost in India?
| Types of Liver Transplant in India | Cost |
| --- | --- |
| Orthotopic | ₹18,00,000 ($25,200) to ₹25,00,000 ($35,000) |
| Living Donor | ₹12,00,000 ($16,800) – ₹18,00,000 ($25,200) |
| Split Type | ₹8,50,000 ($12,000) – ₹18,00,000 ($25,200) |
1. Orthotopic Liver Transplant: Orthotopic liver transfer is usually suggested by doctors for liver transplants in India. In this procedure, the whole damaged liver is replaced with a healthy donor liver. This is generally from the donor who has assured to donate their organ before death.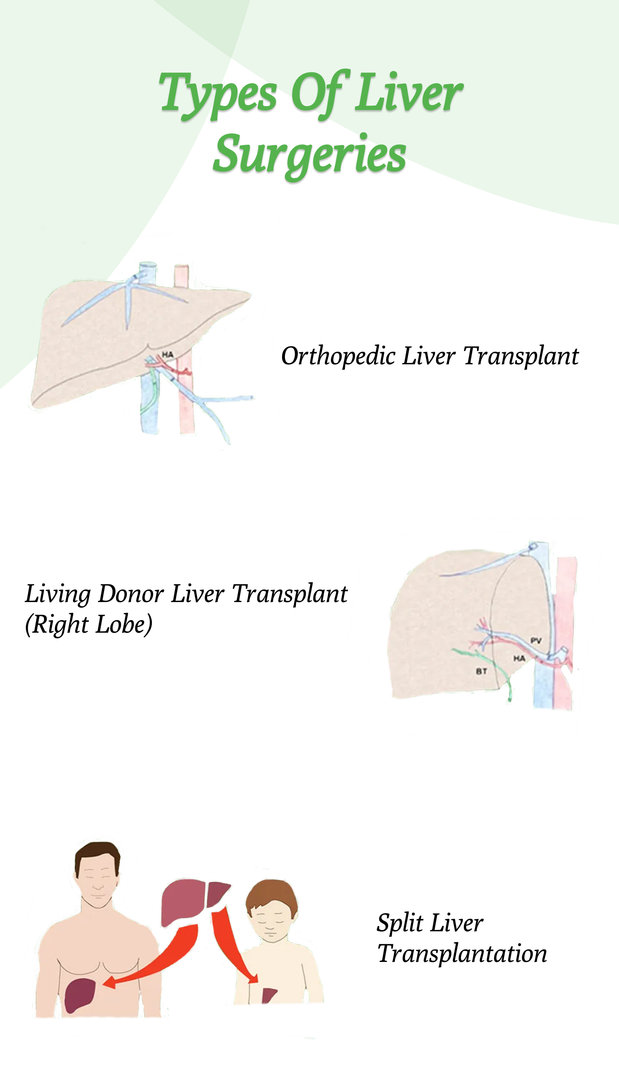 2. Living Donor: Unlike orthotopic, here in this procedure the living donor willingly donates his/ her liver to the recipient. This is one of the most recommended processes for liver transplants in India.
3. A Split Type: In this process, the liver is divided into two parts, the left side of the liver is usually recommended for children and the right side is provided for the adult patient as the right-side liver size is bigger than the left side. And this half-healthy liver grows within a week by 85%. Preferably doctors suggest selecting the family member as a donor.
Is the Liver transplant cost in India affordable compared to other countries?
Yes, compared to other developed countries the liver transplant cost in India is highly cost-efficient (50% less than in western countries). This is the reason why patients from all over the world travel to India for liver transplant surgery.
Let's check the cost of liver transplantation in India and other countries.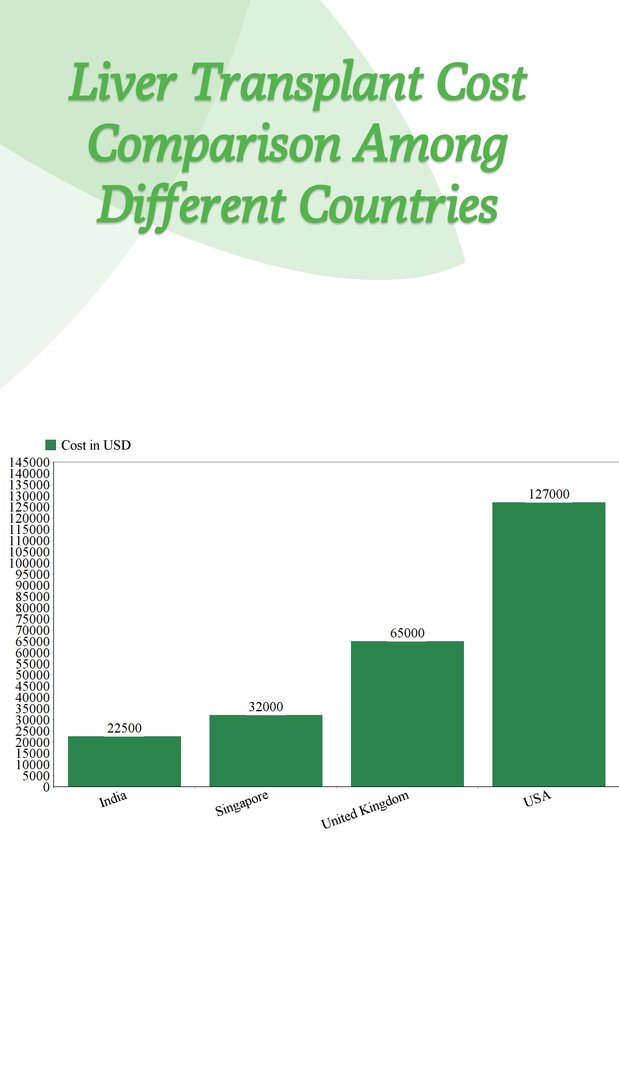 Note: The above cost is an estimated value it can vary according to the surgeon, hospital, and location.
Now you must be wondering why the cost varies so much between India and other developed countries. Well, let's read along to get the answer.
Currency: Compared with the currency of other countries (USD, Pound, Euros, etc.) the major difference in the cost is due to less value of the Indian currency. Thus, this makes liver transplants in India cost-effective. Here, from the doctor's consultation to treatment to the hospital stay, overall charges are comparatively less.
Standard of Living: In India, the standard of living is less inexpensive than in countries like UK, USA, etc. So, amenities like food, transport, healthcare treatments, and accommodation are quite economical.
Competition: There are numerous admired and renowned hospitals in India which follow international standards when it comes to healthcare treatments and services. Since the patients have an extensive range of hospitals to opt for treatment according to their budget and requirement. Furthermore, hospitals incline to provide vigorous prices.
Hospitals: Both the Government and Private hospitals in India are highly efficient in delivering world-class medical treatments. Furthermore, Government hospitals also provide liver transplant treatment at subsidized charges. Thus, this contributes to one of the reasons for the varying ranges of costs.
Doctors: In India, we have highly experienced, skilled and qualified liver transplant surgeons who practice at prestigious hospitals in the country. Here, the doctors charge comparatively less than the doctors in other developed countries. Hence, it adds one more cause to choose liver transplants in India as it is affordable.
All these factors contribute to making liver transplants in India affordable. Thus, people across the world consider and recommend India as one of the best and preferred destinations for liver transplant treatment.
Pre-operative tests for Liver transplant in India:
Pre-liver transplantation assessment will last for 7-10 days. A series of tests will be conducted for both donor (another individual) and the recipient (patient).
Pre-operative tests include:
| TEST | COST |
| --- | --- |
| PCT | Procalcitonin (PCT) test detects increased PCT serum levels in the blood caused by liver disease. This test can cost you around ₹2100-₹2500 ($30-$35). |
| CRP | C-Reactive Protein (CRP) test examines higher CRP levels in the blood produced by the liver in response to inflammation. This test will cost around ₹400-₹600 ($5-$8). |
| OTHER BLOOD TESTS | Also, there are a number of other blood tests required like hemoglobin, PCV, TLC, RBC and MCV count, etc. which will set you back by around ₹1000-₹1500 ($14-$21). |
| PET-CT | Positron Emission Tomography- Computed tomography (PET-CT) scan identifies changes at the cellular level at the early onset of any disease prior to other imaging tests can which cost around ₹2000-₹10,000 ($28-$140). |
| Doppler Ultrasound | Applied for viewing blood flow to and from the liver, to detect any abnormalities like any lump or mass in the liver. This scan costs around ₹500 to ₹1000 ($7-$14). |
| Chest X-ray | It helps diagnose infection in your lungs and also produces images of heart, lungs, blood vessels, airways and bones of your chest and spine. This scan will cost you around ₹500-₹2000 ($7-$28). |
| Electrocardiogram (ECG) | An electrocardiogram (ECG) Identifies changes in your heart rhythm and measures the electrical activity of the heartbeat. This test costs around ₹300-₹700 ($4-$9). |
| Pulmonary Function Test (PFT) | Evaluates pulmonary hypertension and measure the capacity of your lungs. This will cost around ₹800-₹1500 ($11- $21). |
| Liver Dialysis | It removes toxins from the liver until a liver transplant can be done. The liver dialysis cost ranges from ₹4000- ₹15000 ($51 - $ 189) |
Note: The above cost is an estimated value it can vary according to the surgeon, hospital, and location.
What are the factors that influence Liver transplant surgery costs in India?
Location and status of the hospital: When you undergo a liver transplant in a charitable or government hospital the expenses are low compared to private or deluxe hospitals. For liver transplantation in government hospitals, you need to wait for a longer duration (1-2 months) for your turn to come. As the government hospitals provide invaluable treatments at an affordable cost, a number of people choose these hospitals for treatment. Thus, there is a waiting line for patients. The liver transplant cost in government hospitals is around 3 to 5 lakhs. If there is an emergency and you want to avoid it longer ques then you can opt for a private hospital. Here, you will receive immediate treatment but you will be charged more compared to government hospitals. The best hospitals in India regardless of their status are within its metropolitan cities like Mumbai, Delhi, Chennai, Bangalore, and Hyderabad.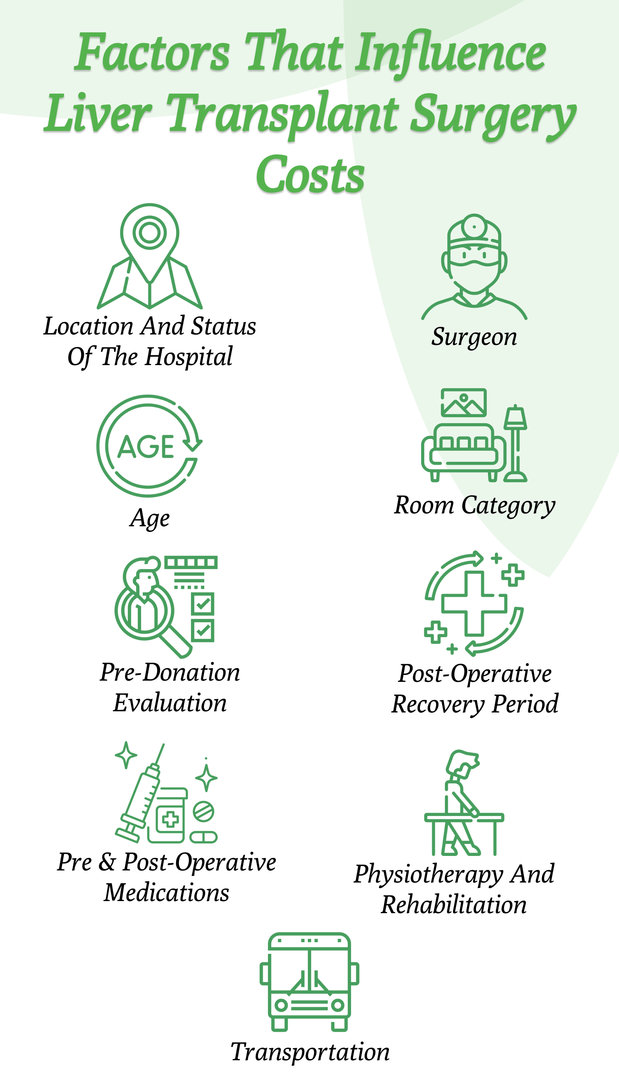 Surgeon: Liver transplant surgery is highly sophisticated. To deal with such operations the surgeon needs to be experienced and must have handled several surgeries. Hence, surgeons with more experience may charge more.
Age: Generally, there is a need for liver transplantation in patients with a diseased or damaged liver. It is a complex surgery normally performed in older patients suffering from chronic liver disease or even in acute liver failure patients. But some infants suffering from rare liver diseases like Biliary Atresia, Wilson's disease, Alagille syndrome, Cholestatic disorders, and other genetic liver disorders also need liver transplantation surgery. In the case of younger patients, the surgery becomes elaborative and may require refined equipment. Hence, age is one of the most prominent factors that affect liver transplant cost in India.
Pre-Donation evaluation: The diseased liver is either replaced completely or partially with the help of a living or deceased donor's liver. Every potential liver donor needs to go through a series of blood tests and scans. Thus, other costs also get added to liver transplant surgery as the procedure is carried out between two individuals. The check-up for both patients costs around ₹2-3 lakhs ($2800-$4200).
Room category: Post liver transplant surgery, the patient is admitted for 15-20 days for complete recovery. The admission rooms are categorized as general and deluxe and it's completely your choice which one to select. These rooms are charged based on per day of admission. Some hospitals also provide accommodation to the patient's relatives in the same room where the patient is admitted but, some don't. Then, you need to pay separately for other family members' accommodation. Hence, the room category also adds extra charges.
Post-operative recovery period: After, liver transplantation the minimum recovery period is about 15-20 days. Sometimes, the patient may require more duration for complete recovery. If more duration is required for recovery then more expenses are spent on the patient's admission.
Pre & Post-operative medications: Liver transplant surgery involves the replacement of a diseased liver of a patient with a healthy liver from a donor. Thus, to make your body a receptacle for a foreign organ you need to take long-term medications such as anti-rejection medicines. Apart from the surgical procedure, the patient is charged separately for the pre- & post-operative medications.
Transportation: The transportation costs include charges for ambulance and other routine check-up hospital visit charges. These charges are excluded from the surgery package.
Physiotherapy and rehabilitation: Physiotherapy and rehabilitative approaches are implemented pre-& post-operative. This may help patients with liver disease and liver transplants to enhance their quality of life by improving muscle strength, preventing excessive fatigue and increasing aerobic capacity.
What is the success rate of liver transplants in India?
Around 20–25 patients per million worldwide need a liver transplant each year. In India, nearly 2,00,000 people die of liver disease yearly, and approximately 50,000–60,000 need a liver transplant.
The liver transplant success rate in India is on the higher side.
The survival rate is more than 95% with modern technologies and advanced equipment. But yes, undergoing a liver transplant poses around a 5% risk to life with a technically complex procedure.
Mostly, people return to their everyday lives but must take lifelong medications to lead a healthy lifestyle. They can resume regular activities after 3-6 months post-surgery.

Besides, the long-term success rate of the liver transplant is very high, and you can expect a 65%–70% survival rate for 15-20 years following the transplant.
Are you thinking about what medical facilities are available to you in India? Let's read ahead.
Services for Domestic & International Patients
Services for Domestic Patients
Services for International Patients

24*7 Ambulance services
Pathology services
Health Insurance
24-hours of pharmacy
Blood Bank
Travel assistance
General and AC Deluxe wards
Bank and ATM facilities
Psychological Counselling
Laundry service for patient/attendant
Wi-fi services
Parking zone
Luggage room

Online Consultation
Medical Visa Assistance
Currency Exchange
Medical Opinion
Affordable accommodation
Nursing Service
24-Hour Medical Assistance
General and AC Deluxe wards
Local Sim card
ATM facility
Language Interpreters
Why is India the preferred destination for liver transplants?
As we all know, India is emerging as the medical tourism hub for any healthcare treatment. This has opened doors for many Indian hospitals to attract patients from all around the globe. Indian hospitals are grabbing that opportunity to provide the best healthcare to everyone in need.
There are many reasons for doing a liver transplant in India. Some of them we have listed below:
World-class facilities: Indian hospitals are as good as any hospitals in developed countries. They are constantly expanding to compete with hospitals in developed countries. As we all know, a liver transplant is a very complex procedure. It requires dedicated facility requirements and Indian hospitals can fulfill those.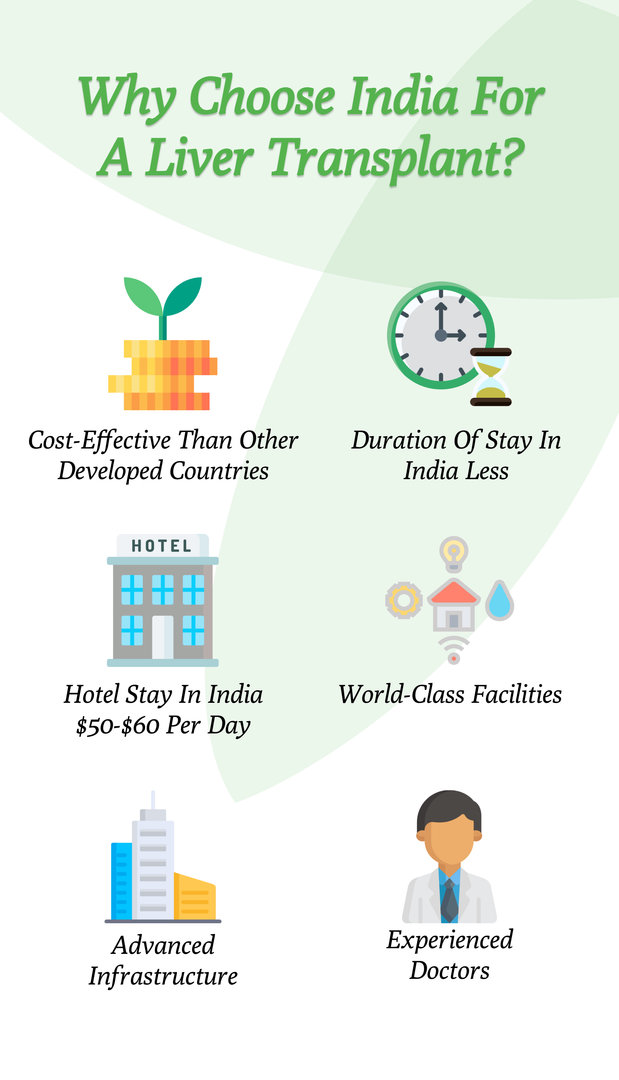 Cost-effective: India is famous in medical tourism for providing high-quality treatment at an affordable cost. The most crucial reason healthcare is so reasonable in India is the position of the Indian rupee in the global market. The premium hospitals and facilities for liver transplants are more inexpensive than any liver transplant hospital in other developed countries.
The latest technology innovation and implementation: Indian hospitals have their research centers and facilities constantly working to improve human life. They are also not afraid to try and implement the latest developments in the field of liver transplants. India's hospitals also use the newest treatment and diagnosis facilities for liver transplants.
Experienced doctors: Patients from developed countries like the US, UK, etc., highly respect Indian doctors. They are considered one of the best in the world, and they also live up to patients' expectations. Some doctors have experience in performing more than 500 liver transplant surgeries. Here we have also listed some top hepatologists in India and major cities in India:

Mumbai

,

Delhi

,

Bangalore

,

Kolkata

,

Pune

,

Hyderabad

,

Ahmedabad

, and

Chennai

.