Eye Cancer Treatment in India
We all agree that eyes are not only one of the most important vital organs but are also important in the appearance of an individual as having beautiful eyes helps with our confidence. Maintaining the health of our eyes is hence very essential, but it has been more and more difficult due to pollution and malnutrition. As a result, the number of Eye cancer cases has been growing over the years, and I would like to provide you with all the information regarding eye cancer. Read on to find more about Eye Cancer Treatment In India.

What Is Eye Cancer?
Eye cancer means an abnormal growth of the cell in and around an eye. It occurs when cells grow to form a tumor, which means healthy cells form clusters. However, a tumor in due course of time may become cancerous. Tumors from cancer are called malignant, which means they can spread to other parts of the body. So now let us discuss the different types of Eye Cancer that occur in human beings.
What types of treatments are available for eye cancer in India?
Eye cancer in India can be treated in four different methods:
1. Chemotherapy: Chemotherapy is used to treat eye cancer. It is a treatment that involves injecting medicines into the patient's body. The medication can be taken orally as a tablet or injected into the afflicted area through veins. This treatment is only used if the eye cancer has progressed to the point where it is no longer treatable.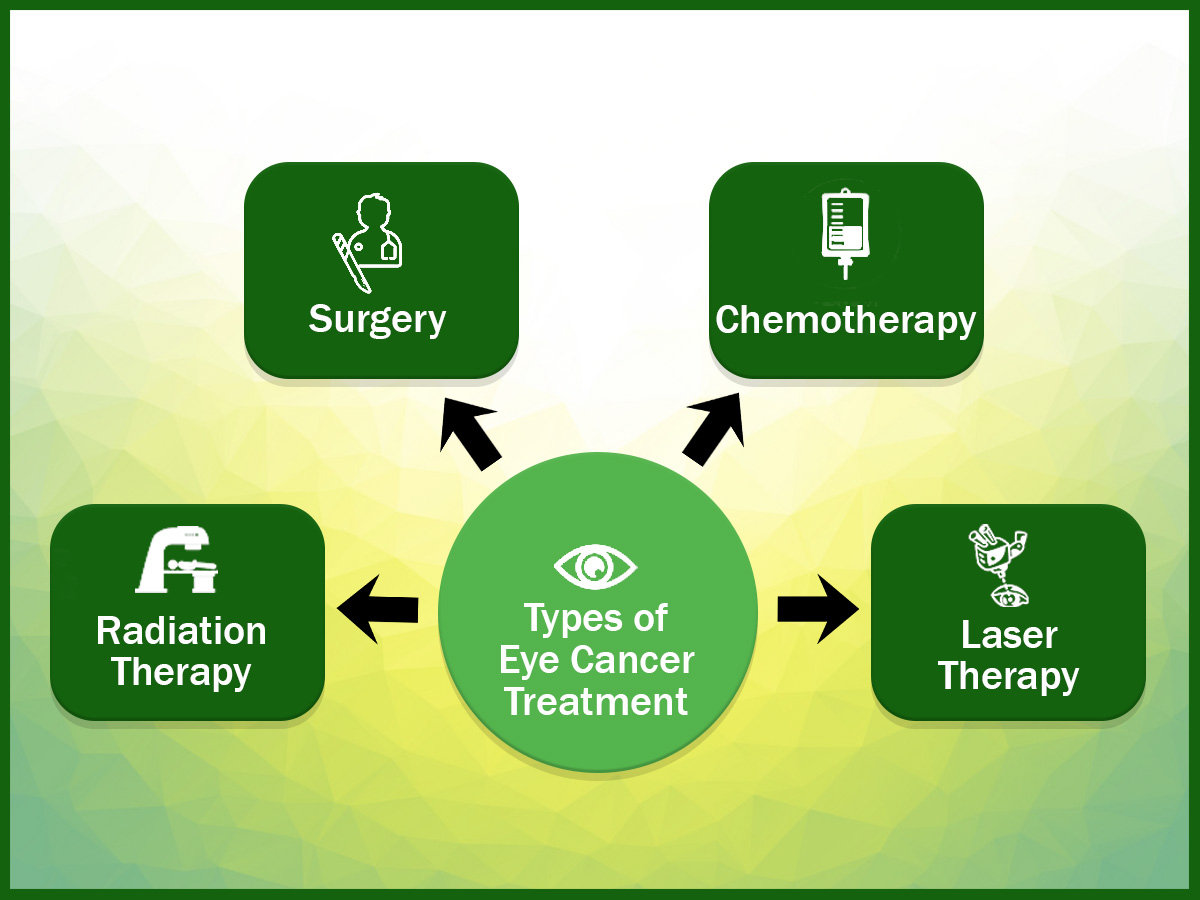 2. Laser Therapy: Laser eye cancer therapy is a type of eye cancer treatment that reduces the tumor by utilizing heat in a laser. Transpupillary thermotherapy is another name for this technique (TTT). However, compared to radiation therapy or eye cancer surgery, this treatment offers fewer adverse effects.
3. Surgery: Surgery is the last choice for doctors when they have exhausted all other options to treat eye cancer. Depending on the severity of the condition, doctors may remove the afflicted eye entirely or portions of it during surgery. Surgery is also considered one of the main treatments for eye cancer. Eye surgery is done by an ophthalmologist only. Mostly in treating intraocular melanoma, surgery is used.
4. Radiation therapy: Eye cancer can be treated with radiation therapy in India. This procedure uses radioactive materials to destroy cancer cells.
Radiation therapy causes little discomfort to the patient. It can cause vision loss and in the case of large tumors, radiation therapy may cause more risk. Hence surgeons do not recommend this method first.
How much does eye cancer treatment cost in India?
India's eye cancer treatment cost is substantially lower than the other developed nations such as the UK, USA, etc. But that doesn't compromise the quality of treatment. In the best eye hospitals in India, surgeons and their experienced and skilled team and other medical professionals take utmost care. Patients can save a lot of money if they choose top eye cancer hospitals in India for their treatment.
Factors that affect the cost of eye cancer treatment in India:
Patient's condition
Type of treatment recommended by doctors
Surgeon's experience
Number of days stay in the hospital
List of Top 10 eye cancer hospitals in India
Sankara Nethralaya, Chennai
Address: Old No 18 New No 41, College Road, Nungambakkam, Chennai - 600034

L V Prasad Eye Institute, Hyderabad
Address: Kallam Anji Reddy Campus, L V Prasad Marg, Banjara Hills, Hyderabad 500 034, Telangana, India

Dr. R P Center for Ophthalmic Sciences (AIIMS), Delhi
Address: All India Institute of Medical Sciences Campus, Ansari Nagar, New Delhi - 110029

Aravind Eye Hospital, Madurai
Address: 1, Anna Nagar, Madurai - 625 020, Tamilnadu, India

Narayana Nethralaya, Bangalore
Address: Rajaji Nagar, #121/C Chord Road, 1st 'R' Block, Rajaji Nagar, Bangalore -560 010 - India

Aravind Eye Hospital, Coimbatore
Address: Avinashi Road, Coimbatore - 641 014, Tamilnadu, India

Dr. Shroff's, Delhi
Address: 5027, Kedarnath Road, Daryaganj, New Delhi-110002, India

NethradhamaSuperspecialty Hospital, Bangalore
Address: 256/14, Kanakapura Main Road, 7th Block, Jayanagar, Bangalore-560 082.

Vasan Eye Care, Chennai
Address: No. 115/1, Kamaraj Avenue, 2nd Street, Adyar, Chennai - 600 020

Aditya Jyot Eye Hospital, Mumbai
Address: Plot No. 153, Road No. 9, Major Parmeshwaran Road, Opposite S.I.W.S. College Gate No. 3, Wadala, Mumbai 400 031. India.
What are the statistics of Eye cancer in India?
Eye cancer cases are increasing day by day in India. Dr. Suresh Advani, one of the best oncologists in India, says that Nearly 10,000 new eye cancer treatment occurs in India every year. Among that, nearly 70-80 % of cases are for adult eye cancer and 30-20% cases are for children's eye cancer.
Near about 2000 children are treated with retinoblastoma every year in India. Some of the best cancer hospitals in India for eye treatment are located in Chennai, Delhi, Bangalore, Mumbai, Pune, etc. Moreover, every year various International patients come to India with the help of medical tourism companies for eye cancer treatment at an affordable cost.
Narayana Nethralaya is one of the best cancer hospitals in Bangalore. It contains one of the biggest Laboratory medicine. Laboratory Medicine contains six services: Microbiology, Molecular Diagnostics, Immunology, Biochemistry, Haematology, and Clinical Pathology.
One of the Best Cancer Hospitals in Delhi is Dr. R P Center for Ophthalmic Sciences (AIIMS). It has 300 beds and provides 24×7 emergency services. In addition, it has 40 cabins for out-patients. Tata Memorial Hospital is considered the best cancer hospital in Mumbai. 70 % of cancer treatment in India occurs here. Below is the list of the best eye cancer hospitals in India.
What are the types of Eye Cancer?
There are mainly two types of Eye Cancer:
Primary intraocular cancers:-This type of cancer occurs inside the eyeball. In adults, the most common type of intraocular cancer is melanoma which is followed by intraocular lymphoma. Retinoblastoma is the most common type of eye cancer in children. Medulloepithelioma also occurs in children, but this is an infrequent cause of eye cancer.

Secondary intraocular cancers:- It first occurs in some other body parts and then spreads to the eye. Cancer that spreads to the eye is generally lung cancer and breast cancer. Most of these cancers are called Uvea.
Moreover, let me tell you about Intraocular melanoma and Medulloepithelioma.

Intraocular melanoma (melanoma of the eye)
Intraocular melanoma mostly occurs in eyeballs, but it is a rare type of cancer. It generally occurs in the middle of three layers of the walls of the eyes. The eye's outer layer is called the sclera, and the inner layer is called the retina, which contains optical nerves.

In the middle layer of the eyewall, intraocular melanoma occurs, which is also known as the Uvea. Various risk factors lead to Intraocular melanoma. Below is the list of risk factors that leads to Intraocular melanoma.

Following is the list of risk factors related to Intraocular melanoma:
Having fair complexion: Being fair means skin that does not contain melanin. It includes skin that burns and forms freckles. In addition, the person might have a blue or green colored eye.

Age: Age becomes a deciding factor for intraocular melanoma. The risk of eye cancer increases with age.

Primary intraocular lymphoma
A lymphocyte is a type of cancer that occurs in lymph nodes. It is a bean-sized cluster present in an immune system, which is scattered throughout our body. It generally occurs in the bone, breast, and lung and very rarely in the eyes. There are two types of lymphomas.

Following are the two types of lymphomas:
Hodgkin Cancer: The person having Hodgkin disease is elder and has immunity problems such as HIV-AIDS.

Non-Hodgkin Cancer: Cancer: The person affected with this disease has lymphocytes in the brain, known as CNS lymphocytes.
Now let's discuss Eye Cancer Symptoms. Some of these factors you might not also believe!

What are the symptoms of Eye Cancer in India?
People in India at the age of 50 years are often diagnosed with primary intraocular melanoma, but the average age of diagnosing the disorder is 55 years. It is very rare in children and people above the age of 70.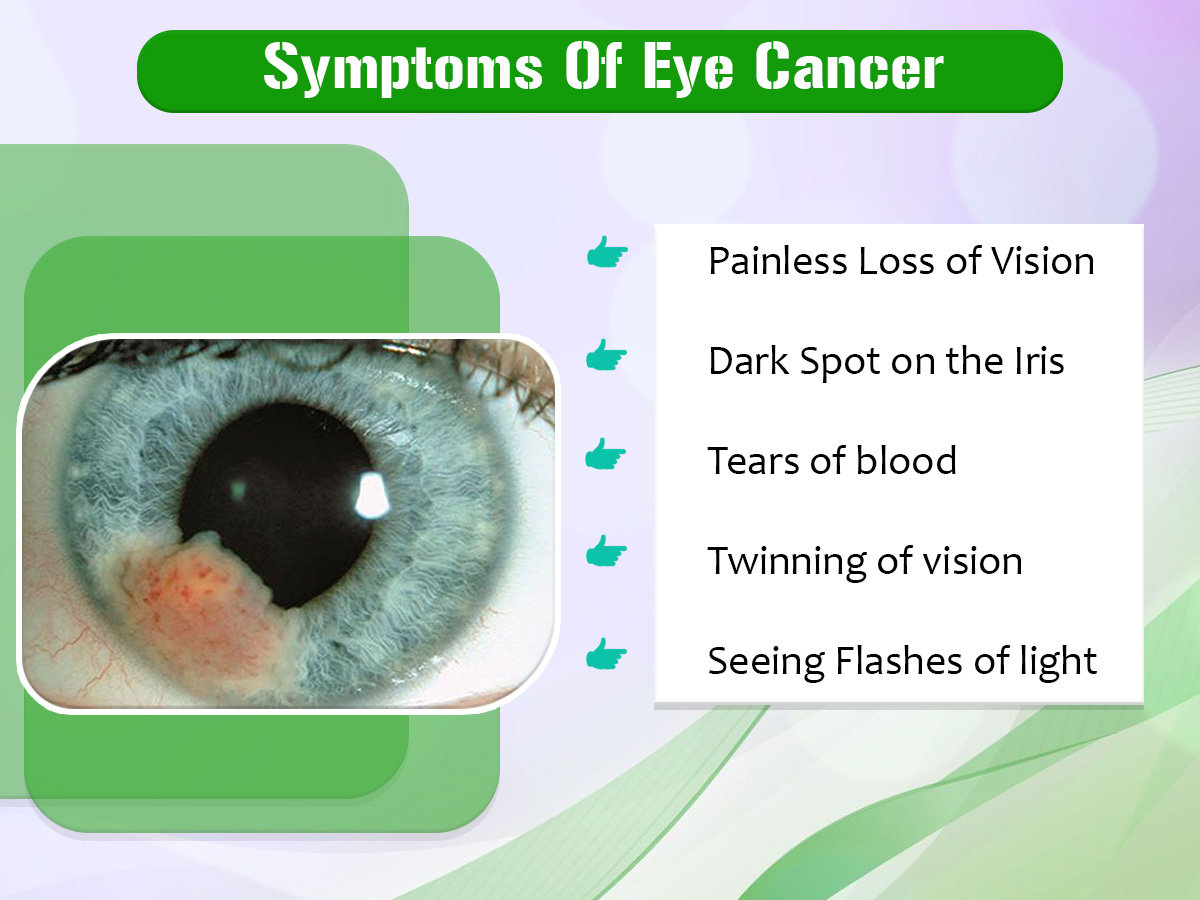 It does not differentiate between men or women; it affects both of them equally.

People suffering from intraocular disorder have no symptoms. The most common symptom is a painless loss of vision. An ophthalmologist in India finds it out during regular eye checkups.

People with eye cancer may experience the following symptoms or signs. But many times, people with eye cancer do not show any of these symptoms. Or, these symptoms may be caused by a medical condition that is not cancer.

They have trouble seeing.

Losing of field vision

Having a dark spot on the iris.

Conjunctivitis

Dark spots on the iris

Tears of blood

Twinning of vision

The shape and size of the pupil are changed.

At the time of their vision, light flashes in their eye
If anyone has any 6 of the following factors, make sure that you might have has eye cancer. So what should we do? Should we stay calm or panic? Below are the tips for what to do.

What should you do if you are having symptoms of Eye Cancer?
After taking some medical tests to diagnose cancer, many doctors, after diagnosis, have spread to other parts of the body called metastasis. Some tests may also determine which treatments may be the most effective. For most types of cancer, a biopsy is the only way to make a definitive diagnosis of cancer. It is a common practice in India.

Talking to the doctor if you observe more symptoms listed above is compulsory. Your doctor will ask how long and how often you've been experiencing the symptom, in addition to other questions. This is to help find out the cause of the problem.

Doctors may also suggest another test to be sure of the diagnosis, and the doctor may consider the below factors while diagnosing: -
The medical condition of the patient and its age
Symptoms
Result of previous tests
As we all know, "Prevention is better than cure." So, now the most important question arises- What are the preventive measures for eye cancer? Below is the list of preventive techniques for Eye Cancer. When you notice any of the above-mentioned symptoms, you must immediately look for the best eye treatment center near you.

If you reside in and around Andhra Pradesh, you can look for the best cancer hospitals in Hyderabad, providing you with the required treatment. Eye Cancer treatment in Hyderabad is considered to be one of the best in the country.

What is the Prevention of Eye Cancer?
Wearing Sunglasses: If one wears polaroid sunglasses, chances of eye cancer reduce to 50%. If sunglasses are wrapped around, it is the best protection for the eyes. In addition, wearing sunglasses reduces eye melanoma.

Avoid AIDS: There is no proper prevention of lymphocytes. If one can avoid deadly diseases, AIDS lymphocytes can be prevented.
FAQs
1. What are the adverse effects of chemotherapy for the treatment of eye cancer?
Some side effects of chemotherapy used in the treatment of eye cancer, including:
Sores in the mouth
Loss of Hair
a stomachache
Constipation is a common complaint among people.
Fatigue is a common ailment.
Vulnerability to bruise easily
Appetite loss is a common symptom of depression.
2. What happens if the eye cancer therapy doesn't work?
Treatment for eye cancer is not always successful since cancer cannot always be cured. The technique is difficult and time-consuming. Eye oncologists must have an open and honest discussion with their patients regarding their condition and their prospects of living a healthy life. Treatment for ocular cancer necessitates a great deal of patience as well as adequate hospital care.
3. What is cancer of the eyelids?
Eyelid cancer can develop on the outside or inside of your eyelid. The most frequent kind of eyelid cancer in India is sebaceous gland carcinoma.
4. Is it possible to avoid eye cancer?
Although eye cancer cannot be prevented, it can be treated successfully if identified and diagnosed early enough.
5. Is it possible to go blind from eye cancer?
If small eye melanomas develop in key areas of the eye, they can cause vision loss. For example, you may be having trouble seeing in the center of your vision or on the sides. In addition, eye melanomas that have progressed to the point of total vision loss are possible.