How much does cancer treatment cost in India?
When opting for cancer treatment in India, cost is also a very important factor every paitient should know. Here, we have explained this in detail so you can come prepared.
Table of Contents :
On average, the cost of cancer treatment in India ranges from and may cost higher depending upon precision medicines. However, it is difficult to determine the exact cost of cancer treatment without knowing various factors affecting it.
The term COST is the most important factor that one considers when going for cancer treatment. Cancer is an expensive treatment thus; it becomes difficult for the middle class and lower-class people to afford it.
In India, cancer treatment is 60-80% less than in countries like the US, UK, etc. Also, the quality of treatment is not compromised because of the low cost. Thus, people from across the globe visit cancer hospitals in India for treatment.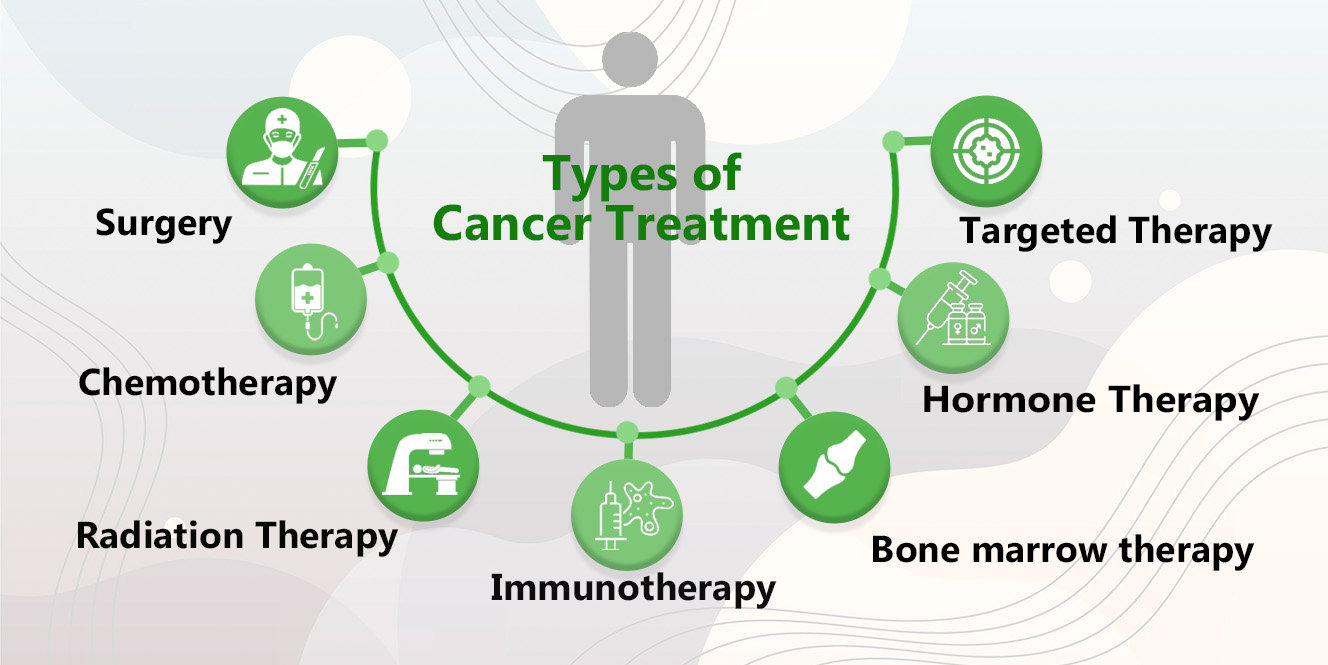 Below we have given in detail the cancer treatment cost in India for your convenience:
Cancer Treatments
Cost in India (in INR and Dollars)
Surgery
The surgery cost for most type of organ-specific cancer treatment in India ranges from ₹2,80,000 ($4,000) to ₹10,50,000 ($15,000) depending on the site and severity of the cancer.
Robotic Surgery
The cost for Robotic surgery in India varies from ₹4,24,000 ($6,000) to ₹7,77,500 ($11,000).
Chemotherapy

You might require Induction chemotherapy that will cost approximately ₹1,38,974 ($2000) to ₹2,08,462 ($3000).

The cost of chemotherapy in India per chemo cycle is approximately ₹1,04,797 ($1500) to ₹1,25,077 ($1800).

Radiation Therapy
The cost of radiation therapy in India depends on the type the patient's needs: Internal or External.

In case of Internal Radiation Therapy procedure cost ranges from ₹61,960 ($900) to ₹5,16,337 ($7,480).

Whereas External Beam Radiation Therapy cost ranges from ₹30,000 ($430) to ₹20,00,000 ($28,980).
Immunotherapy
The cost of Immunotherapy in India ranges from ₹4,41,000 ($6390) - ₹4,55,000 ($6590) per session. The cost estimation is for once a month for a period of two years.
Bone Marrow Transplant
The Bone Marrow Transplants cost in India ranges from ₹15,00,000 ($21,010) to ₹40,00,000 ($56,040).
Targeted Therapy
Targeted Therapy is usually given in combination with chemotherapy which costs around ₹2,00,000 ($2900) to ₹2,50,000 ($3620).

Targeted therapy alone might be around ₹1,20,000 ($1740).
Hormone Therapy
The cost for Hormone Therapy in India starts from ₹3,22,845 ($4500) onwards. How high it can go depends on the type of cancer.
*To be on the safer side, be prepared for a 5% to 10% variation on the estimated cost, depending on your condition.

*This cost estimates the procedure only and does not include external expenses such as hospital room rent, nursing charges, food, etc.
*FDA has approved stem cell treatments to treat only certain cancers and blood and immune system problems. So if doctors recommend going for stem cell therapy in blood and bone marrow cancer, then the cost of treatment may increase.
Factors affecting the cost of cancer treatment
Pre-treatment Costs
Some costs occur before the treatment for cancer starts. These costs include consultation fees and diagnostic tests the doctor's physical required to diagnose cancer, its type, stage, etc.
Pre-treatment Costs
Description
Doctors Consultation
Physical examination and consultation from the best doctor or oncologist in India may cost around ₹600 ($8) - ₹5,000 ($71) depending on each doctor's fees.
Lab Tests
There are a number of tests that are required like Blood tests, Urine tests, Ultrasound, CBC (Complete Blood count), PFT (Pulmonary Function Test), EEG (Electrocardiogram), etc.

The cost range for these tests are ₹56,000 ($800) - ₹70,000 ($1,000). This range may be higher in case the patient gets admitted because of other factors considered.
Biopsy
The cost of a biopsy ranges from ₹30,000 ($429) to ₹35,000 ($500).
X-ray
The cost of X-rays differs for different parts of the body. It costs around ₹300 ($4) to ₹1,000 ($14).
PET Scan
The cost for PET Scan lies between ₹15,000 ($214) to ₹30,000 ($429). It can vary for different body parts.
CT Scan
The costing for CT Scan lies between ₹2,000 ($28) to ₹2,500 ($37). It may also include additional costs of ₹1,000 ($14) to ₹2,000 ($28) for contrast material.
MRI Scan
The cost of MRI Scan depends on the body part which is being scanned. It ranges from ₹2,000 ($28) - ₹25,000 ($357).
Endoscopy
The type of Endoscopy performed will have different costs ranging from ₹1500 ($22) to ₹30,000 ($429).
FNAC (Fine Needle Aspiration Cytology)
Depending on the factors such as city and availability, the cost of FNAC lies between ₹450 ($7) to ₹2,200 ($32).
Post-treatment Costs
These are the costs incurred to monitor the treatment's progress, ensure recovery, and prevent or treat any infections or side effects caused by the treatment. Post-treatment costs also include extra services availed and hospital stays.
| Post-treatment Costs | Description |
| --- | --- |
| Medications | The post-treatment costs include the medications prescribed by the doctor to take after the above-mentioned treatments. These medications include drugs basically to treat the side effects of chemotherapy and other treatments. |
| Hospital Stay | The treatment period for different types of cancers can vary. It may require patients to stay in hospital for post-treatment few hours or days or months for treatment. Thus, the cost includes the hospital stay. |
| Additional services | This includes any additional services availed or stay at hospital extended. |
| Accommodation Charges | The Hotel charges incurred by the patients and their family members will be included in the post-treatment costs. The cost may differ depending on the type of hotel chosen. |
| Conveyance Charges | The patients can incur travel charges in case if the hospital is at a distance from their stay. |
| Homecare services | This service may not be required by every patient but sometimes a patient may require extra assistance from medical staff or a trained nurse and may need additional medical equipment for monitoring. So, these are included in the costs post-treatment. |
| Complications Management | In case of any complications after treatment or any unanticipated care needed by the patient due to which he/she requires extra stay beyond the stipulated period, will have separate charges. |
| Follow – Up costs | After the treatments, regular follow-up with the doctor is required for health check-ups which is also included in the post-treatment costs. |
Why patients from all over the world travel to India to get cancer treatment?
One of the reasons for this is the Cost. We have compared the cancer treatment cost in India of few major types of treatment with other developed countries like the USA, UK, Singapore, etc., for your reference.
Cost of cancer treatment in India compared with other developed countries:
| | | | | | |
| --- | --- | --- | --- | --- | --- |
| Disease Name | India | UK | USA | Singapore | Australia |
| Blood Cancer | $5908-$8,862 | $40,860 | $106,000- $160,000 | $70,000-$1,00,000 | $51,000 |
| Breast Cancer | $7,000-$8,500 | $10,620-$15,148 | $20,000-$1,00,000 | $20,000-$50,000 | $12,000 |
| Colorectal Cancer | $1,200-$10,000 | $20,150-$23500 | $40,000-$80,000 | $31,650 | $18,000 |
| Prostate Cancer | $5,500 | $6,400-$7,050 | $15,000-$1,00,000 | $39,600 | $18,000 |
| Lung Cancer | $5,377-$9,409 | $12,355-$16,476 | $15,000-$2,00,000 | $18,745 | $16,500 |
Disclaimer: Actual costs may differ from those listed due to factors such as stage of cancer, recommended therapy, sessions and other pre and post-treatment cost.
The reason why the cost varies between India vs. other developed countries are:
Currency: The major difference in the cost is due to the less value of Indian currency as compared to USD, pound, euros, etc., which makes the cost of cancer treatment in India effective. From doctor's consultation to treatment to stay, everything costs less over here.
Standard of Living: The standard of living is low in India than in countries like the USA, UK, etc. So, the facilities like food, transport, accommodation, and medical treatment are quite affordable.
Competition: There are many acclaimed and best cancer hospitals in India that follow international treatment and quality standards. Since the patients have a wide range to choose the suitable hospital according to their budget suitable hospital, hospitals tend to provide competitive prices.
Hospitals: Both globally recognized Government and Private cancer hospitals in India can deliver the best quality treatment. Moreover, the Government hospitals provide cancer treatment at subsidized rates, contributing to one of the reasons for varying costs in comparison to other cancer hospitals in World.
Doctors: We have highly skilled, qualified, and the best cancer doctors in India practicing at the top cancer hospitals in the country. The doctors in India charge lower fees as compared to doctors in other countries. Thus, it's one of the reasons that make cancer treatment affordable here.
All these factors contribute to making cancer treatment in India affordable. That's why patients from all over the world consider it as one of the best destinations to get treatment for cancer.
Services for Domestic Patients
24*7 Ambulance services
Travel assistance
General and AC Deluxe wards
Bank and ATM facilities
Psychological Counselling
24 hours of pharmacy
Blood Bank
Laundry service for patient/attendant
Wi-fi services
Parking zone
Luggage room
Cafeteria
Pathology services
24-hour security
Health Insurance
Services for International Patients
Online Consultation
Free Airport pick-up
Currency Exchange
International News Channels
Medical Visa Assistance
Payment
Medical Opinion
Personal Assistance
Affordable accommodation
Nursing Service
24-Hour Medical Assistance
Comprehensive Cancer care
General and AC Deluxe wards
24-Hour Medical Assistance
Meals
Local Sim card
Affordable and Reasonable Charges
ATM facility
Language Interpreters
What Clinicspots will do for you?
Clinicspots is a medical platform that provides end-to-end medical services to domestic and international patients. We allow you to search, compare and coordinate your medical treatments with trusted hospitals.
Further, through intensive research, our medical experts give personalized responses to queries generated on our Medical Q & A Platform through intensive research.
Apart from this, Clinicspots also provides medical tourism for international patients. Furthermore, we give the following services:
Medical Visa Assistance
Airport Pick Up/Drop
Accommodation
Currency Exchange
SIM Card
Language Translators
Opinion by doctors
Estimate of treatment
FAQs
1. Is India a good place to cure cancer?
Ask India's top oncologists and cancer specialists, and they'll tell you that India is one of the finest places to get cancer treatment. The most important reason is financial. When considering the cost of therapy in Dollars or Pounds, India is around 500 percent to 700 percent less expensive.
2. Is it possible to treat stage 4 cancer in India?
Melanomas in Stage 4 have spread to the lymph nodes or other distant parts of the body. Symptoms are caused by skin cancers or swollen lymph nodes. The symptoms can be relieved with a combination of surgery, radiation treatment, and palliative care, but the cancer is seldom treated.
3. When should cancer patients stop taking their medications?
If you've had three or more chemotherapy treatments for your cancer and the cancers are still growing or spreading, it's time to think about quitting.
4. Is chemo required for Stage 1 cancer?
Chemotherapy is often not used in the early phases of cancer treatment. Stage 1 is largely curable, but it does necessitate treatment, which usually consists of surgery and, in some cases, radiation, or a combination of the two.
5. Is it possible for cancer to transfer from one person to another?
Definitely not! Cancer is a contagious illness that does not transmit from person to person. It develops as a result of alterations in the cells that cause uncontrolled cell growth. Certain cancers may have a genetic component, meaning that if a person's ancestors have had the disease, he or she is more likely to get it. Breast, ovarian, colorectal, and other less frequent malignancies are among them.