What is the Chemotherapy Cost in India?
The Chemotherapy cost in India is quite affordable compared to other developed countries. However, the price also depends on the type and stage of cancer, the quantity of dosage and the root of chemotherapy administered, On this page, you will get to know cost estimate for types of chemotherapy, added costs, pre-operative and post-operative costs.
Generally, the cost of this treatment depends on how chemotherapy is given. The chemotherapy cost in India ranges from ₹56,000 ($800) to ₹2,80,000 ($4,000) per session.
Chemotherapy delivered through IV can range from ₹70,000 ($1,000) to ₹1,05,000 ($1,500). And another common way of delivering chemo is oral which starts from ₹56,000 ($800).
Chemotherapy given by port starts from ₹2,10,000 ($3,000) as it requires a minor surgery due to which the charges for it are higher. These costs along with additional treatments are billed in a package.
Below, find a detailed discussion of chemotherapy costs.
The affordable cost of chemotherapy in India is a major factor that prompts people to choose India for their treatment.
Estimated chemotherapy cost in India based on the method:
| Type | Price Range |
| --- | --- |
| Oral | ₹56,000 ($800) – ₹70,000 ($1,000) |
| Through IV | ₹70,000 ($1,000) – ₹1,05,000 ($1,500) |
| Through port | ₹2,10,000 ($3,000) – ₹2,80,000 ($4,000) |
How you will be receiving chemotherapy will be decided by your doctor based on the type, stage of the cancer and the health of the patient.
Factors affecting chemotherapy cost in India :
Type of cancer: The cost of chemotherapy is different for different types of cancer. Depending on the type of cancer a person has, the number of chemo sessions are determined according to which chemotherapy price will be decided.
Stage of cancer: This plays a big role in deciding the chemotherapy cost. If the cancer is discovered in the initial stage (stage I and stage II), then the cost of chemotherapy is relatively low. If the cancer is discovered in an advanced stage (stage III and stage IV), then the cost is relatively high.
Treatment plan: Sometimes, chemotherapy is given in combination with other treatments like surgery or radiation. So, the cost will vary accordingly for the different patients depending on the treatment plan.
Place of the treatment: The chemotherapy price in India also depends on the place of the treatment. Chemotherapy cost in hospitals in major cities like Mumbai, Delhi, Hyderabad, Chennai, will be more as compared to other cities. Also the treatment quality will be better in these cities. Generally, the areas where the cost of living is high, the treatment cost is also high.
Treatment Setting: The chemo cost also depends on whether the treatment is given at home, clinic, or hospital.
Further, the way the chemotherapy is administered affects its pricing as chemo port cost in India is way too expensive than IV and oral chemotherapy cost.
Chemotherapy dosage: The chemotherapy dosage varies from person to person. Usually, the dosage is high for a person with more body weight due to higher body resistance and low for a person with lesser body weight. Some drugs consider both height and weight while setting up the dosage.
Chemotherapy price in different cities of India:
| City | Average Price | Starting Price | Price Upto |
| --- | --- | --- | --- |
| Mumbai | ₹24,232 | ₹3,000 | ₹50,000 |
| Delhi | ₹23,865 | ₹4,000 | ₹45,000 |
| Bangalore | ₹21,783 | ₹4,000 | ₹50,000 |
| Chennai | ₹22,325 | ₹4,000 | ₹45,000 |
| Hyderabad | ₹21,220 | ₹4,000 | ₹45,000 |
| Kolkata | ₹19,575 | ₹4,000 | ₹40,000 |
| Pune | ₹18,982 | ₹4,000 | ₹40,000 |
Disclaimer: All the chemotherapy costs mentioned in the above table are subjected to change in accordance with the type of cancer and condition of patient.
What are the additional costs for Chemotherapy in India?
The chemotherapy charges in India is accompanied by not only the cost of chemo drugs and how it is administered but also includes several other costs.
The additional costs include the charges before the treatment starts and the expenses after the chemotherapy session ends.
1. Pre – chemotherapy cost in India
Under the pre-chemotherapy costs are the charges that a person must spend before the commencement of chemotherapy. It includes consultation fees, lab tests, and diagnostic tests. The fees range may vary from person to person as different cancers have different tests.
The pre – chemotherapy costs have been listed down for your reference:
| Tests | Description |
| --- | --- |
| Consultation fees | The consultation cost may vary from ₹1,000 ($14) to ₹5,000 ($71) depending on the fees of the doctor. |
| Lab tests | The lab tests include blood tests, urine tests, CBC (complete blood count), ECG (Electrocardiogram), PFT (Pulmonary function test), etc. Depending on the tests you may require, the cost varies from ₹56,000 ($800) to ₹70,000 ($1,000). |
| CT scan | The CT scan cost ranges from ₹2,000 ($28) to ₹6,000 ($88) depending on the place where you get CT scan. |
| PET scan | The PET scan cost ranges from ₹15,000 ($214) to ₹30,000 ($429). The cost will be different for different body parts. |
| X – ray | The cost of X-ray is different for different parts of the body. The cost ranges from ₹300 ($4) to ₹1,000 ($14). |
| Biopsy | The cost of biopsy lies between ₹30,000 ($429) to ₹35,000 ($500). |
| MRI scan | The cost of an MRI scan depends on which body part is being imaged and ranges from ₹2,000 ($28) to ₹25,000 ($357). |
| FNAC | The cost of FNAC ranges from ₹450 ($7) to ₹2,200 ($32) that depends on factors like city and availability. |
| Endoscopy | The cost of endoscopy ranges from ₹1,500 ($22) to ₹30,000 ($429). The cost range varies depending on the hospital you choose. |
The tests mentioned above are generally recommended by your doctor.
Additonal Treatments (If required):
The chemotherapy can be given as the only treatment or can be accompanied by surgery, radiation, or BMT (Bone Marrow Transplant). The cost of surgery and radiation may vary depending on which body part cancer exists and how severe the cancer is.
| Cost | Description |
| --- | --- |
| Surgery | The cost of surgery in India ranges from ₹2,80,000 ($4,000) to ₹10,50,000 ($15,000). |
| Radiation | The cost of radiation is approx. ₹30,000 ($434) to ₹20,00,000 ($28,981). |
| Bone marrow transplant (if required) | The cost of bone marrow transplant usually ranges from ₹15,00,000 ($21,428) to ₹40,00,000 ($57,143), it is performed in blood cancers and blood disorders. |
2. Post – chemotherapy cost in India
After the chemotherapy session ends, you may experience some side effects. To contain the chemotherapy side effects, medications are required. For example, a person suffering from an extremely low count of white blood cells will be given medicine to increase the white blood cell count.
The post-chemotherapy cost in India also includes the cost of your hospital stay and the cost of any extra services available.
For your reference we have listed below the post - chemotherapy costs :
| Costs | Description |
| --- | --- |
| Extra medications cost | This includes the cost of extra medicines which you may require after your chemotherapy session. These medicines are given mainly for the chemotherapy side effects, you may suffer. |
| Hospital stay cost | The chemotherapy can be administered within a few minutes to a few hours to a few days. This includes the costs for your hospital stay. |
| Additional service availed | You may have to extend your stay at the hospital or you may avail of some extra services. |
| Hotel charges | This includes the cost of your hotel stay. It depends on the type of hotel you choose for your stay. |
| Transportation charges | The hospital may be at a distance from your stay. So, you will have to travel to get there. |
| Homecare services | This is not a necessary service but sometimes a patient may require assistance from a trained nurse, may need additional medical equipment, and more. |
The accommodation charges will totally depend upon the person and his requirements.
The hotel stay cost in India is listed below for your reference :
| Costs | Description |
| --- | --- |
| Normal hotels | ₹2,000 ($29) - ₹2,500 ($36) |
| 3 star hotels | ₹5,000 ($72) - ₹8,000 ($114) |
| 5 star hotels | ₹10,000 ($143) - ₹25,000 ($357) |
Chemotherapy cost in India in comparison with other developed countries
Why do we see a huge influx of foreign nationals coming in for chemotherapy in India?
The above comparison justifies why people prefer chemotherapy in India. There is a huge difference in the chemotherapy treatment cost in India as compared to the rest of the world.
Currency: One big reason for the huge difference in chemotherapy cost in India is the currency. The currency in India is weak against the US dollar, pounds, etc., thus making it very affordable in terms of your treatment, stay, consultation, and everything that you will require.
Cost of living: The cost of living in India is 65% lower than in other developed countries. So, the facilities provided in India are comparatively less priced as compared to other developed countries.
Competition: There are large numbers of hospitals offering chemotherapy. To gain an advantage, many hospitals offer competitive chemotherapy costs in India. Therefore, the treatment cost is low as compared to other developed countries.
Doctor fees: Even though the oncologist in India are highly skilled , they charge less as compared to doctors in other developed countries.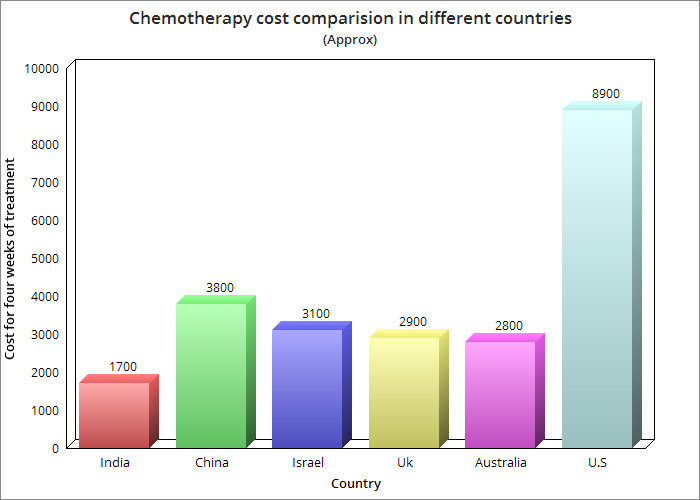 How does chemotherapy treatment work?
Chemotherapy restricts the cancer cells from splitting. It destroys the cancer cells more quickly than it destroys most healthy cells. Since chemotherapy drugs are powerful, they cause damage to many growing cells, including some healthy cells.
What is the duration of chemotherapy?
Nowadays for the best outcome, the patient will require standard, or in other words, uninterrupted chemotherapy over an accomplished period. Just to define when the session for the treatment will happen and to what extent, a convention plan is drawn up.
A course of chemotherapy might be only a one-day treatment, or can keep going on for fourteen days - it will rely on the type and stage of cancer.
If the patient requires more than one course of treatment there will be a rest period for his/her body to recover. Firstly, the treatment will go for one day, after one-day treatment, the patient will take seven days of rest, again after seven days next treatment will start and the patient will take three-week rest and so forth.
FAQs
Q 1. Can a patient work during chemotherapy?
Chemotherapy affects a person physically and mentally. In some cases, patients lead a completely normal life during chemotherapy while in some cases, patients lead a difficult life. A patient can work during chemotherapy if their health allows them to do so. Some patients prefer part-time work so they get time to rest as well.

Q 2. Can a patient take other prescribed drugs while chemotherapy is going on?
Some medicines may interfere with the working of the chemo drug. So, always discuss everything you are taking with your medical team and they will give you the best solution possible.
Q 3. Is chemotherapy painful?
Generally, the chemotherapy process is painless. You might experience a burning sensation while chemo drug is entering in the body which is for a very short period and tends to ease gradually. Some chemo drugs can also cause pain in the muscles, joints, head, and stomach.

Q 4. Where can I get chemotherapy?
A patient can receive chemotherapy at home or the hospital. Chemotherapy is given at home through portable pumps or oral medication.

Q 5. Why does chemotherapy make you tired?
The chemotherapy treatment makes a patient tired because it destroys healthy cells along with cancerous cells leading to fatigue.

Q 6. How long you will feel bad after chemotherapy?
Nausea and vomiting happen only for a few minutes to some hours after the chemotherapy is delivered and it vanishes within 24 hours. Some chemotherapy causes delayed nausea and vomiting which starts after 24 hours of chemotherapy and may last for 5-7 days.

Q 7. How long do the chemotherapy side effects last?
Usually, most of the side effects go away soon after the chemotherapy treatment end and some takes a few months or years to go away. However, there are few side effects which cause permanent damage to the body.

Q 8. How do I know if chemotherapy is working?
The medical team will monitor if the treatment is going well or not by performing certain blood tests, physical exams, and x-rays.
Q 9. When will your hair grow back?
The hair starts growing back after one month of the chemotherapy treatment ends. By the end of the second month, about an inch of hair grows back.
Q 10. Do chemo patients lose eyebrows and eyelashes?
Chemotherapy may cause hair loss not only in the scalp but also in other parts of the body. Sometimes, a person may lose eyebrows, eyelashes, the hair on the armpit, and hair on the other body parts.
Q 11. How many cycles of chemo are necessary?
A patient may require four to eight cycles for the treatment depending on the stage of the cancer. The series of cycles is defined as course. The course can be completed within between 3 – 6 months.
Q 12. Is chemotherapy worth the risk?
Yes, chemotherapy is worth the risk as it helps a person to live longer. Chemotherapy will either cure cancer or will relieve symptoms in case of a terminal illness.
Q 13. What happens if you miss a session of chemotherapy?
It is not recommended to miss your chemotherapy session. Your oncologists may sometimes change the schedule of your chemotherapy depending on your health and chemotherapy side effects, you are facing, but it is not recommended to miss the session. If by any chance you miss the chemotherapy session, then your medical team will explain to you what to do.
Q 14. What is the success rate of chemo?
The success rate of chemotherapy in India is approximately 60%. Cancer at early stages can be cured by chemotherapy and generally, the success rate is high. However, chemotherapy is also delivered during palliative treatment where its main role is to ease the symptoms and help the patient live a better life. The success rate of palliative treatment is quite high having some of the most renowned medical oncologists practicing in India.