Proton therapy cost in India- Is it better than traditional radiation therapy?
Proton therapy is a novel and growing medical technology that uses high-energy proton beams to treat various cancers. This article will give you an in-depth idea about the cost of proton therapy in India, the various proton therapy treatments you can avail in India for cancer, its related costs, miscellaneous expenses, etc.

Protons are positively charged particles that are now replacing x-rays (radiotherapy) in cancer treatments. Proton therapy is new-age radiation therapy. The treatment costs in India may begin from INR , as the base package. The average cost of entire proton therapy in cancer treatment would be between ₹ 25, 00,000 to ₹ 30, 00,000 (USD 33,000 to 39,000).
In India, proton therapy is most commonly used to treat tumours of the head and neck, as well as pediatric cancers. According to experts, it's increasingly being used to treat spinal tumors, breast cancer, sarcoma, brain tumors, and prostate cancer. Proton therapy is used to treat cancer and some non-cancerous tumors. It might be used with other therapies, such as surgery and chemotherapy.
This fee is only 1/3rd of what most hospitals in the US cost for a proton cancer treatment. As of 2019, per an article published in the Hindu 2019, India is the 16th country in the world to be providing proton therapy for cancer treatment at affordable costs.
You must be looking for the treatments that can be cured with proton therapy and their costs. Let's read ahead. To help you through your searches, we have covered all the details on one page.
What does the average proton therapy cost in Indian cities?
On average the cost of proton therapy treatment may be approximately ₹ 25, 00,000 ($ 32,700) in major Indian cancer hospitals across various cities. This cost, however, is not limited to the abovementioned price since there are numerous variables involved in a complete treatment. These additional factors may increase or decrease the final bill amount. These factors will be dealt with later in this article.
Being prepared with the cost data will help you plan your expenses well ahead, find healthcare coverage or medical schemes, and look towards managing your other finances that will affect your final cost. These miscellaneous factors include:
These charges will all be exclusive of the aforementioned prices. The detailed costs of the additional factors are discussed right below.
Note: Proton therapy is a relatively new and advancing field in India. Although there are a good number of hospitals offering proton cancer treatment, the prices and costs are still unavailable for all cities. Some Indian cities may not provide the treatment. Please keep these factors in mind before making your decision.
What are the different diseases that can be treated using proton therapy?
Proton therapy or high-energy proton beams can be used to treat various cancerous and non-cancerous diseases. It has the potential to kill cancer cells and prevent second cancer in young men and women. The various benign tumors that can treat are: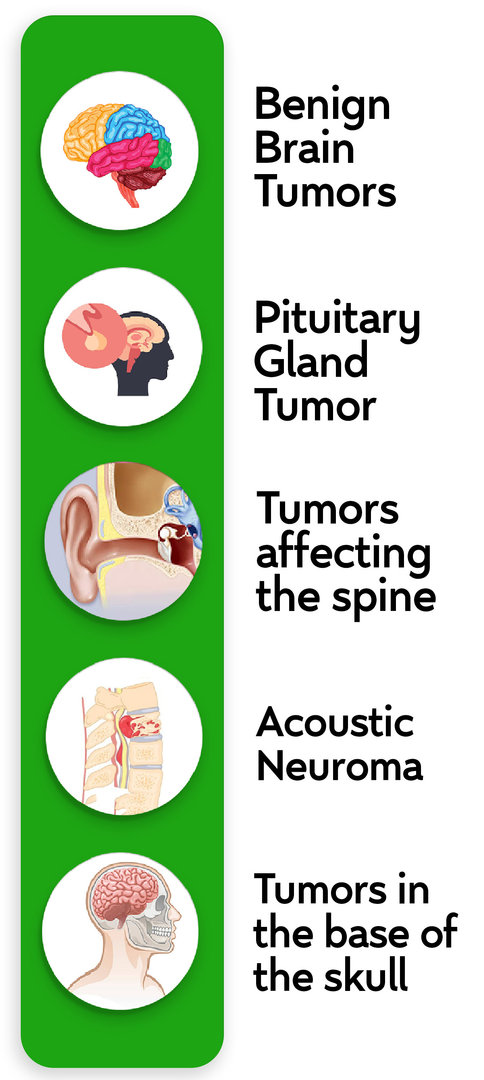 | | | |
| --- | --- | --- |
| It is a mass of cells that grows relatively and slowly in the brain. | Also called non-cancerous tumors. | The average cost of this treatment would be roughly ₹ 22, 00,000 i.e. ($ 28,000). |
A pituitary adenoma is a tumor that develops in the pituitary gland.

It is located near the brain and can affect hormonal levels of the body.

Also called Pituitary Adenoma

Symptoms like:

feeling sick all the time,

Mental or behavioral changes

Estimate cost (₹ 19, 00,000 to 21, 00,000) i.e.($ 25,000 to 27, 000) approximately.



The main types of pituitary gland tumors are as follows:
Non-functional adenomas (null cell adenomas): These tumors are the most common type.

Prolactin-producing tumors (prolactinomas): These benign tumors are also common.

ACTH-producing tumors

Growth hormone-producing tumors
It is a tumor that develops-

Balance

an auditory nerve in the brain

It is a part of a benign tumor that may originate from the region connecting the inner ear to the brain. It causes

hearing loss.

The average cost of this treatment may be ₹ 22,00,000 ($ 28,000)
What types of cancers can be treated with proton therapy in India?
With the advent of proton cancer therapy, research shows various malignant tumors that can be treated using this treatment. There are records of many cancer treatments that are performed using proton radiation therapy and gave positive results.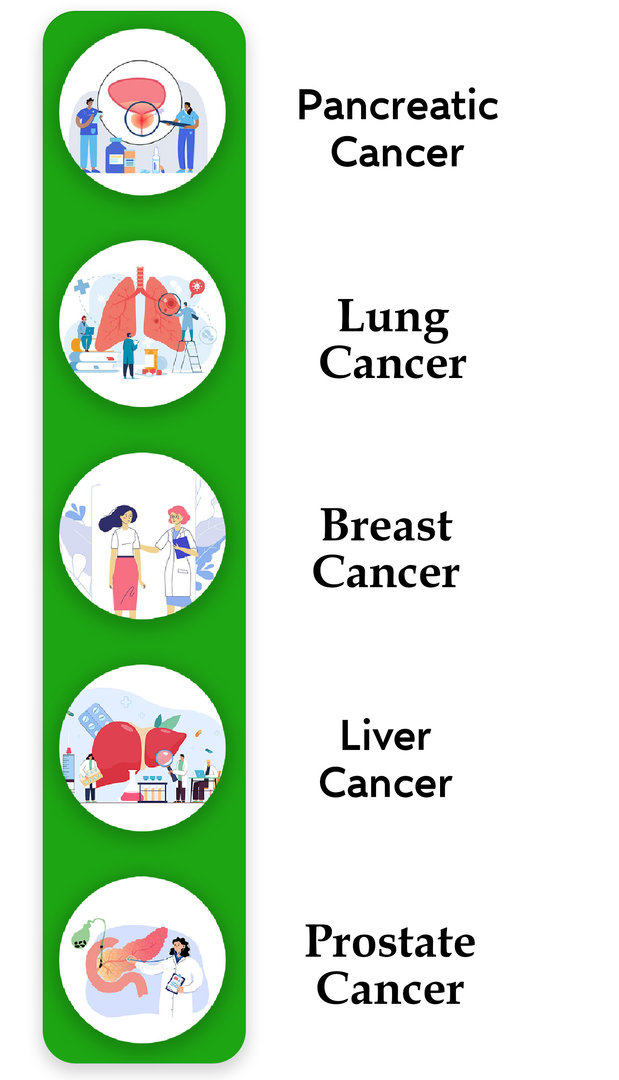 Proton treatment is effective for tumors that have not spread and are located near vital organs, for example, cancers near the brain and spinal cord. It is also used to treat kids since it reduces the risk of damaging good, developing tissue. It can also be used to treat eye cancers such as retinoblastoma and orbital rhabdomyosarcoma.
These tumors may also be treated with proton therapy, like:
Lung cancer

Liver cancer

Prostate cancer

Spinal and pelvic sarcomas are types of cancer that occur in the soft tissue and the bone.

Non-cancerous brain tumors
Let's check ahead proton cancer treatment cost in India:
It is cancer that starts in the gland cells of the seminal vesicles and is found in men

It is easily treatable in the early stages

Symptoms like: Weak or interrupted flow of urine

The estimated cost of proton therapy for prostate cancer is ₹ 28, 00,000 ($ 36,700)



Breast cancer is the most commonly heard cancer diagnosed in women.




Many treatments are available for breast cancer and Proton therapy is the best therapy one of those.

It includes some of the symptoms like

New lump in the breast or underarm, thickening or swelling of part of the breast.

The treatment cost of proton therapy for breast cancer is ₹ 22, 00,000 to ₹ 25, 00,000 ($ 28, 000 to 33,000).



Lung cancer is caused due to excessive smoking, active or passive pollution.




It includes symptoms like:

Blood coughing

Severe unsettling Chest Pain

The cost of proton therapy for lung cancer is ₹ 24, 40,000 ($ 32,000)



It is a type of cancer that takes place in the liver.

It is a vital organ of the body.

Hepatocellular Carcinoma is a type of liver cancer

It happens because of Hepatitis B or Hepatitis C infection.

It happens because of Hepatitis B or Hepatitis C infection.

It includes some symptoms like

Losing weight without trying,

Upper abdominal pain.

A 2019 study suggests that proton therapy for liver cancer can result in high tumor elimination rates and lower side effects.

The cost of proton therapy for

liver cancer cost around ₹ 1,90,000 ($2540)
Apart from that, some other types of cancers can be treated with proton radiation therapy. These include:
Stromal sarcoma

Fibroids

Uveal melanoma

Iris melanoma

choroidal haemangiomas

head and neck tumors

lymphoma

pancreatic cancer

oesophageal cancer

Rhabdomyosarcoma

Basal cell sarcoma, and many more.
What are the pre & post-treatment costs for proton therapy in India?
Any surgical or cancer treatment will require you to prepare yourself for the treatment. It may be in the form of diagnostic tests, localization or positioning of the tumor or area of surgery etc. Similarly, in proton radiation therapy, there are certain initial stages you'll need to go through to prep you for the treatment. These are called pre-operative measures and those costs will also be part of your bill. They are:
| | |
| --- | --- |
| Pre-operative tests | Cost in India (INR) |
| Doctor's consultation fee | ₹ 1100-1500/session |
| Treatment specialist consultation fee | ₹ 1200-2000 |
| MRI | ₹ 3000 – 10, 000 |
| CT-scan | ₹ 1500 – 3000 |
| X-rays (subjective) | ₹ 250 - 5000 |
Post-operative measures include:
Special Proton Therapy Room: charged as per the treatment center.

Normal room rent: ₹ 35,000 – 60, 000 / day

Medications: no specific medications are required.

Follow-ups: no follow-ups are required; check for side effects.
Proton beam therapy in India is a relatively hassle-free treatment as you need not stay at the hospital post-treatment. The patient can leave as soon as the treatment is completed and it is suggested to watch out for side effects if any.
With all these expenses combined, you get a lower price for Proton radiation therapy for cancer treatment in India. These prices are affordable yet are on the edge while competing with other countries.
What are the factors affecting the cost of proton therapy in India?
Limited availability throughout the country
Limited cancer centers that provide this treatment
Health insurance coverages
Choice of hospital
Choice of specialist
Experience and practice
Treatment cost
Equipment prices
Patient throughput - time per patient and demand for treatment
Treatment outcome
Proton therapy Side effects
What are the locations of proton therapy centers in India?
The Proton Treatment Centre at Apollo Hospitals in Chennai is the first proton cancer centre in Southeast Asia to identify priority research and development areas and conduct basic and applied research.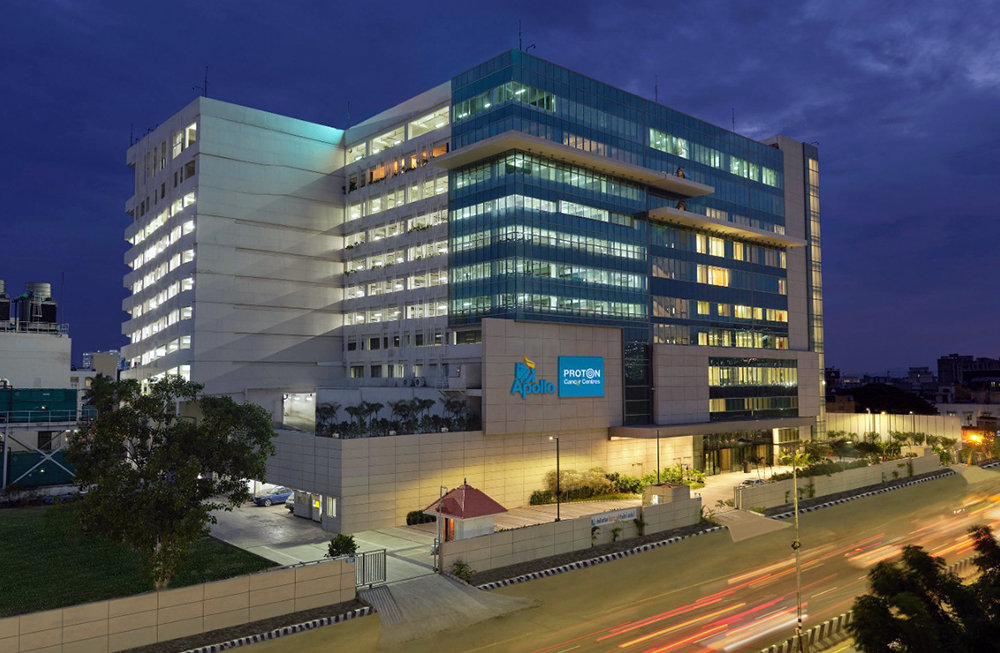 The proton therapy machine costs Rs 550 crore, which signifies the therapy is expensive. The proton therapy cost in Apollo Chennai is between Rs 20 lakh and Rs 30 lakh for the entire course. At present, treatment with proton therapy is available at only one center in Chennai.
According to a journal, we can expect proton therapy to start at Tata Memorial Centre's (TMC) ACTREC Kharghar centre in the next few months. It will make India one of the few countries in the world to provide this sophisticated cancer therapy. As per the source, the cost of proton therapy treatment in the United States ranges from Rs 1 crore to Rs 1.5 crores. However, treatment at ACTREC Kharghar would be subsidized, with the low socio-economic segment of the population potentially receiving free treatment. The proton beam therapy machine is nearly ready, and the TMC anticipates treating roughly 800 patients each year. Also, half of them will be covered by the cost of proton therapy in Tata Memorial free of charge.
How much does proton therapy cost without insurance in India?

With insurance, in major Indian cancer hospitals across several cities, the proton therapy treatment costs around Rs. 25,00,000 ($32,700).
Without insurance, the proton beam treatment cost can range somewhat up to $120,000.
However, actual expenses may vary based on several factors, including the tumor's size and location and the length of therapy.

What is the success rate of proton therapy in India?
Though proton radiation therapy in India is a new type of treatment well researched and performed by well-trained and equipped doctors in India. Around 46% of patients who underwent Proton therapy were declared cancer-free. Moreover, 58% of those people are still alive. It is performed by highly qualified radiation therapists who are well trained in using the proton beam. The hospitals are recognized and accredited by JCI and are world-renowned cancer treatment centres. These places provide the best quality care and international standard state-of-art equipment and machinery are used.
Is proton therapy a better alternative to traditional radiation therapy?
New studies are revealing that Proton radiation therapy for cancer treatment may be a slightly safer option for the patients in the longer run. X-rays, or photon beams, are delivered to the tumor and beyond in traditional radiation. This can damage or kill the surrounding healthy tissues and have grim consequences.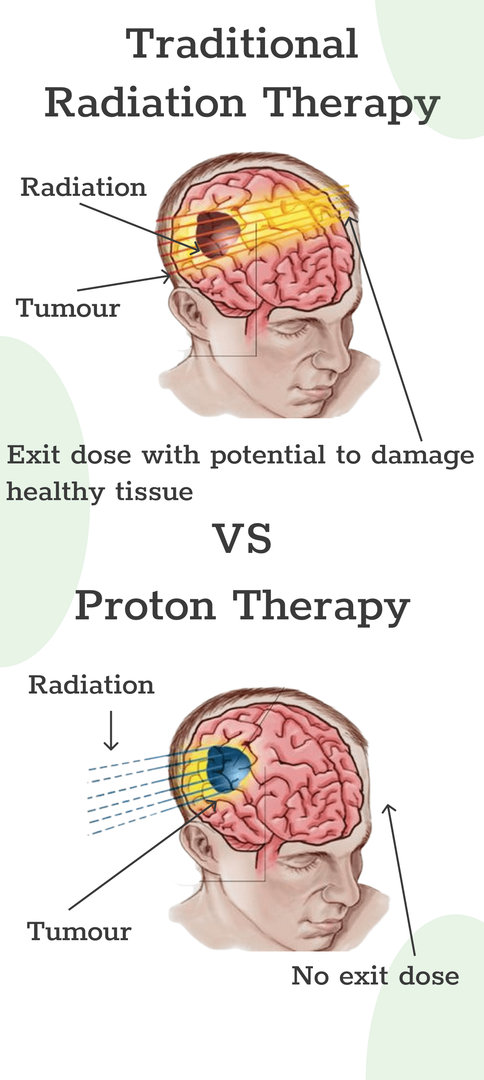 Proton treatment, on the other hand, uses a stream of protons that will stop at the tumor, causing minimal damage to neighboring healthy cells. The side effects of proton therapy are limited compared to traditional radiation therapy. Common side effects include fatigue, redness in the region, sore body and temporary hair loss.
Although some experts believe proton therapy is safer than regular radiation, evidence comparing the two therapies is less and still ongoing.
Does proton therapy have side effects?
It is a painless operation.

After that, you may feel exhausted.

You may also face skin diseases, including:
-Redness
-Inflammation
-Edema
-Dryness
-Blistering
-Skin peeling off of skin
There can be other side effects that can occur, especially if you are also undergoing chemotherapy. The kinds of healthy tissue around the tumor, as well as the location of the body being treated, determine the adverse effects of proton therapy. For your safety, you need to inquire with your doctor about the most dangerous side effects.
References:
https://www.hopkinsmedicine.org/
Fortune India: Business News, Strategy, Finance and Corporate Insight
Some factors influencing the cost of a hospital based proton therapy centre | SpringerLink
About Author
Cost of Cancer Treatment in India
Question and Answers (400)