More about Hair Transplant Surgeon:
Techniques of Hair Transplant
FUT Hair Transplant: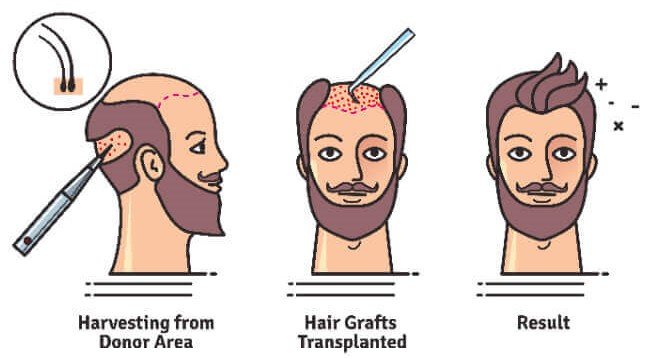 FUT is the mainstream method of hair transplant which is also called strip harvesting method.
Here, the strip of your skin containing hair is extracted from the donor area of your scalp.
After dissecting, the hair follicles are then implanted in the bald region of your scalp.
If your baldness level is high, i.e. if you need large number of grafts to cover the bald area then FUT hair transplant is the best method.
The disadvantage of this is, it leaves linear scar on the back of your scalp and the recovery period is more.
FUE Hair Transplant:
FUE is a modern and most favoured method of hair transplant.
In this method, your hair follicles are extracted from the back of your scalp one by one using a punch.
These follicular graft units are inserted into the incisions made on the bald area of the scalp.
It leaves no visible scars and has less recovery period.
Robotic Hair Transplant :
Robotic hair transplant is similar to FUE Hair Transplant, but it is automated.
Image visualization and robotic limb are used for extraction of hair follicular graft units.
Grafts are extracted using double punch method which makes them easy to extract.
The hair transplant surgeon manually inserts the grafts in recipient region.
Robotic hair transplant is said to give successful results.
DHI Transplant:
Direct Hair Implant is a modern and advanced method of hair transplant.
In this method, a patented tool known as an implanter is used for implantation of hair in the recipient region i.e. bald areas of your scalp.
DHI provides greater density of transplanted hair.
The recovery time for DHI is very less.
It is a painless technique of hair transplant which gives very accurate results.
PRP Hair Treatment:
PRP hair therapy is a non-surgical hair loss treatment.
In PRP treatment, your own blood is used to treat the bald area of scalp.
Platelet rich plasma in your blood is separated from other components of the blood and it is extracted in a syringe.
PRP is injected in the bald area of your scalp. The growth factors boost hair growth.
Being a non-surgical process, it is quite safe. Also, it has almost no recovery period and gives positive results.