Hair Transplant Surgeons in Visakhapatnam,
12 Results
Frequently Asked Questions
More about Hair Transplant Surgery:
Techniques of Hair Transplant
FUT Hair Transplant: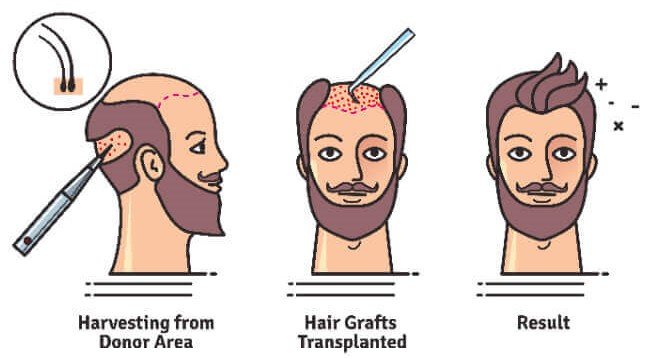 FUT is the mainstream method of hair transplant which is also called strip harvesting method.
Here, the strip of your skin containing hair is extracted from the donor area of your scalp.
After dissecting, the hair follicles are then implanted in the bald region of your scalp.
If your baldness level is high, i.e. if you need large number of grafts to cover the bald area then FUT hair transplant is the best method.
The disadvantage of this is, it leaves linear scar on the back of your scalp and the recovery period is more.
FUE Hair Transplant:
FUE is a modern and most favoured method of hair transplant.
In this method, your hair follicles are extracted from the back of your scalp one by one using a punch.
These follicular graft units are inserted into the incisions made on the bald area of the scalp.
It leaves no visible scars and has less recovery period.
Robotic Hair Transplant :
Robotic hair transplant is similar to FUE Hair Transplant, but it is automated.
Image visualization and robotic limb are used for extraction of hair follicular graft units.
Grafts are extracted using double punch method which makes them easy to extract.
The hair transplant surgeon manually inserts the grafts in recipient region.
Robotic hair transplant is said to give successful results.
DHI Transplant:
Direct Hair Implant is a modern and advanced method of hair transplant.
In this method, a patented tool known as an implanter is used for implantation of hair in the recipient region i.e. bald areas of your scalp.
DHI provides greater density of transplanted hair.
The recovery time for DHI is very less.
It is a painless technique of hair transplant which gives very accurate results.
PRP Hair Treatment:
PRP hair therapy is a non-surgical hair loss treatment.
In PRP treatment, your own blood is used to treat the bald area of scalp.
Platelet rich plasma in your blood is separated from other components of the blood and it is extracted in a syringe.
PRP is injected in the bald area of your scalp. The growth factors boost hair growth.
Being a non-surgical process, it is quite safe. Also, it has almost no recovery period and gives positive results.
What is the Hair Transplant Cost in Vizag?
If you are planning to have a hair transplant, then there is no better place than Visakhapatnam.
The Hair Transplant cost in Visakhapatnam is considered quite less compared to other Major cities in India. Here, the hair transplant clinics offer the treatment at affordable prices.
The hair transplant cost in Vizag ranges from 45,000 to 2,60,000.
Generally, the cost of hair transplant depends on the number of Hair Grafts that are harvested.
| Number of Grafts | FUE | FUT |
| --- | --- | --- |
| 500 | ₹ 15,000 | ₹ 12,500 |
| 1000 | ₹ 30,000 | ₹ 25,000 |
| 1500 | ₹ 45,000 | ₹ 37,500 |
| 2000 | ₹ 60,000 | ₹ 50,000 |
| 2500 | ₹ 75,000 | ₹ 62,500 |
| 3000 | ₹ 90,000 | ₹ 75,000 |
| 3500 | ₹ 1,05,000 | ₹ 87,500 |
| 4000 | ₹ 1,20,000 | ₹ 1,00,000 |
To know more about detailed information about cost click here
The Following are the different types of treatment available for hair transplant in Vizag
The following are the other hair transplants in Visakhapatnam
Stages of the Baldness
Below you will find the six levels of baldness along with the treatment available for different stages. In addition, we have also provided the number of grafts needed and the cost.
Stage 1
In stage 1, mostly the doctor will recommend you take PRP (Platelet Rich Plasma) or other non-surgical methods to regain the hair loss. In case you opt for a PRP treatment, the overall cost can be negotiated.
The cost will be between Rs. 4,500 - 20,000 for one session. In this stage, you require hair transplant only if you desire to change the level of your baldness, and you do not want to wait for a longer time which PRP treatment might take.
Stage 2
In stage 2, the hair thinning as well as clear baldness exists. The hair thinning can be treated by PRP and other non-surgical hair growth methods. The baldness area and receding hairline can be cured only through hair transplant method. In this stage, you require approximately 1500 - 2000 or more hair grafts. And your hair transplant cost in Vizag might be Rs. 45,00 to 65,000 or more.
Stage 3
In stage 3, you will be getting Clear baldness, and you require hair transplant. In this stage, you require approximately 2000-2500 or more hair grafts. The number of hair grafts also depends upon the density of the hair you want. In this stage, the hair transplant cost in Vizag ranges from Rs. 90,000 - 1,20,000 (High- End Clinic).
Stage 4
In stage 4, your hair transplant may need 2500-3500 hair grafts. Most likely you will require 2 days for surgery. Generally, a single sitting of hair transplant in Vishakhapatnam lasts for 6 to 8 hours. In this stage, your hair transplant cost in Vizag may range from Rs.1,20,000 - 1,50,000 or more.
Stage 5
In stage 5, you may require 3500-4500 hair grafts for hair transplant. In this case, the hair transplant surgery will last for two days consisting of 6 to 8 hours per day. Depending upon the clinic, they might charge you per graft or the doctor might quote a lump sum amount for it. In this stage, the hair grafts for transplant might be taken from other parts of the body because you may not have enough hair at the back side of your scalp.
Stage 6
In this stage, you require more than 4500 hair grafts. So, the hair transplant goes for two or three sittings consisting of 6 to 8 hours per day. Here in this stage, the hair required is taken from the other parts of the body like beard, chest area. Usually, per graft wise assessment for this level of baldness will be quite expensive. So, the clinics mostly take lump sum amount for it.
Hair transplant case study
FUE Case Study
The Journey of a 28 years old person who underwent FUE Hair Transplant Surgery for 3000 Hair Grafts. The following person was suffering from Frontal Hairline loss. After consultation the doctor advised him to go for a FUE Hair Transplant Surgery. Let us see the journey of the hair transplant from the day of consultation till the regrowth of the new hairline.
Before Surgery
The person had enough hair on the back-side scalp (donor area), so it was decided to harvest the hair follicles from the backside of scalp and implant it on the frontal hairline of the scalp.
Next Day of Surgery
In the above image you can see how they have implanted hair grafts and created a new hairline in the bald area.Around 3000 hair grafts were needed to cover the bald area.
After 2 Months
Here we can see the implanted hair on the frontal part of the scalp have started regrowing. Around Two- Four weeks after surgery the implanted hair grafts will off and in its place new hair will start growing. After 3 Months we can see substantial amount of regrowth of hair on the scalp.
After 6 Months
Here in this image we can see clearly the natural regrowth of implanted hair after FUE Hair Transplant Surgery. It takes almost 6 months for the implanted hair to regrow and merge with the normal hair.
PRP Case Study
This 26-year-old male is highly worried with his hair loss. He has become particularly concerned about the recession that has occurred bilaterally. Let us see how he overcome his concern by undergoing PRP Hair Treatment.
Before Surgery
This patient, at his young age, exhibits a stage 2 baldness pattern, with loss of hair in the frontal and crown area. The doctor advices him to go for PRP as it will stop hair loss at the same time boost new hair growth.
On the Day of PRP
As advised by the doctor he underwent PRP treatment along with medication.
After 5 Weeks
Here in the above image we can see the regrowth of the hair on the bald areas of the scalp.
After 8 weeks
Two months after the PRP treatment along with the medication we can see there is a good and natural regrowth of the hair in the baldness area. The doctor has advised him to go in for another session of PRP after a couple of months.
FAQ's
Is hair transplant permanent or not?
Yes, hair transplant is permanent in nature, as the transplanted hair is generally extracted from the backside of your own head, where the hairs are genetically more durable.
I am having a medical condition can I undergo a hair transplant or not?
Yes, but at first a medical check-up is recommended to understand what complications you are facing.
Some of the common conditions are High Blood pressure, Diabetes, Alopecia etc. The hair transplant surgeon will only suggest you to undergo the surgery if all the medical conditions are under control.
Does the needle or drill will affect the skull or not?
The drilling that is done in hair transplant surgery is only 0.3 mm deep which is sufficient enough to penetrate the upper layer of the skin of your scalp. So there are no chances of the drill to getting anywhere near your skull.
How much pain will I feel during hair transplant?
You won't feel any pain while extraction or implantation of the grafts since you will be provided with local Anaesthesia during the surgery.
Will it look natural or not?
Yes, since the procedure involves transplanting your own hair, it gives the most 'natural look'. This also depends on various factors:

The treatment that you choose (for e.g. FUE).
The quality of donor hair.
How experienced or qualified the specialist is

How long will the hair transplant procedure take?
The timing of the procedure and how long it will take to complete it usually depends on the number of grafts to be implanted
Ex : If you require a transplant of 1500-2000 hair grafts, it will take 6- 8 hours for its completion.
When can I resume my work?
You can resume work from the next day itself unless and until you have to do any heavy field work as you have to be careful and protect the implanted Grafts from direct sunlight and dust.
So wearing a protective headwear is recommended.
Are there any post-surgery side effects?
Absolutely no major side effects have been recorded yet, although there are some minor post-surgery side effects like swelling and redness in the implanted area. Though, with proper medication, this can be treated successfully.