Overview
Diabetes is becoming alarmingly common worldwide. Its prevalence is increasing at an unprecedented rate. In 2021, around 537 million adults around the world were living with diabetes. IDF Diabetes Atlas data shows that this number will rise to 643 million by 2030 and 783 million by 2045. In India, 74.2 million people were living with diabetes in 2021. This number is likely to increase to 124.8 million by 2045.
At the same time, the world is witnessing several rapid advances in therapeutics and technology to control and monitor diabetes. 2022 has been a whirlwind for the medical community, with several breakthroughs in diabetes care. We are witnessing the never-ending innovation of insulin pumps in the form of wearable patches and closed-loop delivery systems. Insulin management has never been this easy and handy for people with diabetes.
According to Dr. Sony Sherpa, a holistic physician from California,
"Insulin pumps are a better option if you have trouble keeping your blood sugar levels under control with shots. Pumps can also be less expensive in the long run and may give you more flexibility in when and where you eat and exercise."
The latest revolutionary invention approved by the FDA is Insulet's Omnipod 5. It received approval from the FDA on January 28, 2022. This latest insulin pump is the only tubeless patch pump and is a hi-tech system that never sleeps. OmniPod 5 functions day and night and protects against the highs and lows of insulin. It adjusts insulin delivery automatically to manage glucose levels.
Let's read along to learn more about this new innovation!
More about Omnipod 5
Omnipod 5 is the world's first-ever closed-loop system, automating insulin delivery without needing a plastic tube attached to your body. It is also the first FDA-cleared system you can control from your smartphone.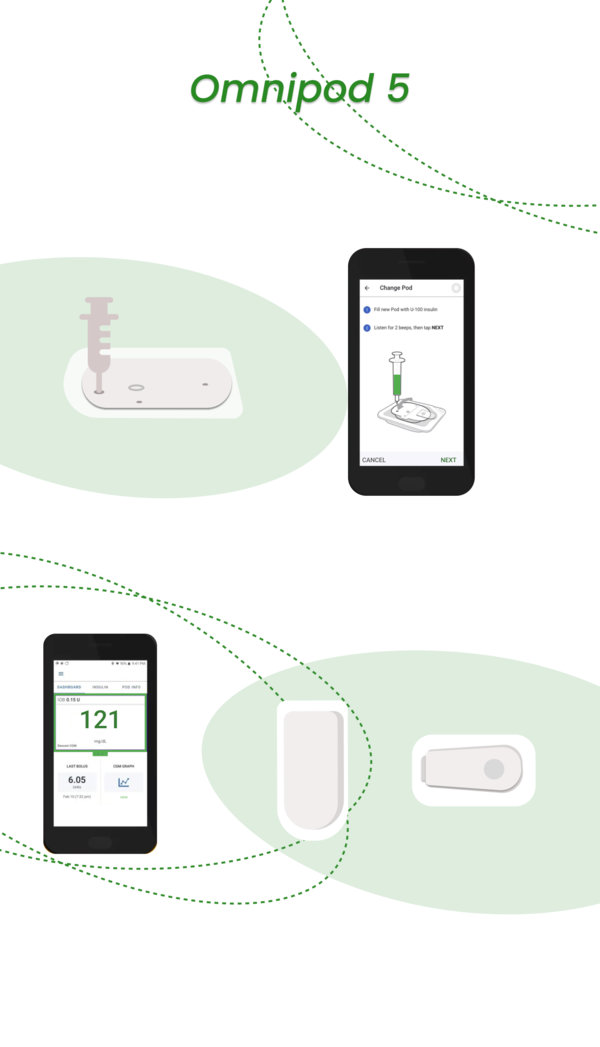 Like Omnipod DASH, Omnipod 5 will also use Bluetooth enabled pods and a smartphone application. Beyond this, the latest

diabetes

care system will also use different pods entirely.

It combines an insulin pump and a continuous glucose monitor (CGM) with a controlling algorithm, so insulin levels adjust automatically in response to predicted glucose levels.

It combines the patch pump of the Omnipod and Dexcom G6 to automate insulin delivery. Dexcom G6 is the world's most advanced CGM, eliminating the need for finger stick tests. You can directly attach the sensor to your body. Moreover, you don't need to carry a separate receiver, as Dexcom G6 is the first CGM to offer direct-to-smartphone app connectivity.

Omnipod 5 is also compatible with Dexcom G7, which is currently under review by the FDA.
Omnipod 5 is only the world's fourth automated insulin delivery (AID) system. The first was launched in 2016 under the name Medtronic 670G. The Tandem Control-IQ system was made available to the public in 2020, and the MiniMed 770G in September 2020. Omnipod 5 was officially launched in early August 2022 for diabetic patients two years and older.

What are the characteristics of OmniPod 5?
The Omnipod 5 pods hold 85-200 units of insulin and can be worn for up to 3 days. They are also waterproof for up to an hour.

It is safe for kids as young as two years old and suffering from type 1 diabetes (T1D).

It offers 100% control through a smartphone application. For those without a compatible smartphone, Insulet gives a handheld controller to use exclusively with the Omnipod 5 app.

Omnipod 5's SmartAdjust technology enables the device to adjust automatically to insulin rates every 5 minutes.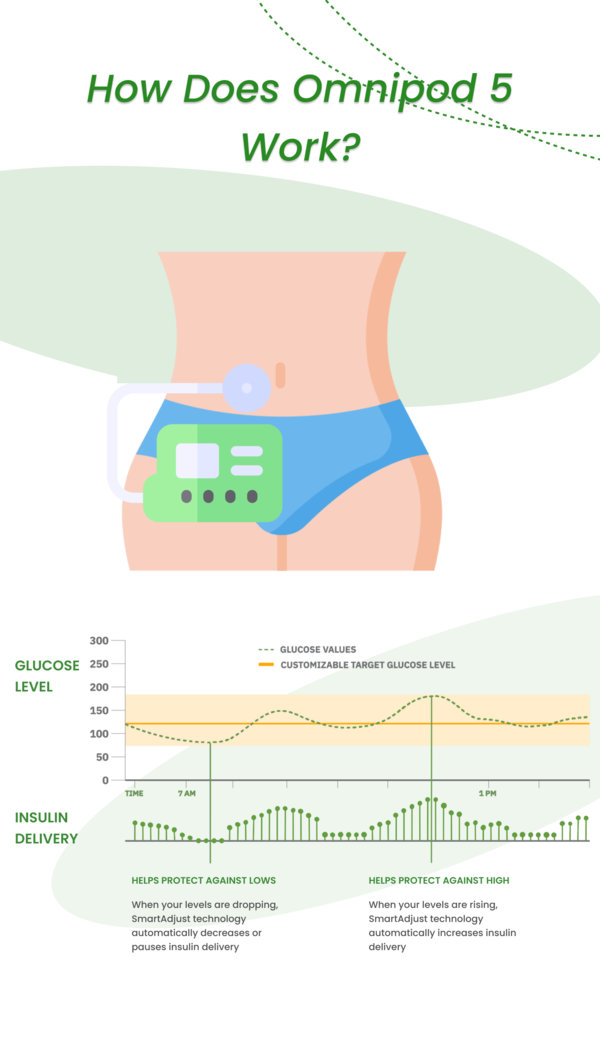 It enables customizable glucose targets and has as many as eight different programs.

Bluetooth-enabled Pods need clear communication with Bluetooth G6 sensors. Hence, the pod and the G6 CGM should be worn on the same side of your body.

The system takes 2-3 pods to learn the needs of an individual. The smart adaptive learning algorithm delivers judgments based on the results of the past several days. The foundational basal program is set in around nine days.
Though it has been tremendously helpful for people using it, switching to OmniPod 5 is your personal choice or your doctor's recommendation.
Dr. Sherpa says, you need to keep in mind the following things before using any insulin pump,
"If you have severe kidney disease, cannot monitor your blood sugar, or have trouble following instructions, you should not use an insulin pump. Insulin pumps also may not be a good choice for people who are very active or who have certain medical conditions, such as heart failure."
Omnipod 5 is a blessing in disguise for those who spend long hours in the water. It is also a ray of hope for all parents with children diagnosed with T1D. It is indeed a technological marvel in the realm of diabetes care.
References:
https://www.medicaldevice-network.com/news/
https://www.businesswire.com/portal/site/home/
https://www.endocrinologynetwork.com/
Frequently Asked Questions
Are there any risks associated with fertility treatments for couples with diabetes?
Can weight loss help improve fertility in people with diabetes?
Can stress impact fertility in people with diabetes?
Can certain medications used to treat diabetes impact fertility?
Can diabetic females get pregnant?
Does diabetes affect egg quality?
Can high blood sugar levels during pregnancy impact the baby's fertility later in life?
Can lifestyle changes improve fertility in people with diabetes?