Hair Transplant Surgeons in Lucknow,
36 Results
Frequently Asked Questions
More about Hair Transplant Surgery:
Techniques of Hair Transplant
FUT Hair Transplant: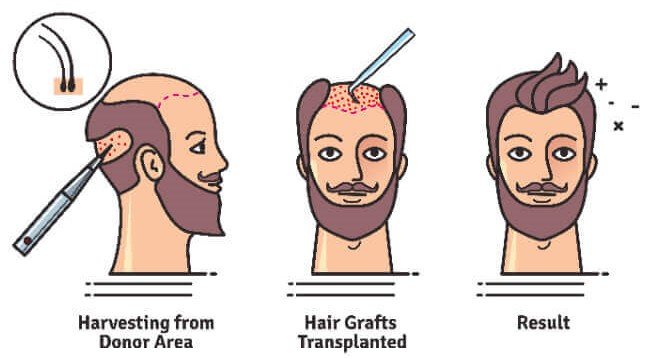 FUT is the mainstream method of hair transplant which is also called strip harvesting method.
Here, the strip of your skin containing hair is extracted from the donor area of your scalp.
After dissecting, the hair follicles are then implanted in the bald region of your scalp.
If your baldness level is high, i.e. if you need large number of grafts to cover the bald area then FUT hair transplant is the best method.
The disadvantage of this is, it leaves linear scar on the back of your scalp and the recovery period is more.
FUE Hair Transplant:
FUE is a modern and most favoured method of hair transplant.
In this method, your hair follicles are extracted from the back of your scalp one by one using a punch.
These follicular graft units are inserted into the incisions made on the bald area of the scalp.
It leaves no visible scars and has less recovery period.
Robotic Hair Transplant :
Robotic hair transplant is similar to FUE Hair Transplant, but it is automated.
Image visualization and robotic limb are used for extraction of hair follicular graft units.
Grafts are extracted using double punch method which makes them easy to extract.
The hair transplant surgeon manually inserts the grafts in recipient region.
Robotic hair transplant is said to give successful results.
DHI Transplant:
Direct Hair Implant is a modern and advanced method of hair transplant.
In this method, a patented tool known as an implanter is used for implantation of hair in the recipient region i.e. bald areas of your scalp.
DHI provides greater density of transplanted hair.
The recovery time for DHI is very less.
It is a painless technique of hair transplant which gives very accurate results.
PRP Hair Treatment:
PRP hair therapy is a non-surgical hair loss treatment.
In PRP treatment, your own blood is used to treat the bald area of scalp.
Platelet rich plasma in your blood is separated from other components of the blood and it is extracted in a syringe.
PRP is injected in the bald area of your scalp. The growth factors boost hair growth.
Being a non-surgical process, it is quite safe. Also, it has almost no recovery period and gives positive results.
Hair Transplant in Lucknow
If you are looking for some useful information related to hair transplant in Lucknow then let me congratulate you because you've landed on the right place.
Hair transplant in Lucknow Uttar Pradesh is setting new records every year of treating a significant number of hair transplant seekers.
We have listed the top hair transplant clinics in Lucknow along with an in-depth analysis on the hair transplant cost in Lucknow.
You can compare and choose the best clinic for your hair transplant in Lucknow which suits your budget and expectations. But first, let us know more about the hair restoration treatment and its cost in Lucknow.
Lucknow being the capital of Uttar Pradesh state of India, is also one of the most populated cities in the state. Apart from the population, the pollution level here is also high which is a major factor influencing the rise in the number of baldness cases among the residents of Lucknow.
The clinics for hair transplant in Lucknow have the best infrastructure, advance equipment and excellent surgeons which have ample experience in the field of hair restoration treatment.The clinics are located in different locations of Lucknow for the convenience of the residents.
What is the cost of Hair Transplant in Lucknow?
The cost of Hair Transplant in Lucknow is roughly between Rs 25 to Rs 30 per graft which is much low compared to other high-end metro cities in In India. The overall hair transplant cost in Lucknow ranges from Rs 285000 to Rs 60,000 and can even exceed to as high as 1 lakh depending on the baldness level.
| | | |
| --- | --- | --- |
| Approx hair grafts | Minimum Cost | Maximum Cost |
| Up to 1000 Hair Grafts | Rs.25,000/- | Rs.30,000/- |
| Above 1000 - 1500 Hair Grafts | Rs.35,000/- | Rs.48,500/- |
| Above 1500 - 2000 Hair Grafts | Rs.45,000/- | Rs.65,000/- |
| Above 2000 - 2500 Hair Grafts | Rs.50,000/- | Rs.78,500/- |
| Above 2500 - 3000 Hair Grafts | Rs.55,000/- | Rs.100,000/- |
| Above 3000 - 3500 Hair Grafts | Package | Package |
| Above 3500 - 4000 Hair Grafts | Package | Package |
The city of Lucknow has its own charm with a variety of modern medical facilities. People of Lucknow are now accepting the changing society and do not hesitate to do cosmetic surgery and hair transplant surgery. Premature baldness is a common problem in India and Lucknow is no exception. The hair transplant in Lucknow is done effectively and at a reasonable cost. So, to get rid of your baldness you must visit the clinics for hair transplant in Lucknow.
To know more about hair transplant, kindly visit webmd
| | |
| --- | --- |
| Hair Transplant Techniques | Other Hair Transplants |
FAQ's
Is hair transplant permanent or not?
Yes, hair transplant is permanent in nature, as the transplanted hair is generally extracted from the backside of your own head, where the hairs are genetically more durable.
I am having a medical condition can I undergo a hair transplant or not?
Yes, but at first a medical check-up is recommended to understand what complications you are facing.
Some of the common conditions are High Blood pressure, Diabetes, Alopecia etc. The hair transplant surgeon will only suggest you to undergo the surgery if all the medical conditions are under control.
Does the needle or drill will affect the skull or not?
The drilling that is done in hair transplant surgery is only 0.3 mm deep which is sufficient enough to penetrate the upper layer of the skin of your scalp. So there are no chances of the drill to getting anywhere near your skull.
How much pain will I feel during hair transplant?
You won't feel any pain while extraction or implantation of the grafts since you will be provided with local Anaesthesia during the surgery.
Will it look natural or not?
Yes, since the procedure involves transplanting your own hair, it gives the most 'natural look'. This also depends on various factors

The treatment that you choose (for e.g. FUE)
The quality of donor hair
How experienced or qualified the specialist is.

How long will the hair transplant procedure take?
The timing of the procedure and how long it will take to complete it usually depends on the number of grafts to be implanted
Ex : If you require a transplant of 1500-2000 hair grafts, it will take 6- 8 hours for its completion.
When can I resume my work?
You can resume work from the next day itself unless and until you have to do any heavy field work as you have to be careful and protect the implanted Grafts from direct sunlight and dust.
So wearing a protective headwear is recommended.
Are there any post-surgery side effects?
Absolutely no major side effects have been recorded yet, although there are some minor post-surgery side effects like swelling and redness in the implanted area. Though, with proper medication, this can be treated successfully.