10 Best Lung Treatment in the World- Updated 2022
Do you know? Respiratory diseases are one of the many leading causes of death worldwide. Approx. 384 million people suffer from pulmonary diseases, leading to 3 million deaths yearly and making it the third most widely spread infection worldwide. Severe respiratory diseases like asthma affect 626 million people, many of whom are children, resulting in 6 million deaths yearly. Finding the best treatments worldwide will be essential to living a long and healthy life if you have been diagnosed with lung disease. Do not worry! You've come to the right page! This article lists hospitals that provide the best lung treatment options available worldwide.
Table of Contents :
Overview
The lung is one of the most important organs in the body, as it enables us to breathe and stay alive. However, with such an important organ comes a host of diseases that can affect it negatively and put your life at risk.

Pulmonology diseases are any lung conditions that may impair the lungs' normal working condition and can affect the lungs over time.
Smoking, consuming tobacco, and living in a polluted environment may impact the breathing system while causing damage to the lungs and respiratory system.
Numerous different lung conditions have various effects on the respiratory system. Some of these conditions are irreversible and life-threatening.
To control the disease, there are several hospitals established worldwide that provide effective treatments and the best medical facilities.

Let learn more aboit it!

Pulmonary Hospitals in The USA
1. Mayo Clinic
1216 Second Street SW, Rochester, MN 55902-1906
Facilities
Service Available: 24x7 Multispecialty
Doctors: 4500
Beds: 2059
Score:100/100 in the USA
Patients experience: 4/5
Treatments: More than 40 specialist
About Mayo Clinic
Mayo Clinic in Rochester ranks No.1 on the Best Hospitals, Honor Roll.
It also ranks the No.1 hospital in Minnesota and the best in the country for Pulmonology & Lung Surgery.

Nationally ranks in the top 5 in pulmonology & Lung Surgery.

Mayo Clinic ranks among the top 50 out of 4515 Pulmonology & and lung surgery, the top 50 out of 284 hospitals for pediatric Pulmonology & Lung Surgery, and 45 in the Nation.
Mayo Clinic treats more than 12,000 people yearly with all types of pulmonary fibrosis.

It also provides facilities like Charity care provision for uninsured patients.
Pulmonary Hospitals in the UK
2. Royal Papworth Hospital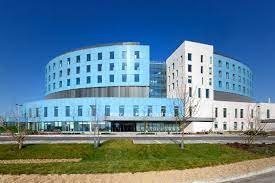 Papworth Rd, Trumpington, Cambridge CB2 0AY, UK
Facilities
Service Available: 24x7 Super specialty
Doctors: 2300 Staff
Beds: 300
Patient experiences: 9.7/10
Treatments: 48,400 patients annually
About Royal Papworth Hospital
Royal Papworth Hospital is the UK's largest specialized cardiothoracic hospital and the nation's primary lung transplant center, providing some of the most remarkable results in the world for patients.

Since performing the first successful heart transplant in the UK in 1979, the hospital has performed about 3,000 lung, and heart-lung transplants, with the highest survival rates in the world and the quickest recovery times.
It received the highest " outstanding " rating of the five domains evaluated by the Care Quality Commission (CQC) in 2019.
It also performed the first donation after circulatory death (DCD) heart transplant in Europe in 2015, and it will serve its 100th DCD heart transplant in 2022.
As a Foundation Trust, Royal Papworth Hospital is governed by a Board of Governors made up of 18 members of the general public and seven employees, as well as a Board of Directors composed of executive and non-executive members.
Additionally, seven members from other significant organizations have been nominated.
On July 1st, 2004, Royal Papworth Hospital received foundation trust status.
As an NHS Foundation Trust, Royal Papworth Hospital has always prioritized the needs of its patients, and we firmly think that increased public involvement in hospital issues, along with the liberties granted to the foundation.
Pulmonary Hospitals in India
3. Apollo Hospital
No. 21, Greams Lane, Off Greams Road, Chennai - 600006
Facilities
Service Available: 24x7 Multispecialty
Doctors: 11,000 Overall
Beds: 560
Score: 239 Globally
Patient experiences: 4.5/5
Treatments:1,52,000 surgeries overall
About Apollo Hospital
Apollo Hospital has solidified a leading position in healthcare by providing patients with the best care.

It is a JCI-accredited medical center.

It is regarded as one of India's top pulmonology facilities.

In addition, the center for respiratory Medicine offers world-class medical services to treat patients with respiratory disorders.

Apollo hospital has conducted 25 lung transplants.

They have a highly skilled team of pulmonologists and chest doctors available.

Apollo Hospital conducts Workshops on health and wellness for people with respiratory conditions.
4. Nanavati Hospital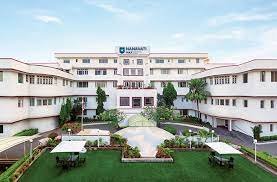 3RWR+835, LIC Colony, Suresh Colony, Vile Parle West, Mumbai, Maharashtra 400056
Facilities
Service Available: 24x7 Multispecialty
Doctors: 350 Specialist
Beds: 350
Patient experiences: 4.5/5
About Nanavati Hospital
Apollo Hospital has solidified a leading position in healthcare by providing patients with the best care.

Nanavati Max Super Speciality hospitals provide an excellent facility for diagnosing and treating pulmonary ailments for Chest & Respiratory Diseases.
Asthma, pneumonia, TB, chronic obstructive pulmonary disease (COPD), respiratory failure, complex lung and chest malignancies, etc., are the breathing problems that are treated, managed, and diagnosed at the Centre for Chest & Respiratory Diseases.
Nanavati Max Super Speciality provides a patient-centered treatment plan using innovative technologies that meet international standards.
A multidisciplinary team of doctors, pulmonologists, thoracic surgeons, respiratory medical physicians, respiratory technicians, allergists, physiotherapists, and other supporting staff collaborate with different specialties.
To achieve the best results, the Center for Chest & Respiratory Diseases is well-equipped with facilities to handle any emergency, diagnostic, therapeutic, preventive, and rehabilitative aspects of chest & respiratory diseases.
They also have a particularly intensive care unit (ICU) where highly skilled intensivists in critical care provide a seamless patient experience.
Pulmonary Hospitals in Turkey
5. Memorial Hospital
Facilities
Service Available: 24x7 Multispecialty
Doctors: 1200 Specialist
Beds: 292
Score: 21 Globally
Patient experiences: 4.2/5
Treatments: 8,00,000 patients annually
About Memorial Hospital
It is the first Turkish hospital, established 22 years ago, providing treatment in Turkey and worldwide.

Memorial Hospitals Group has been aiming to become a world-class brand since 2000.

Patients from more than 90 countries receive the best medical care in a secure and comfortable setting.

Memorial Group has established credibility in healthcare with its qualified doctors, nursing staff, and patient-service philosophy.

In his extensive network of hospitals and clinics in Istanbul, Ankara, Antalya, Kayseri, and Diyarbakir.

Memorial Healthcare Group provides medical care to patients from all over the country.

Services like estimates of treatment costs, language translation and interpretation, air ambulance arrangements, reduced airfares on Turkish Airlines' preferred carriers, airport transfers, travel, lodging, and other optional services are available upon request.
Pulmonary Hospitals in Germany
6. Helios Hospital
Schwanebecker Chaussee 50 Berlin 13125, Germany.
Facilities
Service Available: 24x7 Super specialty
Doctors: More than 70 Departments
Beds:1000
Patient experiences: 9.7/10
Treatments:144,000 patients annually
About Helios Hospital
Helios hospital was established in 1898 as an oncology facility.

Currently, it has more than 70 departments.

It offers maximum care and has a high success rate for various treatments.

It is one of the best medical complexes in Europe; the Charite Medical Complex houses this academic hospital.

Due to the excellent interdisciplinary medical care and the high standard of patient care, patients from all over the world prefer this hospital.

After treatment, the hospital offers optional special excursion programs through the nation's capital.

Doctors at helios hospital are highly qualified and efficiently handle complex cases.

In 2019, 9 doctors of helios from different departments ranked as the best doctors in Germany.

The hospital has received ISO 9001 International Standard Quality accreditation, which ensures high-quality medical care.
Pulmonary Hospitals in Spain
7. Centro Médico Teknon
Carrer de Vilana, 12, 08022 Barcelona, Spain.
Facilities
Service Available: 24x7 Super specialty
Doctors: 400
Beds: 249
Score:7 for quality service
Patient experiences: 4.7/10
Treatments: 23,500 Operations annually
About Centro Médico Teknon
Teknon Medical Center is a top choice hospital for pulmonology in Spain.

Teknon Medical Center in Barcelona is an expert in diagnosing and treating lung and lower respiratory tract conditions.

It primarily focuses on the pulmonology department.

Teknon Institute performed the 1st laparoscopic pulmonary valve implantation, where the patient underwent a successful operation and returned to his usual way of life after 14 days.

The specialists lie in treating infections and inflammations of the lung and bronchi tissue, the consequences of injuries, and the examination of lung cancer.

The Clinic performs low-dose computed tomography (CT) and chest X-rays to detect cancer early

.

According to data, Teknon ranks first in Spain and third in Europe for treatment success rates.

The hospital offers several

highly-skilled facilities and medical equipment.
Pulmonary Hospitals in Italy
8. San Raffaele Hospital
Via Olgettina Milano, 60, 20132 Milano MI, Italy
Facilities
Service Available:24x7 Multispecialty
Doctors: 1600 Specialist
Beds:1640
Score:4 for quality service
Patient experiences: 4.5/5
Treatments:15,00,000 patients annually
About San Raffaele Hospital
Ospedale San Raffaele is one of the largest research hospitals in Europe.

Specialties lie in the oncology department.

Every year, 12,000 cancer patients undergo treatment at the Cancer Center; and 6,000 receive surgical treatment.

They have developed complex diagnostic and therapeutic pathways for different types of tumors, including lung and mesothelial tumors.

Pulmonary Hospitals in Mexico
9. Hospital Americano
C. Rtn Viento 15 Sm. 4 Mz 22 Cancun Qroo. Cancun, QR, Mexico
Facilities
Service Available: 24x7 Multispecialty
Doctors: 300
Beds: 633
Score: 65.09 Globally
Patient experiences:4.1/5
Treatments: 413 procedures
About Hospital Americano
Americano Hospital is a private hospital in Mexico.

It is the first hospital in Cancun with an experience of 30 years.

It offers integrated services for diagnosis research, medical care, and various healthcare services in medical facilities.

Hospital Americano takes pride in its select talent pool of medical, nursing, administrative, and operating staff.

They run with a strict code of ethics and principles to offer each patient clinical excellence with human warmth.

There are specialized units for different specialties at the hospital, which are supported by advanced laboratories, diagnostic units, rehabilitation centers, and operating rooms.

It has a specialized emergency department to offer quick and effective care to patients.

The hospital offers its patients several additional services, including a cafeteria, a pharmacy, and many others.
Pulmonary Hospitals in UAE
10. Aster Hospitals
127 Al Mankhool Rd - Dubai - United Arab Emirates
Facilities
Service Available: 24x7 Multispecialty
Doctors: 2000
Beds: 8000
Score:1 hospital accreditations of quality
Patient experiences: 4.5/5
Treatments: 20,00,000 patients annually
About Aster Hospitals
Top choice hospital for pulmonology in the United Arab Emirates

Aster DM Healthcare includes Aster Hospitals, which is based in Dubai.

They provide a seamless healthcare experience.

Aster Hospitals offers multispecialty hospitals, day surgery centers, diagnostic labs, telehealth, online consultations, a chain of pharmacies, research, and education.
Tips to be followed before Choosing a hospital for treatment
Lets us read the points listed below -
Patient feedback: Before choosing a hospital, we must confirm its reviews and ratings. The patient experience is always first-rate and reveals the actual condition. The most favorable and well-liked reviews provide an overview of the hospital's capabilities and history.
Labs and equipment: The best hospitals have labs and equipment for high-tech applications for all types of treatments.
Infrastructure and Safety: Most hospitals will be secure and sanitary. Having these safety and fire guards in a hospital setting is crucial. It is essential to understand the hospital's facilities. Nobody wants to visit a filthy, unclean hospital. We all desire a hospital with modern medical equipment in addition to its diagnostic tools.
Doctors: The most important thing we should look at when selecting a top hospital is the knowledgeable doctors' specialization, education, and experience. Therefore, studying the doctor's profiles and reviews is essential before choosing a hospital.
Costs: It goes without saying that the better the service, the more expensive it will be. As a result, you won't be advised to choose a cheap or costly hospital at this time. Instead, choose a hospital that meets your needs while charging a reasonable price. Getting the cost information is required for transparency.
Lung disease can be a scary diagnosis. However, there is hope for long-term survival with proper treatment.
Finding the right combination of treatments may take time, but it will be worth it. There is no one best treatment for all people with lung disease. Finding the right treatments will take time and patience, but it is worth it.
There is no better feeling than knowing you have found the best lung treatments in the world for your unique situation.
We hope this article has helped you find the best lung treatment hospital.
So what are you thinking?
Frequently Asked Questions