Can You Reverse Heart Failure?
Issues with the heart have an impact on the entire body, whether we're discussing high blood pressure, irregular heartbeats, problems with the blood vessels, or heart attacks. Let's continue to read more about revere of heart failure and new invention in this.

Heart disease, often known as cardiovascular disease (CVD), is a general term that refers to various diseases that impact the heart. CVDs are a leading cause of death worldwide.
Heart failure is a disease affecting at least 64 million people worldwide, increasing daily. Therefore, finding a cure for heart failure is significant.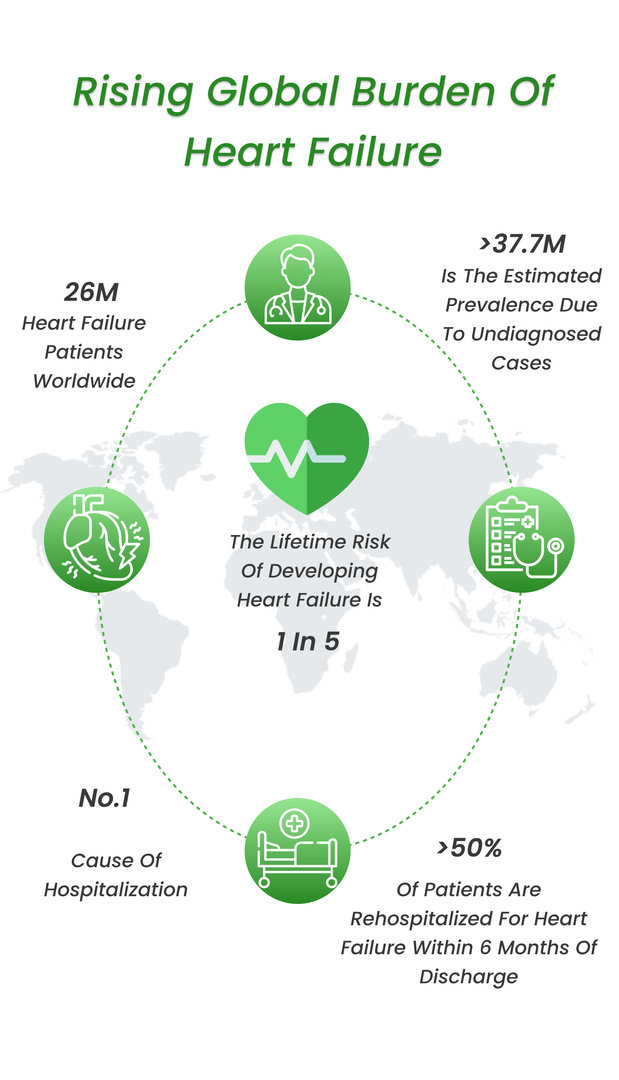 Congestive heart failure is known more commonly as heart failure. Coronary arteries are the veins that supply blood to your heart. If you have blockages in these, it can decrease the blood flow to your heart muscle and keep it from the oxygen it needs.
The treatment of this condition is essential. For that, a new pacemaker is set to be trialed in New Zealand heart patients in 2022 after a successful trial on animals.
Unfortunately, there is no cure for coronary artery disease, and you cannot reverse heart failure after you are diagnosed. But you can slow down its progression by making some lifestyle changes.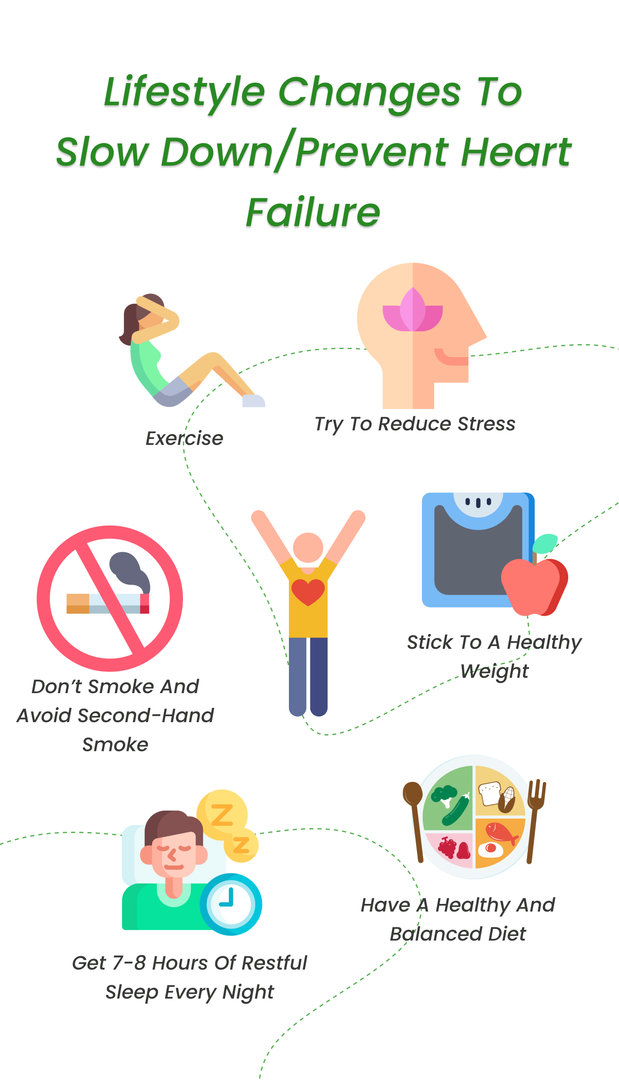 Researchers are trying to develop new treatments for coronary heart disease. One such technology is a bionic pacemaker that will re-establish the irregularly set heartbeat and is set to be trialed in New Zealand this year.
Let's see the existing treatment for heart diseases before we get information about the probable new invention.
Existing Treatments for Heart Failure
Heart failure is a chronic disease that needs lifelong management. Unfortunately, there is no permanent solution for heart failure, but you can manage it using the following treatments:
Medications
Your doctors usually treat heart failure with a combination of medications. The type of heart failure you have and, to some extent, what caused it will determine your course of treatment. Every treatment strategy includes both medication and dietary recommendations.
The ideal method of treatment for you will be discussed with you by your healthcare professional.
Surgery and other treatments
Surgery or other methods to install cardiac devices may be advised by your doctor. Surgery and other procedures include:
Coronary Bypass Surgery
If the arteries are severely blocked, causing heart failure, your doctor may recommend coronary artery bypass surgery. During the treatment, a healthy blood vessel is removed from your leg, arm, or chest and connected below and above the heart's obstructed arteries. As a result, your heart muscle receives better blood flow thanks to the new channel.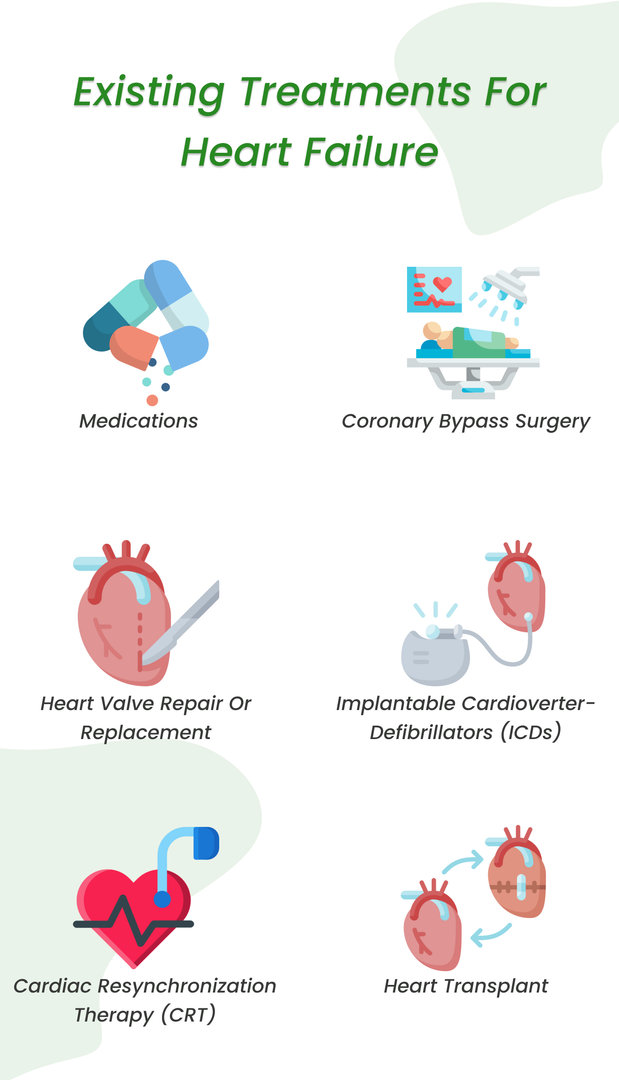 Heart Valve Repair or Replacement
If a faulty heart valve causes your heart failure, your doctor may recommend repairing or replacing the valve.
For the leaflets to close tightly, surgeons can repair the valve by reattaching the valve flaps or removing extra valve tissue. Sometimes replacing or tightening the ring surrounding the valve is part of valve repair.
Implantable Cardioverter-Defibrillators (ICDs)
Complications from heart failure are avoided by using an ICD. However, it does not address the underlying cause of heart failure.
ICD keeps track of the heartbeat. ICD aims to pace or shock your heart back into a regular rhythm if it starts pumping at a risky rate or stops unexpectedly.
Cardiac Resynchronization Therapy (CRT)
Your doctor may advise CRT if the ventricles, the lower heart chambers, are not pumping in unison.
Your ventricles get electrical signals from an apparatus known as a biventricular pacemaker. Your ventricles contract more precisely due to these impulses, which enhance blood flow from your heart.
Heart Transplant
Some people experience such severe heart failure that neither surgery nor drugs are effective. These patients might require having a healthy donor heart put in place of their own.
But you should know that not everyone needs a heart transplant as a treatment option.
Bionic Pacemaker to Reverse Heart Failure
The steady pulse of current pacemakers does not accurately reflect the irregular subtleties of a healthy human heart. According to an analysis of heart rate frequency, your breathing and heart rate are connected. It rises while inspiration and falls during expiration.
A new bionic pacemaker that restores the normal, erratic heartbeat was discovered in a recent study. The team's discovery of a method to reverse heart failure is the best part of the study.
A pacemaker is a small device inserted into the chest to help regulate the heartbeat. For example, it protects against a heartbeat that is too sluggish.
The new pacemaker restores the variability of the natural heartbeat. It increases the quantity of blood the heart can pump throughout the whole body by 20%.
The study was developed at the Centre for Heart Research at the University of Auckland and will undergo trial this year.
Dr. Rohit Ramchandra, who carried out this study on a large animal model, says,
"A natural variation in the heartbeat, as opposed to the metronomically steady beat that pacemakers now produce, enhances the heart's capacity to pump blood throughout the body, according to this study. The ability of the heart to effectively pump blood throughout the body has increased by 20%, which is another major development. And 20% is a significant percentage."
Currently, there is no cure for heart failure. Medications will manage your symptoms and make you feel better. But they don't address the issue that you have damaged tissues that are not contracting as they should. In addition, the existing pacemakers cannot mimic the irregular pace of a naturally healthy human heart.
The advantage of this bionic pacemaker over existing pacemakers is that it can restore the naturally irregular heartbeat of the human heart.
The following steps of this study are underway, and they plan on recruiting patients for the trial that will be conducted this year in New Zealand.
There is a huge need for new heart failure treatment, with the number of cases rising daily. This study could be revolutionary and can make a huge difference.
References:
https://www.keystonecardiology.com/
Frequently Asked Questions