Stem Cell Therapy for Brain Injury 2023( All You Need To Know)
Brain injuries are some of the most feared injuries. So far, medical science has been unable to cure brain injuries and their effects. But things are changing now. A new cutting-edge treatment is here to change our perception about treating brain injuries. What's more, the answer lies in our bodies! Read on to learn more.

Overview
First, let us understand a little more about brain injuries.

What causes them?
Brain injuries are generally caused by some form of violence like: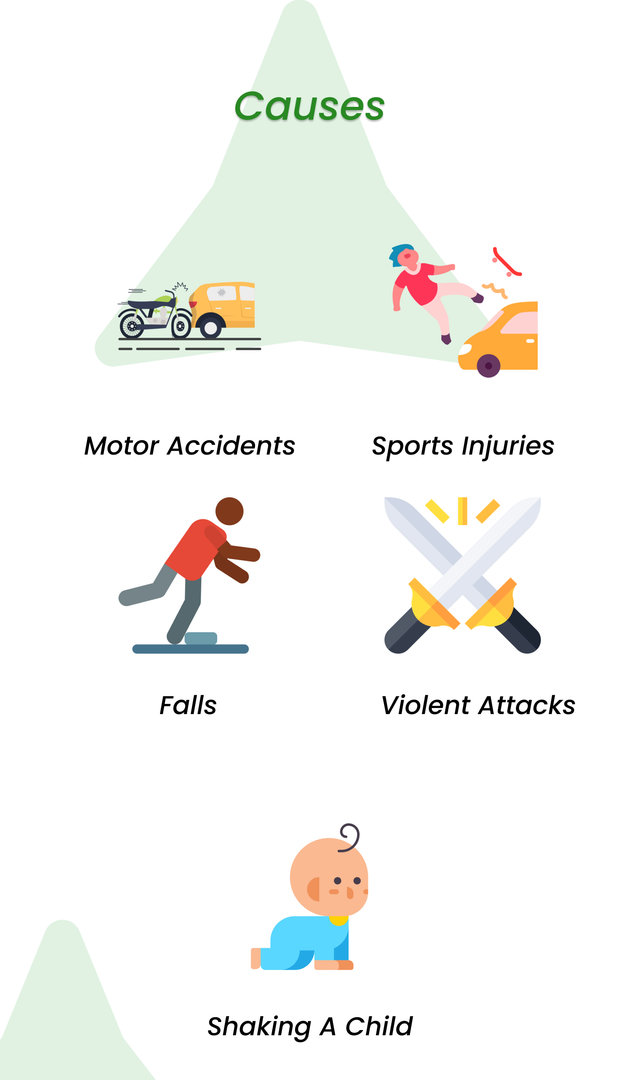 Motor accidents

Sports injuries

Falls

Violent attacks

Shaking a child
Symptoms
Brain injuries can manifest with a variety of symptoms, as each one is unique. However, you can keep an eye out for the falling signs:
Cognitive symptoms
Motor deficits

Paralysis

Poor balance

Tremors

Sensory issues
Communication problems
Traumatic Epilepsy

Found in severe penetrating brain injuries
Types
What are the different types of brain injuries out there? While several different classifications exist, the most basic one is as follows: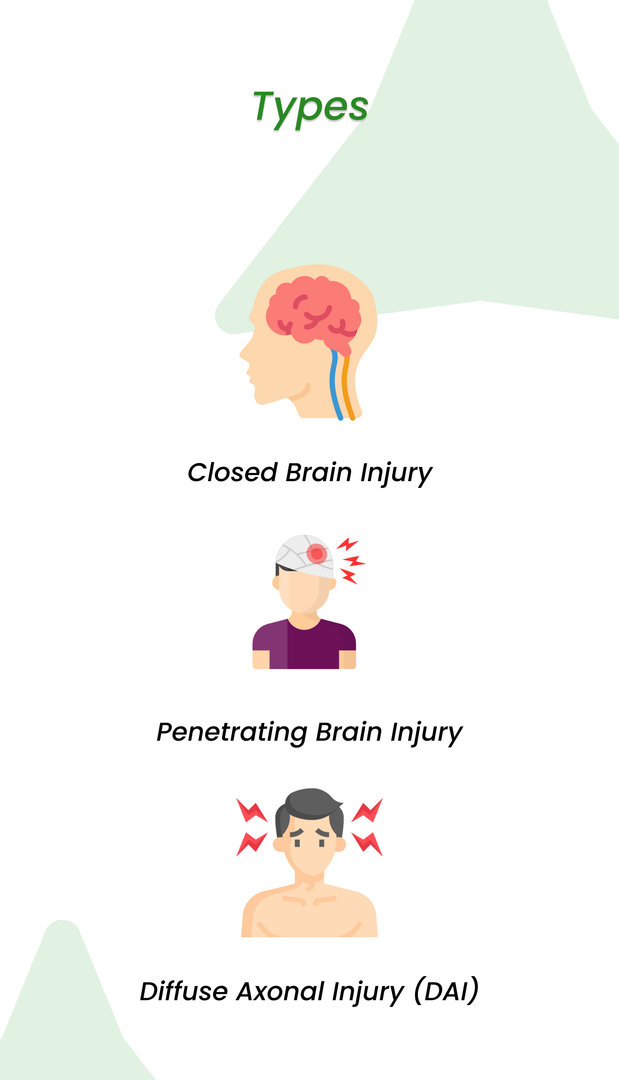 Closed Brain Injury: There is no break in the skull, but bruising and tearing of brain tissue and blood vessels occur.
Penetrating Brain Injury: This is seen when there is a break in the skull. It is usually seen with bullet wounds.
Diffuse Axonal Injury (DAI): It is the tearing of the brain's nerve fibers, which happens when the brain shifts and rotates in the skull during the injury. It almost definitely results in a coma.
Stem Cell Treatment for Brain Injury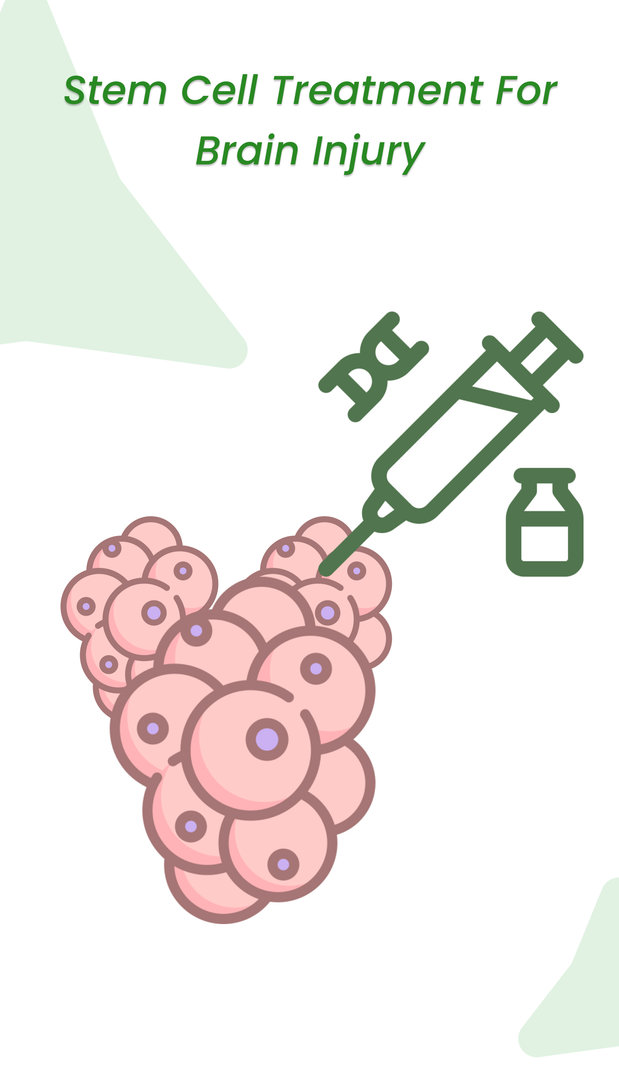 We are sure you're curious to know more about this new buzzword.

But first, let's get some basic knowledge of stem cell treatment.
What is a stem cell?
A stem cell is an undifferentiated cell that can form any kind of tissue in our bodies.
They can be extracted from our bone marrow, fatty tissue, and circulating blood. Scientists have also been studying the effectiveness of umbilical stem cells, which are extracted from frozen umbilical cords.
So, how do these cells help treat brain injuries, you ask?
Stem cells repair damaged cells and regenerate new cells.
When researchers discovered this property, they realized that stem cells will also be able to repair damaged nerve cells.
You see, when one gets a brain injury, the brain cells are damaged due to various reasons. It is challenging for nerve cells to heal, thus making brain injury a permanent disorder.
But with this new treatment, studies have shown that the stem cells replace the damaged brain cells, eventually reversing brain injuries and their effects.
Is it FDA-Approved or Under Clinical Trials?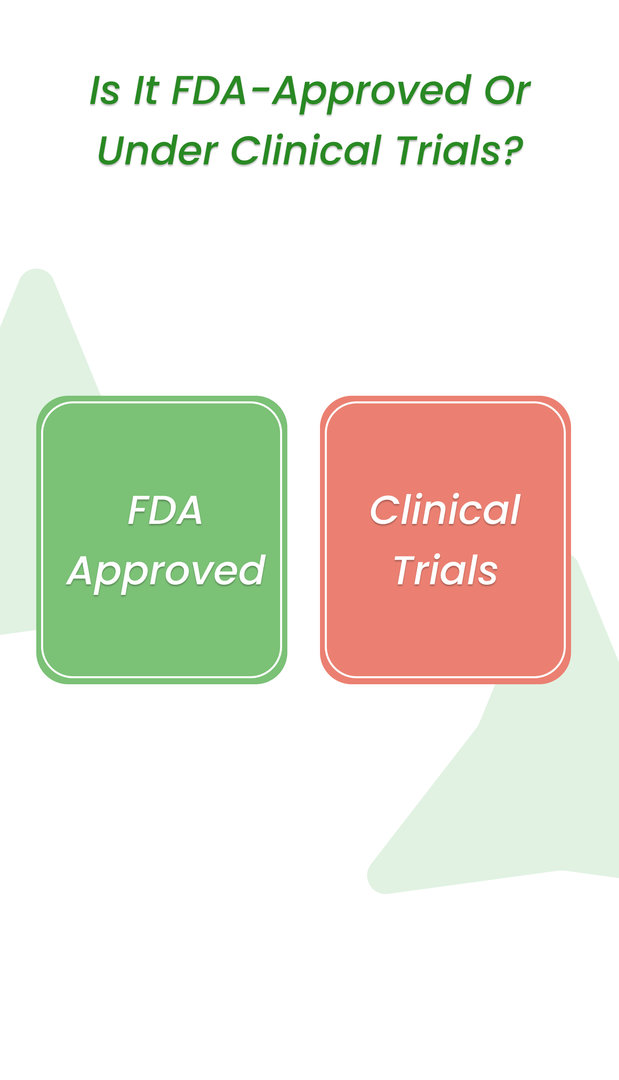 Stem cell therapy brain injury is currently undergoing clinical trials on a large scale. While it's not FDA-approved yet, the studies have been consistently showing promising results.
Does Stem Cell Therapy Work for Brain Injury?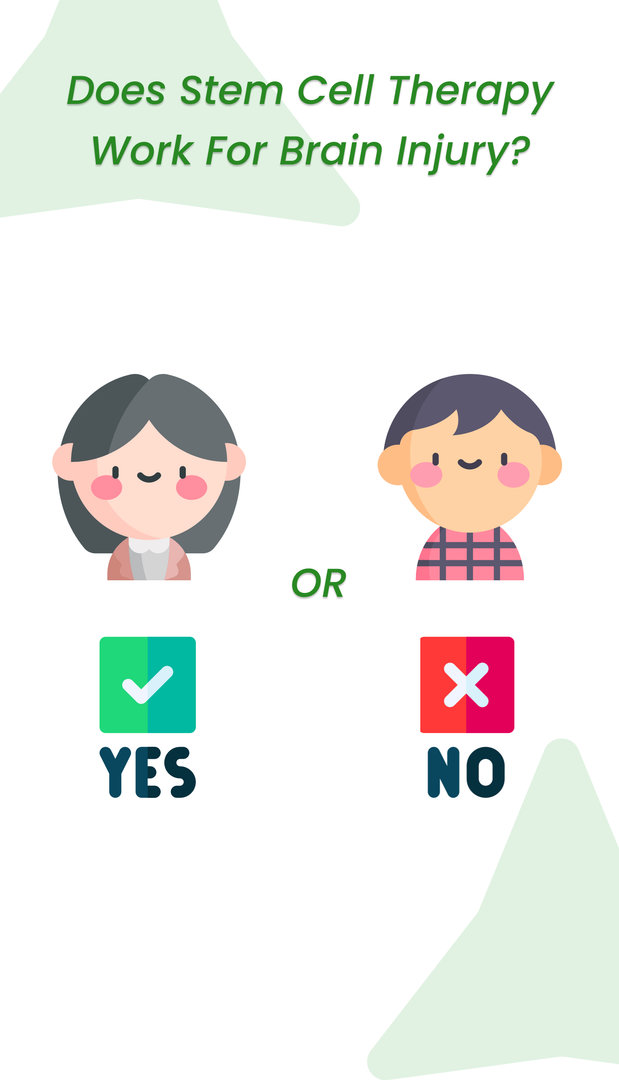 In a nutshell, yes, it does.
But this affirmative answer needs to be taken with a pinch of salt at this juncture. Studies have gone as far as to prove that stem cells can reverse brain damage.
However, clinical trials for stem cell treatment brain injury are conducted in tightly controlled environments. At this stage, you will have to meet a rigid set of criteria to get the best results.
Still, you can be assured that while there might not be a complete reversal of brain damage, its repair certainly takes place.
How Does it Work?
Let's see exactly how stem cells work their magic on injured brain tissue by understanding their functions.
Stem cells have neurotrophic properties, which means they secrete growth factors that can form new nerve cells.

These growth factors also encourage angiogenesis or the formation of new blood vessels.

They can repair damaged brain tissue and form new brain tissue.
You can see that stem cells work on the core issues of a brain injury. Not only do they form new cells, but they also reinstate blood flow to them, allowing the brain tissue to perform its functions again.
How much is Stem Cell Therapy for Brain Injury?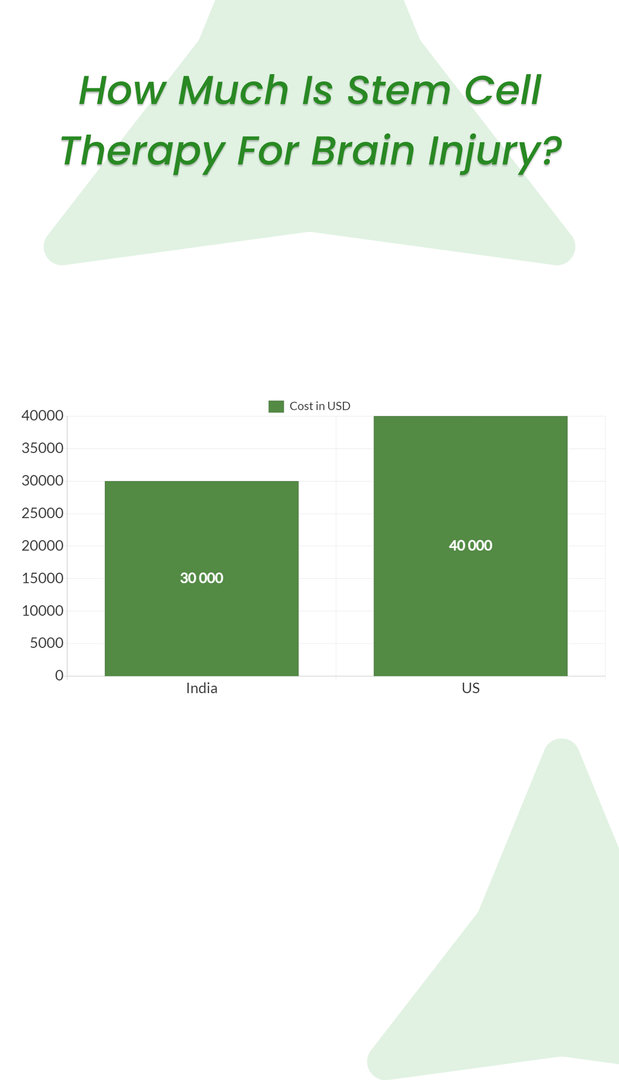 The cost of a stem cell transplant for brain injury depends on numerous factors like the severity of the injury, the location of treatment, the number of stem cell cycles required, and other additional care.
In India, stem cell treatment for traumatic brain injury costs 6,900 to 30,000 USD or 5 lakhs to 21.5 lakhs INR. This figure includes any hospital stay that might be required, as well as diagnostic tests needed before the treatment.
In comparison, stem cell for brain injury costs upwards of 40,000 USD in the US.
Eligibility of Stem Cell Therapy for Brain Injury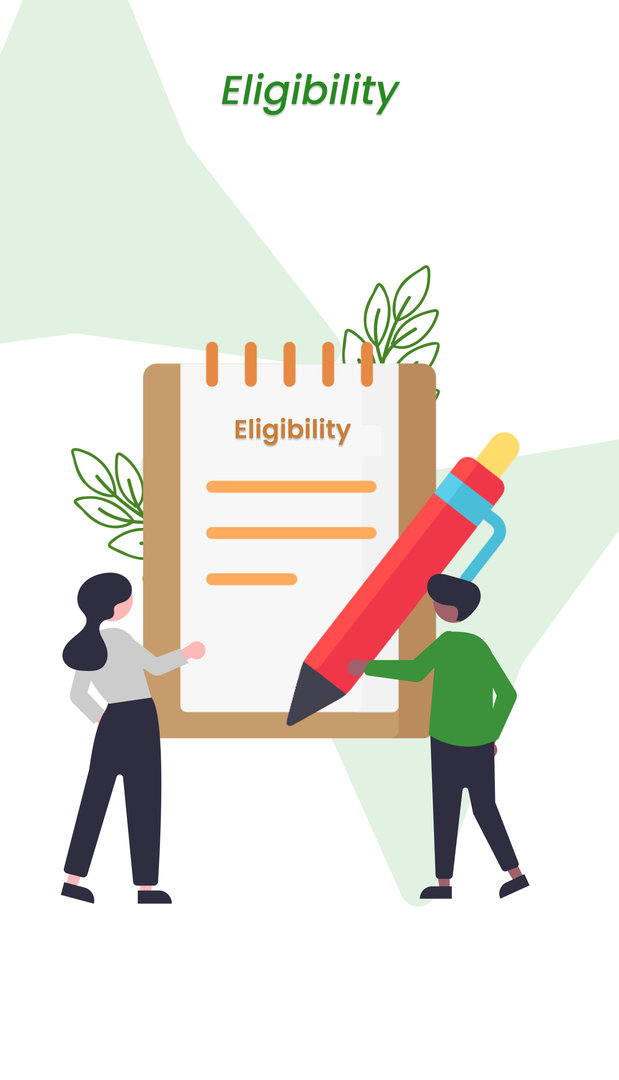 We are sure you're wondering if you or your loved one even qualifies for stem cell transplant brain injury.

Each clinical trial has its own set of criteria, which are followed quite stringently.
Your consulting physician will be the best person to explain the details of this to you.
However, we have put together a general list of criteria you must meet to be eligible for stem cell therapy for traumatic brain injury.
Younger patients are considered better candidates for this treatment.

Stem cell brain injury should start immediately after the injury or within the first six months.

The patient should not have extensive medical disorders like heart disease or

kidney failure

.

The patient should not have a history of any kind of transplant.
Benefits and Risks of Stem Cell Therapy for Brain Injury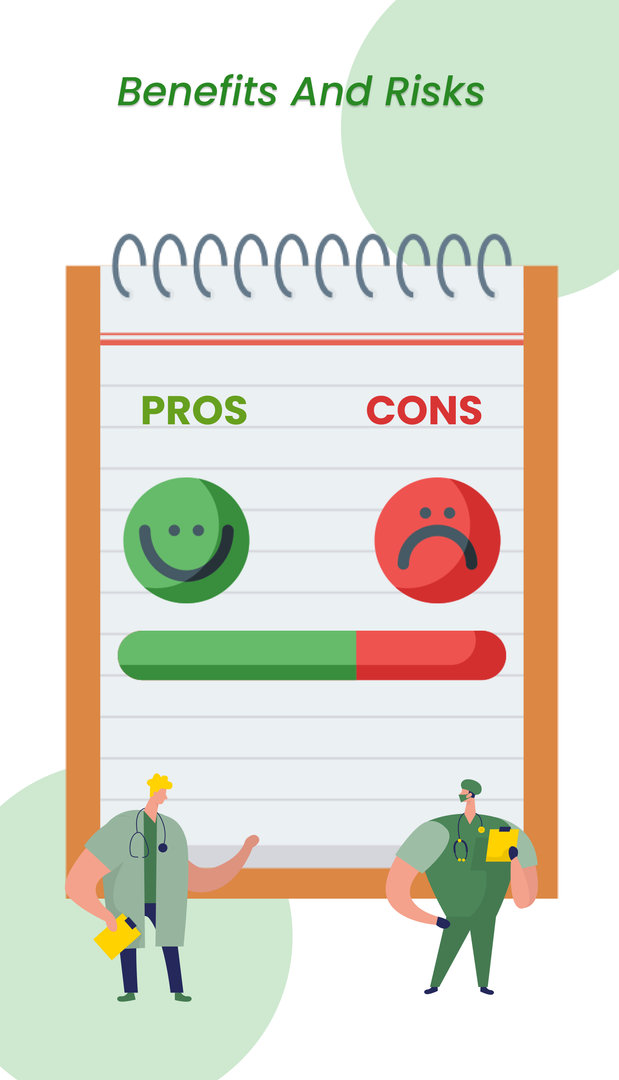 Like every medical procedure, stem cell treatment for traumatic brain injury also has a set of benefits and risks.
| | |
| --- | --- |
| Benefits | Risks |
| | Risk of rejection if donor cells are used |
| Stem cells are easily available | Risk of infection at the site of implantation |
| Shows a definite improvement in symptoms after just one cycle | The treatment is still undergoing clinical trials |
Wait, the benefits are not yet over!

Did you know?
Stem cells repair and regenerate nerve cells, which is not possible with any other treatment for brain injury
Stem Cell Therapy for Different Types of Brain Injury
We know there are numerous types of brain injuries.

So, which type of brain injury can be treated by stem cell therapy?
Nearly all of them, as it turns out.
Stem cell therapy for hypoxia, anoxia and traumatic brain injury is well-known. Apart from these, stem cells can also be used to treat hemorrhagic brain injury.
Procedure of Stem Cell Therapy for Brain Injury
It's time to dive into the details of the procedure for stem cell therapy traumatic brain injury.

After all, you deserve to know what you or your loved one will have to go through.
Traumatic brain injury stem cell therapy is a fairly simple procedure that can be divided into the following steps: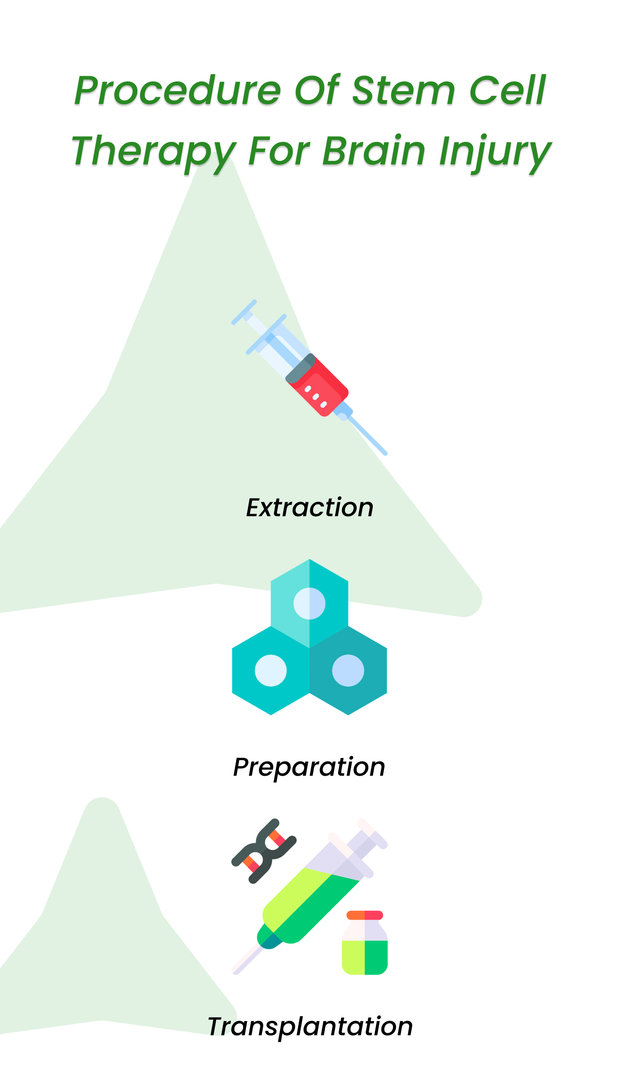 Extraction: Stem cells are usually extracted from the bone marrow of the hip bone in most cases. In some studies, stem cells might be extracted from the fatty tissue of the abdomen via liposuction. This step usually takes just under two hours.
Preparation: In this step, the extracted cells are taken to a stem cell laboratory. Here, the stem cells are separated by a technique called the 'density gradient technique.' Finally, a stem-cell-rich solution is prepared for transplantation. This process takes about three to four hours.
Transplantation: The stem cells might be transplanted directly into the injured brain tissue. This is a surgical procedure and takes two to three hours. In some cases, though, the stem cells are transplanted directly into the cerebrospinal fluid through a spinal tap. This type of procedure only takes an hour.
As you can see, the whole cycle takes about eight to nine hours. However, to keep the patient comfortable, it is done over two days.
You'll also be glad to know that it's a painless procedure. Local or general anesthesia is given during the extraction and transplantation phase.
What to Expect After Stem Cell Therapy for Brain Injury?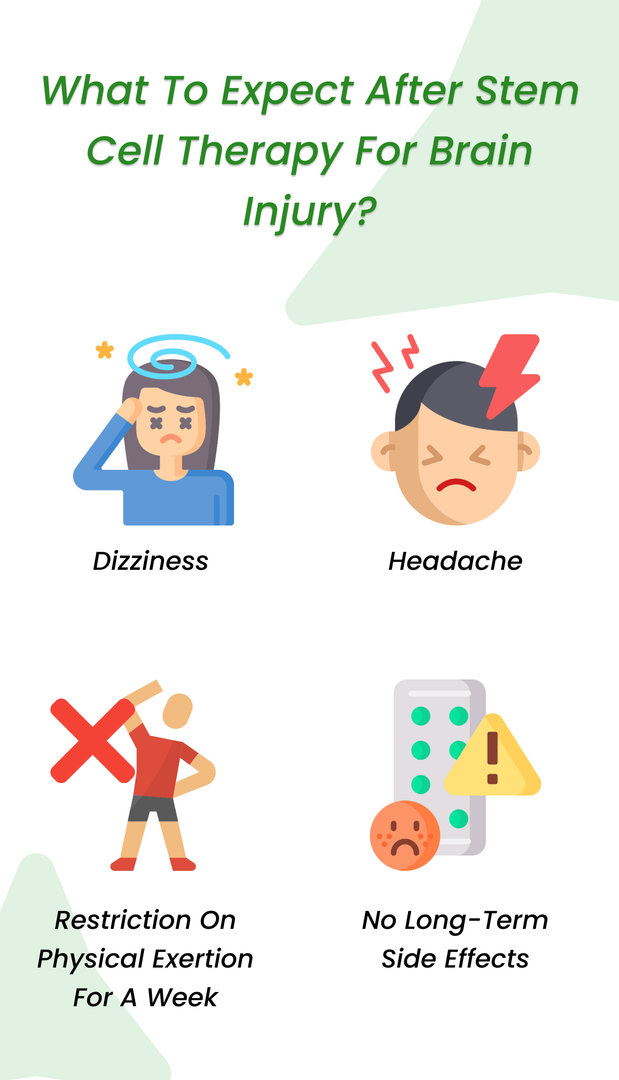 Immediately after stem cell transplantation, you might feel some dizziness or a headache which usually clears out in a few hours.
You will also be asked to restrict physical exertion for a week. In most cases, you will be under observation for four to six days, usually in a hospital.
On the bright side, no long-term side effects have been reported in over a decade of clinical trials. So, this procedure is completely safe.
You can expect to return to your regular activities (as much as your current condition allows you to, of course) in a week or ten days.
Other Treatments Needed with Stem Cell Therapy to Treat Brain Injury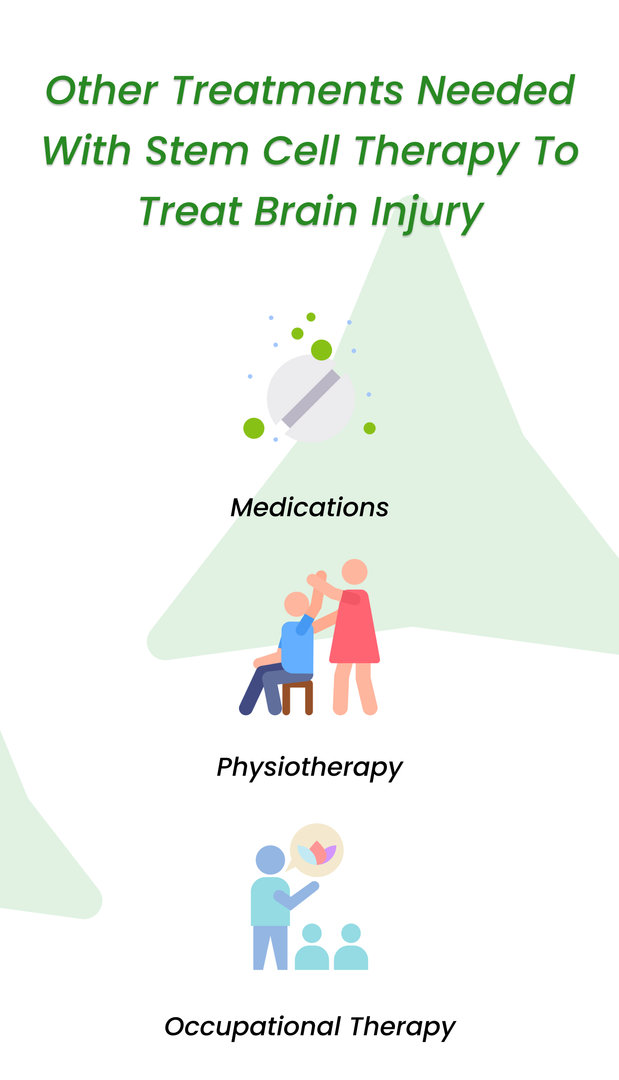 Researchers have recently started using stem cell therapy in conjunction with other treatments to enhance results. These protocols are still in their very initial stages and have a long way to go before we can get an effective treatment module.
At present, this research is being done on patients with mild brain injuries.
Medications are being combined with stem cell therapy to get optimum results.
After stem cell therapy, it is advisable to get physiotherapy and occupational therapy to get better and longer-lasting results.
Results of Stem Cell Therapy for Brain Injury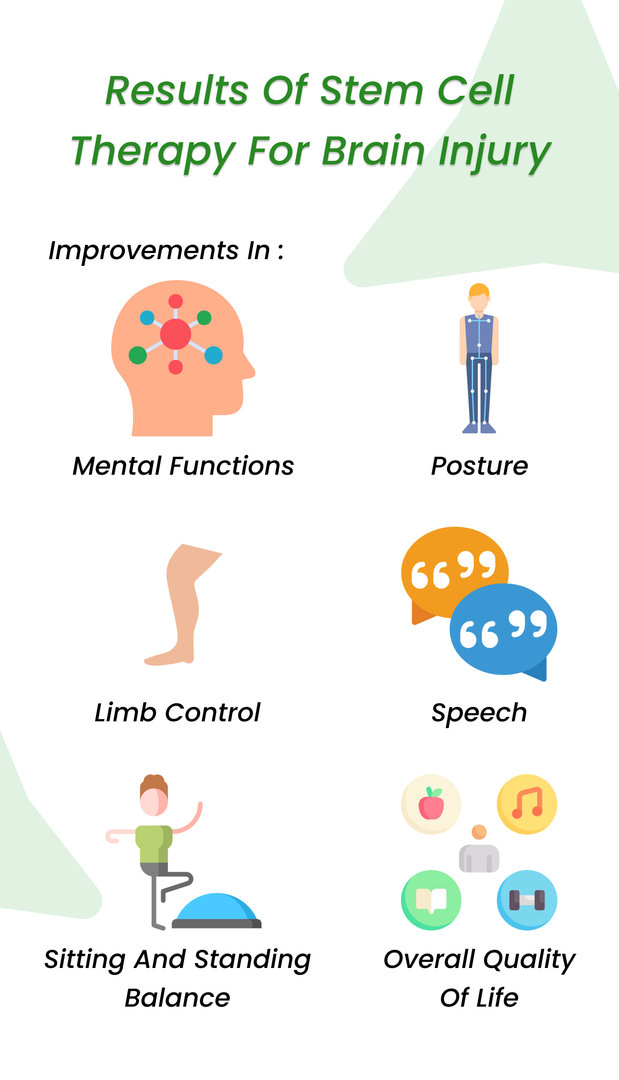 Results usually start appearing five weeks after stem cell treatment. You will continue to see them over the next six months. At this point, you can expect to see a significant improvement in mental functions, posture, limb control, speech, sitting and standing balance.
There is an overall improvement in quality of life as well. All these improvements are evaluated with various scales like the SF-8 questionnaire and others.
These results usually last for twelve to fourteen months. Researchers are still trying to determine the best way to provide permanent results using stem cell treatment.
Success Rate of Stem Cell Therapy for Brain Injury
Wasn't this question on your mind since you started reading this article?

We have an answer for you.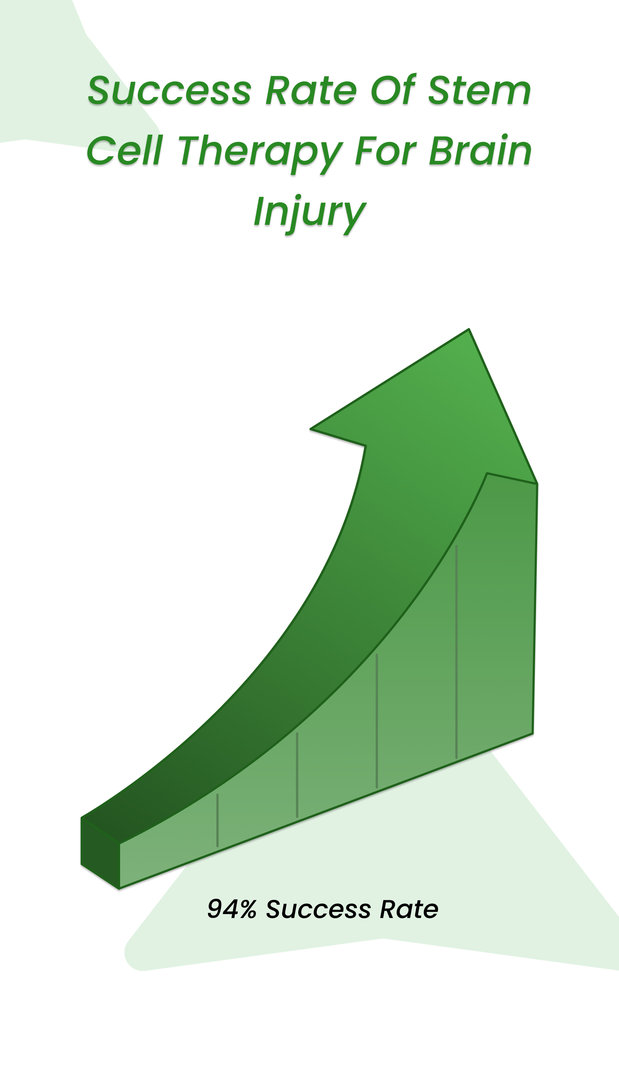 Although the success rate of stem cell therapy depends on a variety of factors like the severity of the injury and your overall health, nearly 94% of patients have shown significant overall improvements.
Stem Cell Treatment for Brain Injury Success Stories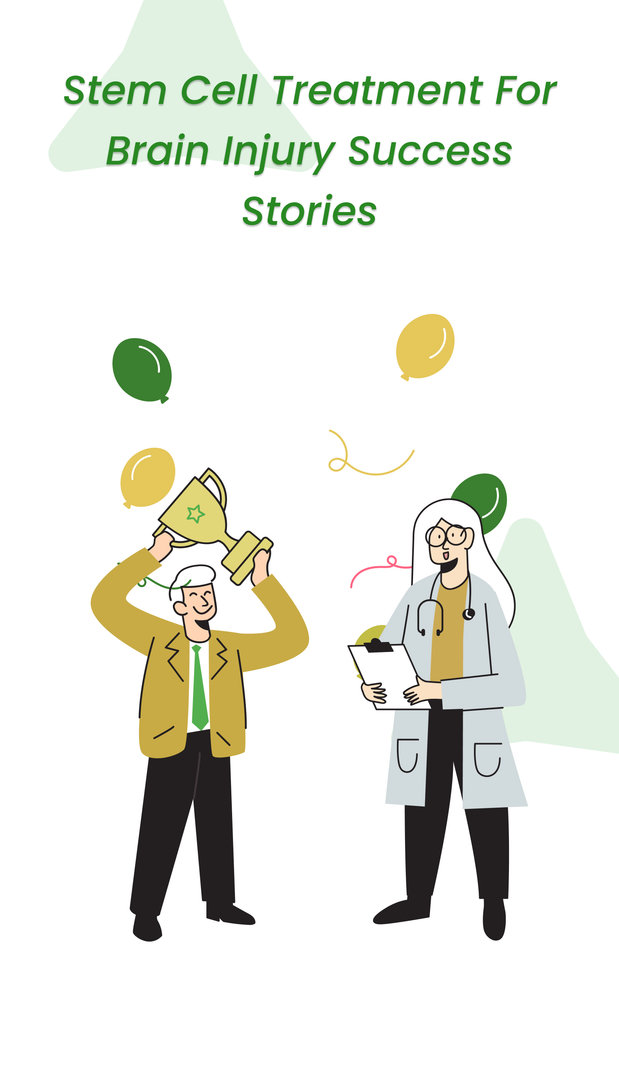 Now that you've got a good idea of what stem cell treatment entails, would you like to read about a success story too?
One of the most famous ones is the heartwarming story of Madhumalika from Bangalore. At the age of twenty-seven, she was in a severe car crash that caused a diffuse axonal injury to the brain.
She was operated upon instantly, but doctors believed that even if she survived, she would be in a vegetative state for the rest of her life. It was in this situation that she underwent a stem cell transplant.
A month after the transplant, she regained consciousness. Not just that, she regained some movement of her limbs, she could talk again, and she even recognized her friends and family!
Isn't that amazing?
Stem Cell Research for Brain Injury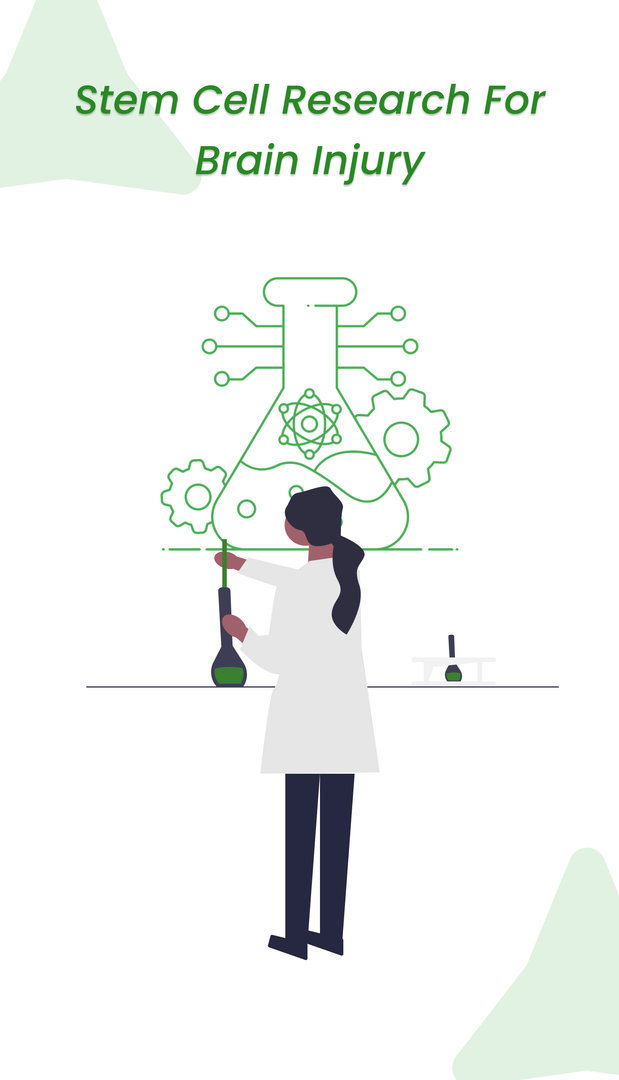 Every study that comes out has consistently pointed to the success of using stem cell transplants for treating brain injuries.

Want to know more?
This study did an overview of several other studies of stem cell transplants for traumatic brain injuries. They reviewed which kinds of stem cells are effective in treating brain injuries and what the future holds for this therapy.
Well, they concluded that the future is bright. Stem cell therapy is certainly a revolutionary treatment that has immense potential.
So What Are You Thinking?
Cost of Stem Cell Treatment in India
Frequently Asked Questions
Question and Answers (270)