Overview about Neuropathy
Neuropathy, also called Peripheral Neuropathy, is a condition where peripheral nerves are damaged. These nerves can be sensory, motor, or autonomic.
It has several causes, the most common of which are: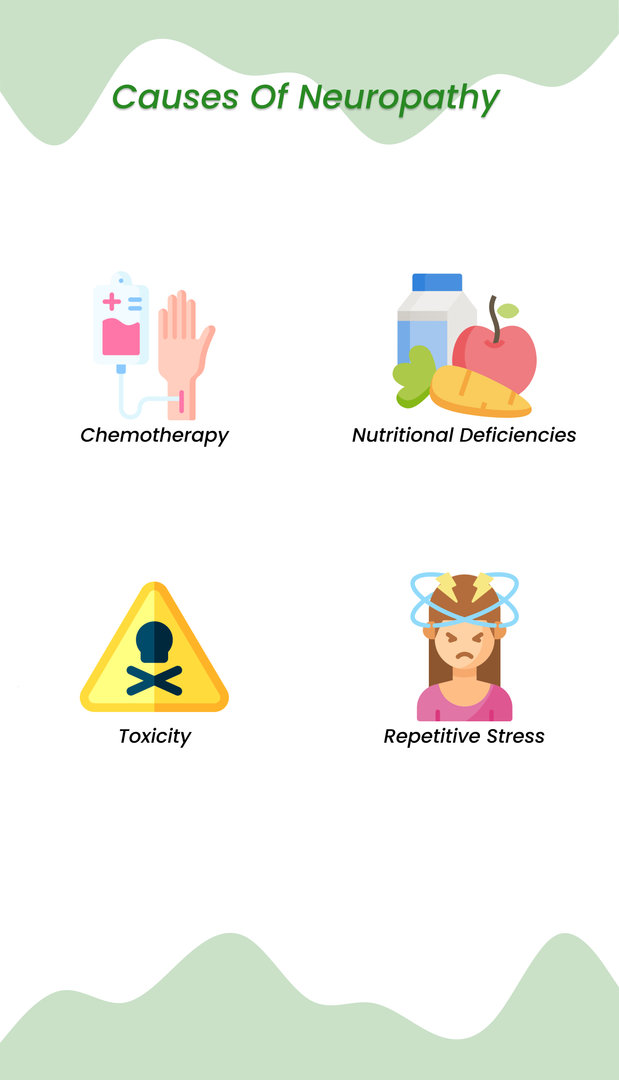 Chemotherapy
Idiopathic causes
Nutritional deficiencies
Toxicity
Repetitive stress
While the causes of this condition are different, the symptoms are usually the same: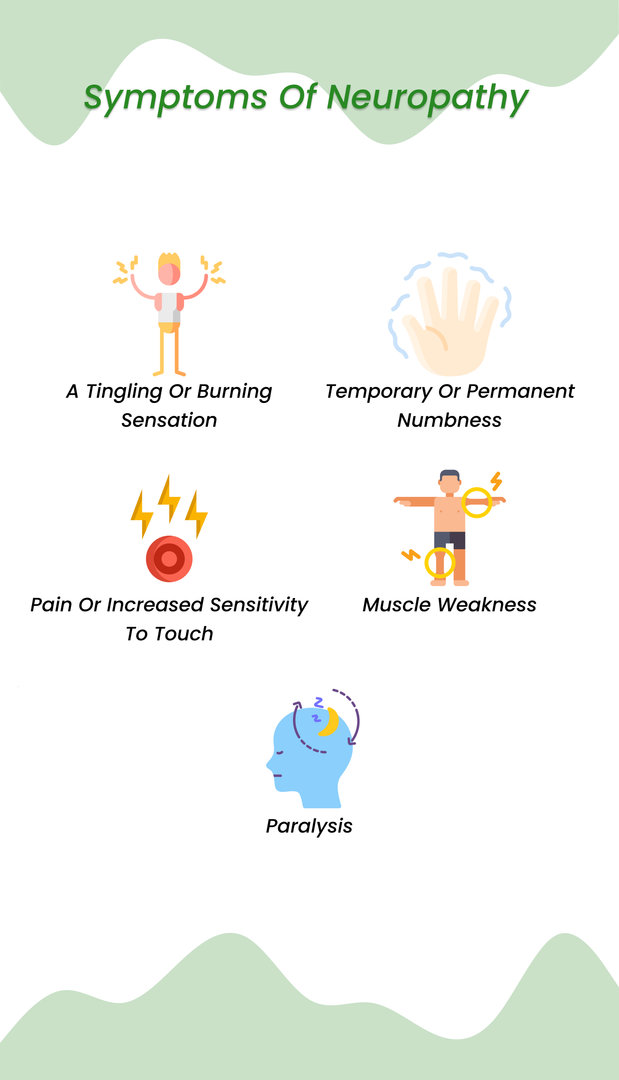 A tingling or burning sensation
Temporary or permanent numbness
Pain or increased sensitivity to touch
Muscle weakness
Paralysis
There are several types of neuropathies, but they are most commonly classified as Mononeuropathy, Polyneuropathy, and Distal Symmetric Neuropathy.
It is not easy to diagnose this condition, and several tests might be required.
Some of them are:
Blood tests
Needle testing
Electrodiagnostic testing
Quantitative Sensory Testing
Now that we have a basic understanding of this condition, are you curious to know more about how stem cell treatment comes into the picture?
Stem cell treatment is a very recent treatment that has shown encouraging results in treating neuropathy. So far, it is the only treatment that has displayed the potential to repair damaged nerves.
Of course, stem cell for neuropathy is still undergoing clinical trials, and is not currently FDA-approved.
Does Stem Cell Therapy for Neuropathy Work?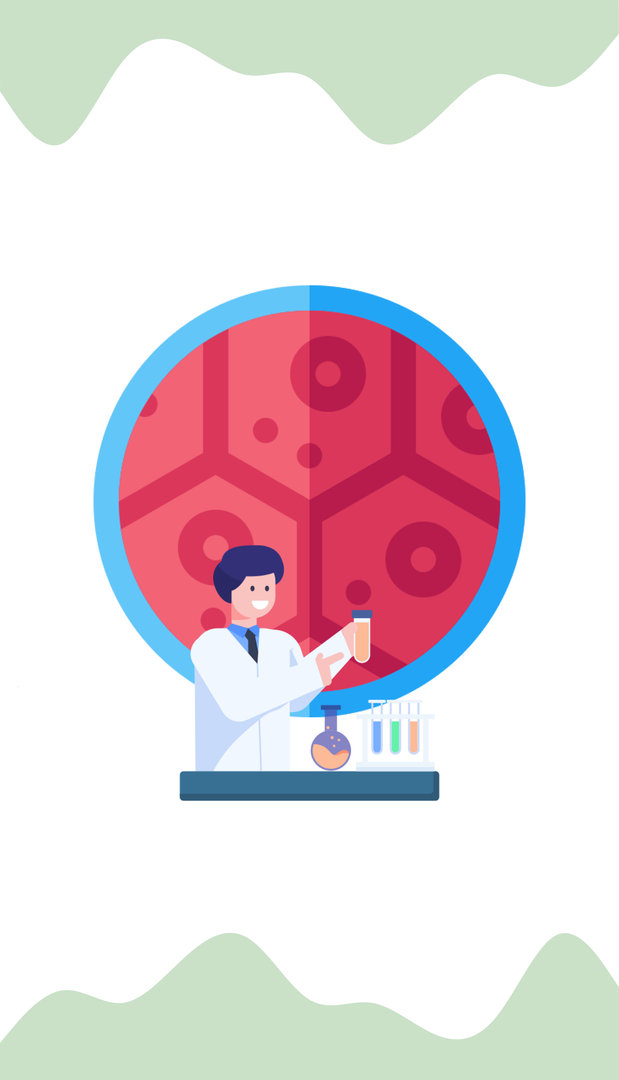 Can stem cells cure neuropathy?
Let's first address the main question everyone has come here for.
The short answer is yes.
We're sure you're wondering, just how does peripheral neuropathy stem cell treatment work?

To answer this, it's time to take a short science lesson.
You see, stem cells are immature cells found in our bodies that can differentiate into any tissue.
Sounds great, but how does that help with neuropathy?
Stem cells have numerous wonderful properties. The ones that help treat neuropathy are:
Repair of damaged nerve cells
Regeneration of destroyed nerves
Release of neurotrophic factors, which help re-establish the connection between nerves
Presence of neuroprotective factors, which protect the newly formed nerve cells from damage
In short, they can repair these damaged nerves at the cellular level and form brand-new nerves, replacing the dead ones.
Amazing, right?
Types of Stem Cells Used to Treat Neuropathy
Researchers have discovered several types of stem cells in our bodies. However, not all of them can be used to treat neuropathy.
The most used stem cells are bone marrow-derived mesenchymal stem cells.
Maximum studies are carried out using these stem cells.
Why? Because they are easily available and very effective.
The other stem cells that have shown some success are adipose-derived stem cells, umbilical stem cells, and embryonic stem cells.
It should be noted that embryonic stem cells have major ethical objections and are not allowed in most countries.
Researchers also prefer using the patient's own cells over donor cells, making stem cells even more accessible.
Eligibility
So, exactly who are eligible for stem cell neuropathy?
Well, each clinical study has its own specific requirements.
Some of the general ones are: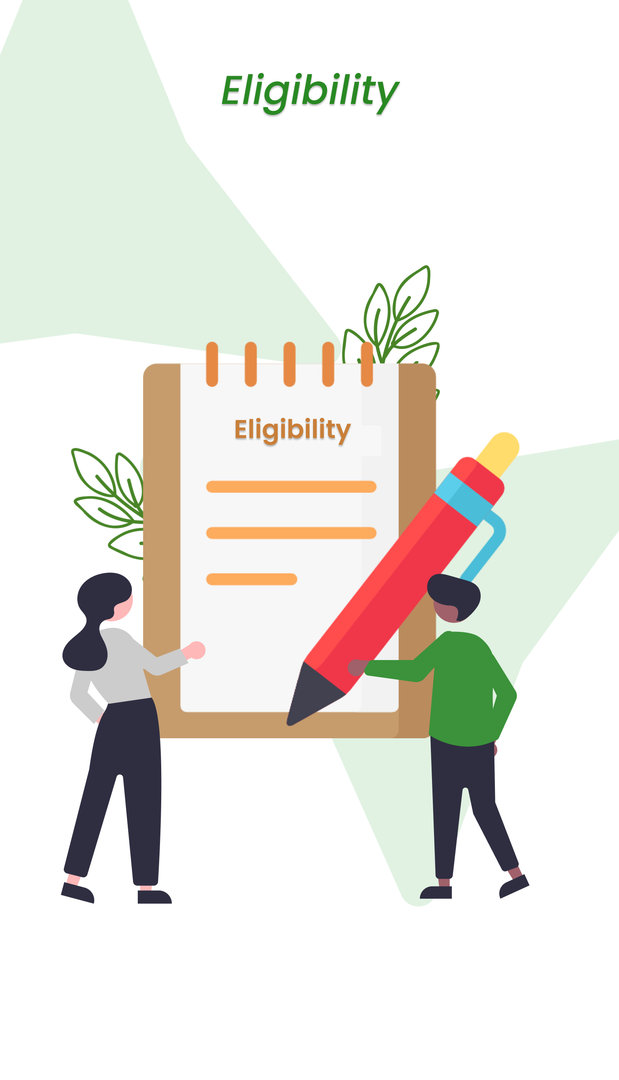 Diagnosed neuropathy
No active infections or diseases
No extensive medical history
No previous organ transplant or organ failure
No history of autoimmune diseases
Benefits/Risks of Stem Cell Therapy for Neuropathy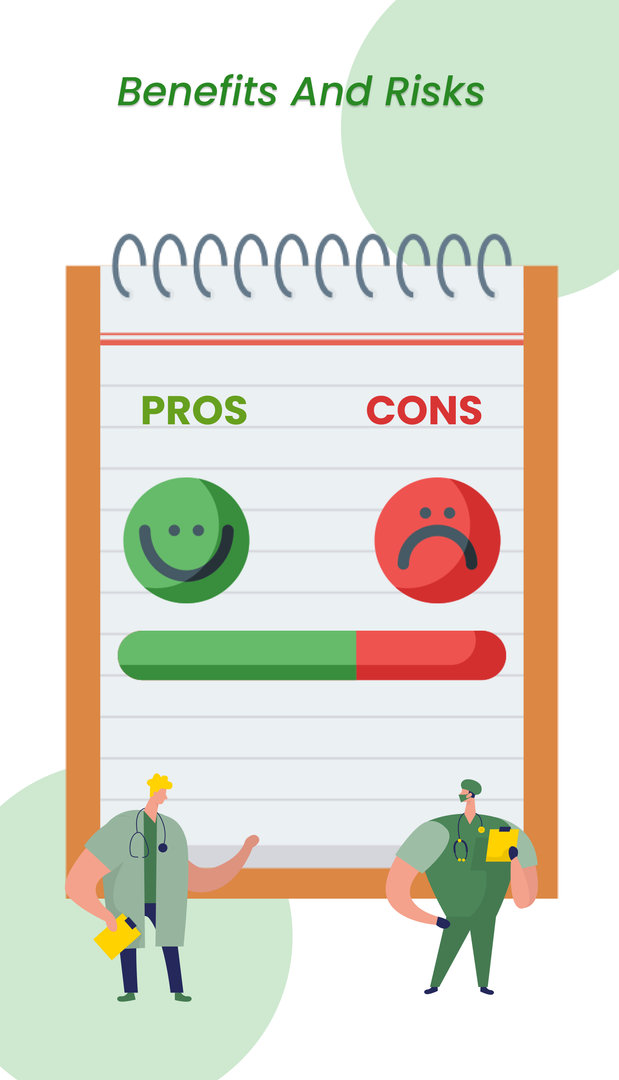 Like every medical procedure, even stem cell neuropathy treatment has its own set of risks and benefits.
BENEFITS
RISKS

Treats the condition at the cellular level
Relatively non-invasive
Only treatment that helps in the formation of new nerves
Has the potential to be a cure

Risk of infection at the site of injection
Possibility of the treatment not working
If donor cells are used, there is a risk of rejection
How Much Does Stem Cell Therapy Cost for Neuropathy?
It's time to examine the effect of stem cell therapy for neuropathic pain on your wallet.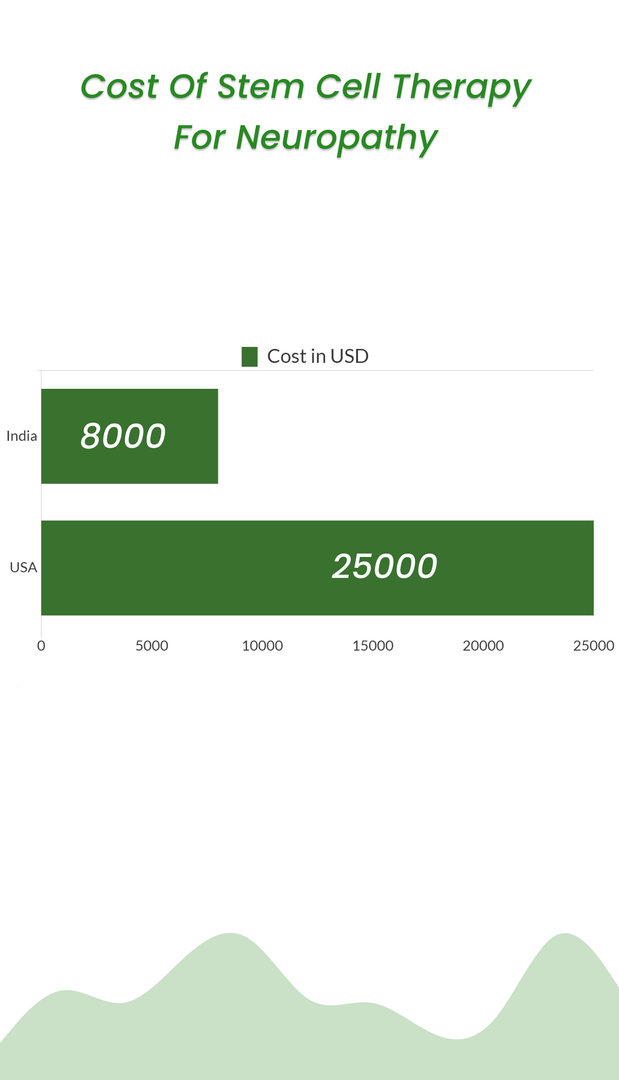 The cost of stem cell therapy for peripheral neuropathy depends on a few factors including:
The number of cycles required
The severity of the neuropathy
The facility you choose to get your treatment at
The type of stem cells used
In India, stem cell treatment for neuropathy costs 6000 to 8000 USD. This same treatment costs upward of 25,000 USD in the US!
However, it should be kept in mind that since stem cell therapy for nerve damage is still undergoing clinical trials, it is not usually covered by medical insurance.
Stem Cell Therapy for Different Types of Neuropathy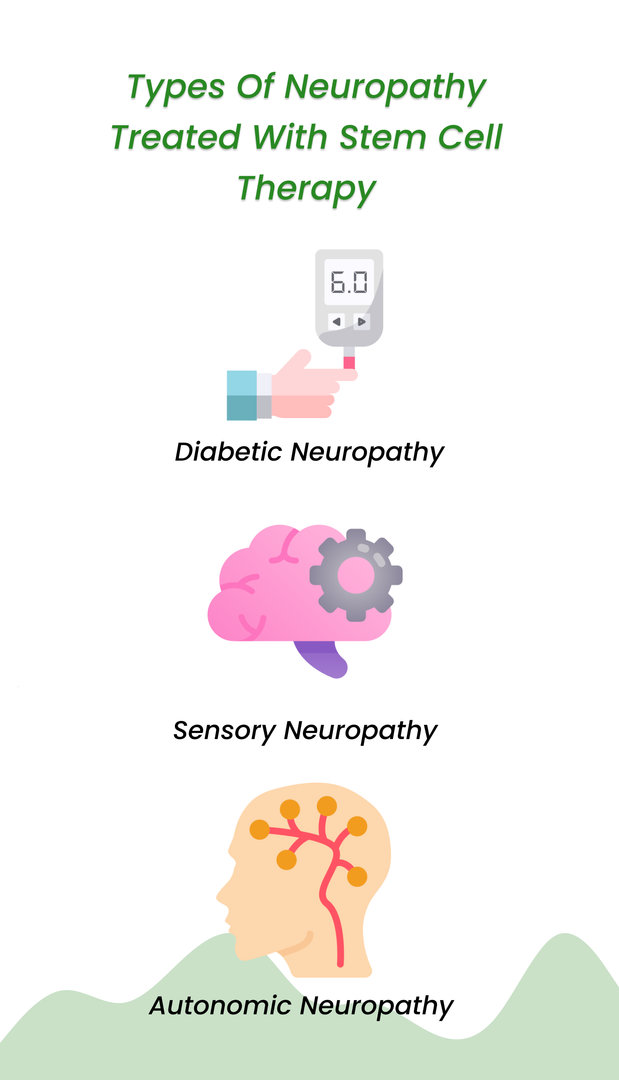 We have already seen that there are numerous types of neuropathies. Not all of them can be treated with stem cells.
We went ahead and made a list of a few common neuropathies to explain how stem cells can treat them.
TYPE OF NEUROPATHY
HOW STEM CELLS HELP
Diabetic Neuropathy

This type is seen in 60% of neuropathy patients.
Stem cells are derived from the bone marrow or adipose tissue to treat this type of neuropathy.
The stem cell treatment for diabetic neuropathy is generally delivered directly into the affected nerve.
The neuro-regenerative and neuro-protective properties of stem cells play the biggest role in treating this type of neuropathy.

Sensory Neuropathy

It is characterized by pain or sensitivity to touch.
It is caused due to several reasons like toxicity and repetitive stress.
In such cases, the anti-inflammatory properties of stem cells come in handy.
The stem cells are usually directly injected into the affected region.

Autonomic Neuropathy

In this type of neuropathy, different organs might be affected.
The gastrointestinal system is usually involved.
In such cases, an intravenous infusion of stem cells is usually preferred.
Stem cells repair the damaged nerves to restore the function of the affected organs.
Procedure

Are you sitting in front of your computer, biting your nails because you think the stem cell therapy for neuropathy procedure will be long and painful?

Take a deep breath. And relax.
Stem cell treatment for peripheral neuropathy is done in three simple steps.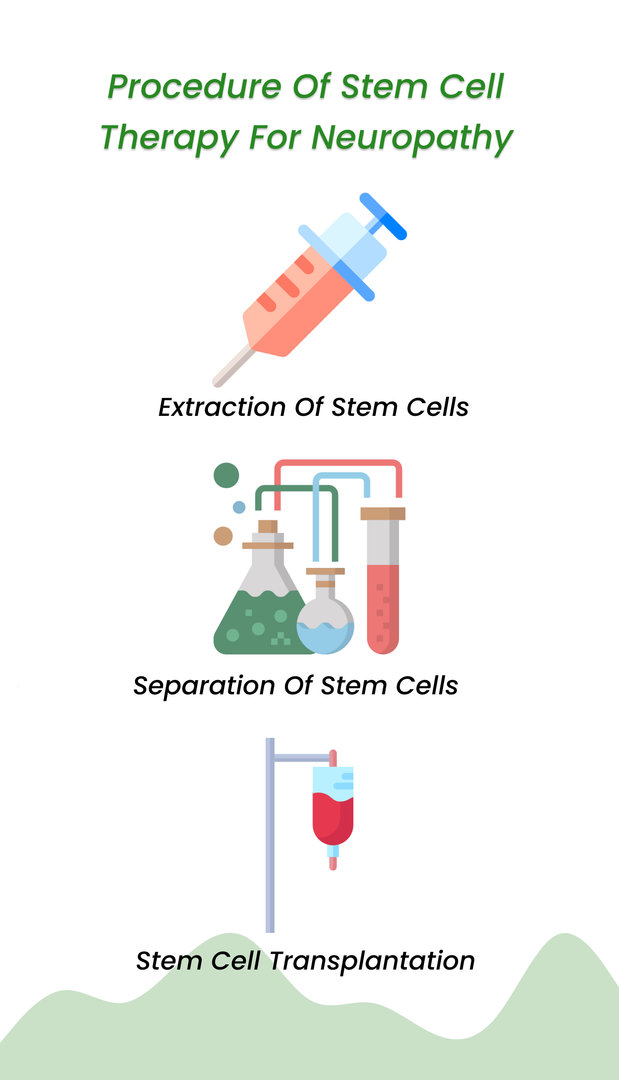 Extraction of stem cells

Bone marrow is extracted from your hip bone.
This procedure only takes a couple of hours.
It's completely painless as you will be given local anesthesia.

Separation of stem cells

This step is done in a stem cell laboratory.
Your stem cells are separated from the rest of your bone marrow tissue using a process called 'Density Gradient Technique.'
The final result is a concentrated solution of stem cells.
It usually takes about three to four hours.

Stem cell transplantation

The stem cells are injected directly into the affected nerves.
This step is also done under local anesthesia to keep you comfortable.
It takes about an hour.
As you can see, the whole process can be completed in about eight to nine hours. However, doctors spread it out over two or three days to keep the patient comfortable.
In some cases, a couple of additional days of hospital stay is also required.
What to Expect After Stem Cell Therapy for Neuropathy?
Is the recovery period going to be difficult, you ask?

Not at all.
Stem cell therapy requires very little recovery time. The patient is usually given a discharge one or two days after the procedure. They can resume their daily activities one week after the procedure.
Right after the procedure, some patients experience a headache and nausea. However, this clears up on its own in a few hours. Apart from this, no long-term side effects have been reported by any clinical study.
This procedure is one hundred percent safe.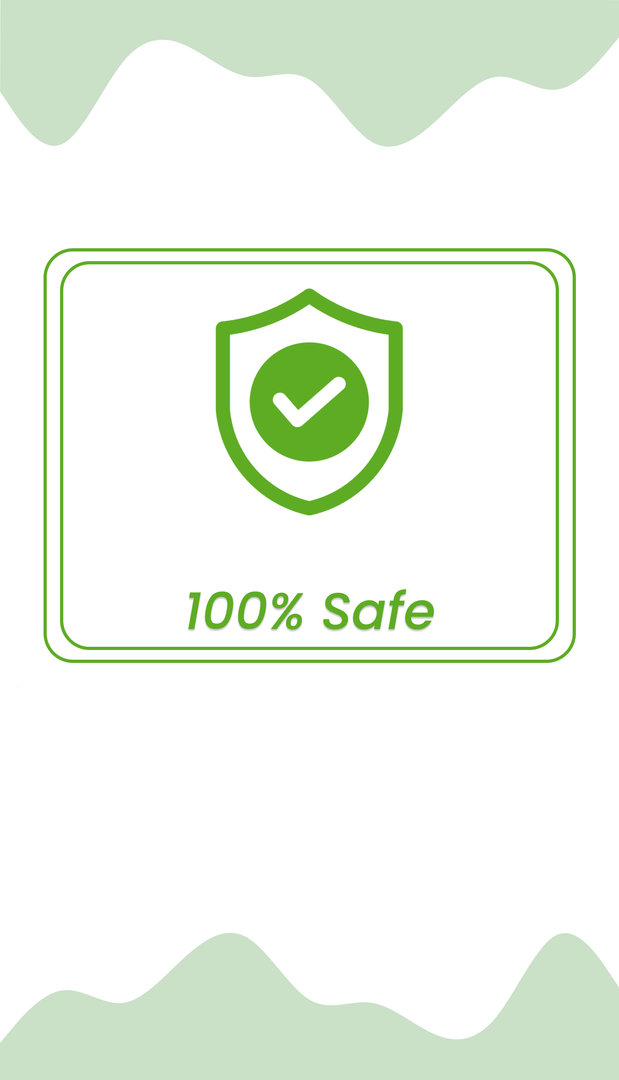 Results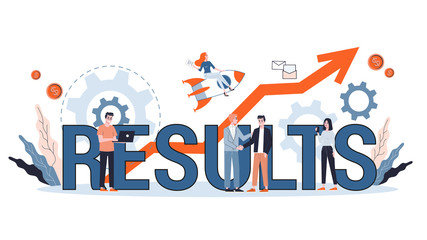 After the procedure, the stem cells usually remain active for a year in our bodies. During this time, they form new nerve cells and repair the damaged ones.
Does this mean that results will only be visible after a year?

Absolutely not.
You will start seeing visible results about three or four weeks after the procedure.
You can expect: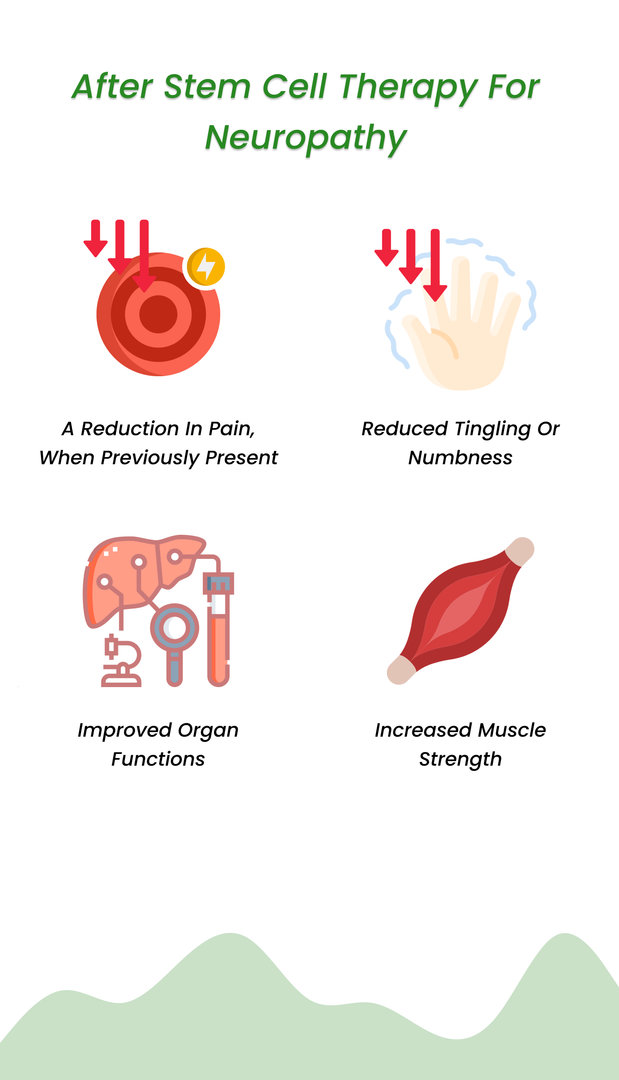 A reduction in pain, when previously present
Reduced tingling or numbness
Improved organ functions
Increased muscle strength
Improvements last for over a year, and some patients have shown a reduction in symptoms at their three-year follow up too.
How Successful is Stem Cell Treatment for Neuropathy?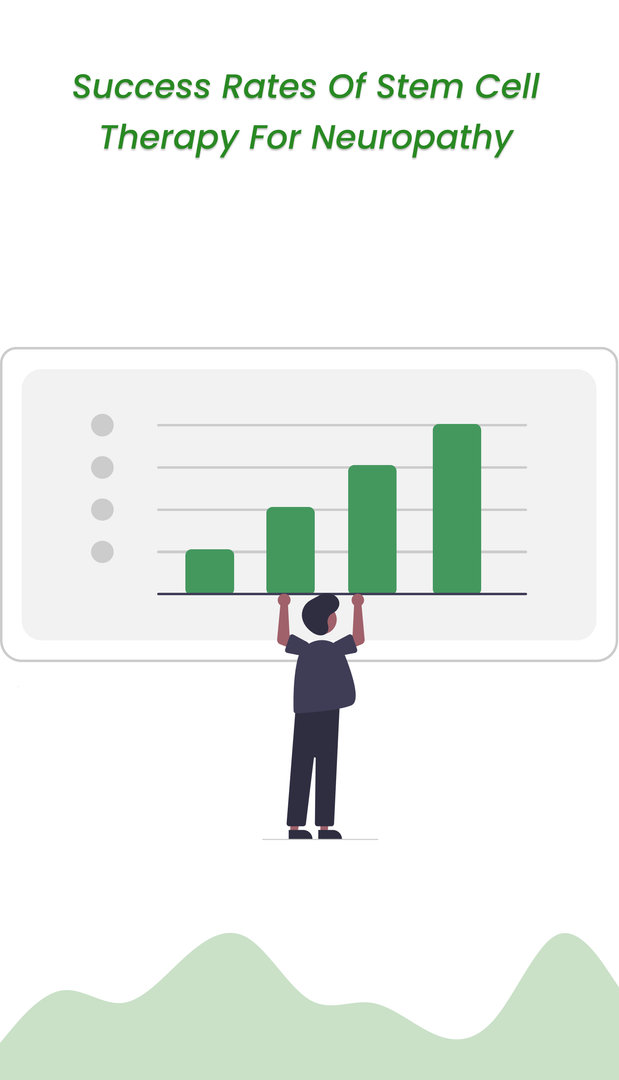 The success rates of stem cell treatment are heavily dependent on considerations like the severity of the neuropathy and the patient's overall health.
Most studies have reported improvement in over 50% of their patients. These are patients who have failed to get relief from nearly all other treatments.
Other Treatments Used Along with Stem Cell Therapy for Neuropathy
Did you know that stem cells can also be used in conjunction with other treatments to treat neuropathy?
To date, no cure has been discovered for neuropathy. This is mainly due to the poor regenerative powers of nerve cells.
The main aim of all conventional treatments for neuropathy is to reduce the symptoms. Researchers have been taking the help of stem cells to achieve this goal.
In severe cases, where nerve grafts are required to treat neuropathy, stem cell treatment is also done. The neuroprotective properties of stem cells protect the nerves from further damage after surgery.
A Research Study Explaining Current and Future Scope and Challenges for Stem Cell Therapy for Neuropathy
Stem cell therapy has exhibited promising results that have even taken researchers by surprise. It is the only treatment that treats the neuropathy from its root cause, rather than simply treating the symptoms.
However, a few challenges are yet to be addressed. According to a research paper by Meichen Liu et al., the mode of stem cell delivery still needs to be standardized.
Additionally, more clinical trials are required to study this treatment and get more predictable results.
Nonetheless, they also conclude that stem cell therapy could one day cure neuropathy.
Do you also believe that stem cell therapy is the future of neuropathy treatment?
Reference:
https://www.ncbi.nlm.nih.gov
Frequently Asked Questions
What are stem cells and how are they useful?
What diseases can be treated through stem cells?
Where will the cells be taken or sourced from?
Will stem cell therapy have any after effects?
Will there be medications and diet restrictions following stem cell therapy?
Is stem cell therapy permanent?
What precautions to take post stem cell therapy?
What's the cost of stem cell therapy in India?