Introduction
The average cost of hysterectomy is around ₹75,938 ($955). The removal of the uterus is called a hysterectomy. In a hysterectomy, the entire uterus or a portion of it is removed.
There are cases in which doctors may also choose to remove tissues from the sides of the uterus, ovaries, fallopian tubes, or upper part of the vagina.
Your doctor may recommend any of the following hysterectomies depending on the seriousness or complexity of your condition. The following are the types of hysterectomy surgeries:
Partial Hysterectomy
Total Hysterectomy
Total hysterectomy with bilateral salpingo-oophorectomy
Radical Hysterectomy
More Information
What is the cost of Hysterectomy or uterine removal in India?
The hysterectomy surgery cost in India is considerably lower when compared to countries like the US, Canada, etc.
The starting cost of a hysterectomy in India is around ₹ 24,968 ($313), which can go up to ₹ 1,49,332 ($1,878). On the other hand, the average price is somewhere around ₹ 75,938 ($955).
As with any surgery, the price may vary slightly depending on the technique used to perform your hysterectomy, the parts removed, your choice of gynecologist, their experience level, the location of the hospital, and other healthcare and non-healthcare expenses.
Take control of your health - Get in touch with us for your treatment.
Uterus removal surgery cost in India: Cost comparison by country
The table below compares the cost of uterus removal surgery by country.
Before selecting the uterus removal surgery cost comparison by nation, it is best to conduct extensive and complete research.
| | |
| --- | --- |
| Country | Cost |
| US | $1,950 TO $81,000 |
| Turkey | $ 2,000 to $84,000 |
| South Korea | $4,250 – $30,000 |
| Germany | $8,150 - $22,400 |
| India | $3,000- $8,550 |
Note: The cost may vary by approximately 5-10% depending on various factors, such as the doctor's experience, and the hospital's location.
What are the various types of hysterectomy and their costs in India?
There are four ways a hysterectomy can be performed, as mentioned below.
| | | |
| --- | --- | --- |
| Type | Procedure | Cost |
| Laparoscopic hysterectomy | An organ or surrounding tissue of the reproductive system is removed through laparoscopic surgery, also known as keyhole surgery. | Rs. 78,750 to Rs.2,62,000. |
| Vaginal hysterectomy | Vaginal Hysterectomy involves an incision over the vagina to remove the womb and cervix. | Rs. 27,500 to Rs. 44,000 (approx) |
| Abdominal hysterectomy | You'll either have an incision vertically from your belly button to your bikini line or horizontally along your bikini line. | Rs.38,500 to Rs.77,000 |
| Radical Hysterectomy | It involves the removal of the uterus, cervix, vagina, and ligaments that support the uterus surrounding the cervix. | Rs. 88,000 to Rs. 1,26,000. |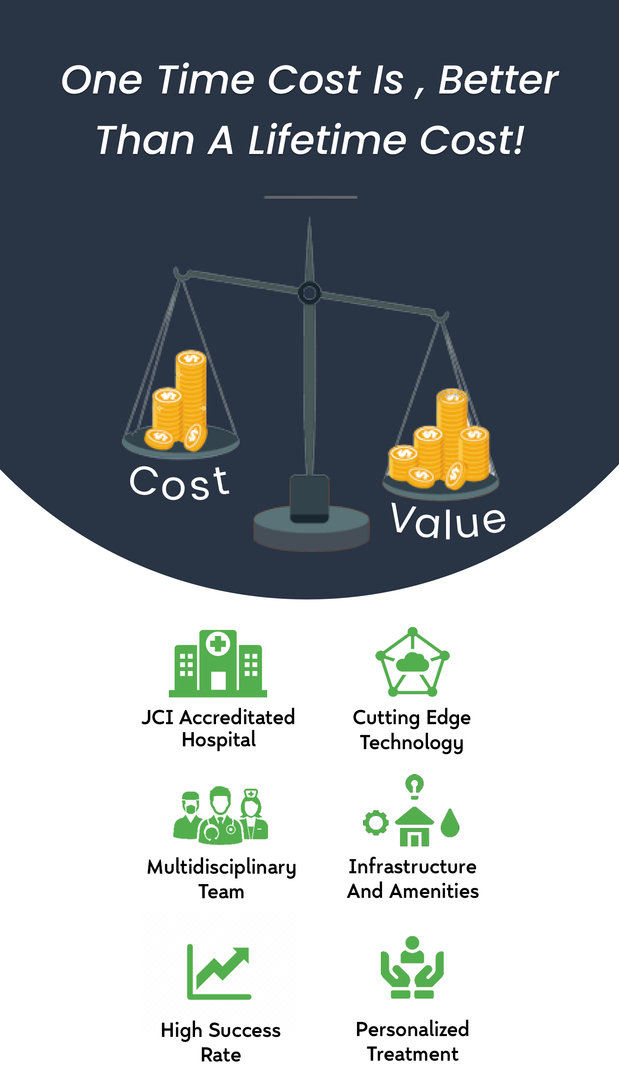 Other Details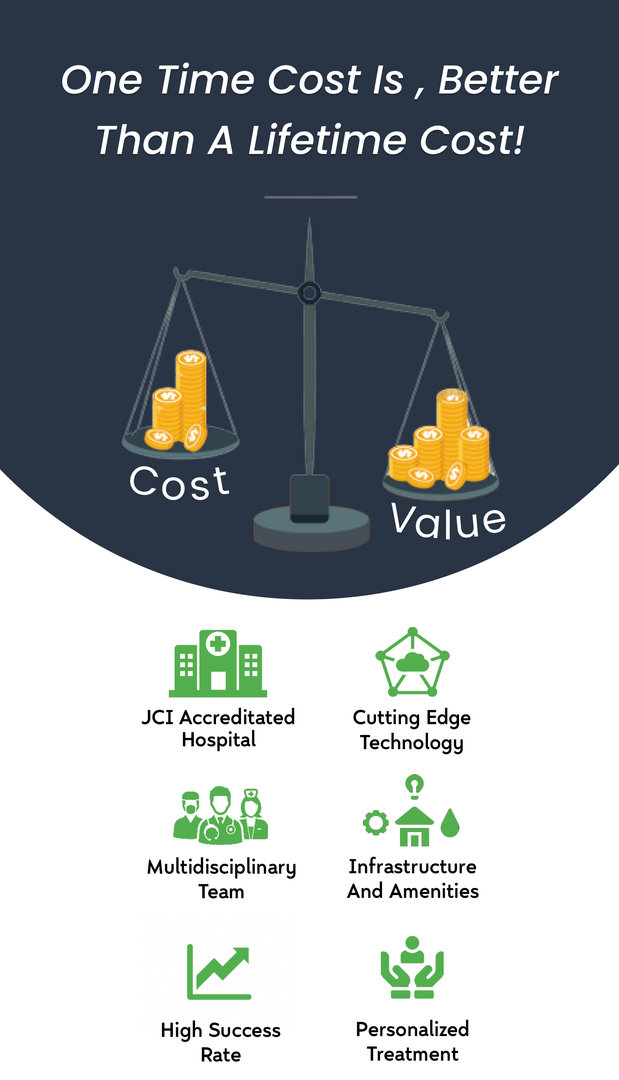 What are the factors affecting uterus removal cost in India?
The Hysterectomy cost in India is calculated by taking the following factors into account:
Location-The price of surgery depends on where you live, as the cost varies from city to city and state to state.
Hospital– Hospitals in the same cities charge varying amounts for the same procedure. The cost of your admission, discharge, nightly stay, food, and room are also considered.
The Doctor—The cost of a hysterectomy operation is significantly influenced by the surgeon you choose and their experience.
Type/Technique of Surgery- The exact cost will vary depending on the type of surgery (complete, partial, or hysterectomy with salpingo-oophorectomy) and the approach (abdominal, laparoscopic, or vaginal).
Additional factors that may increase or decrease the cost of hysterectomy treatment include diagnostic tests, like hysteroscopy or other pelvic exams, pre and post-surgery medicines, transportation fees, follow-up consultations, etc.
Why should you consider uterine removal surgery in India?
Services: In India, the health sector is growing rapidly, and many international hospitals are opening. This makes it an excellent choice for patients seeking affordable healthcare.

Low treatment costs: Compared with other western countries, India offers a wide array of services, making deep brain stimulation surgery much less expensive. India already has an excellent reputation for healthcare services, so it is a great choice for patients worldwide.

Skilled Surgeons: In India, several qualified and experienced surgeons have excellent track records of positive outcomes. Indian surgeons have an excellent reputation for their practice and expertise worldwide.

Availability of quality hospitals: India has many world-class hospitals that provide excellent patient treatment. These hospitals are equipped with the latest technology and have experienced doctors who can provide the best care.
Despite the excellent healthcare facilities, accessible communication with other countries, and well-connected transport systems, India is an attractive option for those seeking medical treatment overseas.
Disclaimer : The above rates are for reference purpose only and may vary based on different requirements. To know actual rates, please contact us.
How can Clinicspots help you?
Connect on WhatsApp and Video Consultation