Dr. Hrishikesh Dattatraya Pai- Fertility Specialist
Dr. Hrishikesh Pai is a highly experienced Gynecologist and Obstetrician pioneering many Assisted Reproductive Technologies in India to help couples combat infertility and achieve pregnancy.
Dr. Hrishikesh Dattatraya Pai

Qualification: M.D., F.C.P.S., F.I.C.O.G. MSc (USA)

Specialist in IVF, ICSI,IUI, and other female and male infertility treatments.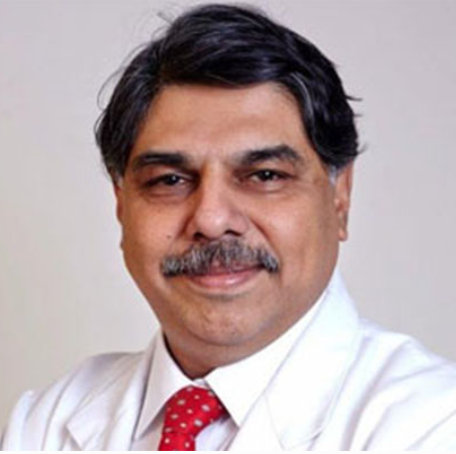 Dr. Hrishikesh Pai is one of the best IVF doctors in India. He has vast experience of 35+ years with thousands of cases performed in the fields of Obstetrics, Gynecology & Infertility. He has been practicing as an IVF specialist, Gynecologist, and Obstetrician since 1991.
He is the Founder and Director of the Bloom IVF Group which has eight IVF centres all over India. Dr. Pai is also associated with Lilavati Hospital at Mumbai, DY Patil Hospital at Navi Mumbai and Fortis Hospitals at New Delhi, Gurgaon and Mohali Chandigarh.
In his lifetime, he received 50+ awards for his contribution to the field of infertility treatment and Gynaecology. He is one of the best infertility doctors in India considering the pregnancy success rate of 40-50%.
Dr. Hrishikesh Pai is a Gold Medalist in MD from Seth G S Medical College & K E M Hospital, University of Mumbai. He went on to complete his one-year Clinical Fellowship in Reproductive Biology from the Royal Women's Hospital, Melbourne, Australia in 1989. He is practicing as an IVF and infertility doctor in India.
Furthermore, he did his two years Master's in Clinical Embryology & Andrology from the Eastern Virginia Medical School, Norfolk, USA in 2006-8.
ACHIEVEMENTS:
- Honorary FRCOG the esteemed Fellowship ad eundem of the Royal College of Obstetricians and Gynaecologists in 2019. He had the privilege of receiving it in RCOG London 2019.
- ISAR Late Dr. Prabha Malhotra lifetime achievement award Hyderabad 2020
- Shri Satya Paul Chairman's award New Delhi 2020
- FOGSI Shiromani award AICOG Lucknow 2020
- FOGSI Champions of Motherhood award Lucknow 2020
- Lifetime Achievement Award for Outstanding Research in Reproductive Health by ISSRF New Delhi 2019
- FOGSI Partnership Health Award by MSD for Mothers & USAID New Delhi 2018
- Times Healthcare Achievers Award, Time of India Group, Mumbai 2018
- MOGS Dr. B N Purandare outstanding service award Mumbai 2017
- National IMA best doctor award New Delhi 2017
- Medscape India National Award Mumbai 2017
- Dr. Kanak Goel National Indian Medical Association award for Community Service Amritsar 2016
- MD Gold Medalist in OBGYN University of Mumbai 1985
- Best Interns prize for doing polio immunization in the slums of Malwani Mumbai, 1982
Frequently Asked Questions