Jaw surgery Turkey (Compare costs, clinics, surgeons & techniques in 2023)
If you are interested in pursuing jaw surgery turkey, then this article will take you through renowned surgeons and clinics of turkey, and will also educate you on all fomalities pertaining to Turkey!

Turkey's health tourism attracts approximately 100,000 people annually.
Let's discuss why Turkey enjoys such a huge presence:
By attracting foreigners for

cosmetic and medical surgeries

, the growth of health sector in Turkey has boosted by 25% in the last decade.

Following technologies have brought the field of dentistry to the forefront of Turkey: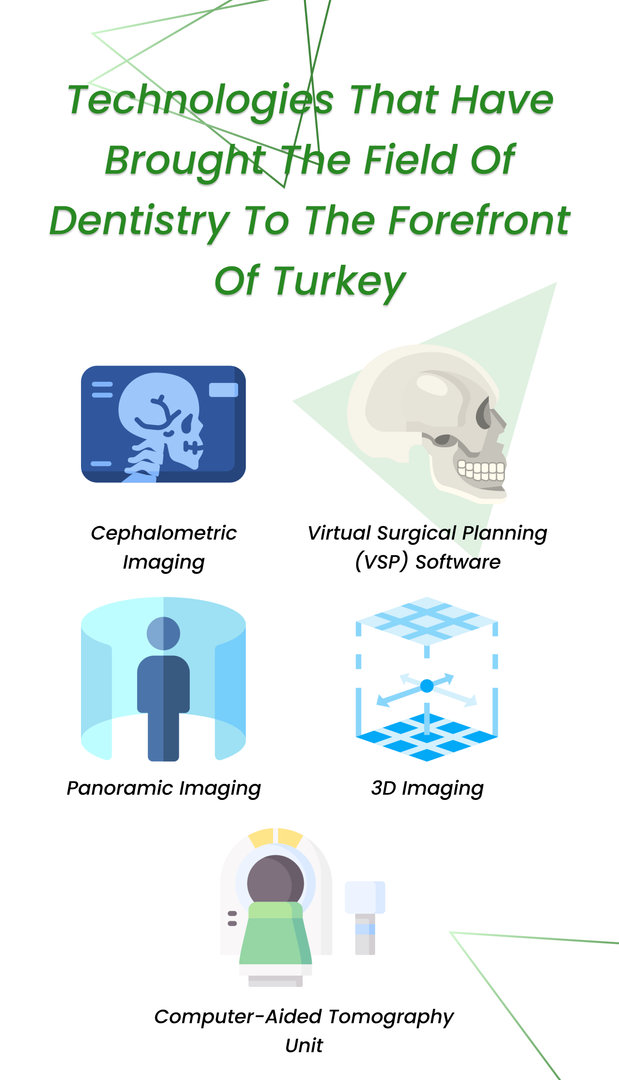 cephalometric imaging,

virtual surgical planning (VSP) software,

panoramic imaging,

3D imaging,

computer-aided tomography unit.

Following dental treatments have become a major source of tourism in Turkey: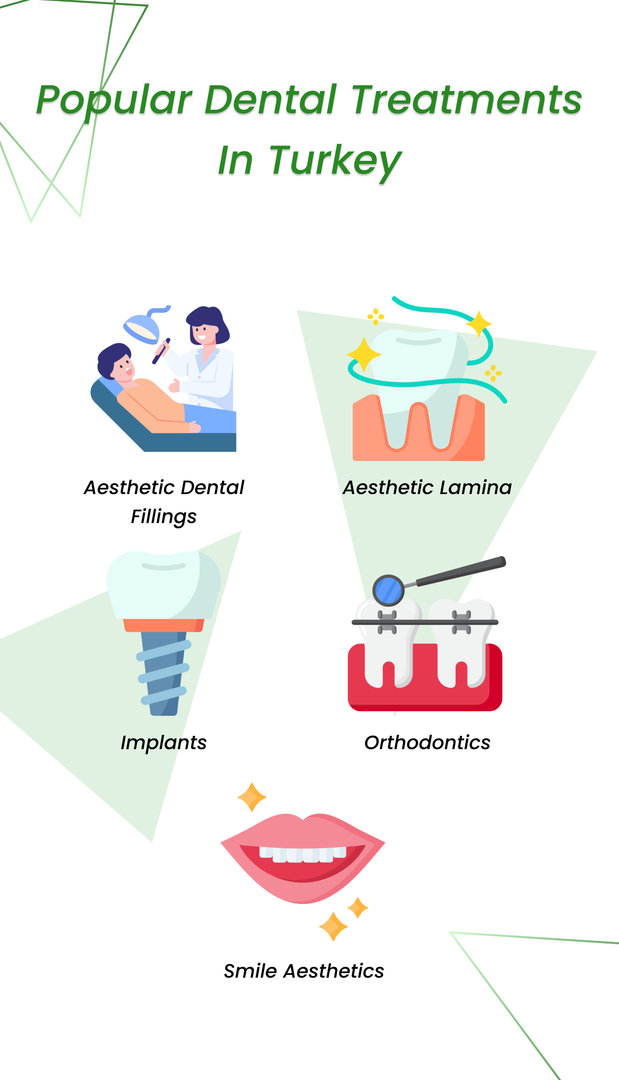 Aesthetic dental fillings,

aesthetic lamina,

implants,

orthodontics,

smile aesthetics.

The average rating of jaw surgery hospitals in Turkey is 4.9 - which takes into account:

the behavior of medical staff,

the infrastructure of hospitals,

hospital's services,

cleanliness & hygiene.
Jaw surgery Turkey at a glance
Hospital

stay

Number

of visits

Halt before

flight

Cost

2 days

2

2 weeks

$3500 - $14300
5 Best Jaw surgeons in Turkey
Turkey is majorly known for its plastic and cosmetic surgery. This can be attributed to:
Highly skilled surgeons who are trained to use novel techniques to cater their patients needs.
Below we have compiled a list of 5 best jaw surgeons in Turkey who provide best treatments with regards to cosmetic dentistry .
You can also refer our page to get more information about renowned Turkish doctors and wider range of treatments offered by them.
Specialization/

services

• He is a plastic,

reconstructive, and aesthetic surgeon.

• He can perform oral and maxillofacial

surgery, various body contouring surgeries,

and more.

Work

Memorial Bahçelievler Hospital, Istanbul, Turkey
2. Can Tokman
Specialization/ services

His areas of specialization include jaw surgery, and various cosmetic dental procedures,

Work

Istanbul Esthetic & Implant Dentistry Istanbul, Turkey
Specialization/

services

Her areas of specialization include dental implants, dental implant-based prosthesis, dental aesthetics, smile design

Work

Merkez, Çukurçeşme Cd. No:55, 34245 Gaziosmanpaşa/Hair Clinic Istanbul, Turkey
4. Kerim Aktas
Specialization/

services

He is an experienced dentist and Implantologist

Work

Dental Bosphorus Istanbul, Turkey
5. Eda Naifoglu
Specialization/

services

She is a well-reputed experienced dentist, and oral & maxillofacial surgeon

Work

Surgery Group Dental Clinics Istanbul, Turkey
Istanbul is a base to some of the most renowned plastic surgeons worldwide.
7 Best clinics for Jaw surgery in Turkey
All inclusive packages for jaw surgery in Turkey includes:
Many hospitals in Turkey are equipped to provide for following ammenities:
airport shuttle,

6 nights hotel stay with breakfast,

hotel transportation,

doctor's visits,

lab analyzes,

surgery with 1 night stay at hospital,

3 meals a day in the clinic,

medications in hospital,

interpreter service in clinic,

7 days assistance.
Top clinics for jaw surgery Istanbul
1. Medicana Atasehir Hospital (Orthognathic surgery)
Address

Küçükbakkalköy, Vedat Günyol Cd. No:24, 34750 Ataşehir/İstanbul, Turkey

Cost

$3500

2. Dentapolitan Dental Hospital
Address

İnkılap, Küçüksu Cd. No:65, 34768

Ümraniye/İstanbul, Turkey

Cost

$4610 - $14030
3. NGY Med Dental Clinic
Address

Adnan Kahveci, Anadolu Caddesi, 34528 Beylikdüzü/İstanbul, Турция

Cost

$2505

4. Platinum dental clinic
Address

Soğanlı, Çavuşpaşa Cd. No:39/A, 34183 Bahçelievler/İstanbul, Turkey

Cost

$6013
Top clinics for jaw surgery Antalya
1. Dental clinic
Address

Altındağ Mahallesi. Güllük Caddesi. Birol Apt. No:95/C Muratpaşa / Antalya / Turkey

Cost

$ 4000
2. Alanya Dental Center
Address

SUGÖZÜ MAHALLESİ 1016 SOKAK ALANYA

ANTALYA, Alanya, Türkiye, 07400

Cost

$ 2510 - $ 3112
3. TURUNCU DENTAL CLINIC
Address

Etiler mah. Adnan Menderes Bulvarı no: 61A, Antalya

Cost

$ 2410 - $ 7229
How much is a jaw reduction surgery in Turkey?
Jaw surgery turkey cost on average ranges between $3500 - $14300.
Factors that affect jaw surgery cost turkey
Type of jaw surgery

No. of procedures involved

Technologies and Techniques Used

Basic facilities included in a package

Doctor's experience

Anesthesia used

Location and status of the hospital

Room category

Type of accommodation facilities

Post-surgical supportive care
Essential pre-operative tests for jaw surgery Turkey
Radiographs

Photographs

Measurements and facial models

Three-dimensional CT scanning
Note: Mostly the clinics and hospitals provide pre-operative services free of charge or sometimes included in the surgery package.
Cost of different surgical techniques
Procedure

Details

Cost

Upper jaw

(maxillary

osteotomy)

Hospital: 2 days
Wait before flight: 2 weeks

$5000 to

$10,000

Lower jaw

(mandibular

osteotomy)

Hospital stay: 2 days
Wait before flight: 2 weeks

$5000 to

$10,000

Chin surgery

(genioplasty)

Hospital stay: 1 night
Wait before flight: 8 days

starting from

$3000
Other procedures that are performed with Jaw surgery
Packages

Starting

Price

Swiss Dental Implant + Abutment

$580

Medentica Dental Implant + Abutment

$690

Megagen AnyRidge Dental Implant + Abutment

$690

Nobel Dental Implant + Abutment

$910

Bone Grafting

$290

Sinus Lifting Per Side

$210
Cost of jaw surgery turkey in major cities
How much does Jaw surgery cost in major countries?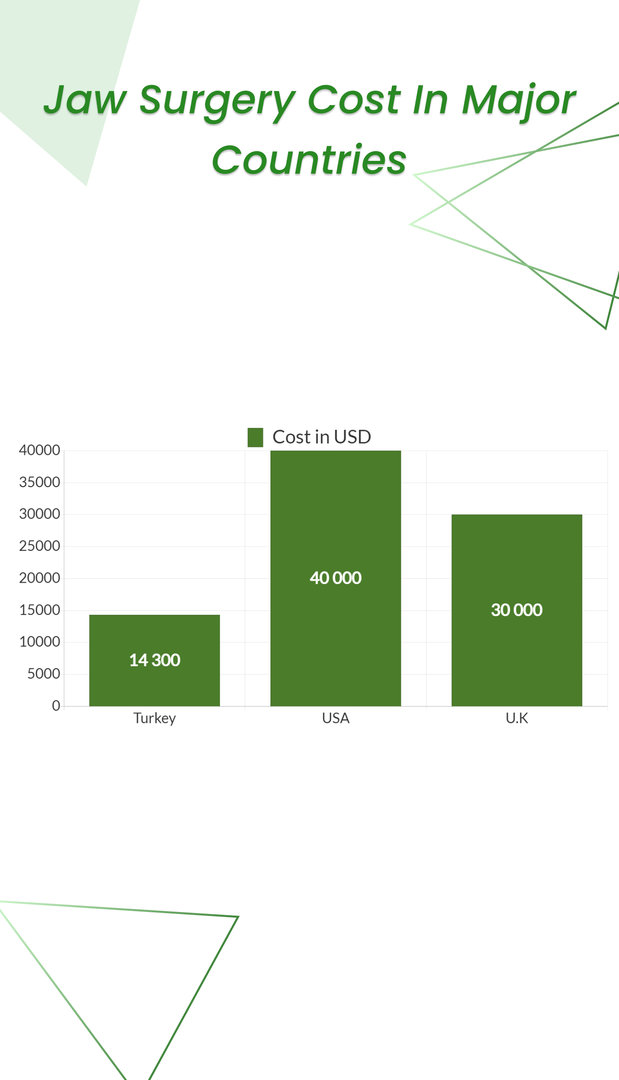 | Country | Cost |
| --- | --- |
| Turkey | $ 3500 - $ 14300 |
| USA | $ 20,000- $ 40,000 |
| U.K | $ 23000 - $ 30,000 |
Want to know Before & After results of Jaw surgery Turkey?
The results of jaw surgery are long lasting and permanent. The results become visible after initial healing of jaws at 6 weeks.
What is the success rate of jaw surgery? (Turkey)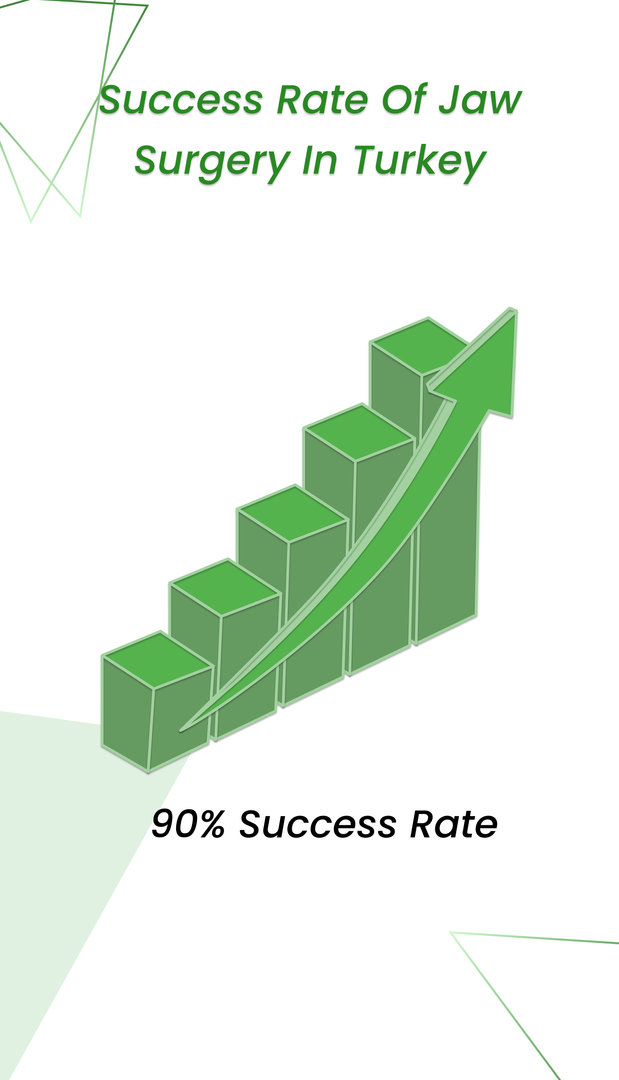 The success rate of jaw surgery is 90%, which can be attributed to:
extremely proficient surgeons

advanced technologies.

Oral diagnosis, wherein the treatment plans for patients are meticulously designed.
How to prepare for Jaw surgery Turkey trip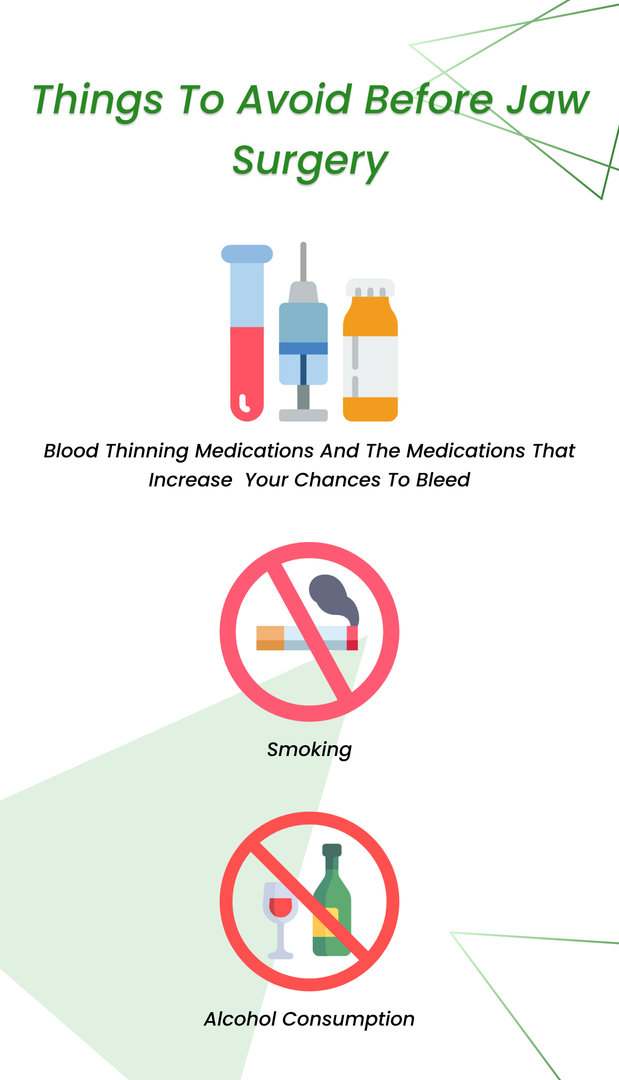 Those patients who intend to take dental surgeries in Turkey can get general health insurance or private insurance.

The foreigners with medical health insurance can get benefit from the state or university hospitals free of charge.

Foreigners with private health insurance can get benefit from public as well as private hospitals.

And they should apply for tourist or medical visa and a valid passport prior to enter the country.

It is also mandatory for foreigners to apply for residence permit if they intend to stay over 3 months.

Dental examinations, tooth cleaning, tooth extraction, and tooth whitening are the services

covered under private insurance.

Most of the orthodontic surgeries demand patients to wear braces before surgery so their teeth get perfectly aligned.

Patients should refrain from blood thinning medications and the medications that increase your chances to bleed like aspirin or herbal supplements 2 weeks before surgery, and should quit smoking 2 months before surgery because they won't be able to smoke after surgery.

They should avoid alcohol consumption 2 days before surgery.
Who can benefit from jaw surgery turkey?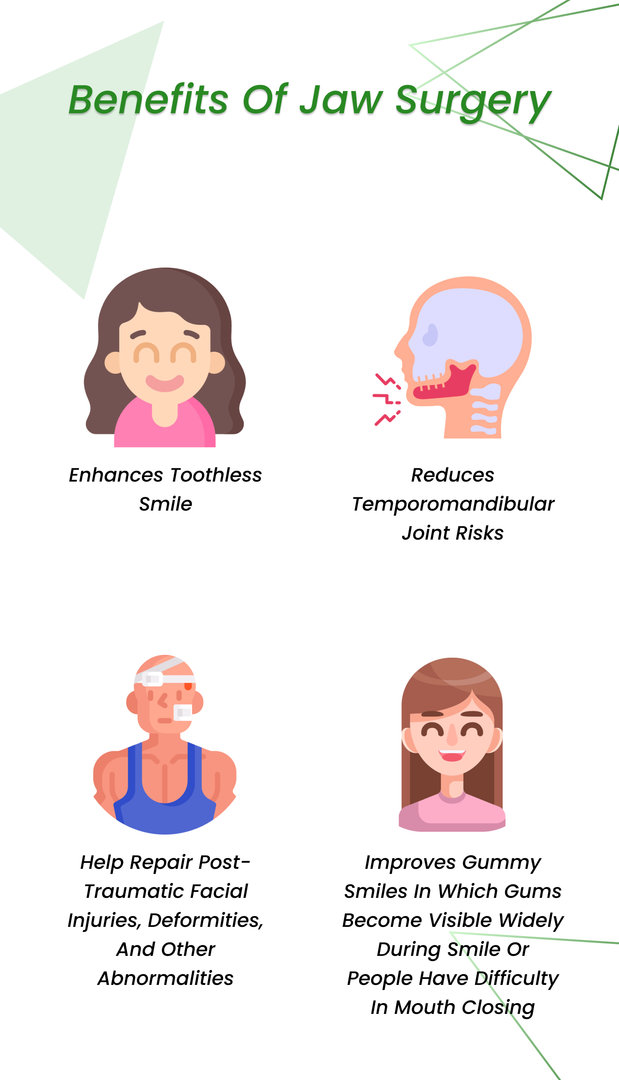 Jaw surgery can be performed due to following reasons:
Bone realignment after facial trauma

Replacement of missing teeth with dental implants

Diagnosis, removal, or reconstruction of jaw, oral, or facial cysts or tumors

Jaw alignment

Repairment of jaw joints

Facial or jaw reconstruction following cancer surgery

Improving chewing and biting problems in general

Reducing the wearing of teeth after several years use

Enhancing facial appearance by improving chin adjustment, jaw and teeth alignment, and correcting facial imbalance

Improves gummy smiles in which gums become visible widely during smile or people have difficulty in mouth closing

Enhances toothless smile

Reduces

temporomandibular joint risks

Help repair post-traumatic facial injuries, deformities, and other abnormalities
Can you get jaw surgery in Turkey?
The persons should get jaw surgery after their bone development process gets ceased or after the age of growth. Males after 21 years and females after 17 years of their age are eligible for this surgery.

Frequently Asked Questions
Q.1) Who needs jaw surgery?
Answer: If you have any of the following problems, it is more likely you to go for jaw surgery:
Misaligned jaws

Difficulties in eating

Trouble in biting

Trouble in chewing or swallowing

Problems in snoring, sleeping, or breathing.
Q.2) Can you eat after jaw surgery?
Answer: Initially, you may feel some difficulties eating just after jaw surgery. It takes a little time to eat normally again as it takes time to heal the bone.
Q.3) How do you brush your teeth after jaw surgery?
Answer: You can avoid any toothpaste. Instead, you can use a toothbrush and warm water. You can brush just after jaw surgery.
Q.4) Is ear pain normal after jaw surgery?
Answer: Initially, you may feel some pain after the jaw surgery, which is inevitable after any surgery, but it disappears within 2 to 3 weeks.
Q.5) Is jaw surgery permanent?
Answer: Short answer: Yes
Corrective Jaw surgery is permanent.
Q.6) Is a jaw surgery worth it?
Answer: Orthognathic or jaw surgery can help treat various functional dental conditions, correct facial and dental abnormalities, and significantly enhance the aesthetics of your teeth and jaws.
Cost of Cosmetic And Plastic Surgery Treatment in India
Question and Answers (210)