Introduction
Breast reduction surgery is also known as "reduction mammaplasty." It involves removing excess fat, skin, and tissue from the breasts.
Nowadays, many patients from the US and Europe turn to India for affordable medical care.
Breast reduction surgery cost in India ranges from INR 89,615 ($1,127) to INR 2,42,921 ($3,055). This includes all the medical charges involved, including the cost of lab investigations, doctors' consultation fees, medicines, and other consumables used for the treatment.
To help you through your treatment research, we have arranged the cost of breast reduction surgery in India's major cities. Let's check ahead.
More Information
The cost of breast reduction surgery varies in different countries.
A few quick figures to help you get an idea of the costs involved in breast reduction surgery in different countries:
| | |
| --- | --- |
| Country | Cost (USD) |
| USA | $5,000 to $7,000 |
| UK | $7865 (approx) |
| Singapore | $18,000 to $43,000 |
| Australia | $10,000 to $14,500 |
| India | $1134 - $3072 |
Note: The cost may vary by approximately 5-10% depending on various factors, such as the doctor's experience, and the hospital's location.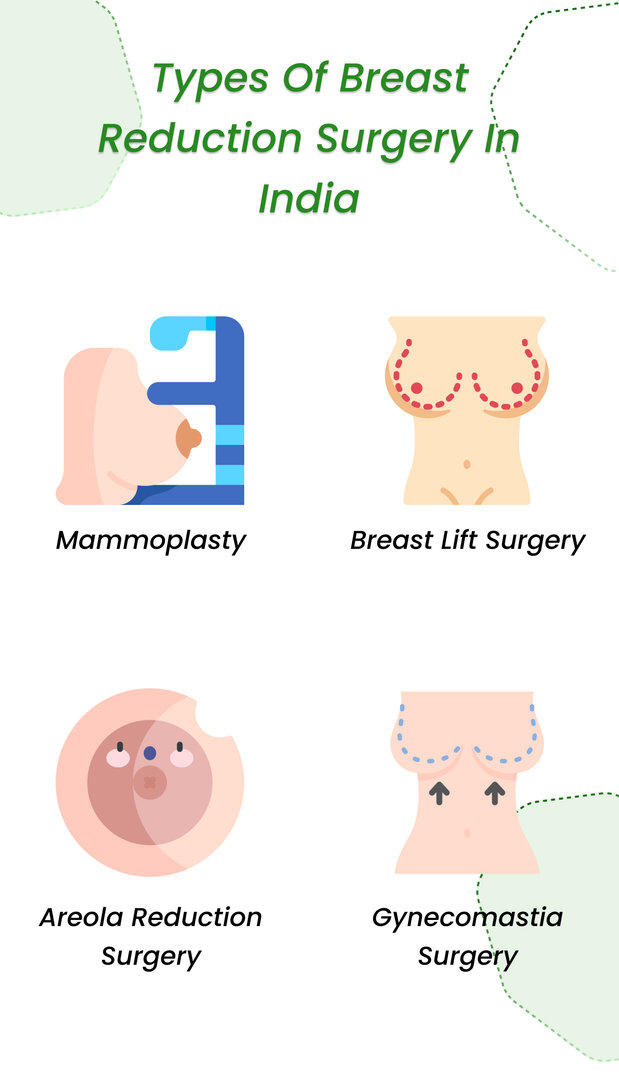 What are the various types of breast reduction surgery in India?
There are different types of breast reduction surgery procedures performed in India. Let's take a look at the most common breast reduction surgery prices in India.
Types

Procedure

Cost

Mammoplasty

The breast tissue and some of the skin around the nipple and areola are removed, resulting in smaller, lighter breasts.

₹

90,000 -

₹

2,44,000

Breast Lift Surgery

Excess skin and fat are removed, but the breast tissue is not reduced. It is used to help lift and firm droopy breasts.

₹

65,000 -

₹

1,30,000.

Areola reduction surgery

An areola reduction is a plastic surgery method to permanently alter the aesthetic of the pigmented region surrounding the nipple.

₹

25,000 -

₹

1,00,000

Gynecomastia surgery

Gynecomastia surgery reduces breast size in men, flattening and enhancing the chest shape.

₹

40,000 -

₹

80,000
Different surgical procedures are used to reduce the size of the breasts by removing extra fat tissues and reshaping the breast to the patient's preference.


The following are the prices for the most common breast reduction techniques in India.
Techniques

Procedure

Cost

Breast liposuction

Using a thin tube connected to a vacuum, insert small cuts in your skin to extract fat and fluid.

₹

89614 -

₹

2,42,922

Vertical (Lollipop) breast reduction

The areola is incised around its border, and vertically down from there to the breast crease.

₹

90,000 -

₹

1,00,000

Inverted T (Anchor) breast reduction

Women with severely saggy breasts should consider the inverted T Lift method.

₹

95,000 -

₹

1,30,000

Periareolar Breast Lift:

Sagging breasts are lifted by making a circular incision around the outer edge of the areola

₹

75,000 -

₹

1,00,000

Crescent Breast Lift

When compared to other breast lift techniques, there is little scarring due to a single incision that runs halfway along the top outer edge of the areola

₹

65,000 -

₹

95,000
For more details, Call today and get free Consultation!
Factors affecting the cost of breast reduction surgery in India
All surgeries will have their own specific factors that may affect their cost. Some other factors that may affect the cost of breast reduction are: -
The surgeon you choose.

What type of facility do you opt for (hospital vs private clinic); and are there any additional fees or related expenses for specialist pre-med advice and post-care services such as physiotherapy and scar management?
The experience and reputation of the hospital: Some hospitals are known for providing excellent medical services, while others are less reputable. Make sure to check the credentials of the hospital and doctor before making your decision.
Experience of surgeon: An expert surgeon with years of successful experience will cost more.
Pre-Surgery cost:

You need to undergo blood tests, a urinary pregnancy test, and other tests to confirm you are in good health for your surgery.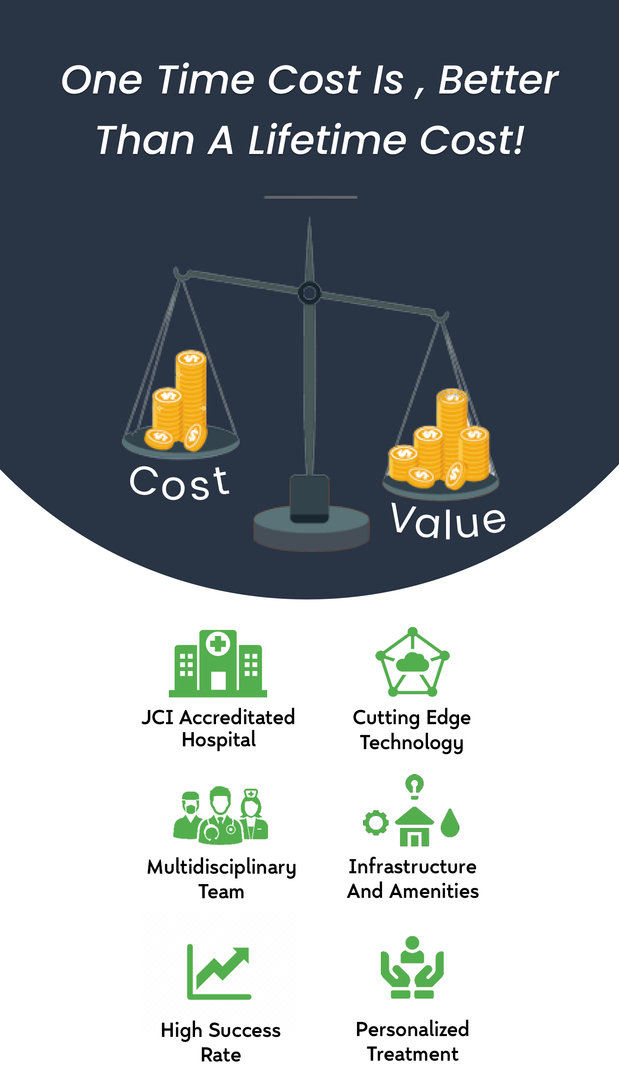 Other Details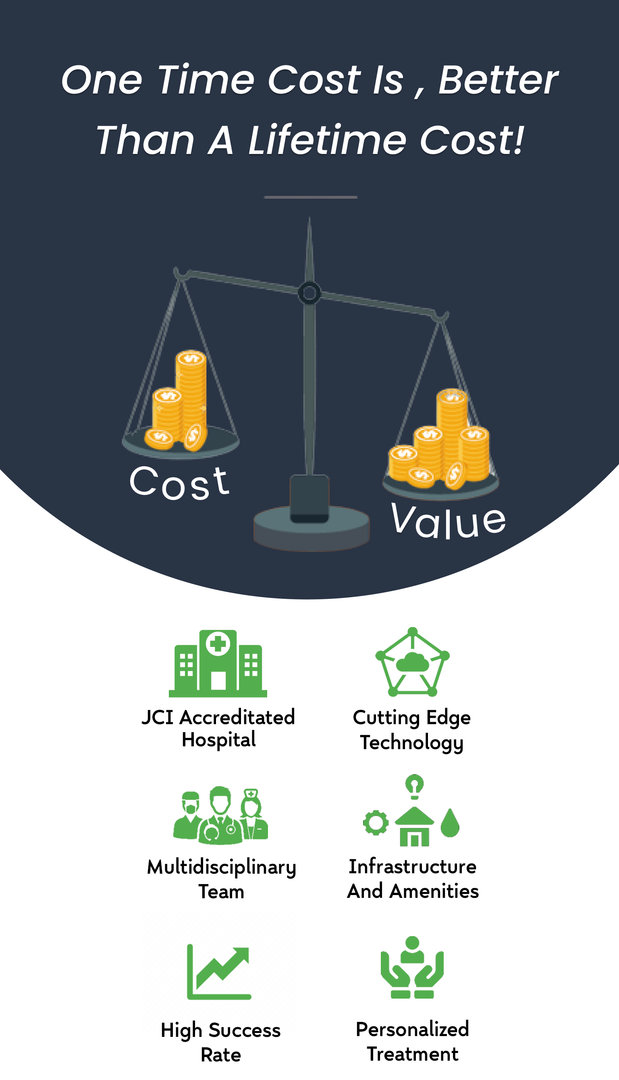 Why should you consider breast reduction surgery in India?
A number of advantages make India one of the most popular destinations for breast reduction surgery in the world.
Healthcare facilities of international standards: India's health sector is growing rapidly, and international hospitals are being established throughout the country. Thus, patients seeking affordable healthcare can benefit from a trip to India.
Low treatment costs:

Compared to other western nations, India offers a wide range of services for surgery at a lower cost. At the same time, India has an excellent reputation for its healthcare services, so it is a perfect choice for patients from all over the world.

Experienced and qualified surgeons: There are a great number of experienced doctors in India who are reliable because of their excellent track records of positive outcomes. Indian doctors have an excellent reputation globally for their expertise and practice.
Overall, India is an excellent choice for people who want to undergo breast reduction surgery and are looking for a combination of low cost, high quality, and good infrastructure.
Do you think India is the correct destination for your breast reduction surgery? Did you say yes?
Disclaimer : The above rates are for reference purpose only and may vary based on different requirements. To know actual rates, please contact us.
Frequently Asked Questions
What can you not do after breast reduction surgery?
What size do my breasts need to be for a reduction?
How do you clean yourself after breast reduction surgery?
How long do I have to sleep after breast reduction?
How soon can I shower after breast reduction surgery?
Why is my stomach so bloated after breast reduction?
Can I wear deodorant after breast reduction?
Is breast implant treatment in Turkey safe?
How can Clinicspots help you?
Connect on WhatsApp and Video Consultation
Question and Answers on Cosmetic And Plastic Surgery (126)