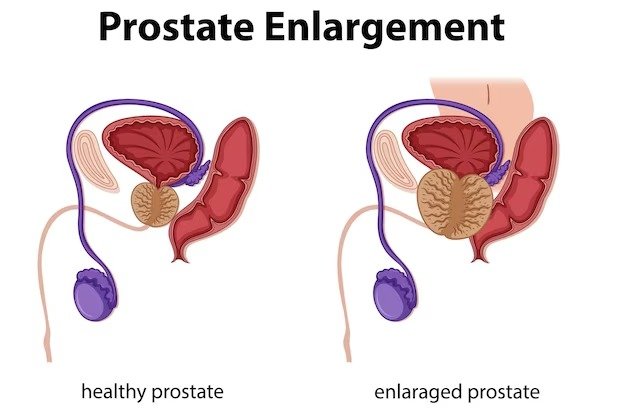 The prostate gland goes through two growth phases during a man's life. First, it grows twice its size during puberty, and then from the age of 25 years, it keeps on growing the whole life gradually. The problem arises when the prostate grows unusually large.
BPH is benign in nature, i.e., it is not cancerous, but it holds the chance of initiating cancer later on if not treated on time. Not treating BPH on time will cause serious health issues like urinary retention, renal insufficiency, and renal failure or back pain.
Some of the common symptoms to identify BPH are:
Frequently feeling the urge to pass urine.

Passing urine more frequently during the night.

Difficulty in passing urine

Unable to empty the bladder completely

Intermittent or weak urine flow.



Research has shown that almost 25% of men aged 40-49 years have BPH. If we talk about the global scenario, 20% to 62% of men over 50 years are diagnosed with BPH.
In December 2021, the FDA approved the latest treatment for enlarged prostate, Entadfi. It is a combination of two drugs; Finasteride and Tadalafil. The drug was found to be more effective in treating urinary tract symptoms. The drug was made available in the market in early 2022.
Your health is too important to ignore – schedule your appointment now.
Now it's time to take a closer look at the latest treatment for BPH.
More details on the latest BPH treatment
On December 13, 2021, the FDA approved a new drug for BPH. Entadfi (finasteride and tadalafil) is an oral capsule with less potential to cause unpleasant sexual side effects. This drug is taken for 26 weeks of BPH treatment.
Tadalafil is approved for daily consumption to treat erectile dysfunction and BPH.
Finasteride has been approved. It can help with symptoms, lower the risk of acute urine retention and the requirement for prostate surgery, and stop the growth of BPH.
Are there any side effects of Entadfi?
Entadfi has mild to severe side effects like any other drug. You must know the side effects before taking the new medication for BPH. Read along to learn about it.
The new treatment for BPH has side effects arising as a result of taking Tadalafil are listed below:
Headache

Indigestion

Back Pain

Muscle pain

Runny and stuffy nose

A longer-lasting erection(Not a usual side effect, but it can be seen in a few men)

Not being able to achieve an erection

Reduction in sex drive

Reduction in volume of ejaculate

Pain in breasts

Allergic reactions

Depression

Rare testicular pain


If you are facing any side effects mentioned above consult a Urology specialist hospital for better treatment.
Take charge of your health and your life. Contact us today!
Can any other drug affect the action of Entadfi?
Before taking Entadfi, it is advisable to consult your doctor.
Entadfi can decrease your blood pressure to an unsafe level if you are taking certain other medications:
Avoid taking Entadfi if you take nitrate medications.

If you are taking medicines known as guanylate cyclase stimulators, then you must not take Entadfi.

Entadfi is not at all advisable for pregnant women.

If you're taking "popper," a recreational drug, you must abstain from taking Entadfi.

Erectile dysfunction medicines can also have adverse effects if taken along with Entadfi.

Who cannot take Entadfi?
Entadfi can only be consumed only by men.
You are not eligible to take Entadfi:

If you are a pregnant women

If you have allergies like rashes or hives.

If you have swelling of lips, tongue, or throat.

If you face difficulty in breathing and swallowing.
Your well-being is our priority - call us to book your appointment today
References:
https://www.drugs.com/newdrugs.html
https://www.empr.com/home/news/
https://www.globenewswire.com/news-release/2021/12/13/2350788/11676/en/Veru-Announces-FDA-Approval-of-ENTADFI-a-New-Treatment-for-Benign-Prostatic-Hyperplasia.html
Frequently Asked Questions
Is back pain always a symptom of an enlarged prostate?
Can certain medications cause back pain in men with an enlarged prostate?
Can spinal problems cause symptoms similar to an enlarged prostate?
How does an enlarged prostate cause back pain?
Can back pain be a symptom of prostate cancer?
Can an enlarged prostate cause muscle spasms in the back?
Can an enlarged prostate cause referred back pain?
Can an enlarged prostate cause back pain during ejaculation?