ALS Stem Cell Treatment 2022( All You Need To Know)
ALS is a feared motor neuron disease with no known cure so far. It inevitably leads to a steady deterioration in one's quality of life, and death. Till now, medicines have only been available to slow the progress of this disease. But a new ray of hope has risen over the horizon. A stem cell cure for ALS has finally arrived. Scroll below to know more!

Overview on ALS
Amyotrophic Lateral Sclerosis or ALS is a progressive disease of the nervous system. It affects the motor neurons in the brain and spinal cord, resulting in loss of muscle control. It is also commonly known as Lou Gehrig's Disease.
So, what causes ALS?
Unfortunately, doctors have still not been able to discover the cause of this disease. About 5-10% of the cases are genetic in nature. But the remaining ones usually have no specific cause. Doctors currently speculate that environmental factors also have a hand in causing this disease.
Symptoms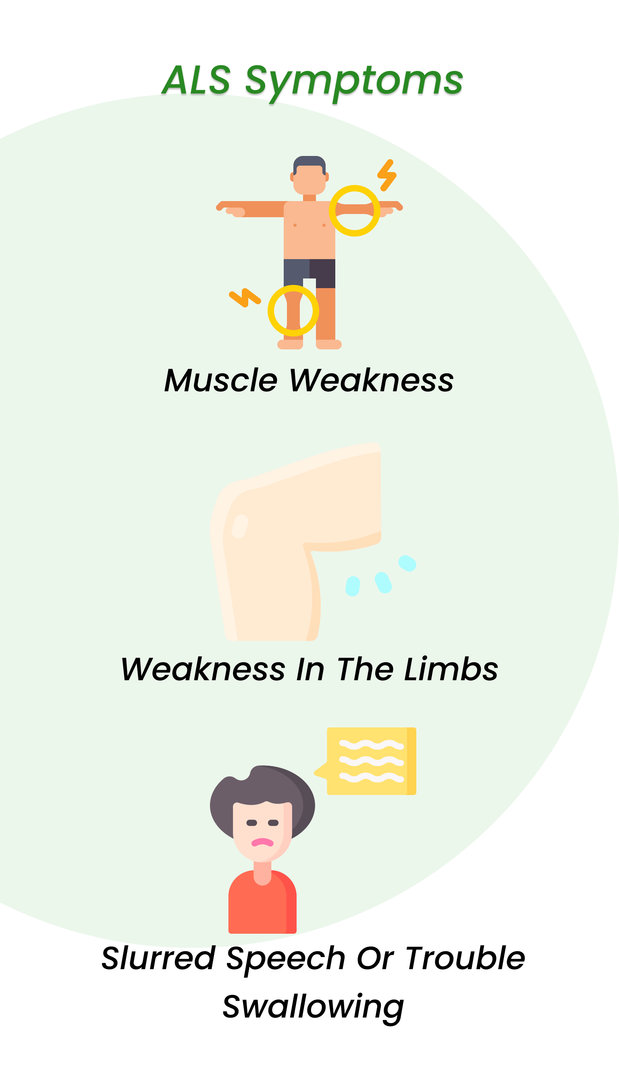 Signs and symptoms vary quite a bit from person to person. Some general symptoms you can keep an eye out for are:
Muscle weakness that worsens over time
Weakness in the limbs
Slurred speech or trouble swallowing
As this disease advances, it eventually ends up affecting one's ability to chew, swallow, and breathe. However, ALS patients don't experience any pain as the disease advances.
Types of ALS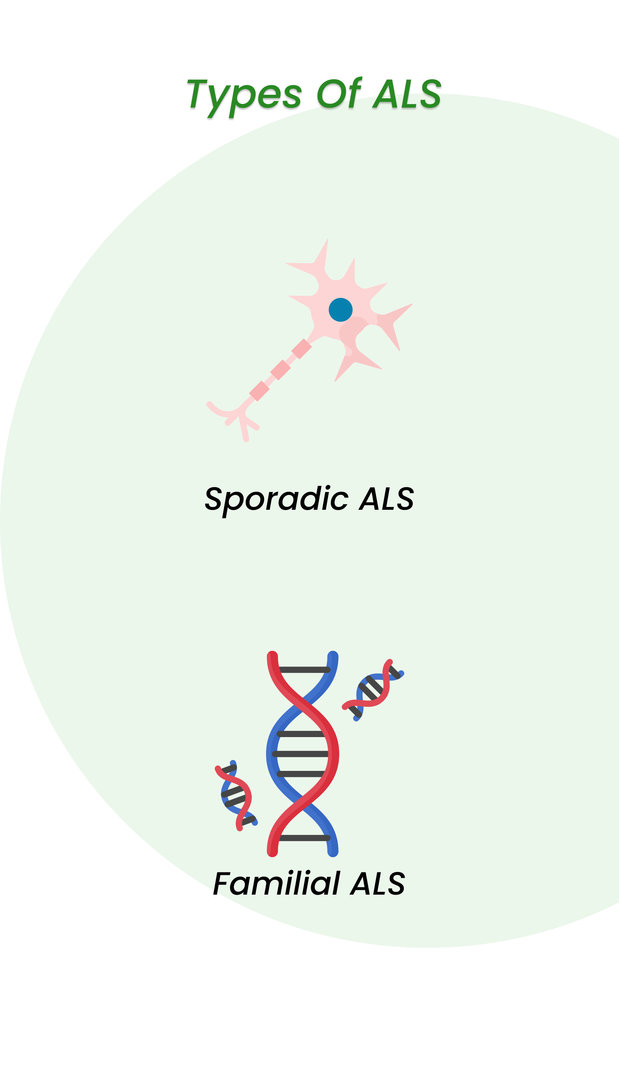 There are only two types of ALS. Sporadic ALS has no cause and maximum cases are attributed to it. Familial ALS is caused by a faulty gene.
But what is this new treatment that everyone claims has the potential to cure ALS? It is called stem cell therapy. This new therapy is making waves in the medical world. It is touted to have the potential to reverse ALS, although a complete cure is not possible for this disease.
Of course, it is still undergoing clinical trials. However, they are yielding promising results so far. Stem cells have demonstrated the ability to not only repair damaged neurons, but also regenerate new ones.
Is Stem Cell for ALS FDA Approved?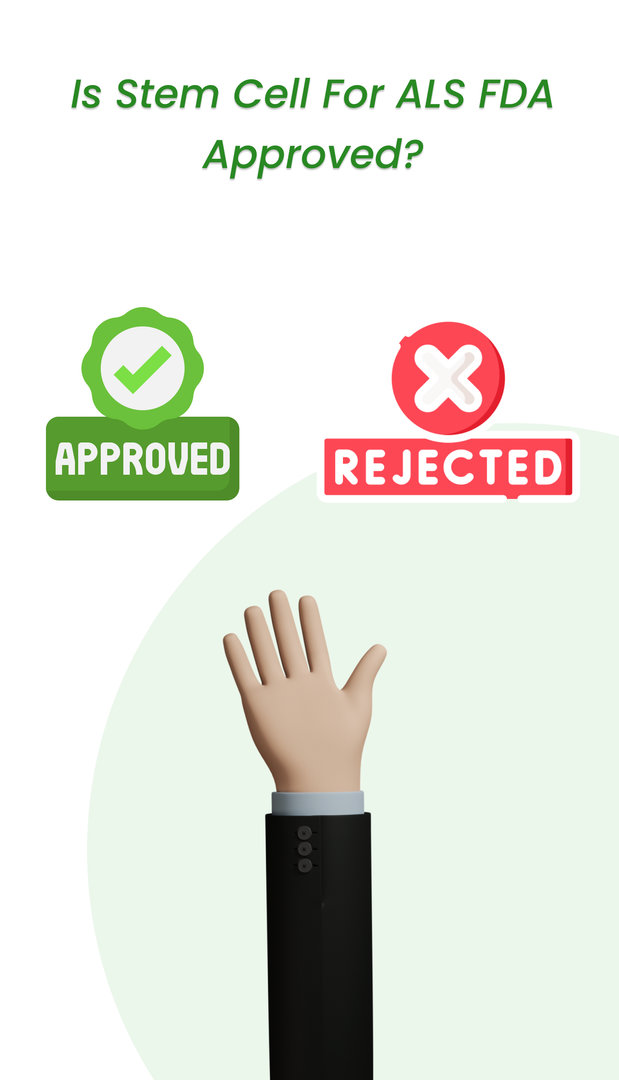 Are the clinical trials for stem cell ALS FDA approved?
Currently, they are not. However, all trials follow a strict set of regulations. Many trials are also quite close to obtaining FDA approval, according to recent reports.
Can Stem Cell Help ALS?
Isn't this one of the most important questions to ask?
To answer this, we will first briefly explain what a stem cell is.
A stem cell is an unspecialized cell of our bodies. It has the ability to differentiate into any tissues of the body.
These stem cells can be taken from different parts of our bodies, or donor stem cells can be used. Some studies are also exploring the use of umbilical and embryonic stem cells in the treatment of ALS.
It also has neurotrophic and regenerative properties.
Too technical?
To put it simply, stem cells can repair damaged nerve cells and create new ones. Additionally, some studies have also shown that they give protection to existing healthy neurons.
Since we already know that motor neurons are damaged in ALS, it is easy to see how stem cells can help treat the disease.
At present, the majority of clinical trials use bone-marrow-derived mesenchymal stem cells. We shall talk a bit more about them later in the article.
Eligibility Criteria
How do you know if you are eligible to receive stem cell treatment for ALS?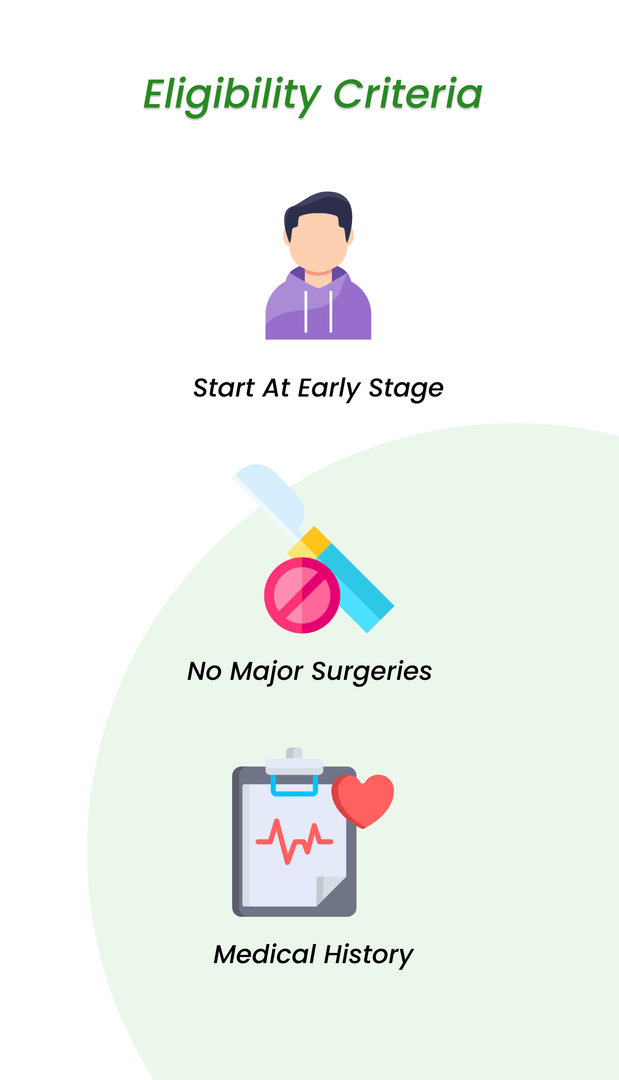 The best person to answer this question is your physician. Every clinical trial has its own set of requirements. However, we have prepared a general list of criteria for you.
You should start ALS stem cell therapy in the early stages of this disease.
You should not have undergone major surgeries like open-heart surgery or have had any kind of organ transplant.
Your medical history should not be extensive.
Why is Stem Cell Therapy a Good Option for ALS Patients?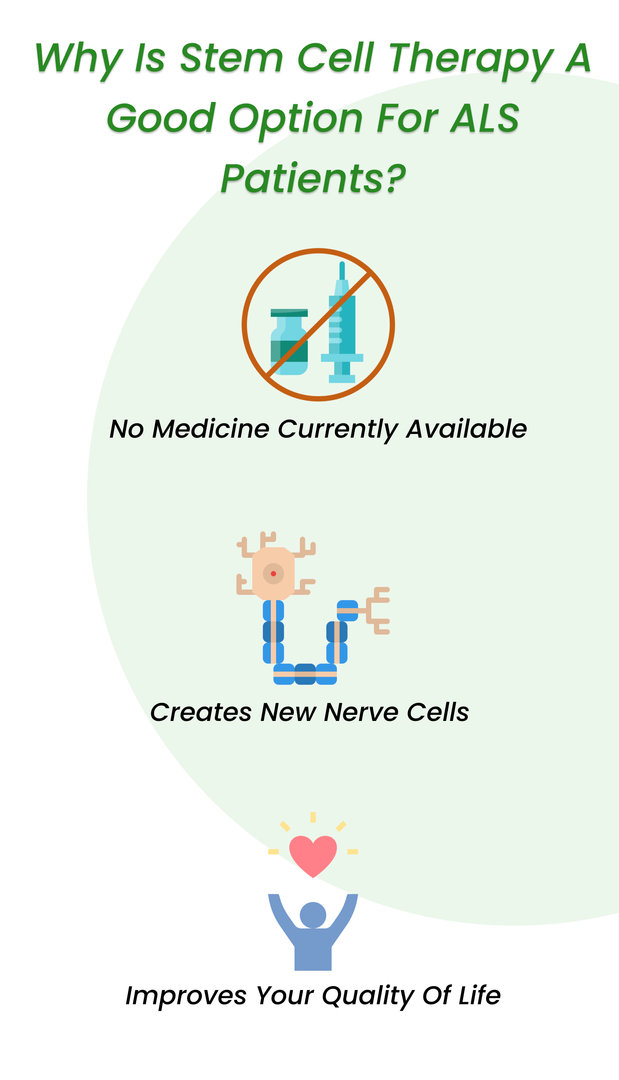 There are several reasons for this. The biggest reason is there is no medicine currently available to treat ALS. Riluzole, the drug of choice, only has a limited effect in slowing the progress of the disease.
Stem cell treatment ALS, on the other hand, has exhibited long-term improvements in the symptoms of patients. This, in turn, also improves your quality of life.
Stem cell therapy for ALS patients also creates new nerve cells to replace the damaged ones, which has not been made possible by any other medical treatment.
Risks in Stem Cell Therapy for ALS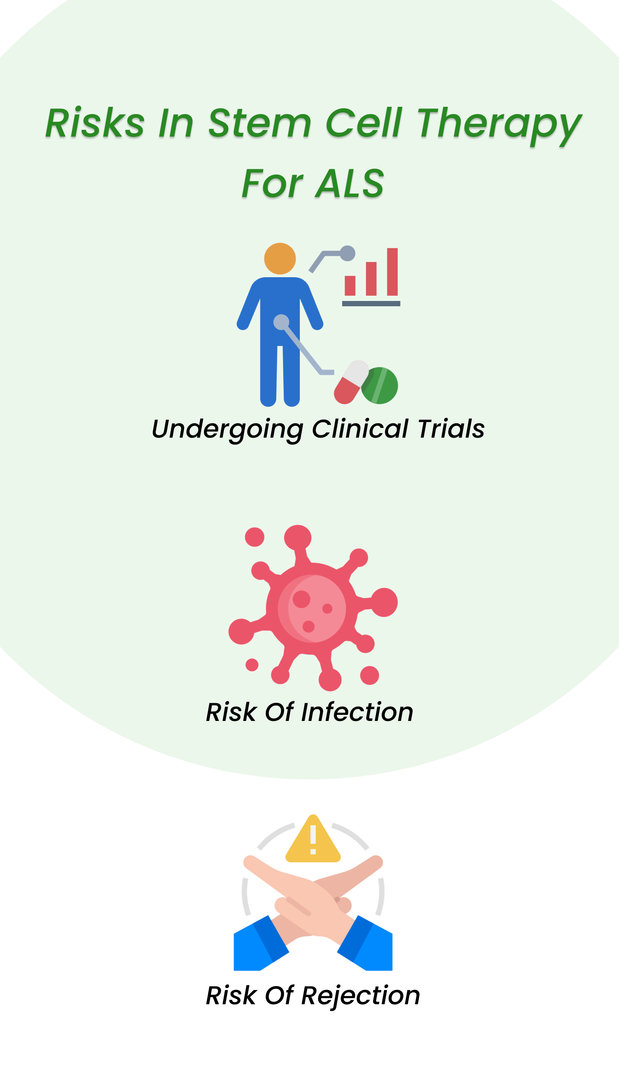 Like every medical procedure, stem cell therapy ALS also has its own set of risks.
The most important one is that this treatment is still undergoing clinical trials.
There is a risk of infection at the site of injection.
If donor stem cells are used, there is a risk of rejection.
All in all, so far, the risks of this procedure are very few.
How Much is Stem Cell Therapy for ALS?
ALS stem cell treatment cost will depend on many factors like the stage of the disease, the facility you choose for the procedure, and any after-care required.
In India, a stem cell transplant for ALS costs 6000 to 14000 USD (4.5 to 10.5 lakhs INR). Each cycle costs around 2000 USD. The number of cycles depends on the severity of the disease.
In comparison, the same procedure cost 40,000 to 55,000 USD in the US.
Procedure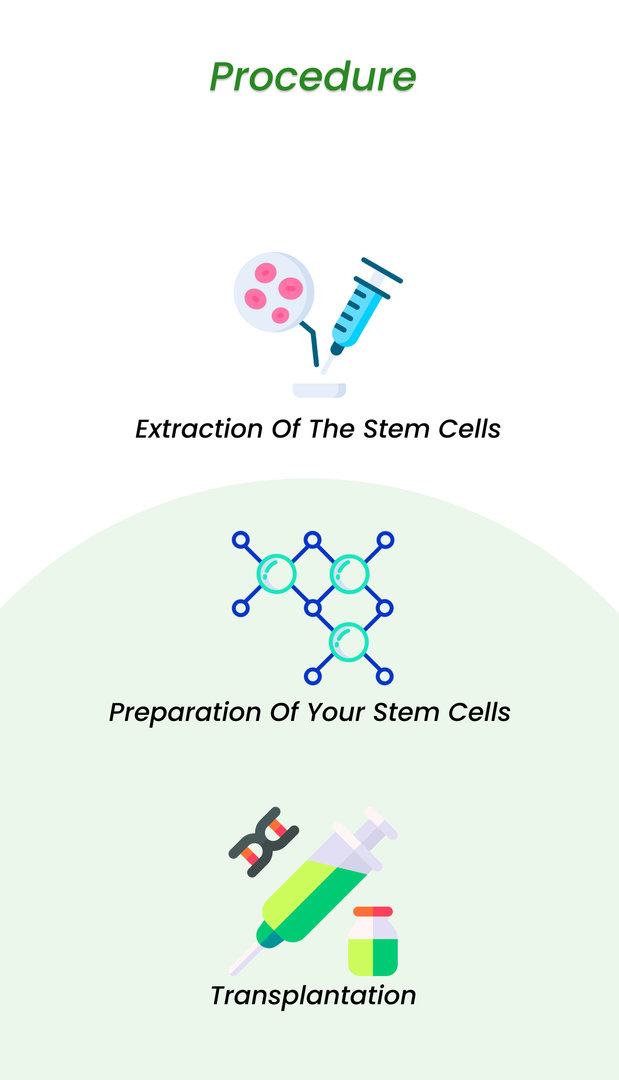 Are you curious to know what this procedure entails?

We've got all the details for you.
The whole procedure can be broken down into three steps.
Steps of Procedure
Description
Step 1- Extraction

Autologous transplants are the standard in mesenchymal stem cell therapy for ALS.
The stem cells are retrieved from the bone marrow of your hip.
This procedure generally takes about an hour or two.

Step 2- Preparation

The extracted bone marrow is taken to the stem cell laboratory.
Using a technique called density gradient technique, a concentrated solution of your stem cells is prepared.
This process takes about four hours.

Step 3-Transplantation

The stem cells are delivered into your body through an intrathecal route.
A spinal tap is done, and the stem cells are directly injected into your spinal cord and cerebrospinal fluid.
This procedure only takes an hour or two.
Does this description make you think, 'Is stem cell treatment for ALS painful?' Let us ease your fears.
You will be given local anesthesia both during the extraction phase and the transplantation phase. This will keep you comfortable and pain-free.
How long do stem cell treatments for ALS last?
As we saw in the above explanation, the whole procedure takes about eight to nine hours. However, to keep you comfortable, these steps are usually spread over a period of three days.
What to Expect After Treatment?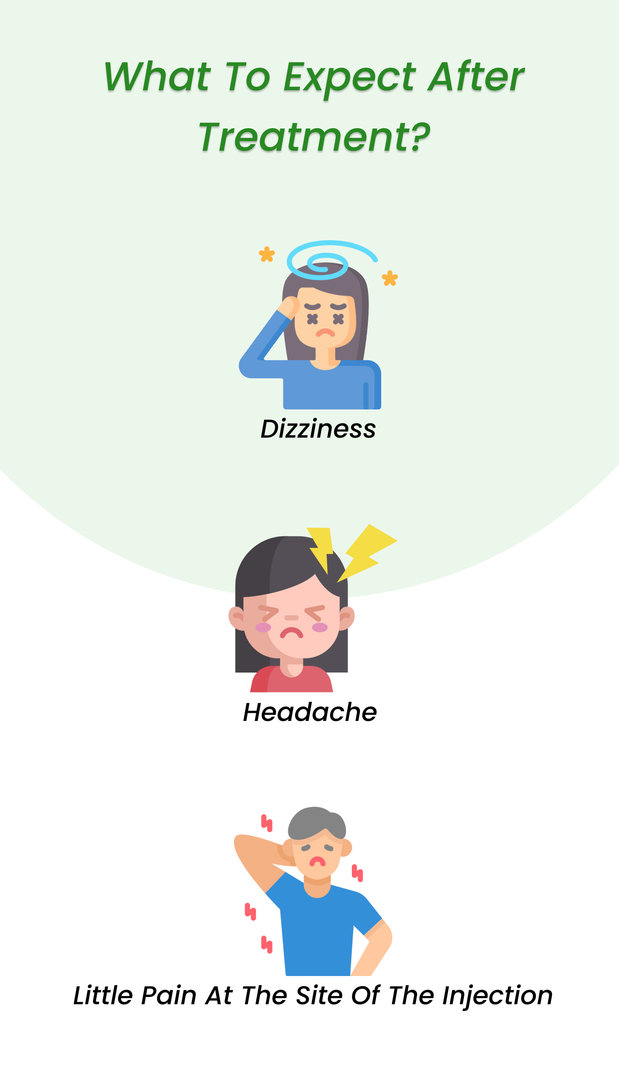 This procedure can be done as an outpatient one. But to be on the safer side, most specialists advise a hospital stay. Right after the procedure, you might experience some dizziness or a headache. However, this is transient in nature and goes away in a few hours.
The expected recovery time is very short. You can resume your daily activities within a few days. You will be advised to avoid strenuous activity for a week after the procedure.
One of the heartening parts of this procedure is that no long-term side effects have been reported in any clinical trial so far. You might feel a little pain at the site of the injection for a couple of days.
How soon can you expect to see results though?
This varies from person to person. Some patients show improvement in symptoms within a few days while some take longer. On an average, you can see results in thirty days after the procedure.
What is the Success Rate of Stem Cell Transplant for ALS?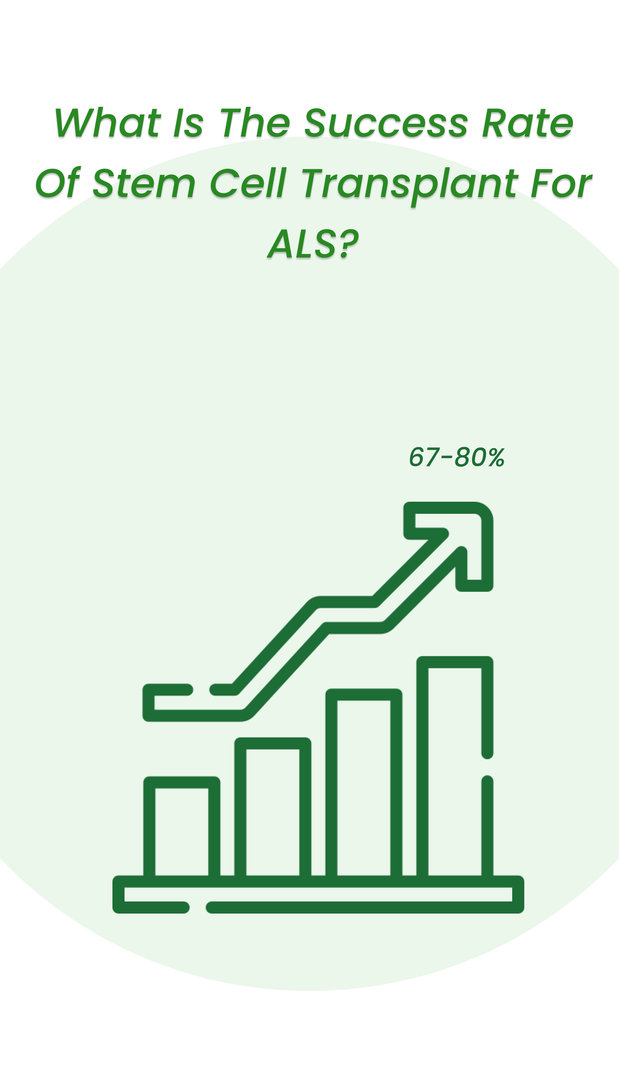 Most patients with ALS have a life span of three to five years post-diagnosis. During this time their condition steadily deteriorates. Stem cell injections for ALS help slow the progress of this disease. Along with this, they also improve the quality of life.
Stem cell therapy for ALS has a success rate of 67 to 80%. These patients not only show an improvement in symptoms but also exceed their projected life expectancy.
Where Can I Get Stem Cell Treatment for ALS?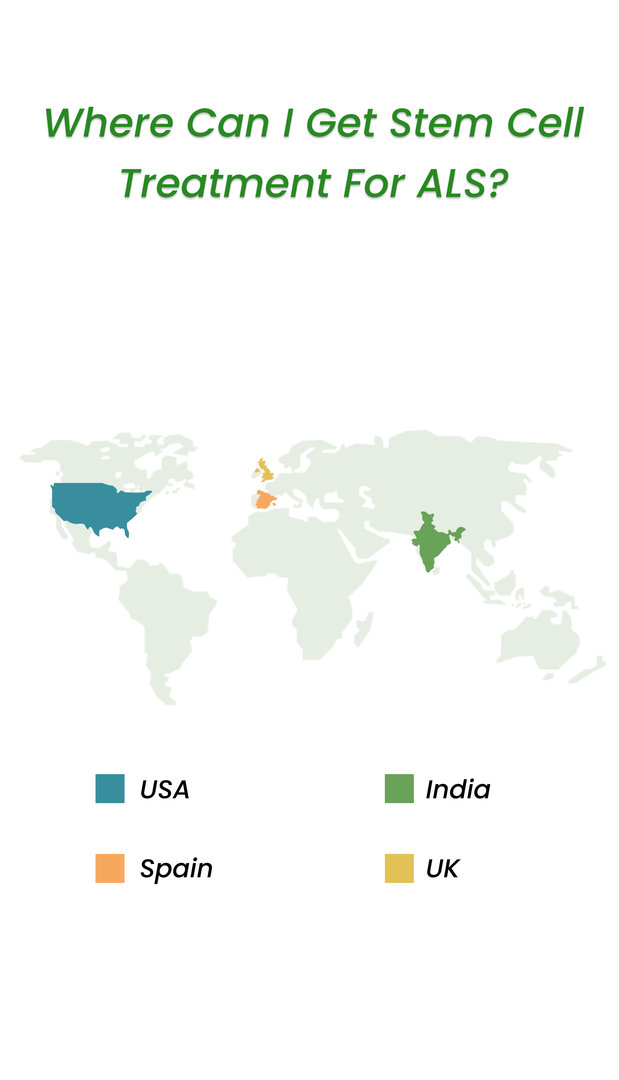 Numerous countries are currently conducting ALS stem cell trials. The most prominent ones are:
What makes India such a good choice for stem cell ALS?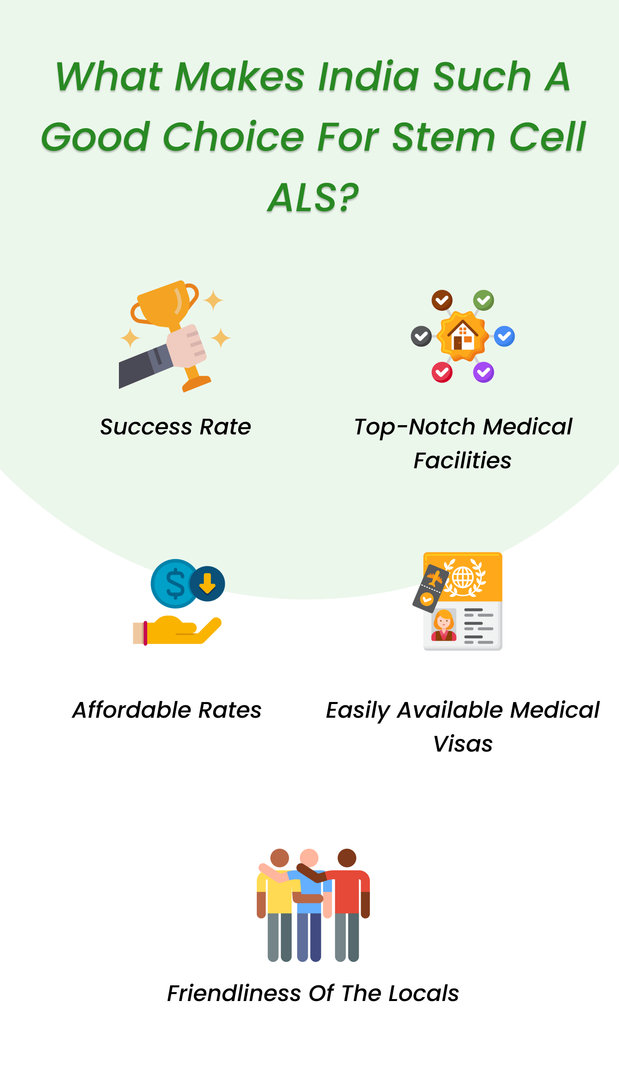 The biggest consideration here is a higher-than-average success rate. India has a success rate of 75%, while the global average is 67%.
Over a decade of stem cell treatments in India has led to thoroughly established protocols. This makes stem cell for ALS in India very effective and gives predictable results.
India also has several top-notch medical facilities that carry out stem cell therapy for ALS at very affordable rates. Add in the friendliness of the locals and easily available medical visas, and you can see why India has emerged as one of the top destinations for stem cell and ALS.
So, what are you thinking?
Call today and get free Consultation!
Frequently Asked Questions