Autism Treatment in India( Best Centers, Doctors & Costs 2023) | Clinicspots
Over the past decade, India has made rapid progress in the treatment of ASDs. More funding is also available now for research, leading to the availability of even better treatment modules. In fact, last year, a Bengaluru scientist made a breakthrough discovery of a compound called 6BIO. This shows immense potential in enhancing the treatment of ASDs. This would have made you want to learn more about autism and its treatments, right? So, here you go!

What is Autism?
Autism Spectrum Disorders or ASDs are lifelong neurobiological conditions. They usually manifest in the first three years of a child's life. These children show differences in three main areas of development:
Communication: The child may present as verbal or non-verbal
Social interaction: The child may not make eye contact or respond to their name when called
Imagination: Very often, a repetitive pattern of play is noticed during leisure activities
Since autism is a spectrum disorder, each child presents differently.
Some of the observed symptoms are-
Mild learning and social disabilities to more complex and multiple difficulties
Several instances of unusual behavior and varying sensory problems are also seen.
Another peculiarity often seen is uneven skill development.
Are you experiencing any of the above symptoms?
Don't get disheartened as there is good news!
Early intervention can treat autism and help your children become functioning members of society. Also, it can help improve your child and your family's quality of life.
Treatment and help from experienced doctors can do a lot of good for your child's health.
So, here we present a list of the best autism centers and doctors in India!
Autism Treatment Centers and Hospitals in India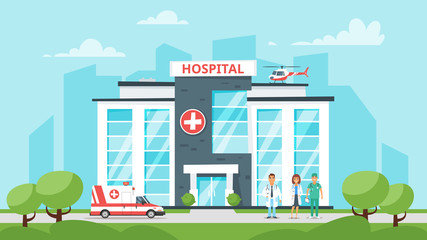 Over these past two decades, there has been a burst of progress in autism treatment in India. This has led to the presence of several world-class centers and hospitals dedicated to providing care to such individuals.
These centers and hospitals provide top-notch facilities in a nurturing environment. They also give autistic children the best chance to adjust to regular life.
Below is a city-wise list of some of the best autism treatment centers in India:
Let's know,
Best Doctors for Autism Treatment in India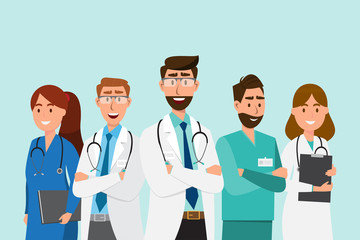 India is the home to some of the best autism doctors in the world. They are recognized in India and among patients from many countries seeking autism treatments.
The autism doctors in India have years of experience in treating autism. In their extensive career, they have shared hundreds of success stories with us.
Below are some of the best autism doctor in India( City-wise)
Mumbai :
| | |
| --- | --- |
| Doctors | Description |
| Dr. Pradeep Mahajan | He has received the Indian Achievers Award in Health Excellence and a Gold Medal for serving the Special Executive Society |
| Dr. Alok Sharma | He is awarded Quality Health Services in Neurosciences by International Excellence Awards and International Excellence Award for Service to Disabilities |
Click here to know more about the best doctors for autism treatment in Mumbai

Pune :
Doctors
Description

Dr. Anant Bagul

Dr. Anant has dedicated his life to the rehabilitation of disabled children

He has performed over 2000 surgeries in this field

Dr. Vivek Mundada

He is a known member of the European Paediatric Neurology Society and the British Academy of Childhood Disability
Click here to know more about the best doctors for autism treatment in Pune

Delhi :
Doctors
Description

Dr. Alpa Mahansaria

She is certified as a Behavior Analyst from the University of Texas, Houston

She is renowned for ABA therapy in India

Dr. G. S. Kochhar

He has received his MD from AIIMS, Delhi

He was awarded a gold medal from AIIMS Delhi
Click here to know more about the best doctors for autism treatment in Delhi

Bangalore :
Doctors
Description

Dr. Ravindranath S

He is renowned as a family physician in Bangalore

He has over 50 years of experience in this field

Dr. Salim Khatib

He has been providing his expertise in treating children with autism for more than 40 years
Click here to know more about the best doctors for autism treatment in Bangalore

Hyderabad :
Doctors
Description

Dr. Prashant Utage

He is a reputed member of the Indian Academy of Pediatrics and the National Child Neurology Association

His work was recognized by the British Medical Journal in 2011

Dr. Keshav Rao Devulapally

He is a reputed member of the Indian Psychiatric Society and Royal College of Pathologists, UK
Click here to know more about best doctors for autism treatment in Hyderabad

Chennai :
Doctors
Description

Dr. Jayakumar Reddy

He holds expertise in pediatrics. He has over 19 years of experience in this field

He currently practices at Apollo Children Hospital, Chennai

Dr. Radhalakshmi

She is a known member of the Royal College of Physicians and Child Health, UK

She was awarded the Alkem Gold Medal in Pediatrics
Click here to know more about the best doctors for autism treatment in Chennai
But won't the cost of treatment be expensive?
Surprisingly no! You can get superior autism treatments at affordable rates in India!
Below we have discussed the cost of autism treatment in India and the treatments used by the above Indian doctors and hospitals to treat autism.
Cost of Autism Treatment in India
In absolute numbers, it is challenging to determine the cost of treatment for an autistic patient, as various therapists form the team that treats the child. We can arrive at a rough estimate to better understand the economic burden families of autistic patients bear.
Therapy is undoubtedly cheaper in tier-two cities as compared to tier-one cities.
Below is a comparison of costs incurred in the top five cities of India for autism care. This expenditure involves traditional therapies like ABA therapy in the initial six years of treatment after diagnosis.
| | |
| --- | --- |
| City | Cost of Treatment |
| 1. Mumbai | 5-6 lakh INR P.A. |
| 2. Bangalore | 5.5-6.5 lakh INR P.A. |
| 3. Hyderabad | 3-4 lakh INR P.A. |
| 4. Delhi | 4-5 lakh INR P.A. |
| 5. Kochi | 2.5-3.5 lakh INR P.A. |
Autism Treatment Cost Around the World
Autism treatment cost in India is relatively low compared to other countries. While the above table may give you the impression that autism treatment is expensive, it can be up to one-tenth the cost of treatment in a western nation. And this is possible while providing the same excellent facilities as any developed country.
Yes, you read that right!
The table below will give a better idea of the disparity between nations when it comes to the treatment of autism. Once again, this includes the cost of traditional therapies like ABA therapy in the initial five to six years after diagnosis.
| | |
| --- | --- |
| Country | Cost per Year in USD |
| 1. India | 4000-8000 |
| 2. USA | 17,000-60,000 |
| 3. Canada | 26,000-80,000 |
| 4. New Zealand | 20,000-25,000 |
| 5. Australia | 20,000-35,000 |
Of course, insurance companies in these countries take care of some of the payments. The government also provides a certain amount of assistance to the families of autistic children. However, neither of these payment methods covers all the costs, and the guardians also pay a significant amount out of pocket.
Autism Treatments in India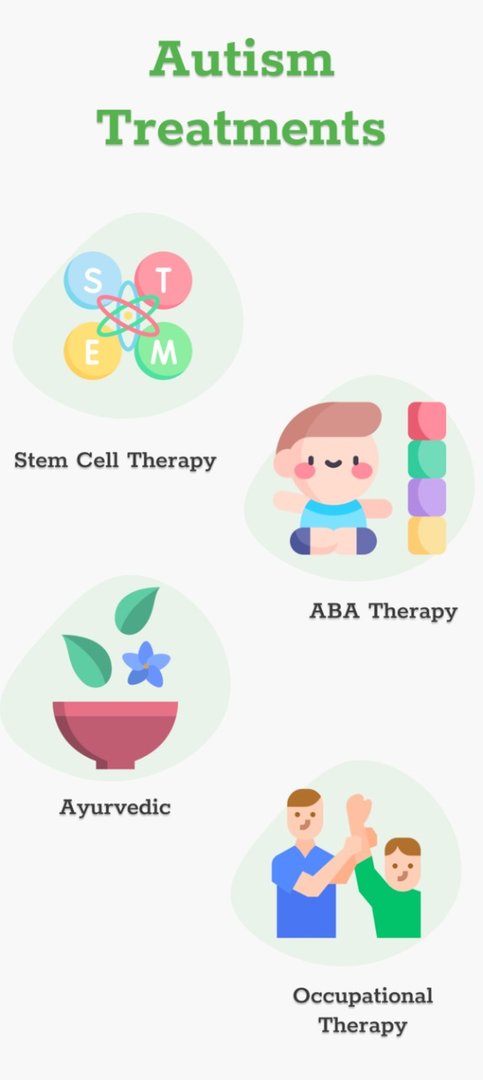 | | | |
| --- | --- | --- |
| Treatment | Description | Cost |
| Stem Cell therapy | Stem cells are injected into the patient to regenerate damaged brain tissues. It aims at regulating symptoms hindering the development of the patient. | $7,700 - $9,900 |
| ABA Therapy | ABA is personalized therapy created according to the patient's needs. It is beneficial to develop skills required on an everyday basis. | $80 - $300 |
| Ayurvedic therapy | Ayurvedic treatment for autism in India can be considered an alternative. Herbal medicines and physical therapies are used to minimize the symptoms of autism. | $1300 - $3800 |
| Occupational therapy | Personalized activities are implied in the patient's daily routine. It aims to develop the skills required to live a healthy life. | $60 - $100* per session |
Stem Cell Treatment - Best Autism Treatment in India

Stem cell treatment is gaining traction as a treatment protocol with a good success rate over the past several years.
So, what are stem cells? Stems cells are those cells that form all the tissues in the human body. They have the ability to rapidly multiply and transform into any type of tissue in the body.
Studies show that neurons, or brain cells, are more tightly packed in the affected part of the brain of an autistic individual as compared to a neurotypical individual. This results in reduced blood flow to those parts of the brain, causing damage to the tissue, and leading them to function poorly.
Stem cells have three functions that are beneficial in such cases:
They induce the release of growth factors in the body, which help heal and regenerate the damaged tissue.
The growth factors encourage the formation of new blood vessels, improving blood flow to the injured brain tissue and aids in the repair process.
The new cells formed are exact copies of the required healthy cells, which eventually replace the non-functioning cells.
How does stem cell therapy work for autism treatment in India?
Stem cell therapy for autism in India is a comparatively simple procedure to perform and is divided into the following steps:
The first step is to extract the stem cells. Adult stem cells are required for this procedure, which are found in the bone marrow of your hip bone. The stem cells are usually extracted from the patient themselves. After administering local anesthesia to keep the patient comfortable, the stem cells get extracted from this site.
In the next phase, the extracted bone marrow gets transported to the stem cell laboratory to purify the adult stem cells from the bone marrow. This is done by a process called the density gradient technique.
Once the adult stem cells are obtained, the doctor injects them into your lumbar region, more specifically into the L4-5 space, of the spine, and inserts into the cerebrospinal fluid. About fifty million stem cells are injected in one cycle of this treatment.
Benefits of Stem Cell Therapy for Autism in India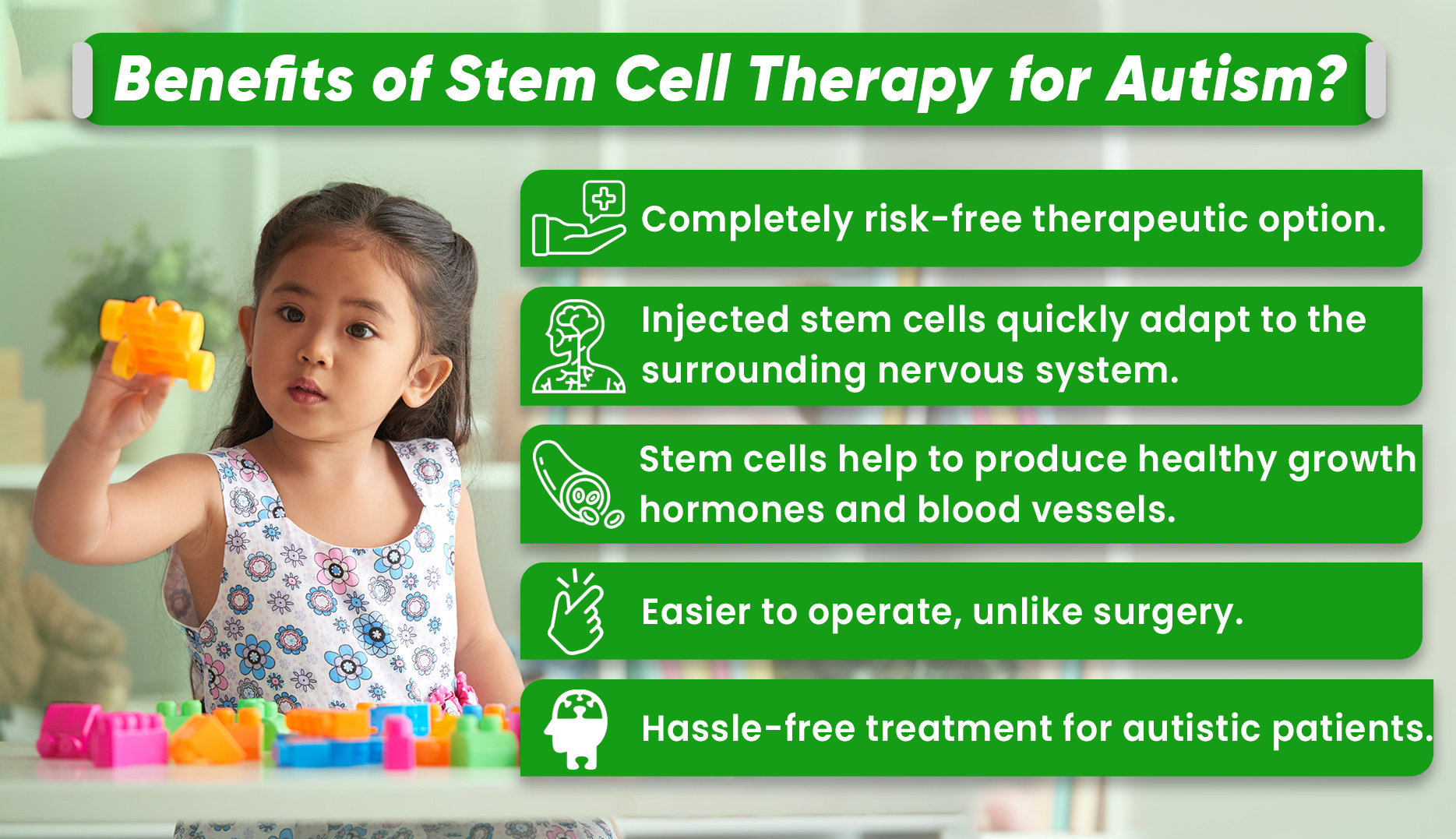 Stem cell therapy provides several benefits for autistic children, and is one of the best newer treatments available for them.
Some of the benefits of stem cell therapy are as follows-
It is a completely risk-free treatment option.
No adverse effects or neurological deterioration has ever been recorded.
It is a very safe treatment.
Stem cells also adapt quite quickly to the nervous system. They start their job of producing growth factors and forming new blood vessels almost instantly.
Also since this is a non-invasive procedure, it is easier to conduct, unlike surgery. This helps keep the patient comfortable and recovery time is minimum.
Isn't stem cell therapy very beneficial!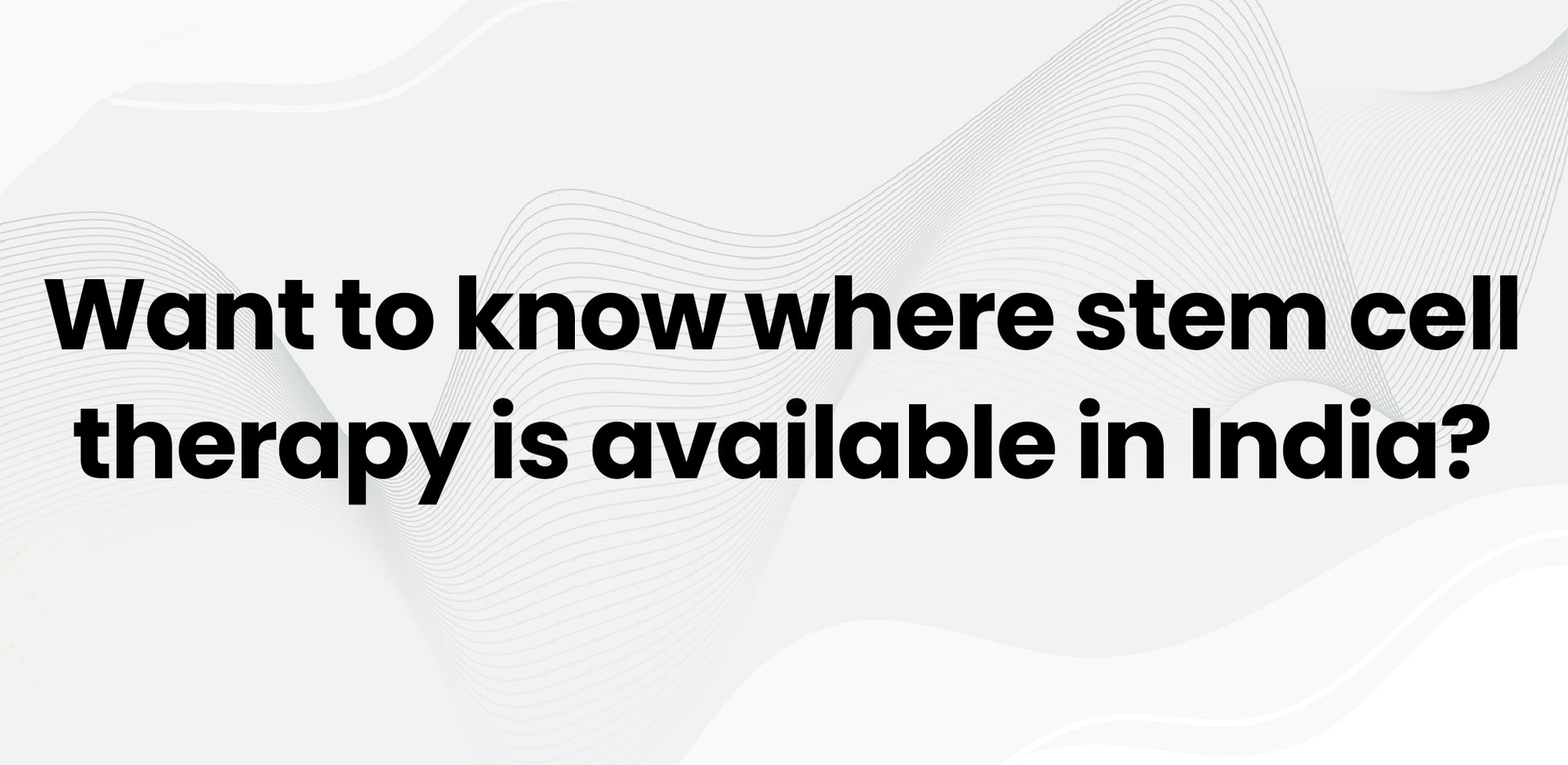 What is the success rate of stem cell therapy for autism in India?
This procedure has a very high success rate. Clinical improvement has been observed in 91% of patients.
Some of the improvements observed are as follows-
A visible decrease in aggressive behavior and hyperactivity.
Increased eye contact
Better attention span
Improved communication, and improved social skills
Changes in brain activity have also been reflected on CT scans.
Are you wondering about the cost of stem cell therapy for Autism in India?
Stem cell treatment for autism costs about five lakh INR (6700 USD) to ten lakh INR (13400 USD), costing about two thousand USD each cycle.
Of course, the final cost will depend on various factors like medical history. If the patient has some compelling genetic factors, the cost may rise.
It also depends on the severity of the disease, which will determine how many cycles you will require. The treatment city and hospital also have a significant impact on the final cost.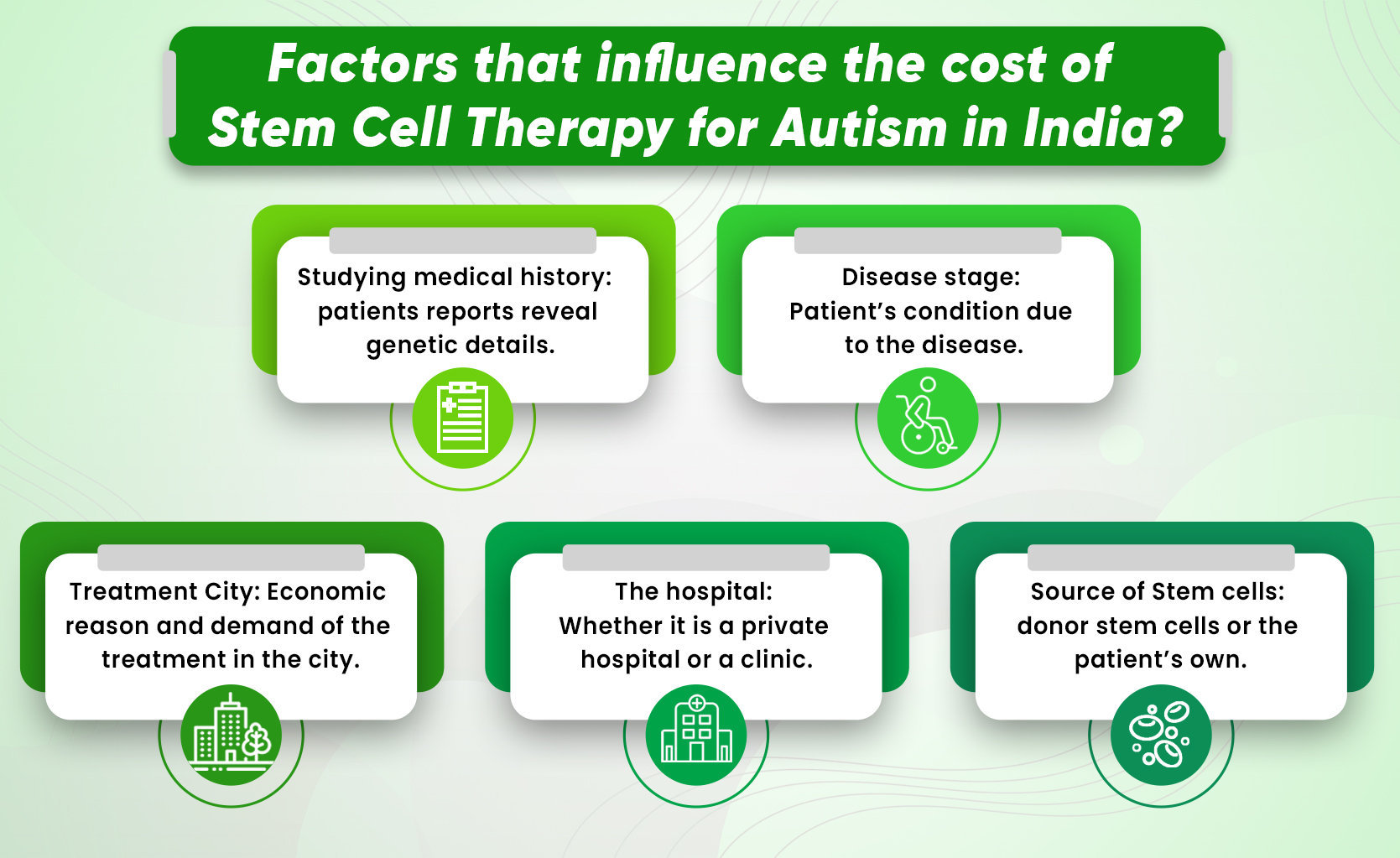 Hold on! It is not over yet!
There are other autism treatments as well!
Yes, you read that right!
Other Treatments for Autism in India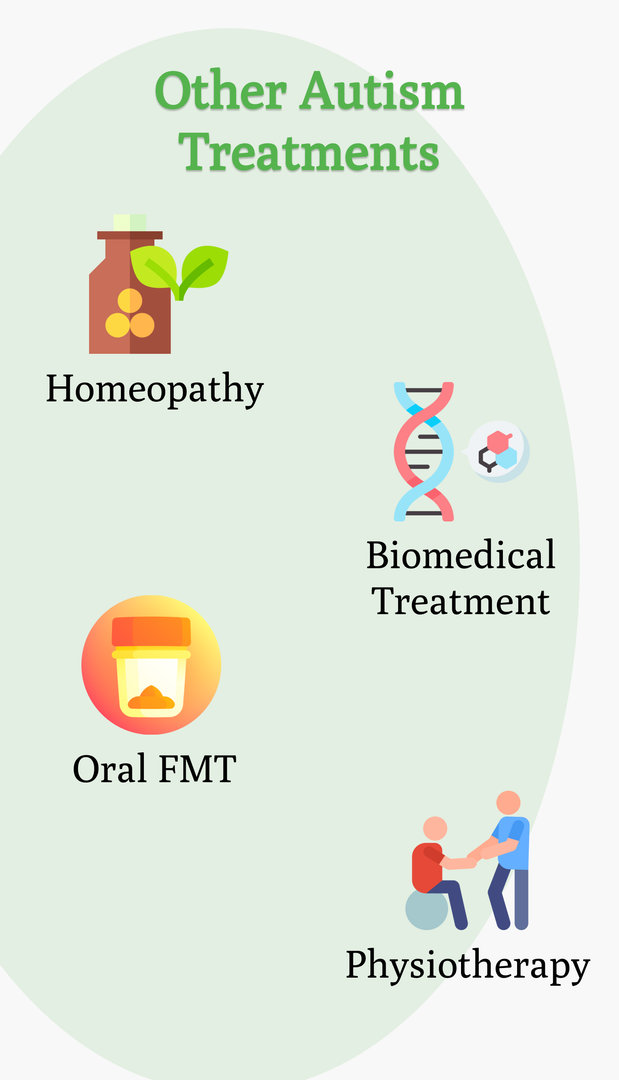 With the upward trajectory of autism cases, people have started turning to alternative medicine and therapies to treat autism as well. Below given are a few of the alternative autism treatments in India:
Homeopathy treatment
Oral FMT
Biomedical Treatment
Physiotherapy
Apart from this, various other therapies like art therapies, music therapies, and yoga are also touted as treatments for autism. There is no proof that they work. At the most, you can use them in conjunction with traditional therapies to provide a creative outlet to your child.
Why should you choose Autism therapy in India?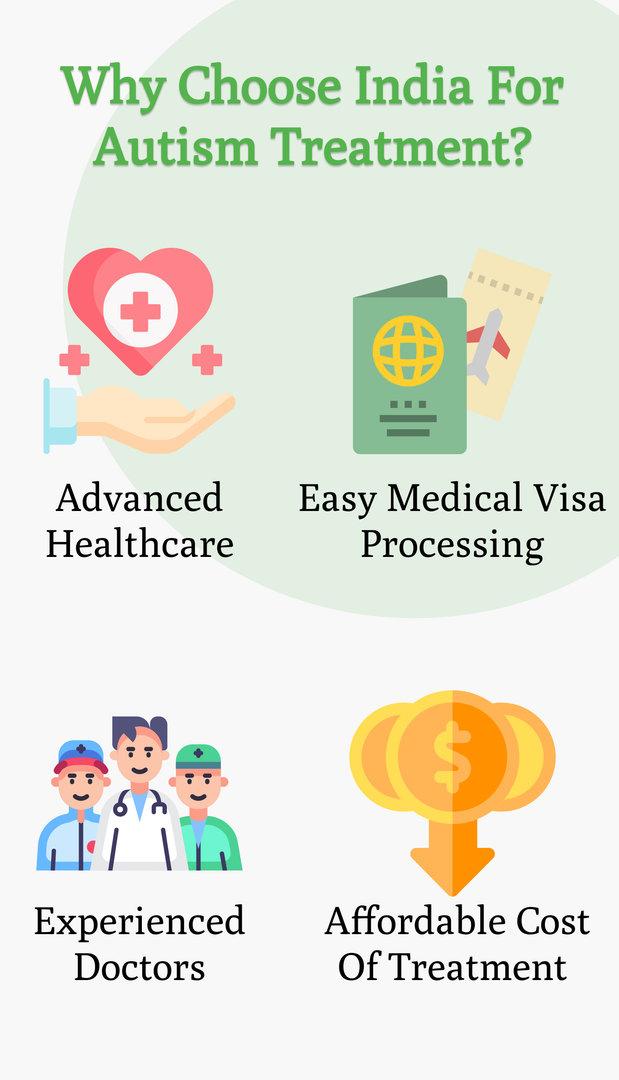 Advanced healthcare facilities: Autism centers in India are equipped with ultra-modern facilities par with the world's top facilities. They can provide the most precise and reliable results to the patients.
Highly Acknowledged therapists: The autism therapists in India are well recognized worldwide for their feats in this field. They have been providing their expertise in autism therapy for decades, sharing hundreds of success stories with us.
Easy Medical Visa Processing: You can get a medical visa from India as early as two days. The charges of getting a medical visa from India are also very affordable.
Affordable cost of treatment: India gives access to top-quality treatment, the best facilities, and positive results at a reasonable cost. You will receive service of the level of any top medical institute in America and Europe but at a substantially low cost.
Success Rate of Autism therapy in India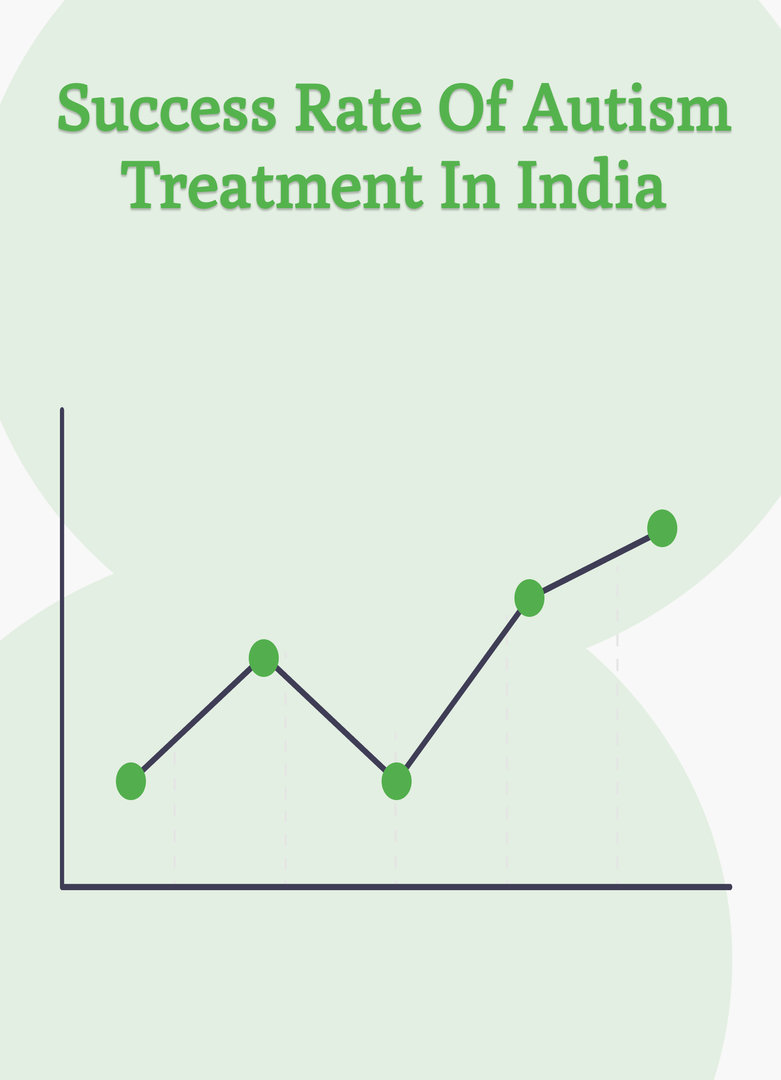 "What is the success rate of autism treatment in India?"
This is a question that majority of people have!
Do you also have this question?
Well, autism has no permanent cure. Autism patients can only get treated with a holistic approach.
They need a blend of various physical, psychological, and neurological treatments to live healthy lives.
Even so, autism centers in India have shown positive records of autism. The patients have experienced an improvement in their conditions by up to 70%.
Are you astonished and unable to believe your eyes?

Are you re-reading the line?

You read it right! To make you believe it, we have presented a real-life example below.
Autism Cases Cured in India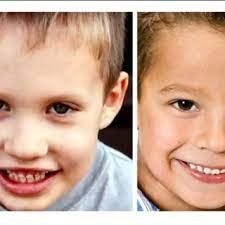 By now, we well know that autism is not curable. The best we can hope for is for the autistic individual to become a productive member of society who is able to lead an independent life.
Usually, if the child's treatment begins at an early age, the prognosis is generally good. In recent years, there has been a significant increase in the number of autistic children attending regular schools and thriving. Unfortunately, this is only in selected cases.
Most autistic persons continue to have some degree of difficulty in socializing.
With the rise in awareness, the government of India has also stepped up its efforts toward these goals. By providing subsidized services, and introducing autism-friendly legislation and policies, there is better access to early intervention therapies.
As a testament to this, we now hear about several success stories of autistic individuals going on to make a name for themselves in their chosen fields.
One shining example of this is Pranav Bakshi, a nineteen-year-old model who has walked the ramp for some big labels. His social media bio notes that he identifies as having a 40% disability, yet he calls autism his "superpower."
Another success story is Prem Sankar, a twenty-five-year-old man who builds websites for a living. He was non-verbal and diagnosed at the age of five, which is quite late to have a good prognosis. After years of therapy, he has greatly reduced his negative behaviors like aggression and hand flapping. He is now able to support himself financially, even though he needs the help of a caregiver for his daily needs.
This shows that autism treatment in India is top-notch and greatly beneficial if the child gets diagnosed at the right age. Also, autism treatment in India is more cost-effective compared to other countries.
How can ClinicSpots help you in your medical treatment?
ClinicSpots is an integrated medical platform connecting India's best medical facilities and most efficient doctors with patients worldwide. We allow patients to search, compare and coordinate their medical treatments with trusted hospitals. Whether cancer, heart disease treatment, or gender reassignment surgery, we cater to patients in every niche.
Here are the details of how ClinicSpots assist international patients in the following ways:
Medical Counselling

Help With Medical Visa Travel Guidance

Assistance with Payment, Currency Exchange & Insurance
Step 1. Medical Counselling
Steps

Things You Should Know

Visit the Website

Your enquiry is reviewed within 24 hours
You receive call to review medical histories and reports.
Our medical counselors will guide you with treatment plans.
Our medical counselors will assist with travel planning.
You travel to India and begin treatment.

Connect on WhatsApp

You need to send your medical reports over WhatsApp
Our medical counselors will review your reports.
Our executives pitch doctors and hospitals best suited to your needs.
Treatment is tailored to meet your financial and medical expectations.
Our medical counselors explain tentative treatment plans.
You will receive a cost estimate.

Video consultation

Connect with doctors to make informed choices.
Clear all your doubts regarding critical care before you travel.
Connect with India's best doctors regarding critical cases such as transplants, cancer treatment, surgical complications etc.
Step 2: Help With Medical Visa Travel Guidance
Steps

Things You Should Know

Medical Visa

Medical visa is issued for 3-6 months as per the line of tentative treatment.
We assist in extending visa duration (IF REQUIRED)

Visa Invitation Letter

Only NABH/JCI-accredited hospitals can give VIL.
We issue VIL once you confirm your visit to India.
With VIL, visa to India is processed and issued quickly.

Travel Guideline

Through VIL, 2 people will get visas to assist the patient (max. 3 in some cases)
Patients can visit India on tourist visa for minor treatments (dermatology treatment, basic health check up, etc)
Patients need medical visas in India to undergo major treatments (cancer, cardiovascular issues, neurological issues, etc)
Patients in India need a medical visa for admission to a hospital.

Stay & Bookings

We assist in FRRO form registration.
We assist in C form submission.
We arrange accommodation suiting your medical needs (built-in kitchen, infection control)
We arrange accommodation suiting your financial needs
Step 3: Assistance with Payment, Currency Exchange & Insurance
Steps

Things You Should Know

Payment

Cash payment limit is subject to change with the hospital
Only cash is accepted for minor medical expenses (doctor consultation, blood tests)
Wire transfer/Credit/Debit card accepted for major expenses
International currencies accepted in SUPER/multi-specialty hospitals
We do not participate in fundraising initiatives

Currency Exchange

We assist you with forex
Hospital admin assists you with forex

Insurance

Send your insurance documents to our executives
Our executives will check which hospitals accept the insurance policy.
Hospitals then directly connect with your policy provider.
Cost of Stem Cell Treatment in India
Frequently Asked Questions
Question and Answers (270)