Non-surgical Treatment for Fibroids 2022
Around one in five women suffers from fibroids in their lifetime. 26 million is the estimated number of women worldwide who have uterine fibroids. Most women don't even know they have fibroids if they don't show any symptoms. So the estimated number could be much more significant. The treatments available for fibroids have some side effects, which leads to a need for new non-surgical treatments for fibroids in the uterus.

Table of Contents :
Overview
Fibroids are non-cancerous tumors that grow inside or outside the uterus wall. The symptoms can include heavy menstrual bleeding, fertility issues, pelvic pressure, pain, urge to urinate frequently, etc.
The exact cause of fibroids is unknown, but experts think that uterine fibroids arise from a stem cell in the uterus's smooth muscle tissue (myometrium). A single cell repeatedly divides, resulting in a solid, rubbery mass separate from surrounding tissue.
Before discussing the new treatment for fibroids, let's check what surgical treatments are available for fibroids.
Existing Treatments for Fibroids
The following are some of the existing treatments for fibroids:
1. Surgery
There are many factors to consider when you decide to get surgery to remove fibroids. It depends on factors like the number, location, and size of the fibroids and if you want to get pregnant in the future.
Some options of surgeries can preserve your uterus, allowing you to have future pregnancies, whereas others can damage or remove the uterus altogether.
Some of the surgical options to remove fibroids are as follows:
Myomectomy: It is a procedure that allows your surgeon to remove the fibroids without causing any damage to the uterus.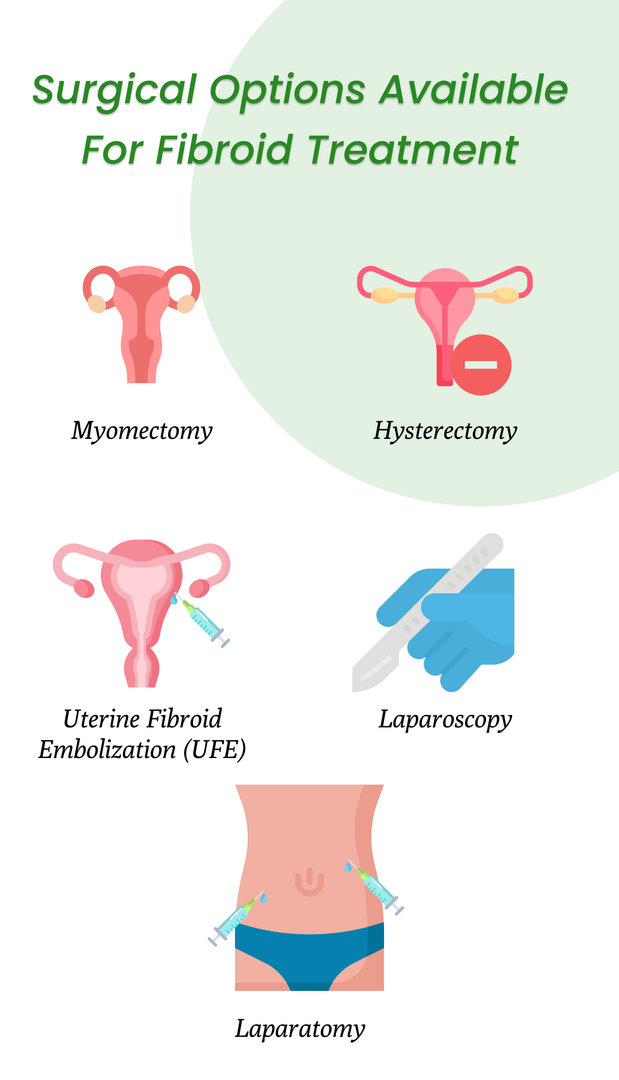 Hysterectomy: While performing this surgery, your uterus is removed completely. Because, by removing your uterus, the fibroids can't come back. It is the only way to cure fibroids.
Uterine Fibroid Embolization: A tiny catheter is inserted into the uterine or radial artery, and minute particles are utilized to prevent blood from flowing from the uterine artery to the fibroids. The loss of blood supply causes the fibroids to shrink, easing your discomfort.
2. Over-the-Counter (OTC) Pain Medications
Endometrial ablation: The medications could manage the pain and discomfort caused by fibroids. This procedure, carried out with a specialized tool put into your uterus, damages the lining of your uterus with heat, microwave energy, hot water, or electric current, terminating menstruation or lessening the flow.
Gonadotropin-releasing hormone (GnRH) agonists: These medications can be taken through a nasal spray or an injection. They are used to shrink your fibroids before the surgery. These medications are temporary, and fibroids can grow back afterward.
3. Uterine Fibroid Embolization (UFE)

Uterine Fibroid Embolization is used to shrink the fibroids by cutting off their blood supply. The doctor places a small needle in the patient's wrist, allowing them to access the blood vessels feeding the fibroids.

Afterward, they release tiny gelatin beads into these vessels and creating a blockage.

4. MRI-Guided Focused Ultrasound Surgery (FUS)

FUS is an outpatient surgery that does not require any incisions. Your doctor can find fibroids using an MRI scanner.

After that, the fibroids are heated and destroyed using an ultrasound transducer. As this is a new treatment, not all is known about its effectiveness and long-term safety of this treatment.
What are you thinking?
Why is new medication necessary for fibroids?
Well, there are some risks involved in the surgical treatment of fibroids. Almost every surgery has some side effects. Some common risks are bleeding, infection risks related to anesthesia, etc. Researchers are constantly working to develop new medications that can completely reduce your pain without causing adverse effects.
More significant risks of fibroid surgeries can make you lose your ability to get pregnant. A hysterectomy and endometrial ablation will prevent you from having another pregnancy. The doctors altogether remove your uterus while performing a hysterectomy. Furthermore, uterine artery embolization and radiofrequency ablation may not be the greatest alternatives for optimizing future fertility.
Dr. Bradley said "If you take out the uterus, you won't have periods (or period pain). But for people who want to have children, that is not the right answer."
A myomectomy does not remove your uterus, but you may need to deliver your baby via C-section. According to one study, 80% of women successfully conceive within a year of the treatment. In order for you to become pregnant, a laparoscopic myomectomy may be able to remove the fibroids, but new ones will probably ultimately develop.
Sometimes it can happen that your doctor might overlook some tiny tumors in your uterus. These tumors can then grow and may require further treatment.
It is also possible that even after treatment, new fibroids can form.
Furthermore, specific techniques, such as laparoscopic or robotic myomectomy, radiofrequency ablation, or MRI-guided focused ultrasound surgery (FUS), may not get rid of the fibroids completely.
Risks are also always present when treating fibroids surgically. You run the risk of bleeding, infection, and other dangers related to surgery and anesthesia with any procedure.
Future pregnancies are a potential added risk of fibroid removal surgery. Some surgical procedures can prevent future pregnancies.
New non-surgical treatment for fibroids in the uterus
While the precise cause of fibroids is uncertain, oestrogen has been linked to fibroids. This is another treatment option for women with moderate to severe symptoms and is taken once a day as a single tablet containing 40mg Relugolix, 1mg Estradiol, and 0.5mg Norethisterone acetate.
It works by reducing the release of hormones that control oestrogen and progesterone production by the ovaries.
Relugolix with Estradiol and Norethisterone acetate is a successful alternative to surgery and injectable GnRH agonists, suppressing oestrogen and progesterone production in the ovaries.
How did the study work?
A study was conducted with two replicate multinational, double-blind, phase 3 trials lasting 24 weeks with participants who experienced severe menstrual bleeding due to fibroid.
Relugolix combination therapy (40 mg of Relugolix, 1 mg of Estradiol, and 0.5 mg of Norethindrone acetate),
delayed Relugolix combination therapy, and
a once-daily placebo
was given to participants in a 1:1:1 ratio (40 mg of Relugolix monotherapy, followed by Relugolix combination therapy, each for 12 weeks).
Randomization was performed on 388 women in trial LIBERTY 1 and 382 women in trial LIBERTY 2.
The percentage of patients who responded to the Relugolix combination therapy group as opposed to the placebo group (volume of menstrual blood loss 80 ml and a 50% reduction in volume from baseline) was the major efficacy end measure in each trial.
Findings from the trial
New England Journal of Medicine, Nice Centre for Health Technology Evaluation, and The University of Chicago Medicine have conducted these trials. In total, women in these trials L1 and L2, showed a response to the Relugolix combination therapy of 73% and 71% respectively, compared to 19% and 15% response to the placebo groups.
Compared to the placebo groups, both Relugolix combination therapy groups showed significant improvements in six of seven critical secondary endpoints,
menstrual blood loss (including amenorrhea)
pain
distress from bleeding and pelvic discomfort
anemia, and
uterine volume, but not fibroid volume.
"It can also be used long-term, which might imply enhanced and prolonged symptom alleviation; it is well tolerated; and millions of women will be able to avoid invasive surgery, which always has some risk," says Helen Knight, the interim director of medicines evaluation at the Nice Centre for Health Technology Evaluation.
Is there any final Study Required?
In Phase 3 of the uterine fibroid trial, patients in the pivotal 24-week LIBERTY 1 and 2 studies had the option of continuing MYFEMBREE treatment for an additional 28 weeks in a separate open-label extension phase.
Women who met the definition of the responder (menstrual blood loss 80 mL and a reduction from pivotal study baseline > 50%) were eligible to take part in an additional 52-week randomized withdrawal study (N=229) after completing the LIBERTY 1 or LIBERTY 2 and the open-label extension studies.
This study was created to provide two-year safety and efficacy data on MYFEMBREE and to assess the need for maintenance therapy.
No new safety signals were noticed, and the rate of adverse events during an extra year of treatment was consistent with that seen in earlier studies.
FDA approved the treatment under the name MYFEMBREE on May 26, 2021. As of now, premenopausal women can use MYFEMBREE to treat heavy monthly bleeding brought on by uterine fibroids. The course of treatment can last up to 24 months. Currently, the FDA has accepted for review a supplemental New Drug Application (sNDA) for MYFEMBREE.
Based on safety and efficacy findings from the Phase 3 LIBERTY randomized withdrawal trial (RWS) of MYFEMBREE in premenopausal women with excessive menstrual bleeding associated with uterine fibroids for up to two years, the sNDA suggests updating MYFEMBREE's United States Prescribing Information (USPI).
In accordance with the Prescription Drug User Fee Act, the FDA established January 29, 2023 as the target action date for this sNDA (PDUFA).
Compared to placebo, once-daily Relugolix combination treatment resulted in a substantial reduction in monthly bleeding and retained bone mineral density in women with uterine fibroids. Phase 3 trial of the drug showed that it reduced menstrual and non-menstrual pelvic pain in premenopausal women with endometriosis and a loss of bone mineral density of less than 1% from baseline through one year of treatment.
This new treatment can be beneficial for many women as this can help avoid surgical treatments.
References: