Introduction
The cost of IVF differs depending upon the type you opt for. So, the above cost is not the same for all types. On this page, we have given a complete guide of IVF Cost in Hyderabad by its types.
In vitro fertilization (IVF) is nothing less than a miracle for infertile couples. But I am sure you must be wondering about IVF treatment cost in Hyderabad. Most of you must have assumed that IVF being a complicated procedure must be an expensive treatment. However, IVF cost in Hyderabad is reasonable ranging from Rs.1,18,402 ($1,486) - RS.1,70,432 ($2,139).
More Information
However, there are some high end IVF centers and fertility centers in hyderabad that charge around Rs. 3,00,000 to as high as Rs.4,50,000 for one IVF treatment. This cost usually includes all the medications, blood tests, ultrasound and monitoring cost but it is better to verify from the clinic so that you do not land up paying for anything they consider extra.
Firstly, Ivf cost will depend on the number of cycles required. Fertility Centers mostly charge on the basis of cycles. But a few clinics even offer multi-IVF cycle packages which can be cheaper if your wife requires more than one cycle for her treatment.
Also, there can be additional procedures that may be required as a part of your IVF treatment. Such as :
ICSI may cost somewhere around Rs. 20,000 to Rs. 40,000
Cost for Frozen Embryo Transfer would be around Rs. 20,000 to Rs 40,000 with additional chargers of Rs. 2,000 – 4,000 every year for preservation. Whereas the frozen embryo transfer cycle costs Rs 1,00,000 to Rs 2,00,000
The cost for donor embryos can range from Rs. 36,000 to Rs. 54,000
For sperm donation a patient may have to spend anything between Rs. 25,000 to Rs. 40,000.
Its best to clarify with the fertility clinics first regarding how much your overall treatment would cost and if there would be any additional costs for any other procedures apart from the main treatment.
IVF cost in Hyderabad in high cost clinics:
The high cost clinics usually have excellent infrastructure, latest equipments and reputed and highly experienced doctors mostly having degrees from overseas universities.
However, it is not necessary that they may have a high success rate than the lower cost clinic.
| Tests | Procedures |
| --- | --- |
| IVF Treatment | Rs. 1,18,135 – Rs. 1,70,048 |
| Drugs | Rs. 70,000 – Rs. 80,000 |
| Miscellaneous | Rs. 15,000 – Rs. 20,000 |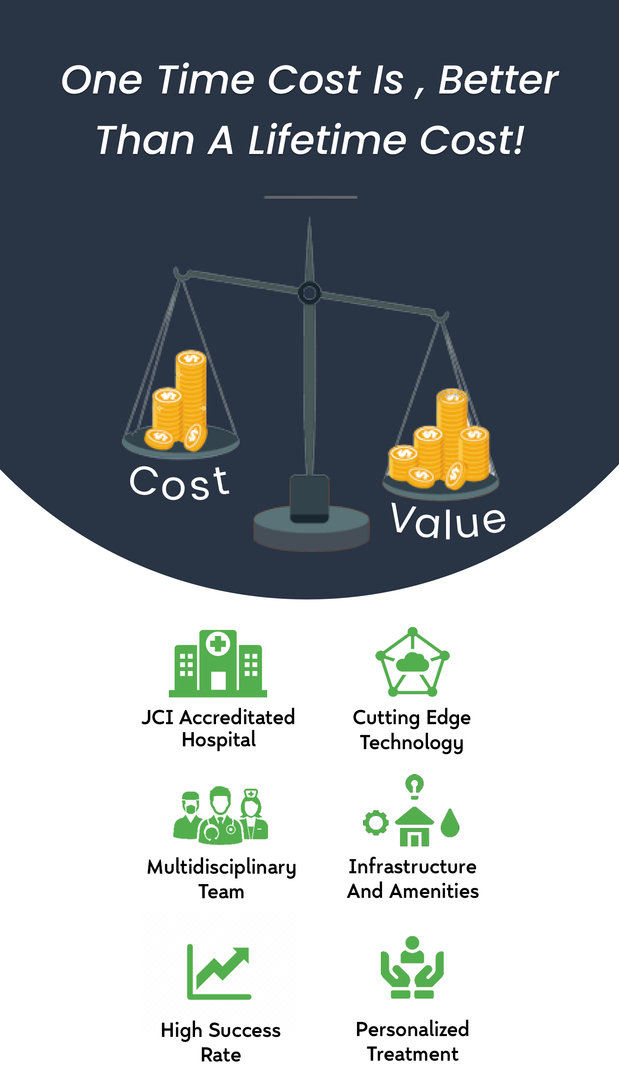 Other Details
| Procedure | High | low clinics |
| --- | --- |
| Diagnosis | Rs 40,000 | Rs 10,000 |
| Procedure cost | Rs 2,30,000 | Rs 75,000 |
| Cost of medcines | Rs 90,000 | Rs 55,000 |
| Miscellaneous | Rs 21,000 | Rs 9,000.00 |
Disclaimer : The above rates are for reference purpose only and may vary based on different requirements. To know actual rates, please contact us.
How can Clinicspots help you??
Connect on WhatsApp and Video Consultation
Travel Guidelines and Stay