Introduction
In beauty and aesthetics, almost every procedure comes with a hidden cost. Nearly every cosmetic procedure involves an unending list of expenses that may or may not be worth it. Therefore, finding cost-effective and affordable cosmetic surgeries can be a challenging task. The good news is that you no longer have to spend tens of thousands of dollars on plastic surgery. This article will discuss everything about ptosis surgery costs in India and everything you need to know!
How Much Does Ptosis Surgery Cost in India?
Ptosis is a medical condition where the upper eyelid droops, causing the eyelashes to touch the eyelid and the cornea, leading to blurred vision and irritation. Depending on the severity, Ptosis can be fixed with Blepharoplasty. A Blepharoplasty is a procedure to remove excess skin and fat from the upper eyelid.
The average ptosis surgery cost in India is $356. The ptosis treatment costs in India can go up to $616 if it is done by a reputed plastic surgeon and is a part of a procedure such as a facelift.
Cost in Top Cities
| Cities | Min | Avg | Max |
| --- | --- | --- | --- |
| Delhi | $320 | $388 | $671 |
| Ahmedabad | $268 | $324 | $561 |
| Bangalore | $315 | $381 | $659 |
| Mumbai | $332 | $402 | $696 |
| Pune | $303 | $367 | $634 |
| Chennai | $288 | $349 | $604 |
| Hyderabad | $279 | $338 | $585 |
| Kolkata | $256 | $310 | $536 |
More Information
Ptosis Surgery Cost in Different Countries
The cost of ptosis surgery can be expensive worldwide. However, the ptosis surgery costs in India are meager compared to other countries.
We have provided the costs of ptosis surgery in different countries, so don't miss out! The table below compares the ptosis surgery cost in India with other countries:
| | |
| --- | --- |
| Country | Cost |
| India | $356 |
| US | $3,000 |
| UK | $2,830 |
| Canada | $2,500 |
| Australia | $2,180 |
Disclaimer: The costs mentioned above are estimated. Actual prices may differ depending on several factors. We have discussed them in detail, so make sure you don't miss out!
Types of Ptosis Surgery and their Costs in India
The different types of ptosis surgeries are as follows:
Endoscopic brow lift:
This is the most common type of ptosis surgery. It is used to heighten the position of the eyebrows and the forehead.
The Endoscopic brow lift cost in India is around $1,300.
Open brow lift:
This is a procedure in which a surgeon will make an incision over the top of the ear and to the hairline to lift the upper eyelid.
Open brow lift surgery in India costs around $1,125 to $2,500.
Blepharoplasty:
This procedure removes excess skin and fat from the upper eyelid.
The Blepharoplasty surgery cost in India is around $1,000 to $2,500.
The type of procedure may determine the cost of the surgery. Yet, several other factors may influence the ptosis eye surgery costs in India and elsewhere. Continue reading further to learn more!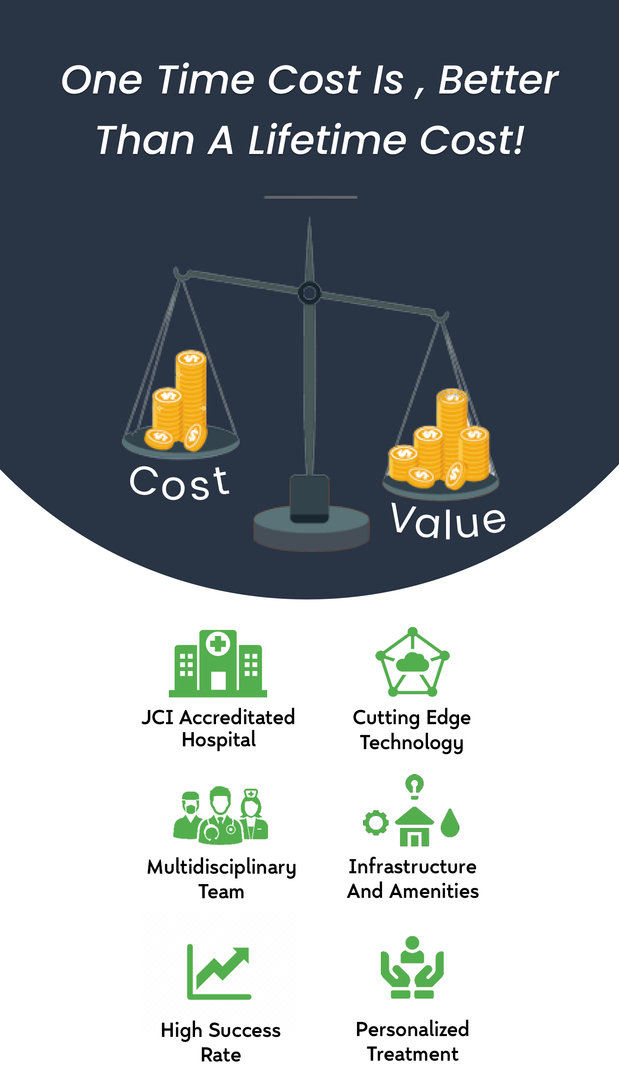 Other Details
Factors Affecting the Cost of Ptosis Surgery
There are a few factors that can affect the cost of ptosis surgery. These factors include
The experience of the surgeon:
The surgeon's experience will affect the surgery's final cost. Surgeons with more experience will charge more than new surgeons.
The type of anesthesia:
A specific type of anesthesia is needed for different surgeries. For instance, general anesthesia is costlier in certain cases than local anesthesia.
The type of facility:
The surgery cost will depend on the facility and the surgical equipment used.
The medical history of the patient:
If the patient has a medical history, as they have already done multiple surgeries in the past., the cost can go up.
Why Should You Choose Ptosis Surgery in India?
Affordable cost:
India can provide a treatment comparable to the world's best hospitals. Yet, the ptosis surgery costs in India are significantly lower.
World-class facilities:
The top hospitals in India have developed best-in-class facilities to ensure clinical success.
Easy access to all major cities in India:
The Indian transportation system has provided convenient accessibility to travel within the major cities of India. One can remain at ease if the patient is needed to shift to another facility.
Availability of the top surgeons:
India is home to many excellent surgeons. If required, one can be contacted in urgent situations.
Disclaimer : The above rates are for reference purpose only and may vary based on different requirements. To know actual rates, please contact us.
How can Clinicspots help you?
Connect on WhatsApp and Video Consultation
Questions & Answers on "Eye" (56)