Stem Cell Penile Enlargement 2023( All You Need To Know)
We have often seen how penile size is linked to one's self-esteem. Even though we know that comparison is the thief of joy, it's not always possible to live by it. There are several treatments out there that claim to increase penile size. A majority of them are scams, and the few successful ones require surgical intervention. What if we told you there is now a non-surgical procedure that can increase the size of your penis? To add a cherry on the top, it also has scientific evidence backing it. Intrigued? Read on to know more!

What is Stem Cell Therapy for Penile Enlargement?
One's penile size can be small for several reasons. It can be due to nerve damage from diabetes, or just what nature has endowed you with.
However, it also causes many other issues. You might be unable to conceive or you're simply missing out on sexual pleasure. Either way, there is now a solution.
So, what are stem cells?
Stem cells are naturally occurring cells in our body that can differentiate into any tissue.
These stem cells also have special regenerative properties. They not only form new cells, but also repair damaged cells in our body.
Where can we get these stem cells?
Here's the best part. The stem cells you need are already present in your body. They are extracted from platelet-rich plasma (PRP) or your abdomen's fatty tissue.
How does this help in penile enlargement?
Well, by improving blood flow to the penis and healing damaged tissue, penile enlargement can be done. We will go into a little more detail about this later in the article.
Is it FDA Approved or Under Clinical Trials?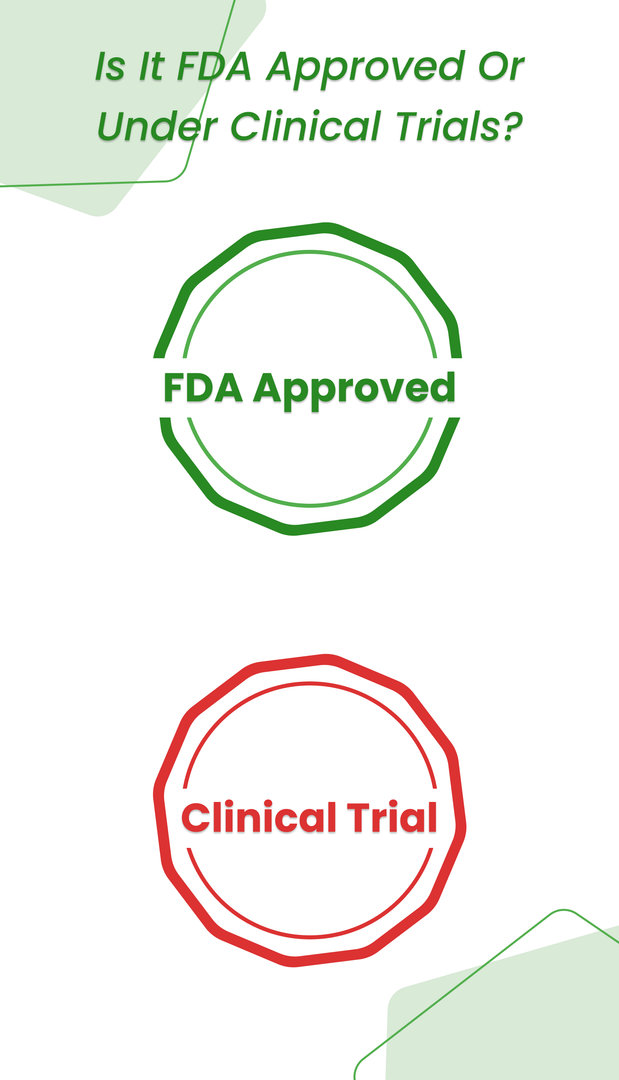 Stem cell therapy for penile enlargement is not FDA-approved yet. However, clinical trials have been going on for more than a decade.
These clinical trials have shown promising results so far. With the large amount of data being collected, it's only a matter of time before FDA approval is granted for stem cell for penile enlargement.
Most of the current studies have used PRP, while some have used fat-enriched stem cells. The common factor in both of them is autologous transplants. In other words, the stem cells for penis growth are retrieved from the patient themselves.
Does Stem Cell Penis Enlargement Work? Can Stem Cells Increase Size?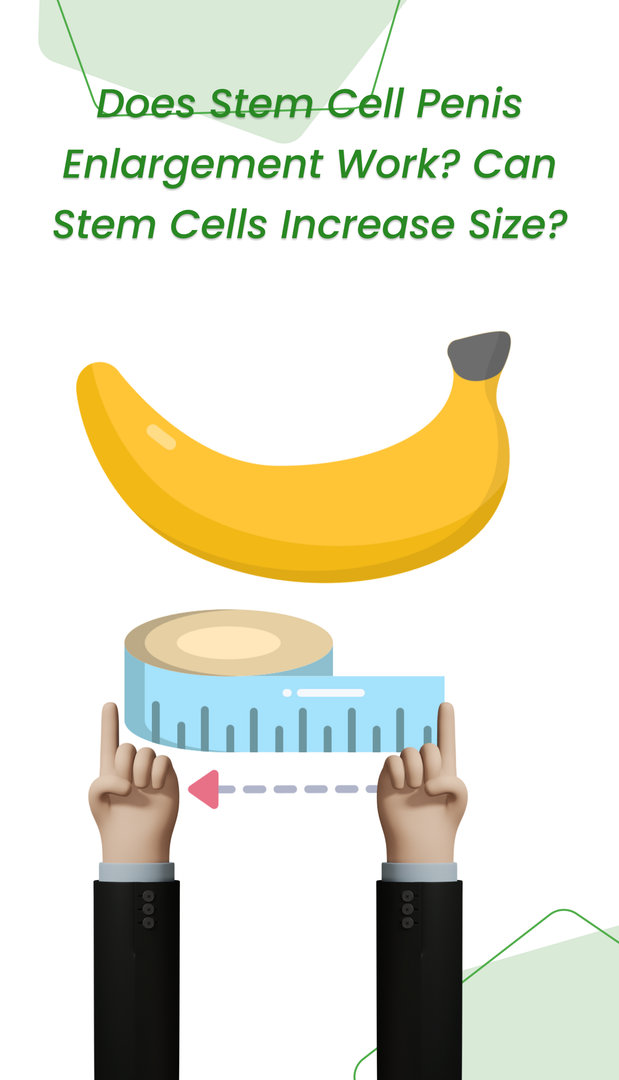 These are two crucial questions. And the answer to both is a resounding yes!
In fact, an increase of up to 7.5 cm has been successfully done with this procedure.
It should be noted that this does differ from case to case, and you should be mentally prepared to see limited growth in size, unless your specialist tells you otherwise.
But how is it possible, you ask?
Stem cells improve blood flow in the penile tissue. They also regenerate damaged skin and tissue of the penis.
When fat-enriched stem cells are transplanted into the penis, this leads to a healthier penis with a bigger girth and length.
Advantages and Risks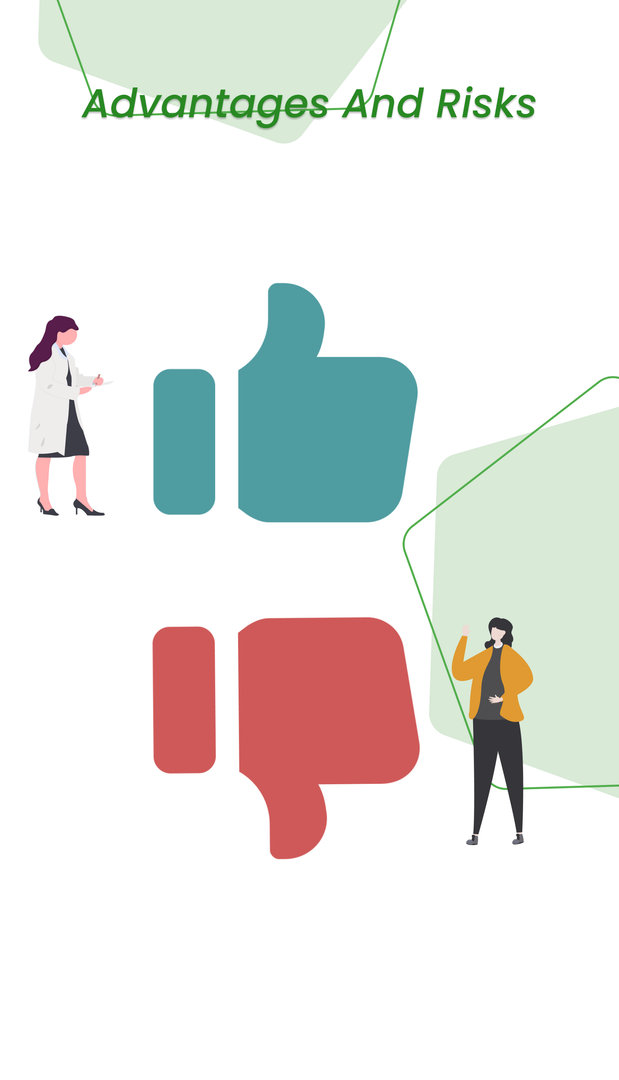 Like every medical procedure, stem cell penis enlargement also has its advantages and risks.

Do the advantages outweigh the risks for you?

Decide for yourself.
Advantages:
Increase in length and girth of the penis

Enhanced stamina

Stronger erection

Improved sensation and pleasure

Reversal of erectile dysfunction

No risk of rejection as the patient's own stem cells are used

Non-surgical procedure
All this sounds very nice and peachy.

Surely there are some risks as well, right?

Unfortunately, yes.
Risk of infection at the site of injection

Bruising at the site of infection

Theoretically, lumps might be formed when fat-enriched stem cells are used
Is the Penis Enlargement Stem Cells Treatment Safe?
Yes, stem cell-based phalloplasty is very safe. You have to keep in mind that this is only applicable when the procedure is done under a qualified professional.
It is very important to do your homework before you start such a sensitive treatment.
Eligibility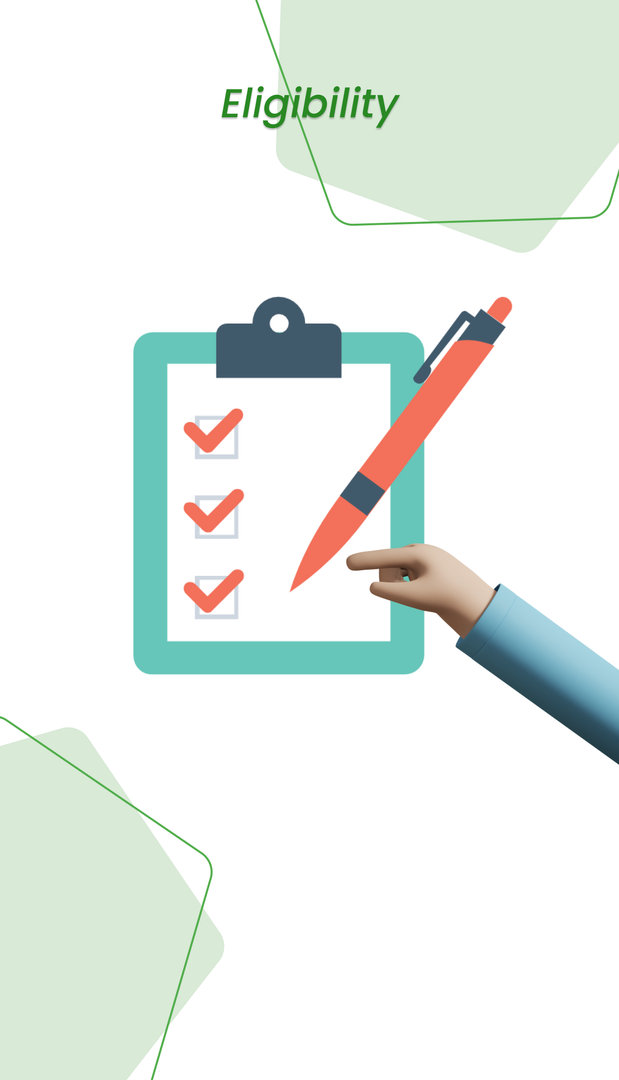 How do you know if you're the right candidate for stem cells for male enhancement?
Each clinical study has its own set of requirements. We have made a list to give you a general idea if you can pursue this treatment.
You do not have an extensive medical history

You are reasonably young, as younger patients have a better success rate

Your condition is not very advanced

You do not have complete nerve damage in your penis
Stem Cell Penile Enlargement Cost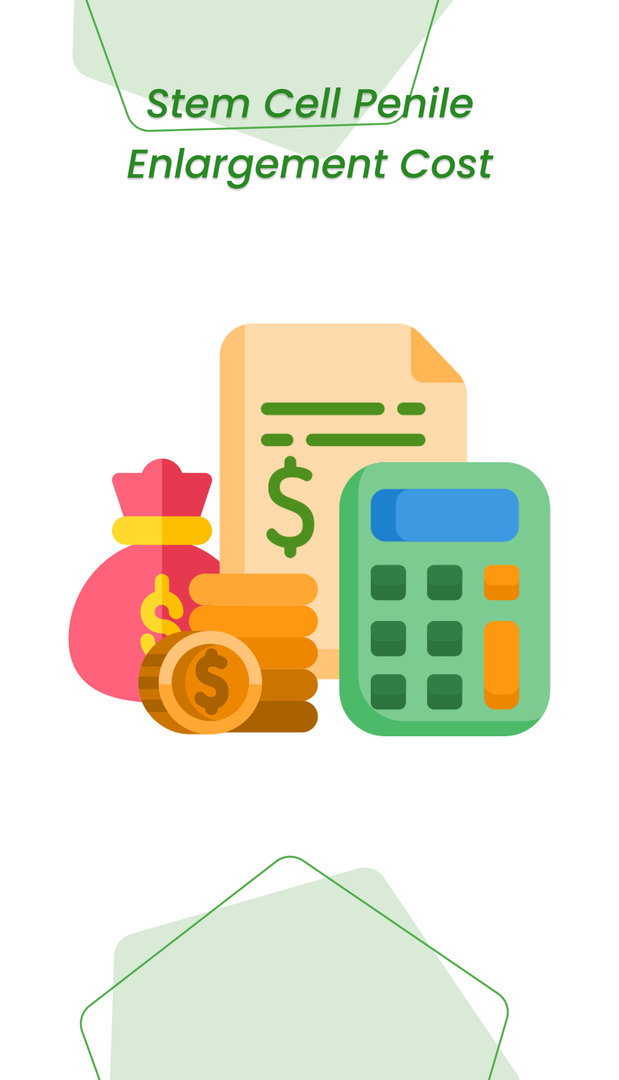 Depending on the type of stem cells for penile growth used, each session can cost 200 to 1500 USD. The total cost of the treatment ranges from 6000 to 8000 USD.
Of course, the number of cycles will depend on how advanced your condition is.
In comparison, the same treatment can cost upwards of 25,000 USD in the US.
Procedure
Now that you have some idea of how stem cells in penis can help you, let's get into the details.
How Does Stem Cell Penis Enlargement Work?
To enlarge a penis, two important functions need to be improved—blood circulation and the actual size. To make this possible, fat-enriched stem cells are most commonly used.
The procedure can be divided into three main steps.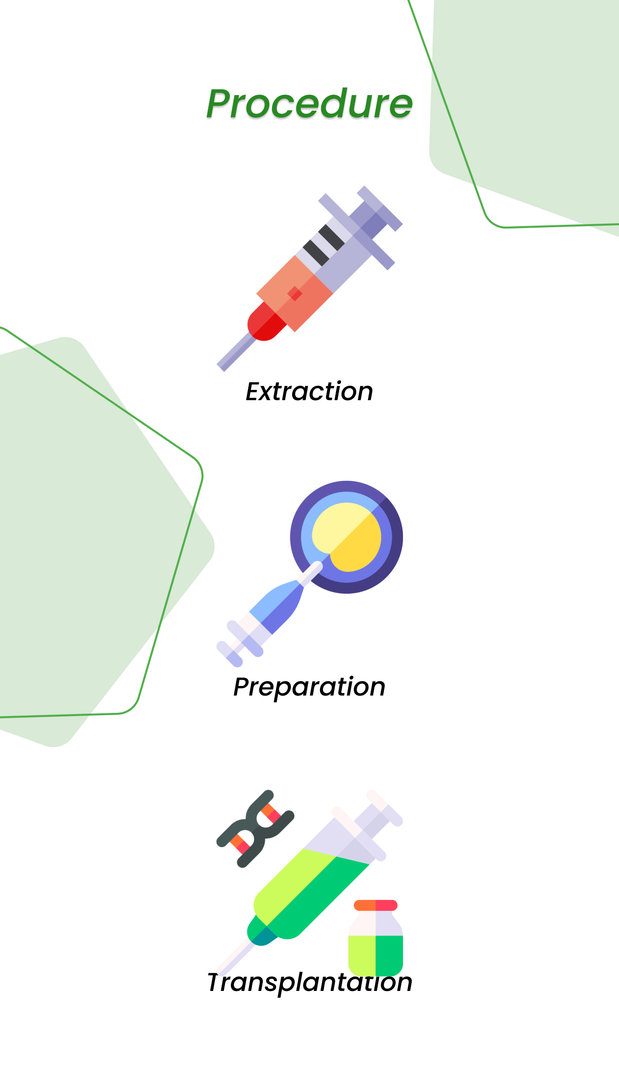 Extraction: This is the first step of stem cell for penis enlargement. A small amount of fat is extracted from the adipose tissue of your abdomen by liposuction. This area is rich in stem cells too. It's a short procedure and only takes an hour.
Preparation: The extracted fatty tissue is taken to a stem cell laboratory. Here, it is prepared into a concentrated solution of stem cells and fat, which can be easily injected into your penis. This step takes about two to three hours.
Transplantation: This is the final step of the procedure. The fat-enriched stem cells are directly transplanted into your penis. This is also a short procedure and barely takes an hour.
As you can see, stem cell penis growth procedure can probably be done in one day. However, if you dislike waiting, it can also be done in two one-hour procedures over two days.
An alternate method of treatment is using stem cells derived from platelet-rich plasma. However, this is generally only used to improve blood circulation and restore function. It works quite well in treating erectile dysfunction.
You are free to carry out your day-to-day activities right after this procedure.
But, does the thought of having something injected into your penis make you wince with pain?
You can relax, because this procedure is not painful. You will be given local and topical anesthesia during the extraction and transplantation phase.
What to Expect After Stem Cell Penile Enlargement?
Recovery after penis enlargement stem cells is an easy affair. You can directly jump back into your daily routine. You might just be asked to avoid strenuous physical activity for a few days.
However, you will be asked to refrain from sexual intercourse for the next several days. The penile tissue regularly undergoes contraction and expansion. It is important to keep this movement to a minimum for the first few weeks, if you want to get good results.
Side Effects
Are there any side effects to penis stem cells?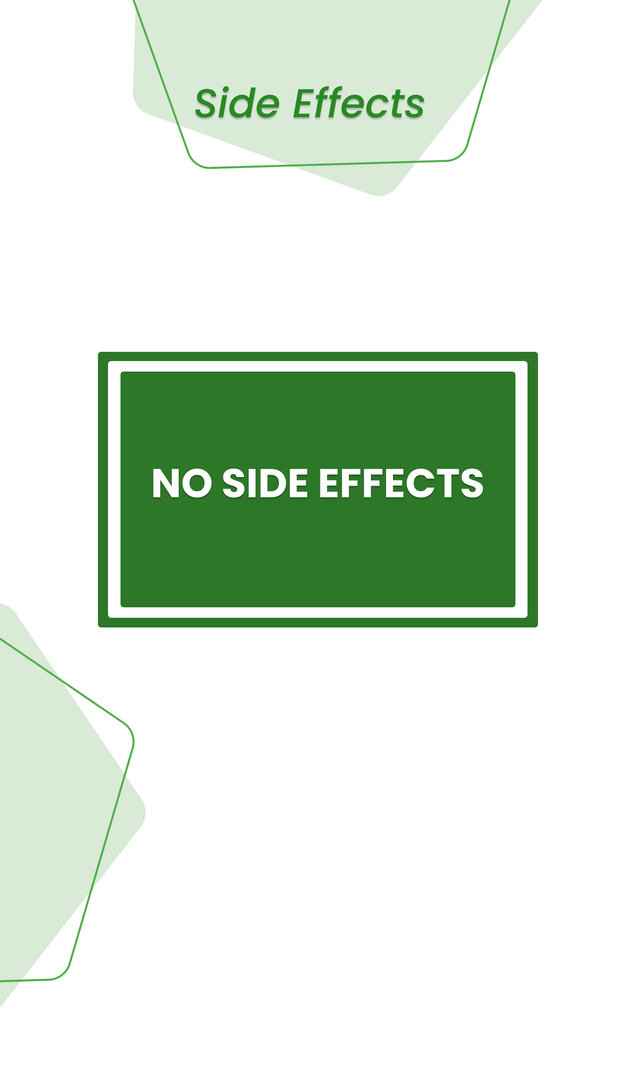 You will be glad to know that no long-lasting side effects have been reported by any clinical study so far.
Does this seem like a lot of information?
To make it simple, we've made a list that will answer your top-most questions.
Procedure Time

Each step takes about one hour.
Depending on the type of stem cells used, the procedure may be done over one or two days.

Back to Work

You can get back to work immediately.
You will just have to avoid intense physical exercise for the next few days.

Anesthetic

You will be given a topical and local anesthetic to keep you comfortable during the procedure.

Full Recovery

You can expect a full recovery in three days.

Sensitivity Period

There is no sensitivity period for this procedure. You can go about your daily life without any constraints.

Duration of Results

Results are usually visible for about 12 months.

Risks and Complications

There are hardly any complications of this procedure.
Infection and bruising might occur in some cases.
Stem Cell Penile Enlargement Before and After
We are sure you're wondering, how good are the stem cell penile enlargement results?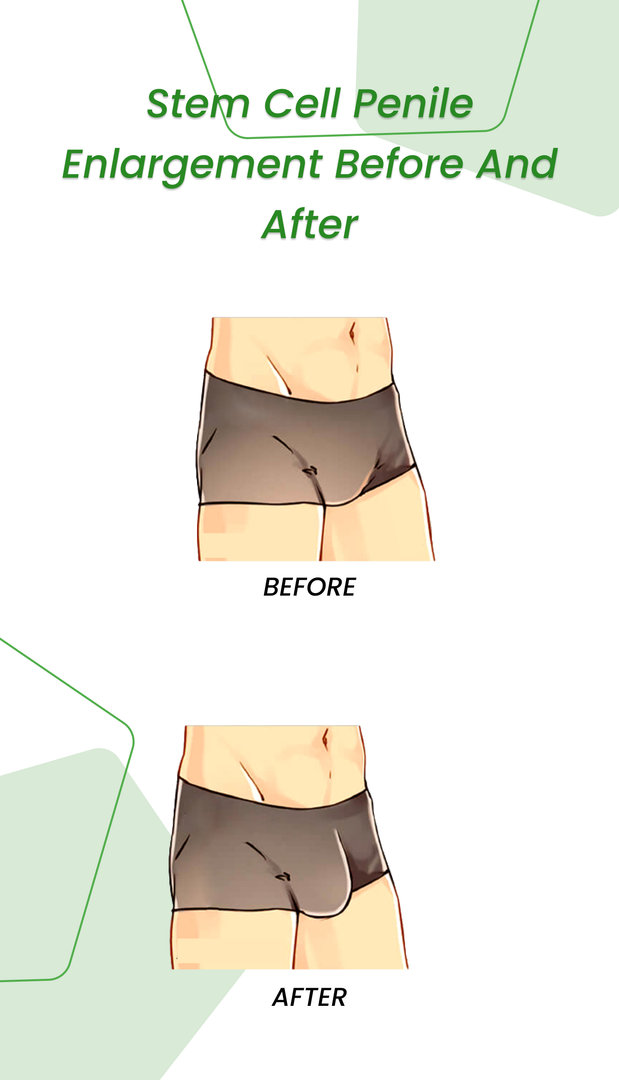 As we have already seen, stem cell-based phalloplasty before and after results are pretty notable.
Not only will you see an increase in size, but you will also see an improvement in function. You can also expect to see an increase in sensation and pleasure.
There have also been reports of repair of severe nerve damage, which is common in diabetics and patients with prostate cancer.
Are the results permanent?
This is still a grey area. Results start to appear six to sixteen weeks after the procedure is done. The duration of the results varies from patient to patient.
So, how long do the results last?
On average, improvement is seen for six to twelve months. But some patients have shown results that lasted for nearly sixteen months.
Success Rates of the Treatment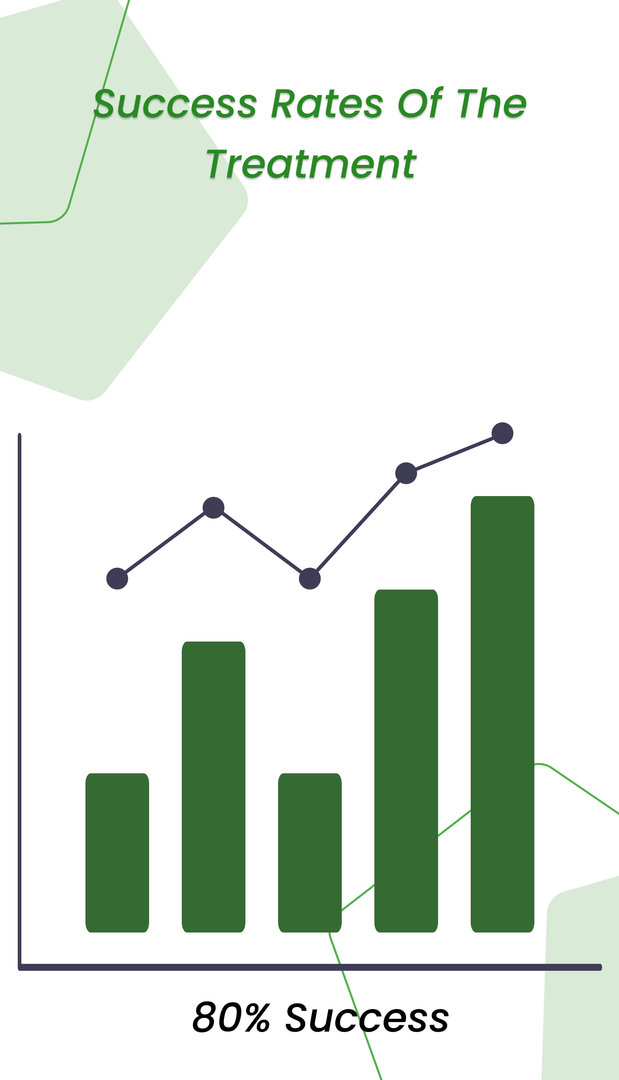 Stem cell penile enhancement has an impressive success rate of 80%. No other non-surgical procedure has this kind of success rate.
In fact, several surgical procedures also can't match up to the success of stem cell penile growth.
The future of penis enlargement treatment certainly looks bright.
So, what are you thinking?
Cost of Stem Cell Treatment in India
Frequently Asked Questions
Question and Answers (153)