Stem Cell Therapy For Stroke Recovery, What Should You Know in 2022?
A few years ago, a stroke was considered an incurable disease. It meant being sentenced to bedrest or limited movement for the rest of one's natural life. Strokes have long been one of the leading causes of disabilities and death worldwide. However, a new treatment is here to change this perception. Stem cell therapy is showing promising results in treating disabilities caused by a stroke. It also gives the stroke patient improved mobility, thus giving them a new lease of life. What's more, India has emerged as a leading provider of this treatment and is giving excellent results.

Overview About Stroke
So, what is a stroke? A stroke is a cerebrovascular disease.
That is quite a big word. In simple terms, it is a disease that occurs when something goes wrong with the blood supply in your brain.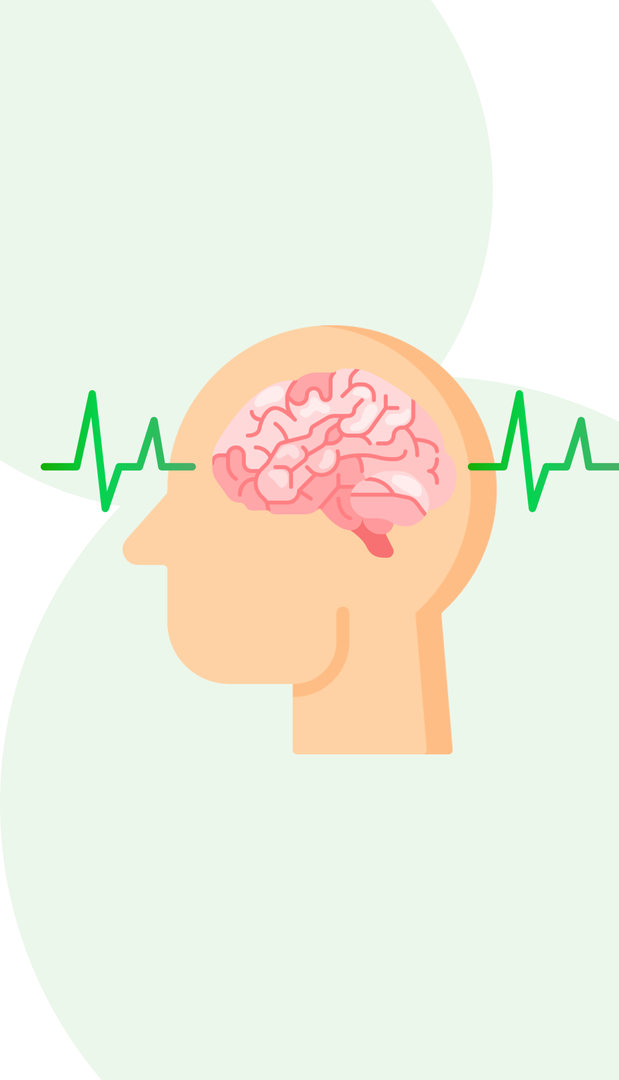 Its main types are: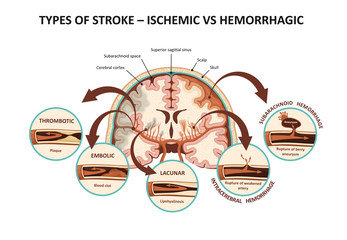 Ischemic Stroke: It is caused by a lack of blood supply or an artery blockage.
Hemorrhagic Stroke: This occurs when a blood vessel bursts in the brain.
Transient Ischemic Attack (TIA): It is also known as a mini-stroke.
Brain Stem Stroke
Cryptogenic Stroke: This stroke occurs from unknown causes.
A stroke is usually caused by hypertension or a blocked artery. A patient may display several symptoms, but we can use the acronym 'FAST' to note the most common symptoms.
The acronym sounds interesting, isn't it?

Let's check out what it actually means.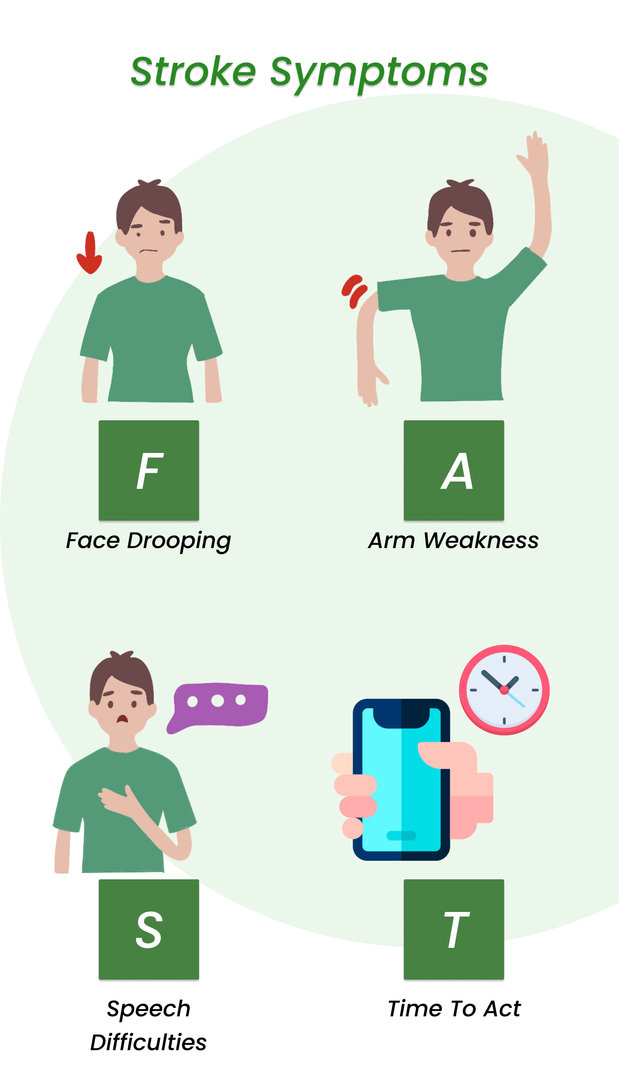 | | |
| --- | --- |
| Symptom | Description |
| Face Drooping | One side of the face droops. |
| Arm Weakness | When the patient tries to raise both arms, one arm falls back down. |
| Speech Difficulty | The patient will exhibit slurred speech. |
| Time to Act | If the patient displays any of the symptoms, they need immediate medical attention. |
A loss of balance and blurred vision are also common complaints.
Depending on the type of stroke, some or all of the below tests are required to diagnose it.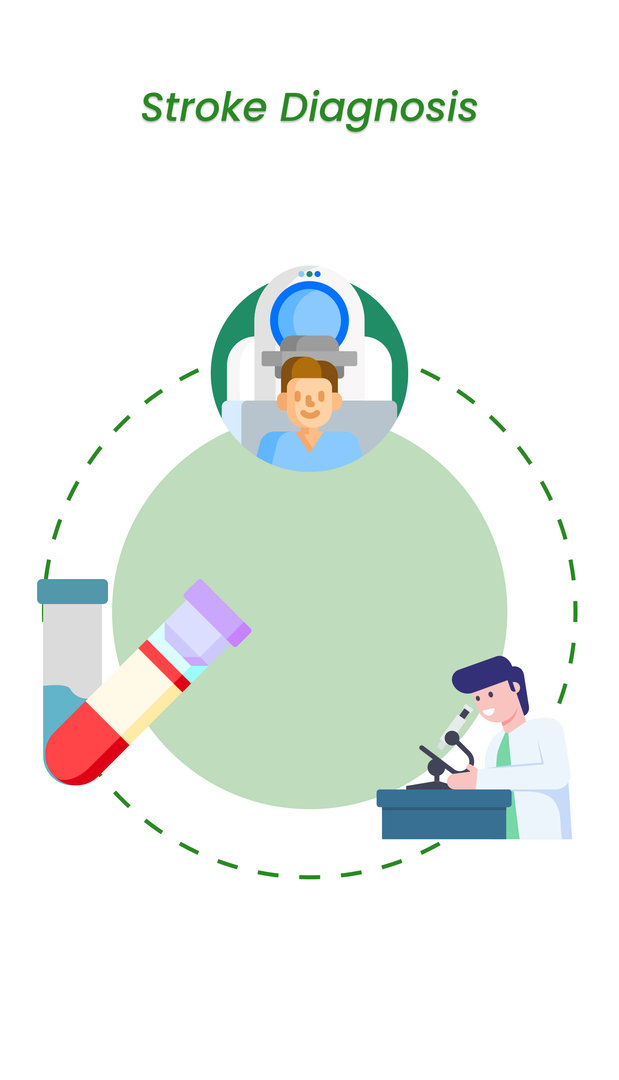 Physical Examination
Blood Tests: to check for certain clotting factors.
CT Scan: to look for bleeds or reduced blood supply in the brain.
MRI Scan
Carotid Ultrasound: to check for any blockages
Cerebral Angiogram
Echocardiogram
So, are you diagnosed with stroke?

Do not worry! Stem cell therapy is the answer to your problem!
Are you now wondering what is stem cell therapy and how does it work for stroke?
Relax! We understand that right now you might be having a lot of questions around stem cell therapy, especially regarding stem cell therapy for stroke recovery.
And so, to answer your questions and make your life easier, we've explained everything about stem cell therapy for stroke below.
Stem Cell Therapy for Stroke Recovery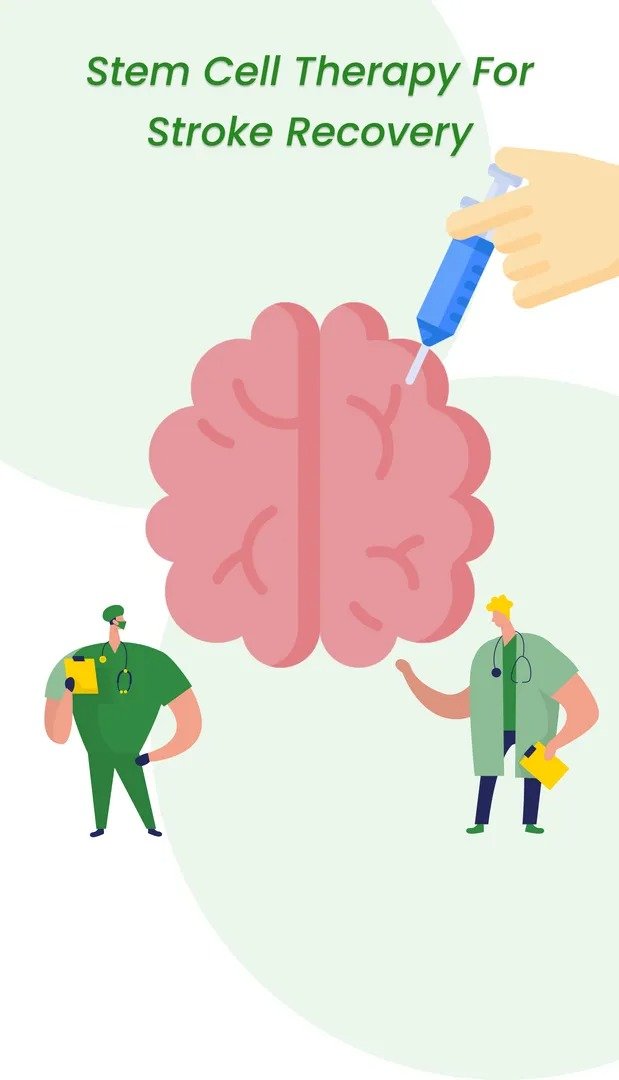 First let's understand, what exactly is stem cell therapy?
Stem cells are unspecialized cells found in our bodies. They can differentiate into any tissue required. The objective of stem cell therapy is to repair and replace damaged tissue with the help of these cells.
We are sure the next question that popped into your mind is how does stem cell therapy for stroke work?
Mesenchymal stem cells are usually used for this purpose. They can be found in the bone marrow of the patient itself.
These stem cells are extracted from the bone marrow of the hip bone and prepared in the laboratory. A few hours later, they are implanted back into the body. This is either done through an intravenous infusion or a lumbar puncture. In some cases, the stem cells are directly injected into the brain.
Eventually, these stem cells make their way to that part of the brain that was damaged by the stroke. They promote the formation of new nerve cells and blood vessels. As a result, there is a noticeable improvement in any disabilities caused by the stroke.
Can stem cell therapy help stroke victims?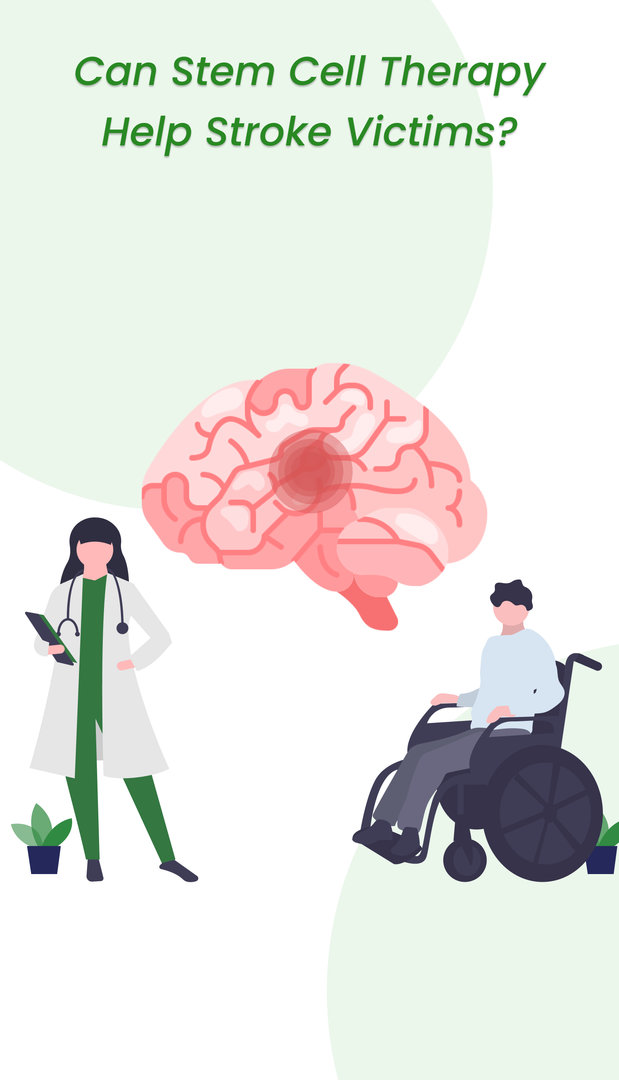 The short answer is yes. Although this treatment is still in the stages of clinical trials, it has shown significant improvement in symptoms of patients. A study by Stanford University documented how researchers were 'stunned' when their wheelchair-bound patient started walking after stem cell therapy.
Reading this, must have encouraged you to try out this treatment, isn't it?

But you must be wondering whether you are eligible for the treatment or not?

So, let's check below whether you are eligible for the treatment or not.
So, what are the eligibility criteria for stem cell transplant for stroke?
This differs according to each clinical trial.
However, it has been noted that the sooner you seek treatment after a stroke, the better the results. This means that if you had your stroke a long time ago, you might not qualify for a trial.
Stem cell therapy is a procedure with minimal risks. It is non-invasive. No major surgery is required for this procedure. Since this therapy harnesses the regenerative potential of stem cells, it is considered to be natural and long-lasting.
As the patient's own stem cells are usually used, there is no chance of an immune reaction. No recorded cases of long-term side effects have been recorded in any clinical study yet.
We are sure, you now must be wondering, but what about the success rate?
Various clinical trials show a success rate of 60 to 80%.
Yes, you read that right!
Most patients exhibit more independent movement within six months of stem cell therapy.
It is worth noting however that this treatment has not been FDA approved so far.
Stem Cell Therapy for Hemorrhagic Stroke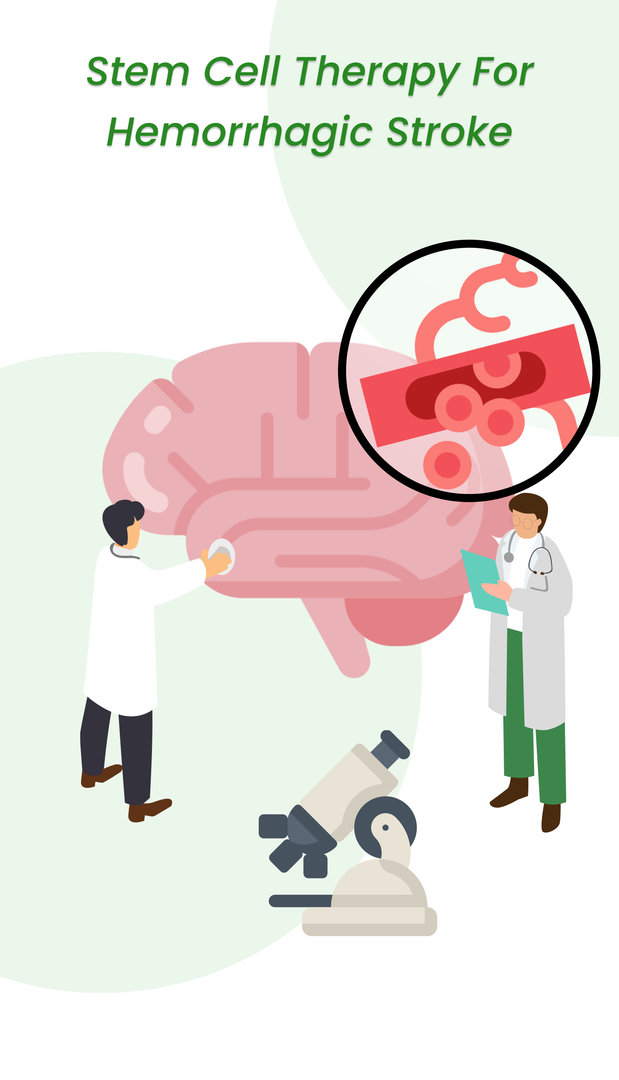 A hemorrhagic stroke is one that occurs when a blood vessel bursts in the brain. It normally causes paralysis, loss of speech, and other disabilities. It usually occurs in younger adults around the age of forty. There have been a smaller number of clinical trials when compared to ischemic stroke.
Nonetheless, all these trials have shown promising results. The most important criteria for good results seem to be getting treatment as soon as possible after the stroke.
Studies show that patients have better recovery from symptoms with stem cell treatment as compared to those who have undergone a traditional hematoma removal surgery.
Stem Cell Therapy for Ischemic Stroke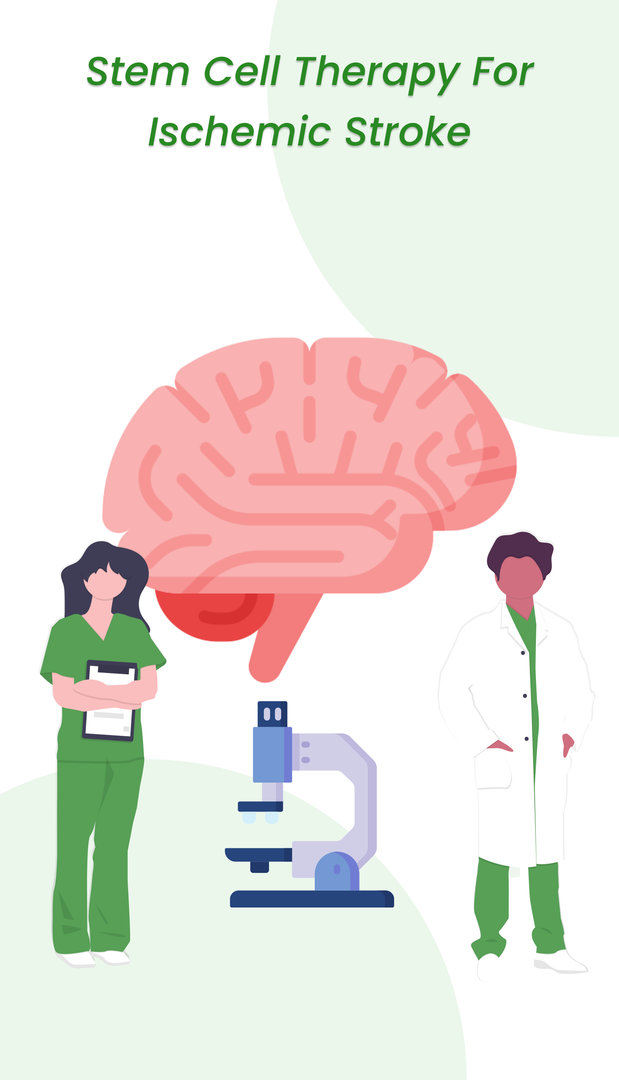 Ischemic stroke is when blood supply to one part of the brain is reduced or stops completely. It occurs in older individuals, generally after the age of fifty. The damaged part of the brain can be divided into two regions—the ischemic core and the penumbra.
The ischemic core is usually too damaged to be treated by the time it is diagnosed. The main goal of stem cell treatment for ischemic stroke is to reverse the injury in the penumbra area to alleviate disabilities.
The correct time to undergo a stem cell transplant for stroke is within the first seven days. The penumbra during this period is still small, giving the best results.
Clinical studies of stem cell for stroke patients so far have shown up to 60% improvement. CT scans have also exhibited a quantitative reduction in the area of the penumbra.
Stem Cell Therapy for Stroke Cost
Is stem cell stroke treatment expensive?

We know you are curious to know this, but let us first understand the factors that affect the cost of this treatment.
Some of them are:
The severity of the stroke
The number of cycles required
The type of facility selected for treatment
Medical history of the patient
Post-treatment care, if required
Since stem cell transplant for stroke is still undergoing clinical trials, it is unfortunately not covered by medical insurance. However, stem cell therapy for stroke in India is available at a fraction of the cost of other countries.
Stem cell therapy for stroke cost in India is 6700 to 13,400 USD, with each cycle costing about 2000 USD. Stem cell for stroke is also conducted in other countries like the USA, Australia, and Spain.
Let us check out what the cost in those countries is.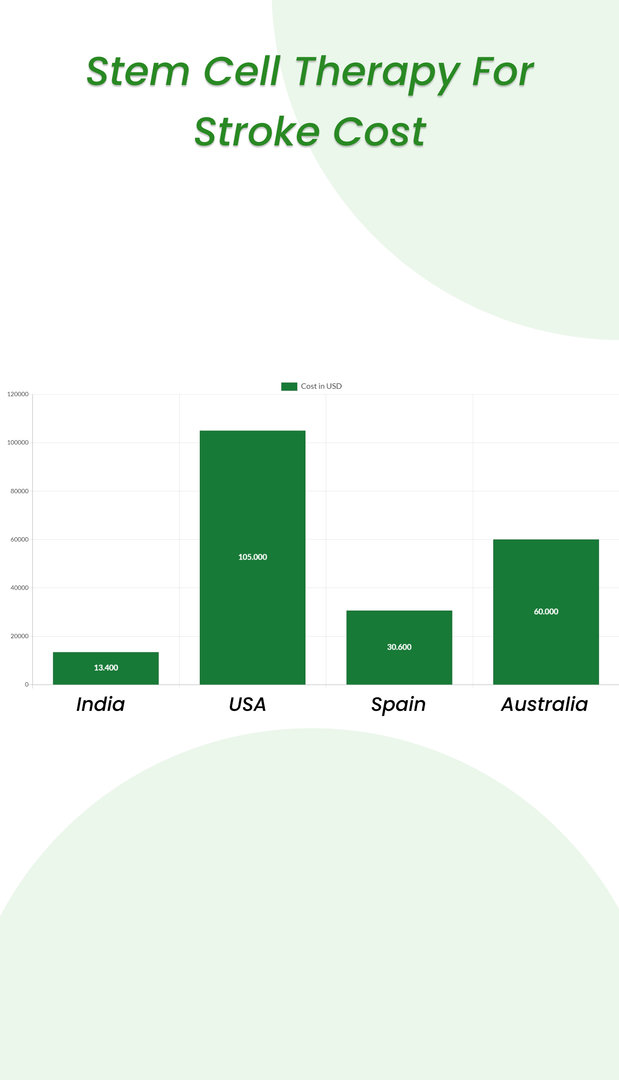 | | |
| --- | --- |
| COUNTRY | COST IN USD |
| India | 6000 to 13,400 |
| USA | 15,000 to 105,000 |
| Spain | 10,200 to 30,600 |
| Australia | 30,000 to 60,000 |
Stem Cell Therapy for Stroke Clinical Trials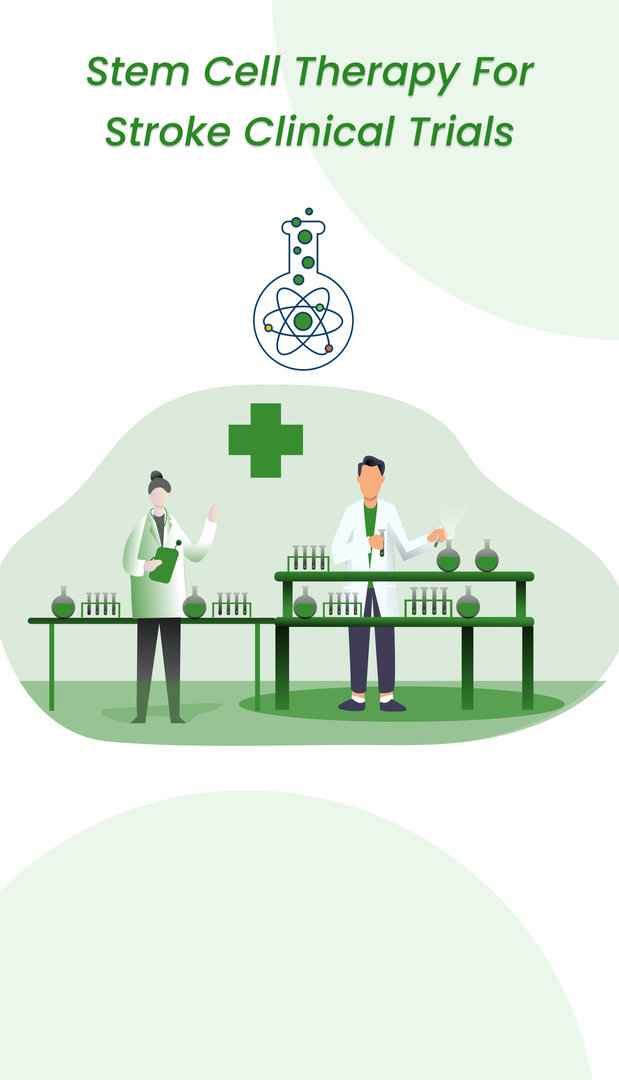 One of the most recent clinical trials has been conducted by the All India Institute of Medical Sciences, New Delhi. This study underscores the importance of a multifactorial approach to the treatment of stroke patients.
This is an important study that pushes for the introduction of stem cell therapy as a part of the regular treatment protocol in the treatment of stroke patients. It also asks for more widespread trials of stem cell therapy for stroke patients to get a better idea of the results.
In the US, three researchers at the Mayo Clinic at Stanford University were given a grant of 31 million USD in 2021 to continue their clinical trials of stem cell treatment for stroke patients. This underlines just how promising stem cell therapy is for stroke patients.
Where Can I Get Stem Cell Therapy for Stroke?
There aren't many countries that offer clinical trials of stem cell therapy for stroke. Most of these countries also have strict rules for medical visas, putting them out of reach for a majority of the patients.
Some of the more popular countries are:
India is very popular for stem cell research globally. Stem cell research institutes have invested over a decade in clinical trials. They have produced excellent results and have now created a finely-tuned protocol that ensures a high success rate.
Facilities that offer stem cell treatment for stroke patients are highly regulated. Most of them now have a success rate of 70 to 80%. This is much higher than the global average of about 60%.
Why should you choose India for your treatment?
If all of the above reasons are not enough to convince you, let us add a few more reasons to help you make your mind up.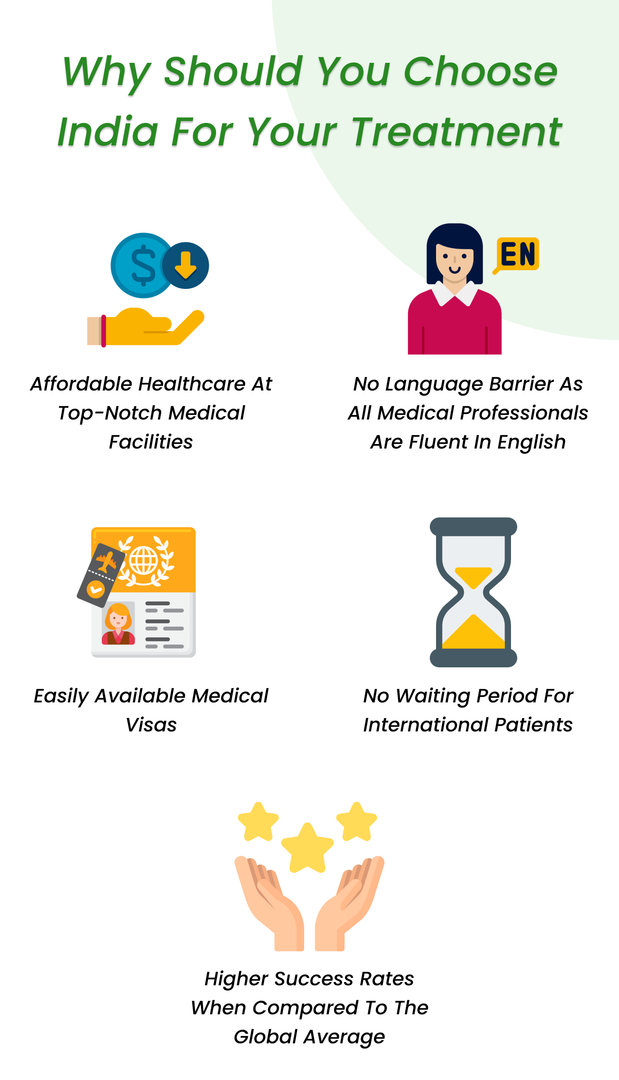 Affordable Healthcare at top-notch medical facilities
No language barrier as all medical professionals are fluent in English
Easily available medical visas
No waiting period for international patients
Stem cell treatment for stroke in India has a higher success rate when compared to the global average
So, what are you thinking?
Reference:
https://www.ncbi.nlm.nih.gov/pmc/articles/PMC7296176/
Frequently Asked Questions