Overview about Stroke
So, what is a stroke? A stroke is a cerebrovascular disease.
Its main types are: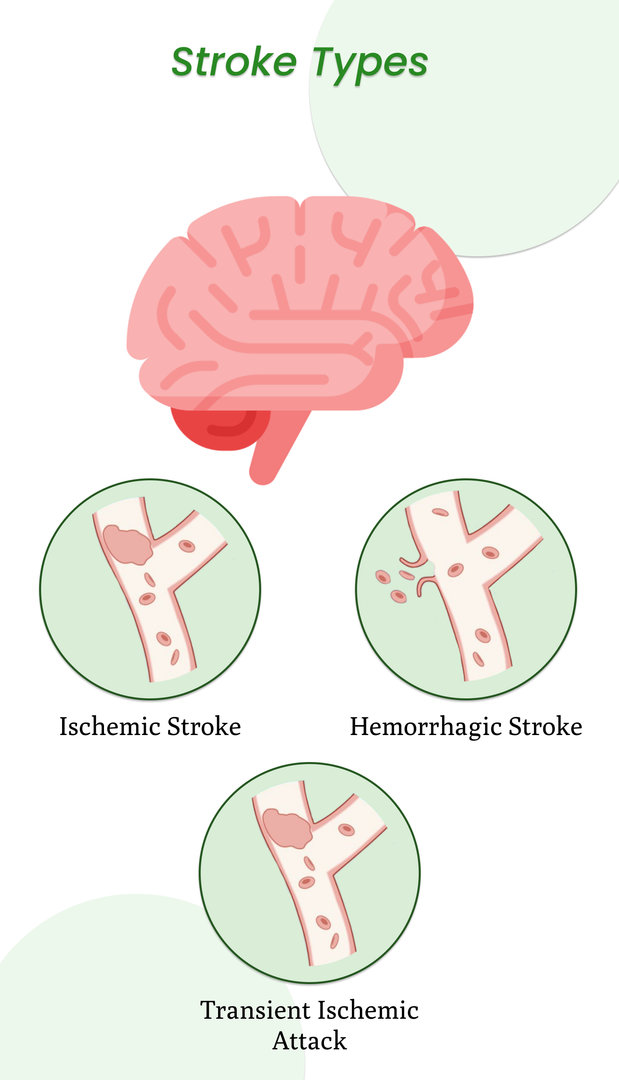 Ischemic Stroke
Hemorrhagic Stroke
Transient Ischemic Attack (TIA)
A stroke is usually caused by hypertension or a blocked artery. In some cases, a stroke and seizure may even occur at the same time. We can use the acronym 'FAST' to note the most common symptoms.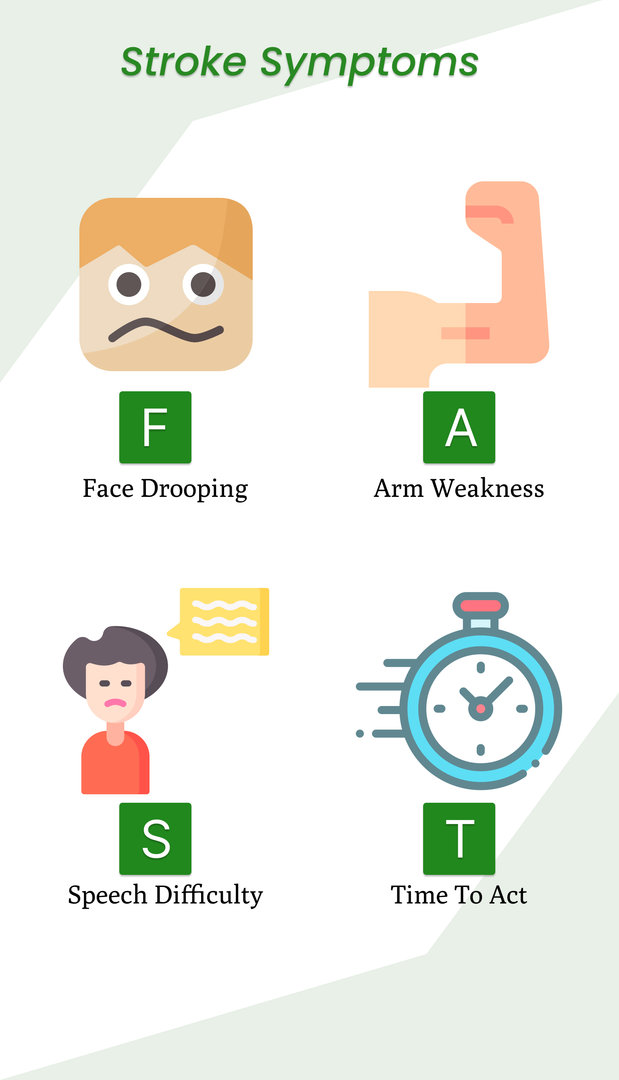 Face Drooping: One side of the face droops.
Arm Weakness: When the patient tries to raise both arms, one arm falls back down.
Speech Difficulty: The patient has slurred speech.
Time to Act: If the patient displays any of the symptoms, they need immediate medical attention.
A loss of balance and blurred vision are also observed. Depending on the type of stroke, some or all the below tests are required to diagnose it.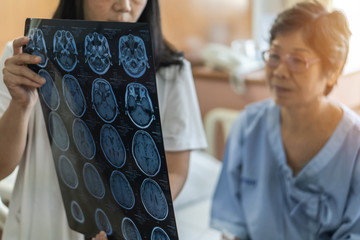 Physical Examination
Blood Tests: to check for certain clotting factors.
CT Scan: to look for bleeds or reduced blood supply in the brain.
MRI Scan
Carotid Ultrasound: to check for any blockages
Cerebral Angiogram
Echocardiogram
Are you or your loved one diagnosed with stroke?

Do not worry!

Below we have listed some of the best hospitals and doctors for stroke treatment in India.
Best Hospital for Brain Stroke Treatment in India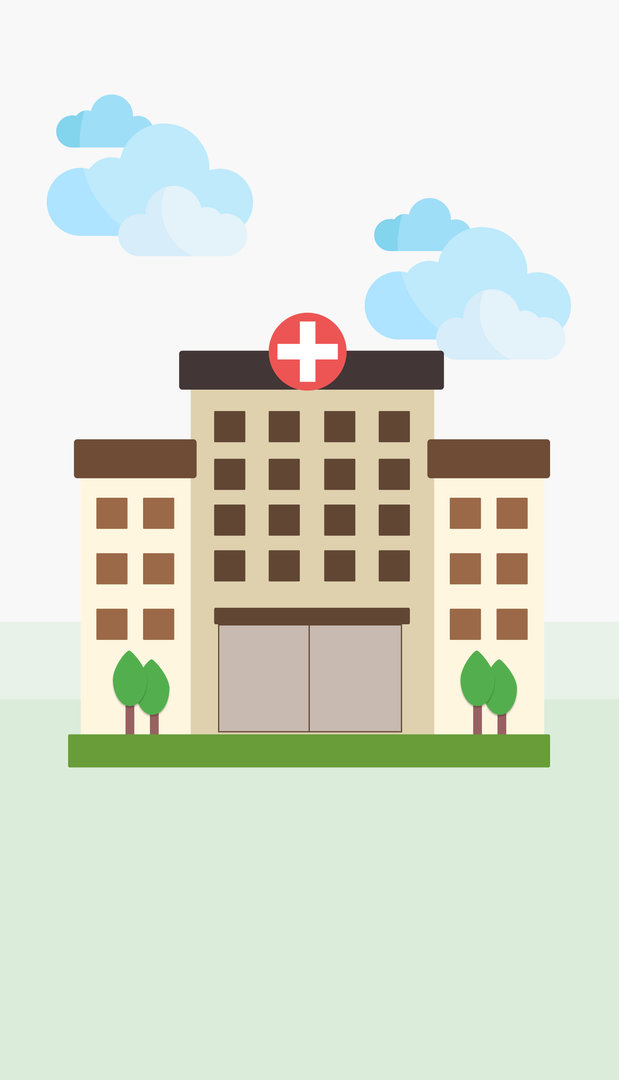 When choosing a hospital, it is important to look at their accreditations and the experts they count as staff. All the hospitals in the lists below are the best in their cities.
Mumbai
HOSPITAL
DESCRIPTION

Kokilaben Dhirubhai Ambani Hospital

This multi-specialty hospital is the best hospital for brain stroke treatment in Mumbai.
It has the most advanced technologies to treat neurological conditions like brain stroke, head injuries, etc.
The hospital has performed the maximum number of interventional neurosurgeries in one center across the country with guidance of the best doctors.

Jaslok Hospital

It is one of the best neurology surgeons hospital in India.
More than 1000 neurosurgeries are performed every year.
Surgeries for conditions like head injury, spine injury, and brain hemorrhage are carried out routinely in this hospital.
Click here to know more hospitals for brain stroke treatment in Mumbai
Bangalore
Manipal Hospital (Old Airport Road)

Manipal Hospital is the third largest healthcare network in India.
It is the best hospital for brain stroke treatment in Bangalore.
It has been ranked as the 'Best Hospital in Bangalore' for eight years by 'The Week Magazine.'

Fortis Hospital (Bannerghatta Road)

This multi-specialty hospital's neurology department is well-equipped with cutting-edge technologies and the best devices to treat stroke patients.
They routinely perform minimally invasive neurosurgeries and have a high success rate.
Click here to know more hospitals for brain stroke treatment in Bangalore
Kerala
Aster Medcity, Kochi

This hospital provides the best stroke treatment in Kerala.
It was the first hospital in Kerala to establish an independent department exclusively for spine, brain, and neural disorders.
Delhi
Indraprastha Apollo Hospital

This is the best hospital for brain stroke treatment in Delhi.
The hospital offers fifty-two specialties under one roof.
It ranked first in Neurosciences in the Times of India Healthcare Survey in 2016.

BLK Super Speciality Hospital

It has several specialized subunits for neurological conditions, including an advanced aneurysm treatment unit, neuro-endoscopy unit, and stroke unit.
They are well-known for performing minimally invasive brain surgeries.
Click here to know more hospitals for brain stroke treatment in Delhi
Stroke Treatment Doctors in India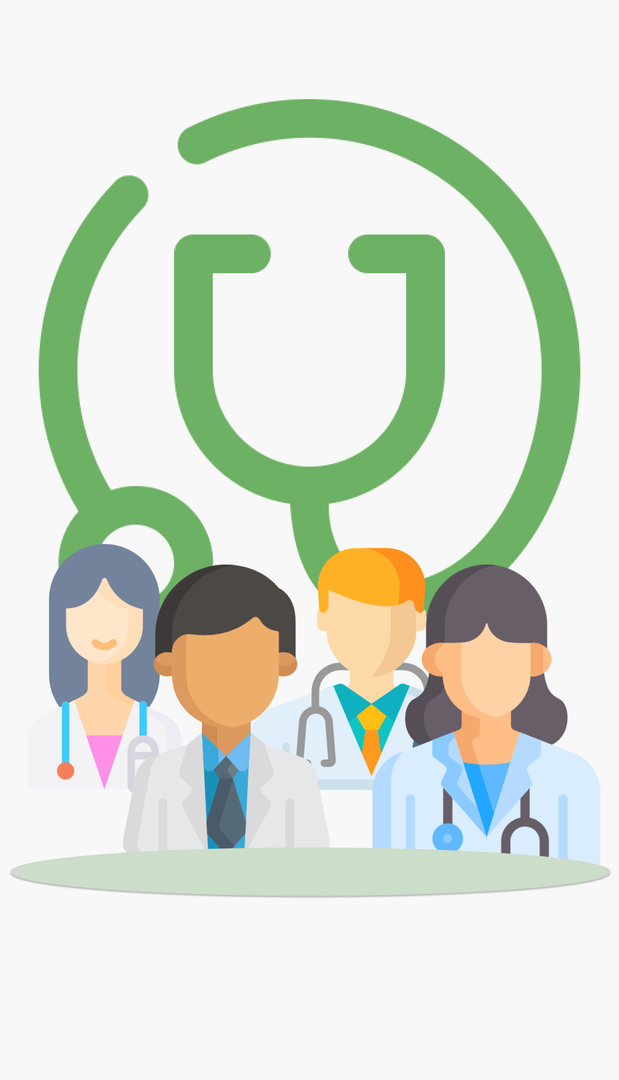 The most essential part of your treatment is the specialist you choose. Experience matters. But it is also important to be comfortable with your doctor.
Below are some of the most eminent neurologists in India.
Mumbai
DOCTOR
DESCRIPTION

Dr. Sunanda Anand

Dr. Pravina Ushakant Shah

Dr. Shah is a Neurologist with 45 years of experience.
She was previously the head of the Neurology department at KEM Hospital.
She was given the prestigious Social Accomplishment Award by the International League against Epilepsy and the International Bureau of Epilepsy in 2011.
Click here to know more doctors for brain stroke treatment in Mumbai
Delhi
Dr. (Lt Gen) CS Narayanan

Dr. Narayanan has an experience of 42 years.
During his long stint at Army Hospital, he was part of the team which started several neurology sub-specialty programs including acute stroke care services.
He practices at Manipal Hospital, Dwarka.

Dr. P. N. Renjen

Dr. Renjen has an experience of 40 years.
He is currently attached to the Indraprastha Apollo Hospital.
He specializes in cerebrovascular diseases.
He focuses on early intervention to prevent catastrophic outcomes of strokes.
Click here to know more doctors for brain stroke treatment in Delhi
Bangalore
Dr. A.K. Roy

Dr. Roy has an experience of 42 years as a Neurologist.
He currently practices at Manipal Hospital (Old Airport Road).
He specializes in cerebrovascular diseases.

Dr. P.R. Krishnan

Dr. Krishnan is a Neurologist with 20 years of experience.
He has vast experience in the treatment of headache and strokes.
He is attached to Fortis Hospital, Bannerghatta Road.
Click here to know more doctors for brain stroke treatment in Bangalore
Kerala
Dr. Mathew Abraham

Dr. Abraham is a Neurologist with over 32 years of experience.
He specializes in the treatment of strokes and headache.
He is also trained in Electrophysiology and Neuroradiology.
Now, let's discuss,
Brain Stroke Treatment Cost in India
One question that might be surely running in your mind right now is "What is the cost of stroke treatment in India", right?
Well, to answer your question, it is very difficult to calculate the cost of brain stroke treatment. It depends on several factors like:
Type of stroke
Type of treatment required
Length of hospital stay
Post-surgical care
The type of hospital you take admission in
Diagnostic tests required
The city you avail treatment in
Medical history of the patient.
For example, in the case of an ischemic stroke, treatment can cost from 80,000 to 2,50,000 INR. The treatment here is usually straightforward.
However, in the case of a hemorrhagic stroke, an extended hospital stay is usually required. The cost of ICU hospitalization will vary depending on where you take admission.
We have compiled a city-wise list of the cost of stroke treatment in India. This will include the cost of medication and surgery.
| | |
| --- | --- |
| CITY | COST IN INR |
| Mumbai | 2.5 to 10 lakhs |
| Bangalore | 2 to 12 lakhs |
| Delhi | 1.5 to 10 lakhs |
| Kochi | 1.5 to 8 lakhs |
Cost of Brain Stroke Treatment in India Compared to Other Countries
It is interesting to note that even though treatment is expensive, it is still only a fraction of the cost of stroke treatment in other countries.
Don't believe it?

Check out yourself in the table below.
| | |
| --- | --- |
| COUNTRY | COST IN USD |
| India | 1500 to 13,300 |
| USA | 20,000 to 60,000 |
| Australia | 14,000 to 40,000 |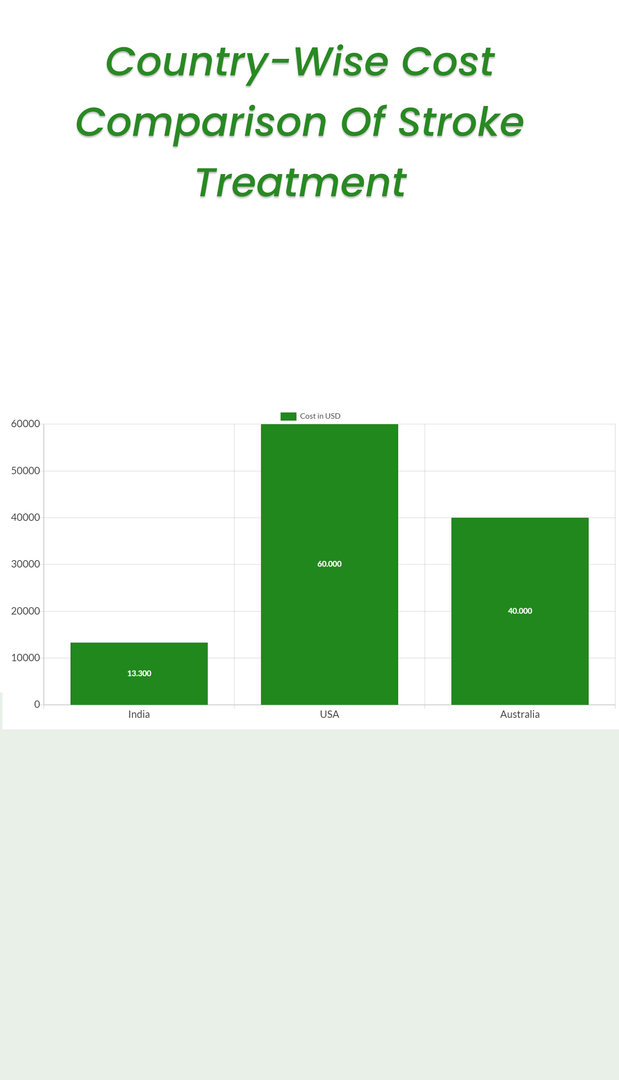 Are you wondering how is treatment in India cheaper? Doesn't this compromise on the quality of treatment?
Well, the lower cost of treatment in India does not mean poor quality. In fact, nearly all major hospitals in India have international accreditations.
The main reason for the lesser expense is due to the lower cost of living. This one factor also reduces the cost of your stay and keeps daily expenses low.
Most hospitals in India also aim to make healthcare affordable. Hence, they can provide lower-cost packages depending on your budget.
Stroke Treatment in India
We already know that there are two main types of strokes. The treatment for both is different. A large variety of treatments are available in India, nearly all of them highly successful.
Ischemic Stroke Treatments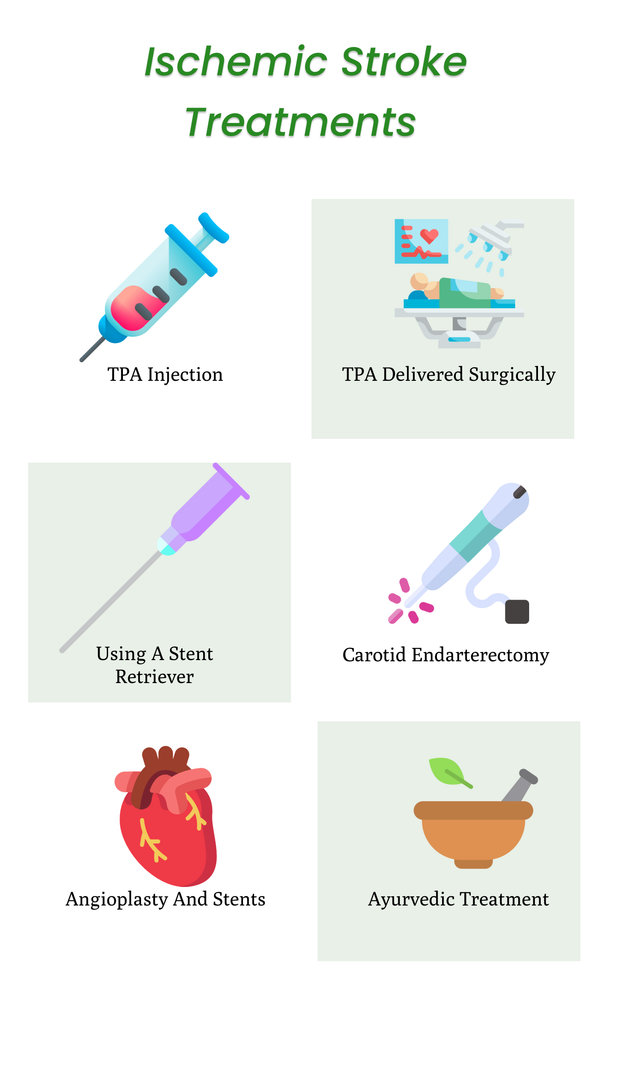 TREATMENT
DETAILS
COST IN INR
TPA Injection

An IV infusion of recombinant tissue plasminogen activator is the first line of treatment.
This needs to be given within 4.5 hours of the stroke to be effective.
It cannot be given to patients on anti-coagulants or those with a history of hemorrhagic stroke.

48,500 to 70,000
TPA delivered surgically

This is called an emergency endovascular procedure.
A catheter is inserted through the groin and the TPA is directly injected into the brain.
This procedure needs to be done within 6 to 8 hours of the stroke to be effective.

1 to 2.5 lakhs
Using a Stent Retriever

This is an emergency procedure to mechanically remove the clot.
The catheter is inserted from the groin. A device is attached to it.
It is useful for people with bigger clots that can't be dissolved with TPA.

2 to 3.5 lakhs
Carotid Endarterectomy

This is to remove blockages in the carotid artery, which could be the cause of the stroke.
It is considered risky for patients with heart disease and other medical conditions.

75,000 to 121,000
Angioplasty and Stents

This is performed to remove the root cause of an ischemic stroke.

1.2 to 5 lakhs
Ayurvedic Treatment

Ashwagandha is considered to be the best Ayurvedic treatment for brain stroke in India.
It should be started within a month after the stroke to get good results.
It is beneficial for patients who did not receive thrombolytic measures.

1000 to 3000/month
Wait! The treatments are not yet over!

How can we forget one of the newest and most beneficial treatment for stroke in India?

Yes, you guessed it right! It is none other than stem cell therapy.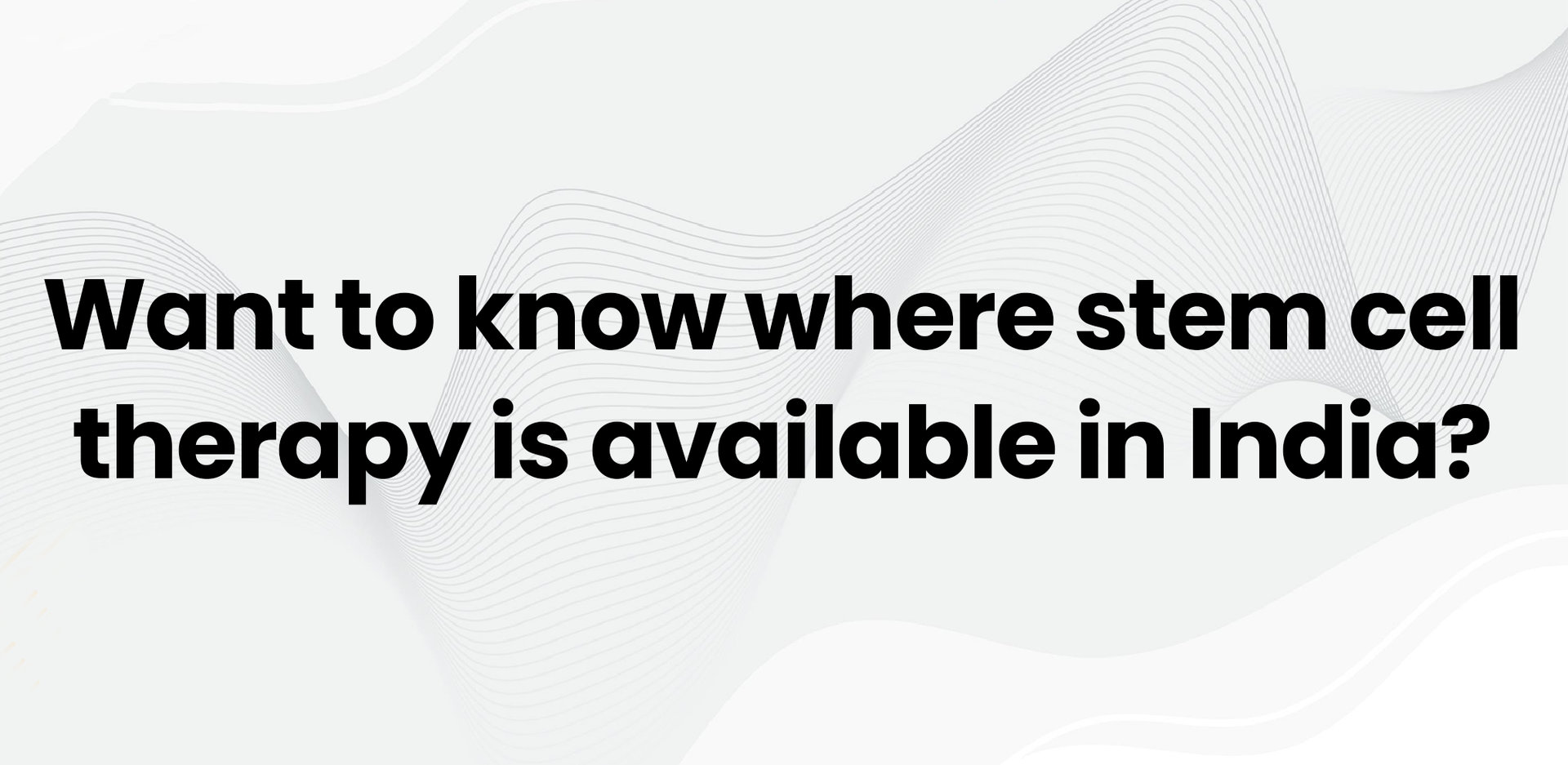 Stem Cell Treatment for Ischemic Stroke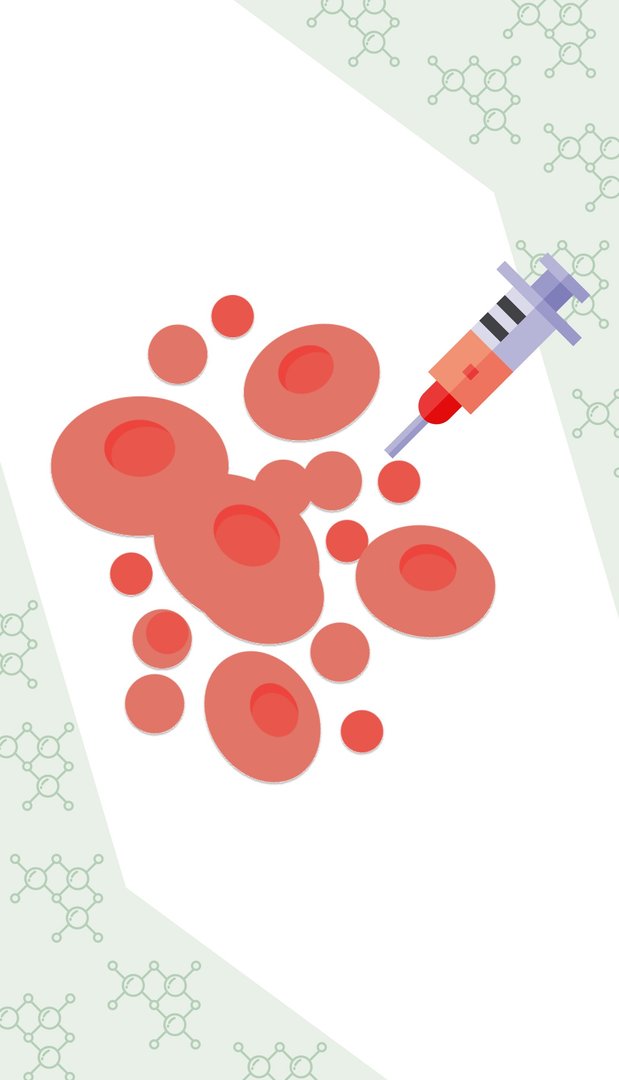 Stem cells are unspecialized cells found in our bodies. They can differentiate into any tissue required. The objective of stem cell therapy is to repair and replace damaged tissue with the help of these cells.
The main goal of stem cell treatment for ischemic stroke is to reverse the injury in the damaged area to alleviate disabilities.
The correct time to undergo a stem cell transplant for stroke is within the first seven days. The damaged portion during this period is still small, giving the best results.
Clinical studies of stem cell treatment in stroke patients so far have shown up to 60% improvement. CT scans have also exhibited a quantitative reduction in the damaged area.
The cost of stem cell treatment for stroke in India is 6700 to 13,400 USD, with each cycle costing about 2000 USD.
Now, let's discuss,
Hemorrhagic Stroke Treatments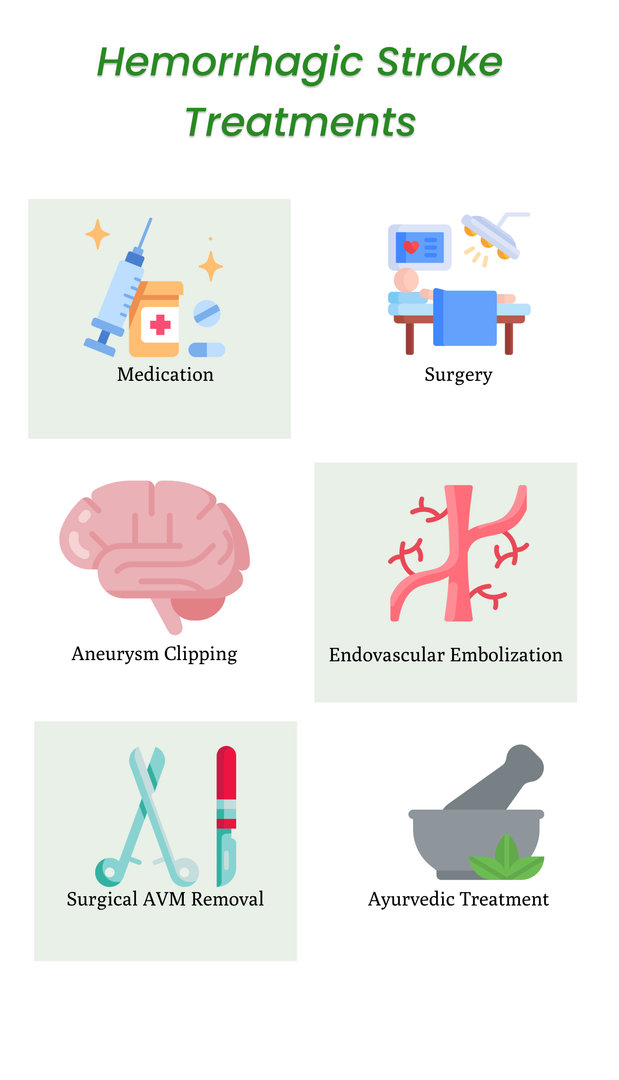 TREATMENT
DETAILS
COST IN INR
Medication

This is the first line of treatment.
Medication is given to lower intracranial pressure and blood pressure.
If the patient is taking blood thinners, medicines are given to counteract their effects too.
Medication is delivered through an IV infusion.

60,000 to 70,000
Surgery

If the area of bleeding is large, surgery is performed to evacuate the blood and relieve pressure on the brain.
It is also required to repair any damaged blood vessels or arterio-venous malformations (AVMs).
Brain stroke surgery cost in India is one of the least in the world.

1.5 to 5 lakhs
Aneurysm Clipping

This is a surgical procedure.
A tiny clamp is placed at the base of the aneurysm to stop blood from flowing to it.

5 to 7 lakhs
Endovascular Embolization

A catheter is guided to the brain from the groin.
Tiny detachable coils are placed in the aneurysm to fill it.
This helps in blood clotting.

90,000 to 200,000
Surgical AVM Removal

This is only done if the AVM is in an accessible area of the brain.

7 to 10 lakhs
Ayurvedic Treatment

This is only effective in the recovery period of a hemorrhagic stroke.
Ashwagandha is believed to be effective in resolving after-effects of the stroke.

1000 to 3000/month
Stem Cell Treatment for Hemorrhagic Stroke
There have been fewer clinical trials for stem cell treatment of hemorrhagic stroke.
Nonetheless, all these trials have shown promising results. The most important criteria for good results seem to be getting treatment as soon as possible after the stroke.
Studies show that patients have better recovery from symptoms with stem cell treatment as compared to those who have undergone a traditional hematoma removal surgery.
Success Rates of Stroke Treatment in India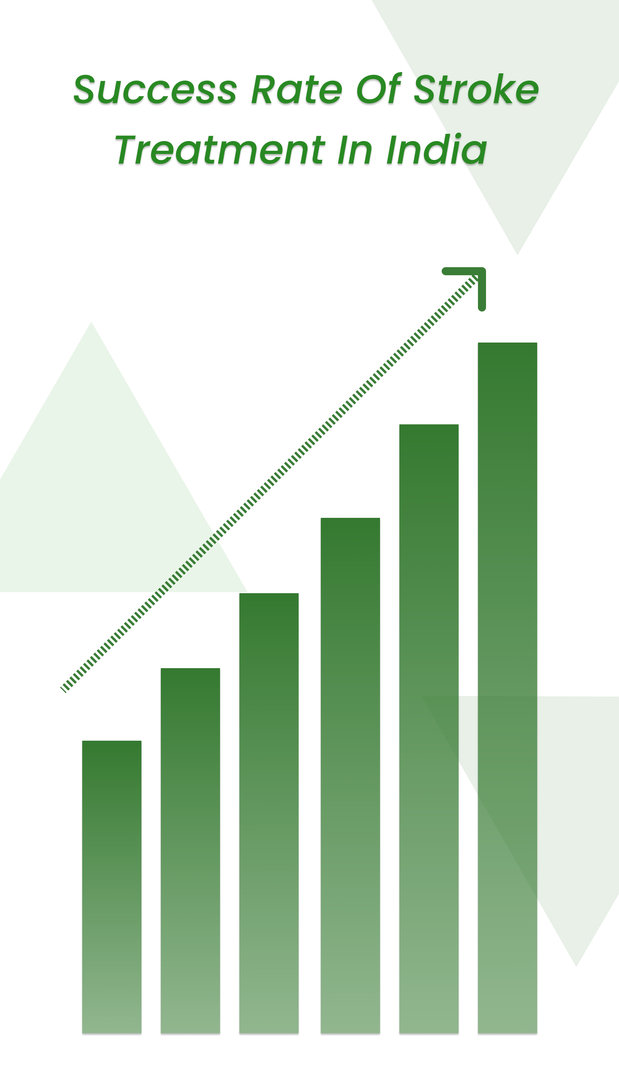 Mortality rates of patients who have suffered from a stroke are quite high. However, with timely treatment, these can be brought down.
There are a variety of treatments for stroke in India. Most of these are highly successful. Although clear data is not available on the success rate of stroke treatment, we can examine the individual statistics.
Nearly 65% of patients who have undergone surgical intervention for ischemic strokes have reported recovery. Even stem cell therapy shows a success rate of 60%.
Yes, you read that right!
The success rate of hemorrhagic stroke treatment is a little lower. This is due to the acute nature of this condition. When treated within the correct time window, nearly 45% of patients have shown signs of recovery.
These statistics are comparable to the global average. In fact, it is also better than several other countries.

According to Amber Dixon, the CEO & Dietitian of the Elderly Assist has quoted that -

"One success story that comes to mind is of a 65-year-old man who received mechanical thrombectomy after suffering from an ischemic stroke. Despite having had the stroke several hours before reaching the hospital, the procedure was successful, and he regained motor functions within a few days. This case underlines the effectiveness of timely stroke intervention in India."
Why Choose India?
You must have already got the answer to this question from the article by now!

But if that was not enough to convince you, below we have listed some more reasons that make India the ideal destination for your stroke treatment.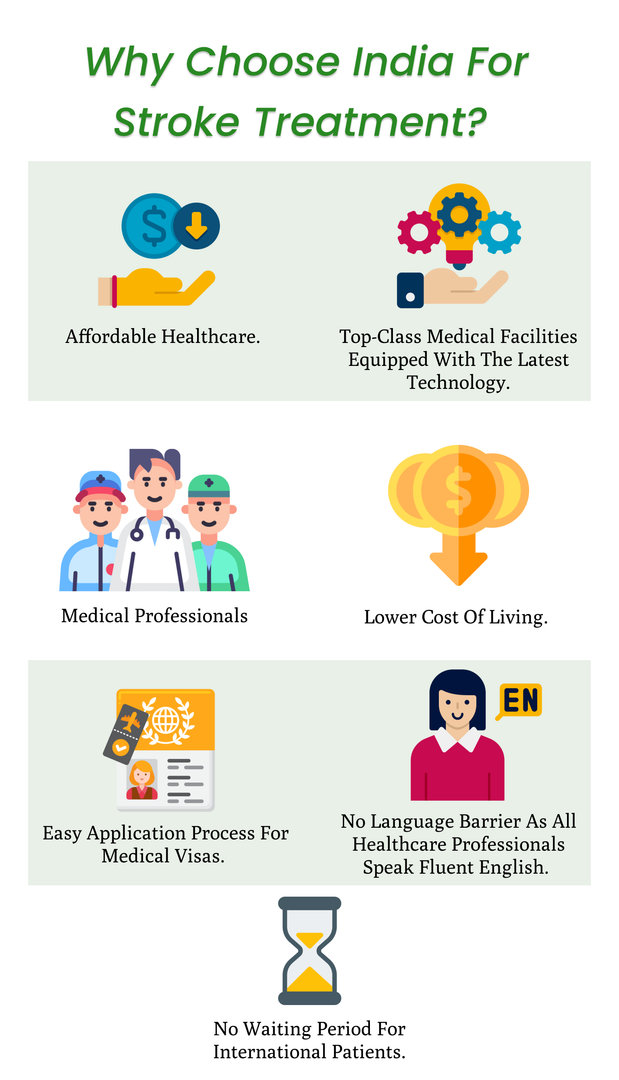 Affordable Healthcare.
Top-class medical facilities equipped with the latest technology.
Highly trained medical professionals and well-regulated clinical settings.
Lower cost of living.
Easy application process for medical visas.
No language barrier as all healthcare professionals speak fluent English.
No waiting period for international patients.
So, what are you thinking?
According to the CEO & dietician at Elderly Assist, Ms. Amber Dixon has stsated that -

Leading treatment options for stroke in our country range from clot-busting drugs like Alteplase to surgical interventions like carotid endarterectomy and mechanical thrombectomy. These treatments align with international standards, and India's top hospitals are equipped with state-of-the-art technology to administer such treatments effectively.
How can ClinicSpots help you in your medical treatment?
ClinicSpots is an integrated medical platform connecting India's best medical facilities and most efficient doctors with patients worldwide. We allow patients to search, compare and coordinate their medical treatments with trusted hospitals. Whether cancer, heart disease treatment, or gender reassignment surgery, we cater to patients in every niche.
Here are the details of how ClinicSpots assist international patients in the following ways:
Medical Counselling

Help With Medical Visa Travel Guidance

Assistance with Payment, Currency Exchange & Insurance
Step 1. Medical Counselling
Steps

Things You Should Know

Visit the Website

Your enquiry is reviewed within 24 hours
You receive call to review medical histories and reports.
Our medical counselors will guide you with treatment plans.
Our medical counselors will assist with travel planning.
You travel to India and begin treatment.

Connect on WhatsApp

You need to send your medical reports over WhatsApp
Our medical counselors will review your reports.
Our executives pitch doctors and hospitals best suited to your needs.
Treatment is tailored to meet your financial and medical expectations.
Our medical counselors explain tentative treatment plans.
You will receive a cost estimate.

Video consultation

Connect with doctors to make informed choices.
Clear all your doubts regarding critical care before you travel.
Connect with India's best doctors regarding critical cases such as transplants, cancer treatment, surgical complications etc.
Step 2: Help With Medical Visa Travel Guidance
Steps

Things You Should Know

Medical Visa

Medical visa is issued for 3-6 months as per the line of tentative treatment.
We assist in extending visa duration (IF REQUIRED)

Visa Invitation Letter

Only NABH/JCI-accredited hospitals can give VIL.
We issue VIL once you confirm your visit to India.
With VIL, visa to India is processed and issued quickly.

Travel Guideline

Through VIL, 2 people will get visas to assist the patient (max. 3 in some cases)
Patients can visit India on tourist visa for minor treatments (dermatology treatment, basic health check up, etc)
Patients need medical visas in India to undergo major treatments (cancer, cardiovascular issues, neurological issues, etc)
Patients in India need a medical visa for admission to a hospital.

Stay & Bookings

We assist in FRRO form registration.
We assist in C form submission.
We arrange accommodation suiting your medical needs (built-in kitchen, infection control)
We arrange accommodation suiting your financial needs
Step 3: Assistance with Payment, Currency Exchange & Insurance
Steps

Things You Should Know

Payment

Cash payment limit is subject to change with the hospital
Only cash is accepted for minor medical expenses (doctor consultation, blood tests)
Wire transfer/Credit/Debit card accepted for major expenses
International currencies accepted in SUPER/multi-specialty hospitals
We do not participate in fundraising initiatives

Currency Exchange

We assist you with forex
Hospital admin assists you with forex

Insurance

Send your insurance documents to our executives
Our executives will check which hospitals accept the insurance policy.
Hospitals then directly connect with your policy provider.
Frequently Asked Questions
What diseases can be treated through stem cells?
Where will the cells be taken or sourced from?
Will stem cell therapy have any after effects?
Will there be medications and diet restrictions following stem cell therapy?
Is stem cell therapy permanent?
What precautions to take post stem cell therapy?
What's the cost of stem cell therapy in India?
For whom is stem cell therapy recommended and beneficial?