Introduction
Cancer is a condition when a few of the body's cells grow out of control and spread to other bodily regions.
CT scan, bone scan MRI, biopsy test, and PET scan are some imaging procedures that are conducted to diagnose cancer.

Through this article, we have attempted to educate readers on liver cancer treatment and the charges incurred so that they can make informed decisions.
In India, the average cost of liver cancer treatment is around Rs. 2,74,782 ($3,441). However, we must keep in mind that liver cancer is a complicated treatment, and there are other factors to consider before arriving at estimates.
Treatment Cost
| | | |
| --- | --- | --- |
| Partial hepatectomy | | $4,600 - $5,000 |
| Liver Transplant | | $38,000 - $42,000 |
| Chemotherapy per cycle | | $197 - $589 |
| Radiation Therapy per cycle | | $589 - $982 |
| Thermal Ablation | | $1,963 - $3,272 |
| Alcohol Therapy | | $1,309 - $2,618 |
Cost in Top Cities
| Cities | Min | Avg | Max |
| --- | --- | --- | --- |
| Delhi | $2046 | $3751 | $5457 |
| Ahmedabad | $1708 | $3131 | $4555 |
| Bangalore | $2008 | $3682 | $5356 |
| Mumbai | $2121 | $3888 | $5657 |
| Pune | $1933 | $3544 | $5156 |
| Chennai | $1839 | $3372 | $4906 |
| Hyderabad | $1783 | $3269 | $4756 |
| Kolkata | $1633 | $2994 | $4355 |
More Information

But let us assure you that liver cancer treatment cost in India is a fraction of what it costs in developed nations. Let's find the details ahead.
There are a lot of treatment options in India. Depending on your condition, your oncologist will choose the best for you. Let's learn in detail.
What treatment methods are used to treat Liver cancer in India?
The cost of liver cancer differs depending on the usage of treatment. These treatments are different from one method to another. The treatment method for liver cancer depends on the patient's tumor size, liver cirrhosis, and stage of cancer. Let's discuss liver cancer treatments.
Partial hepatectomy: Liver resection or partial hepatectomy is a procedure that removes the malignant tumor from the liver. Hepatectomies are performed only when the patient is healthy enough. Furthermore, either all the tumors can be removed while leaving a healthy liver behind or have a single tumor that hasn't grown into blood vessels. The cost of hepatectomy in India ranges between Rs. 3,43,000 to Rs. 4,00,000 ($4,600 - $5,000).
Liver Transplant: Another best treatment option for liver cancer is a liver transplant. A liver transplant can be done for small tumors that have not spread to nearby blood vessels. Usually, it is recommended only if a person has only one tumor with a diameter of up to 5 cm or two to three tumors, each with a diameter of less than 3 cm. However, if cancer has metastasized or spread to other parts of the body, a liver transplant is not an option. Liver transplant cost in India ranges from Rs. 25,00,000 to Rs. 30,00,000 ($38,000 - $42,000).
Chemotherapy: Chemotherapy is given as a drug for liver cancer treatment intravenously or orally. Chemotherapy cost in India Rs. 15,000 to 45,000 per cycle ($197 - $589)..
Radiation Therapy: Radiation Therapy cost in India Rs. 45,000 to Rs. 75,000 per cycle ($589 - $982)..
Thermal Ablation in India costs Rs. 1,50,000 - Rs. 2,50,000 per cycle ($1,963 - $3,272).
Alcohol Therapy costs in India Rs. 1,00,000 to Rs. 2,00,000 ($1,251 - $2,618). per process.
Consider these factors while planning your finances for cancer treatment.
What are the different factors to determine the treatment cost?
The actual cost of liver cancer treatment is difficult to estimate. Many other essential expenses can affect the cost of treatment for liver cancer in India. The following are a few of them:
Consultation cost: There will be numerous consultations, meetings, appointments with the best oncologists in India. Before deciding on a treatment plan for your liver cancer, you'll need to consult with several other specialists. Usually, one consultation charge ranges typically from 1000-5000 Indian Rupees.
Medications: You need to take many supportive medications during your liver cancer treatment process.
Hospital choice: To get an effective treatment, the first thing to do is find the best cancer hospital in India for liver cancer therapy. Hospital location and accreditation can affect the cost of liver cancer treatment in India.
Hospitalization Period: Hospital staying is crucial in estimating liver cancer treatment in India. The length of stay in the hospital is determined by the type of surgery performed. The hospital stay for a hepatectomy is approximately six days, while the hospital stay for a liver transplant is about 22-25 days.
Diagnosis procedure: Blood tests, Ultrasound, Liver Biopsy, CT scan, and Magnetic Resonance Imaging (MRI) are all used to diagnose liver cancer.
Type of surgery, chemotherapy, and radiation therapy in India,
Patient's room quality
Fees for the medical team
Depends on the doctor-recommended treatment.
The cost of needed follow-up care
Experience of the Doctor
Traveling cost: You need to travel a lot in the process of cancer treatment. We understand that this is a small expense, but this is an important cost to be considered.
How is liver cancer diagnosed in India?
We have represented the costs of various liver cancer tests through a bar graph visualization containing INR as well as USD figures, please have a look at it below: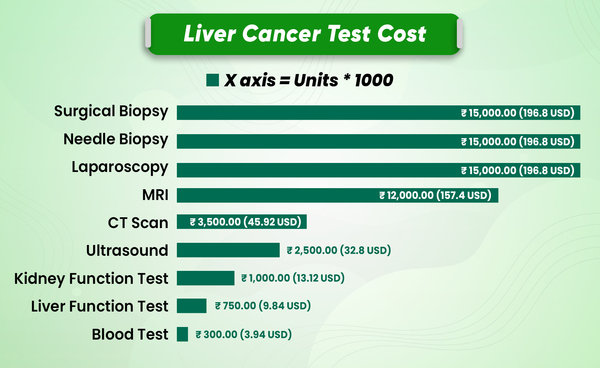 Your treatment procedure will depend on the stage of cancer. Read on to find out treatment types available for each stage.
Liver Cancer Stages:
The cancer stage is an important indicator of the extent and severity of the disease's spread. This aids in the formulation of a treatment plan, assessing the prognosis of liver cancer, and the referral of cancer experts available in the best hospitals in India. The stages are usually divided into four categories based on the development of cancer:
Doctors who treat liver cancer consider the stage of the disease and various other factors to design a unique cancer treatment in India strategy for each patient. They are designed to treat a cancer patient holistically to remove as many cancer cells as feasible.
Stage 1:
The cancer is contained in the liver and does not spread to the other parts of your body.
Possible treatments for stage 1: chemotherapy, partial hepatectomy, liver transplant (rare cases), or any other option that the oncologist suggests.
Stage 2:
This stage is characterized by the prevalence of many, or a single liver tumor, that has migrated to a blood artery.
Possible treatments for stage 2 & 3: Thermal Ablation, embolization, targeted therapy, immunotherapy, chemotherapy, radiation therapy, in rare cases partial hepatectomy/liver transplant if tumors successfully shrink, or any other option that the oncologist deems fit.
Stage 3:
Multiple big tumors, or a single liver tumor, has progressed to the major blood artery in this stage
Stage 4:
Stage 4 liver cancer is an important stage, where the cancerous cells have migrated to other body parts/lymph nodes present within your body.
Possible treatments for stage 4: Targeted drug therapy, radiation therapy and immunotherapy, or any other option that the oncologist suggests.
In stage 4 liver cancer, major emphasis is laid upon palliative care and symptoms management, as there's no possibility of curing patients in this stage.
Liver cancer is a tough disease to treat. Liver cancer may not entirely disappear even after effective treatment, so it's critical to stay on top of things. Blood testing and imaging tests should be done regularly.
You can also check our liver transplant surgeons around the world.
You must be wondering why India is an ideal destination for liver cancer treatment. Read on to find out.
What makes India stand out in terms of liver cancer treatment?
For effective liver cancer treatment, several Indian hospitals have adapted advanced methodologies for radiation therapy, such as; 3D conformation, brachytherapy, proton beam, stereotactic radiation system (SRS), and IGRT/IMRT with Novalis Tx system.
Surgical departments are now equipped to provide minimally invasive procedures, such as robot-assisted surgery, which reduces recovery time and pain, and has many other benefits for the patients.
Day-care chemotherapy units within certain hospitals, allow patients to have conventional treatment, and go back home within the same day without any stay.
Let's read in detail about liver cancer, its types and its symptoms.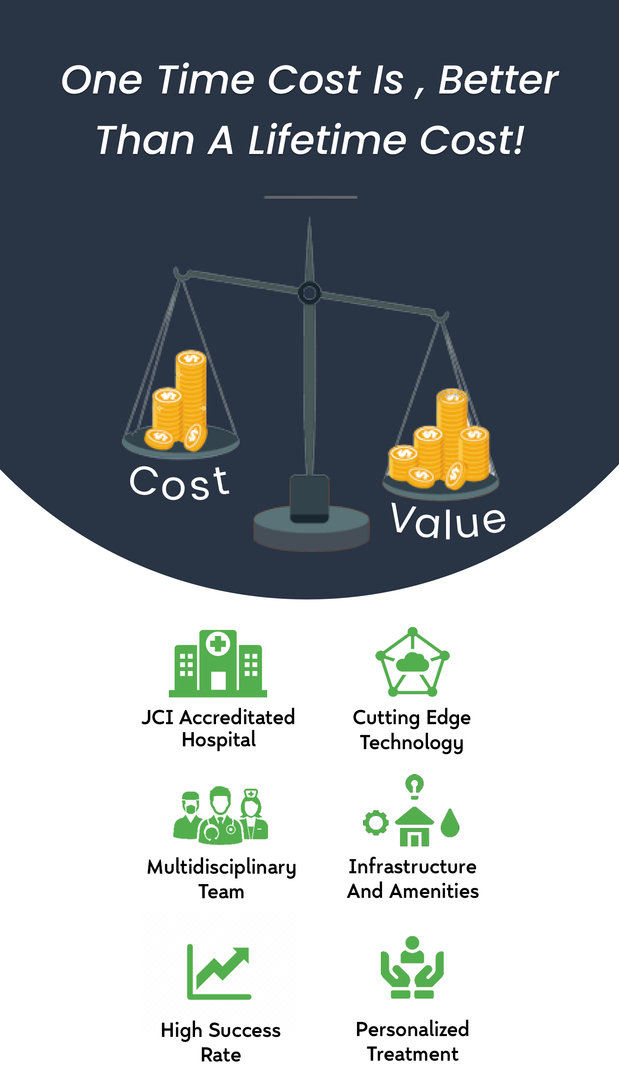 Other Details
What is Liver cancer?
Liver cancer is a form of cancer that starts in the liver cells and grows into an abnormal mass of cells. The liver is the biggest gland in the human body and is responsible for some functions, including eliminating poisons and harmful chemicals from the body. The liver is located in the upper right part of the abdomen, just under the ribs.
Normal liver cells die due to the development of liver cancer, which interferes with its capacity to operate correctly. The loss of liver function significantly impacts an individual's health and quality of life.
Liver Cancer Types:
1. Hepatic Adenoma: This is a benign liver cancer that can cause stomach This benign liver cancer can cause stomach discomfort and bleeding. Surgical removal is generally the best option.
2. Focal Nodular Hyperplasia: FNH is cancer made up of a variety of cell types.
3. Hepatic Angiosarcoma and Hemangiosarcoma: These uncommon cancers affect the liver.
4. Hepatocellular Carcinoma (Hepatocellular Cancer): Hepatocellular Carcinoma (Hepatocellular Cancer) is the most prevalent kind of primary liver cancer in adults. It might appear as solitary cancer or as a cluster of tiny cancer nodules in the liver.
5. Intrahepatic cholangiocarcinoma (bile duct cancer): Accounts for 10% to 15% of all liver cancers. Lymph nodes, the lungs, and the bone marrow are all typical places for it to spread.
6. Hepatoblastoma: This is a rare malignancy that affects children under the age of four.
7. Secondary liver cancer: It begins in another part of the body, such as the pancreas, colon, stomach, breast, or lung, and spreads to the liver (metastasis).
What are the symptoms of liver cancer?
Following symptoms are the indicators of liver cancer:
- Abdominal pain, swelling and distension.
- Loss of appetite and unexplained changes in weight.
- Nausea. fatigue, fever and weakness
- Pale skin.
- Jaundice.
- Itching.
- Black colored stool.
Disclaimer : The above rates are for reference purpose only and may vary based on different requirements. To know actual rates, please contact us.
How can Clinicspots help you?
Connect on WhatsApp and Video Consultation