Turkey has become the most desirable destination for restorative dental procedures in recent times. Various dental treatments are available in the country to improve the appearance of patients' teeth and help them achieve a confident and brilliant smile.
Dental veneers appear to be the most popular option in Turkey.
Turkey is considered for Veneers because of the low cost and excellent quality of procedures compared to other nations by medical tourists.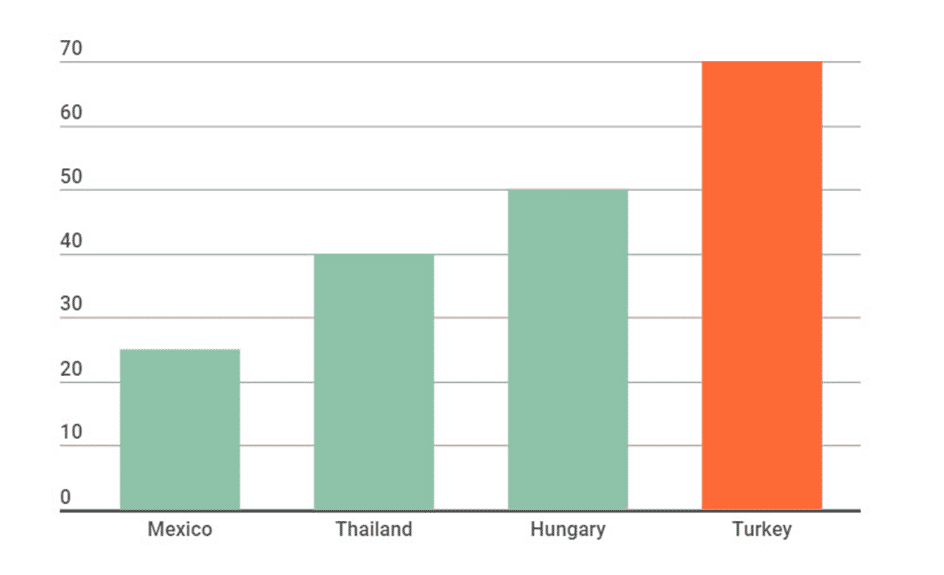 How Much Do Veneers Cost in Turkey?
When people think about obtaining veneers in Turkey, the first question that comes to mind is, "How much do veneers cost in Turkey?"
A single veneer might cost between $200 to $2500 on average. Veneers in Turkey are far less expensive, which has traditionally been a significant benefit for international patients who travel to Turkey for dental services. The cost of veneers in Turkey is two to three times less than in the USA, the UK, and Europe.
The cost of veneer treatment is determined by a number of factors, including the type of veneer material chosen, the number of veneers received, and the clinic's location.
For you, we present the comparative list of veneers cost in Turkey with other nations:
| | | | | |
| --- | --- | --- | --- | --- |
| Types of Veneers | Price range in Turkey | Price Range in UK | Price Range in Europe | Price Range in USA |
| Composite Veneer | $110 - $220 | $630 - $1200 | $490- $930 | $400 - $1500 |
| Porcelain Veener | $140 - $280 | $790- $1590 | $600 - $1200 | $800 - $2300 |
| E-Max Veneer | $190- $320 | $995- $1850 | $760 - $1400 | $900 - $2500 |
How much does a full set of veneers cost in Turkey?
Veneers are thin, custom-made shells that serve to cover the teeth's front surfaces. Porcelain or composite resin can be used to create them.

A complete set of veneers from Turkey can cost up to 70% less than that in the UK, including hotel stay, transfers from airport to hotel, hotel to clinic and vice versa, and treatment expenses.
A full set of veneers costs between $3300 - $6220 in most clinics.
The number of veneers required is determined by the smile line. When someone smiles, the visible number of teeth is referred to as a smile line.
Every patient has a distinct grin and set of teeth. One can't give the patient an accurate estimate without knowing the number of visible teeth present. A photograph of your smile is all that is required to start with the initial Veneers implantation procedure.
Cost based on the number of veneers –
Types of Veneers
No.of Veneers in Upper- Lower jaw
Total Cost ($)
Zirconium
20
$4900
16
$3970
E-Max
20
$6300
16
$5000
How much does a Hollywood smile cost in Turkey?
Hollywood Smile is a dental procedure which is a part of cosmetics and is performed in order to improve your smile by changing the teeth form, shade and size.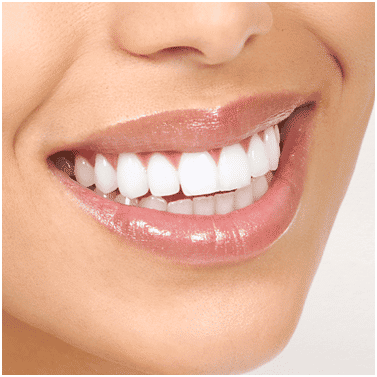 Most popular Hollywood smile cosmetic dental procedures include: dental implants, whitening of teeth, reshaping of gums and dental bridge or cap.
Associated dental procedures such as root canal, tooth fillings and extraction are performed to ensure oral health. Prior to the procedure, the complications are assessed and addressed.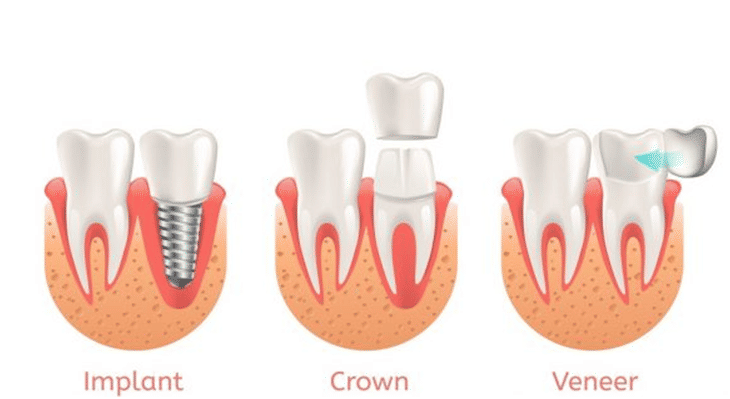 If the teeth are in good condition and do not require any additional treatments such as dental implants or root canals, the average cost for a Hollywood smile is around $3400.

Is there any package for dental veneers in turkey?
Yes, Dental clinics in Turkey offer complete packages depending on the number of sets.

A dental veneers package in Turkey is inclusive of dental veneer procedure, x-ray, doctor's consultation, transfers (from airport to hotel, hotel to clinic and vice versa), follow-up visits and hotel stay.
A full set of veneers (28) costs about $8000.
For a set of 20 veneers, the cost is around $5000.
A set of 12 veneers will cost around $4500, whereas a set of 16 units will cost around $4800.

Are there any additional charges for veneers in turkey?
Usually, procedures such as x-ray, doctor's consultation fees pre-and post-surgery, airport pick and drop and stay in the hotel are included in the package offered by the clinics or hospitals.

But sometimes, some patients prefer to receive advanced care and thus prefer staying in a 5-star hotel with spa treatments, shopping, and taking city tours.
These services come at an extra cost, which raises the overall cost of dental veneers.
How Long Do Veneers Take in Turkey?
Are you wondering how long do veneers take in Turkey?
The entire dental veneers procedure in Turkey takes around 5 to 7 days to complete.
Veneers can be fitted in just two appointments to the dentist.
In the first visit, consultation and related documentation are completed.
The laboratory usually creates customized veneers in 48 hours or less.
Average dental treatment time is about 1-2 hours before which temporary teeth are prepared, which requires about 3 hours.

What are the factors that affect the cost of veneers in turkey?


Factors that influence the price of a complete collection of veneers include:
1. Type of Material used for preparing the Veneers and number of sets:- Depending on whether zirconium or porcelain is used for preparing the veneers and the number of veneers required, the cost varies.
2. Knowledge and expertise of the dentist:
- Dentists with a good reputation and reviews usually tend to charge to more consultation fees.
- Istanbul has risen to prominence among various other cities in Turkey owing to their trained specialists!
3. Accommodational Charges and Additional procedures if required:
- Many dental clinics usually include a hotel stay, airport- pick & drop facility, pre-procedure and post-evaluation services in their package. The overall cost may increase in case the patient prefers to receive more advanced care such as staying in a 5-star hotel, receiving relaxing treatment and a city tour.
*This article is on the cost of veneers in Turkey and data about it is only for your informational purpose and is subject to change.
Frequently Asked Questions

Q.1) Do Turkey teeth last forever?
Answer: The lifespan of an effective dental veneer is 5 to15 years.
Q.2) Which country is best for veneers?
Answer: Turkey is the best country to have dental veneers due to its high quality and affordable dentistry, followed by Croatia, Hungary, Germany, Poland, Thailand, Slovakia, and Mexico.
Q.3) Is it painful to get veneers?
Answer: Dental veneers are not painful surgery. Most of the patients experience no pain or discomfort at all during dental veneers.

Q.4) Will veneers make me look younger?
Answer: Short answer: Yes, it helps to look younger.
Dental veneers make you look younger by supporting your mouth's musculature and accentuating your cheekbones.
Q.5) How do I choose a veneer shape?
Answer: You Should consider the following thing while choosing a veneer shape:
Q.6) Is it worth getting veneers in Turkey?
Answer: The following factor makes turkey worth getting dental veneers:
High-quality clinic and hospital

Affordable packages

Advanced technology

Easy travel