Istanbul has become a popular medical tourism destination for dental services like dental implants, veneers, teeth whitening, dental x-ray, root canal, braces etc. worldwide in recent years. It is also known for several plastic surgery procedures and cosmetic procedures like rhinoplasty, buccal fat removal, etc. In order to restore their smile, many people look for affordable dental services and treatments with high-quality service.
Dental treatments are very expensive in many countries, specifically Europe and the UK. Many people prefer various dental services and treatments in other part of the world like Istanbul, Turkey and India. It is famous for its world-class hospitality and award-winning dentists and has some of the best and most affordable dental care centres.
Many clinics in Istanbul provide outstanding service; it can be difficult to decide where to go. To assist you, we've created a list of the best dental clinics in Istanbul, Turkey.
1. Dentfix Istanbul Dental Clinic
Dentfix Istanbul Dental Clinic is a popular dental clinic in Istanbul that provides quality dental treatments using cutting-edge technology to meet all of its patient's dental needs and ensures their comfort at reasonable prices.
It strictly follows international dental standards and government regulations.
It provides a variety of dental treatment services, including teeth whitening, root canal, dental bridges, veneers, crowns and implants, which are customized according to the requirements of the patients. Besides the dental services, it also provides lodging, VIP transfers and logistics.
2. Dental Bosphorus Oral & Dental Health Centre Istanbul
Dental Bosphorus Oral & Dental Health Centre Istanbul provides services with completely equipped and cutting-edge equipment tracks. It is recognized as one of the clinics that provides the highest care standards in Istanbul.
Having a well-experienced team, allows the clinic to successfully provide oral and dental health services, including teeth whitening, Composite Veneer, Dental implants, Gum surgery, E-max Aesthetic teeth with braces and Hollywood smile.
3. Swiss CenterDent Istanbul
Swiss CenterDent Istanbul is led by Dr. Selin Dizdar and her team. They offer the latest methods of modern dentistry and a unique examination environment for their patients. They provide high-quality dental services in the aesthetic dental procedure, dental hygiene and prevention, treatment with laser, endodontology, periodontal treatments, prosthetics, oral surgery, dental implants and paediatric dental practices.
4. Eternes Dental Clinic Istanbul
Ataköy 7-8-9-10. Mah. Çobançesme E-5 Yanyol Cad No:8/2 D:29 Blk:2, 34156 Bakırköy/İstanbul, Turkey
Eternes Dental Clinic Istanbul is a well-known clinic in the city for dental implants and other dental treatments. They seek to deliver the most up-to-date aesthetic solutions to their patients at world-class prices.
They have a team of 15 professionals on call 24 hours a day, seven days a week. They provide dental services, including clinic aesthetics such as wisdom tooth extraction, all type of dental veneer, sinus lifting, porcelain laminate, orthodontics, crown, root canal treatment, removable dentures, smile design, filling, etc.

For overseas patients, they offer lodging, VIP transportation, and logistical services as part of their dental packages.
5. Esthedent Dental Clinic Istanbul
Esthedent Dental Clinic Istanbul is a well-known dental clinic in Istanbul. It offers privileged and high-quality dental treatments to its patients under the supervision of experienced dentist Dr. Adil Ummahan and other dentists and skilled team.
Their priority is to ensure satisfactory treatment of patients from all over the world through modern architecture and cutting-edge medical equipment.

High-quality services provided by the clinic include dental implants, maxillofacial surgery, Zirconium and Porcelain Veneers, dental braces, gum diseases, root canal treatment, aesthetic dentistry, dental radiology.
It also offers excellent affordable all-inclusive dental packages for international patients, including lodging, VIP transportation, and logistical services.

6. Sengel Clinics
Sengel Clinics was founded and led by Dr. Yusuf Oguz Sengel. He has been providing quality dental treatment services to their guests in Maslak and Fulya since 2014.
The clinic intends to provide high-quality and required services to their patients from other countries. They follow the principle to give complete patient satisfaction. Dental treatment services are provided by expert doctors, each of whom is a pioneer in their fields, and are provided in 8 departments of dentistry.
The clinic follows the guidelines of A Plus Global Health Service. It provides dental treatments to all of their patients in a timely manner through its professionals and a new, modern, and pioneering management system based on International Quality Standards.
They diagnose and treat oral and dental diseases in a corporate structure that respects patient requests and ethical values.
As a result, their experienced team of dentists provides their patients with the most up-to-date information and technology in dentistry.
7. Ekiz Oral & Dental Health Clinic
Ekiz Oral & Dental Health Clinic consists of 5 dentists and a passionate physician staff who are experts in respective fields and run the clinic. The clinic has three rooms, a surgery room and VIP areas.
Patients may expect high-quality dental care from the clinic, which uses cutting-edge equipment and the most precise diagnostic methods. All five dentists are graduates of Marmara/Yeditepe University's Faculty of Dentistry and have doctorate degrees.
Porcelain veneers, porcelain and zirconium crowns, teeth whitening, dental filling, implants, and root canal treatment are among the most popular treatments that they provide.
The clinic offers an online consultation, will ask you for your x-ray reports (if needed), plans your treatment, and accordingly provides you with a proposal.
On agreement between the patient and the clinic, they plan your entire trip to Istanbul, including hotel reservations, airport transfers. Even if you want, they can plan city tours as well. Also, before you leave the city, they will arrange a final check-up to verify that all of your dental conditions are resolved and you are satisfied with your requirements.
8. Idea Dental Clinic Istanbul
Idea Dental Clinic Istanbul is a famous dental clinic that offers its patients professional, passionate, and cutting-edge dental health services.
The core staff consists of specialist Dt. Gamze Kavuncu (Periodontologist and Gingival Surgeon), Ph.D. Ali Can Yeni and Specialist Dt. Can Metiner (Prosthetic and Aesthetic Dental Treatments), and Ph.D. Müge Ali Metiner (Pediatric Dentistry).
In addition, the clinic supervises the treatment of its patients with the help of expert opinions and specialist doctors in Orthodontic and Endodontic Treatment.
The main areas of expertise include surgery, dental implants, endodontics, pedodontics, and orthodontics, serving with cutting-edge technologies and all types of infrastructure that contribute to patient comfort.
They have four clinical rooms and a Panoramic X-ray guide in diagnosing and treating patients.
9. Sapphire Dental Clinic
Sapphire Dental Clinic was established with the help of many professors and is staffed by professional dentists in various fields of dentistry, hygienists and a high-quality technical team.
.
They provide excellent service to their patients by employing a highly educated, skilled and expert team of dentists. As well as cutting-edge technology, high-quality tools and materials and provide all-inclusive dental treatment and trip planning for their guests. This packages includes planning your trip, hotel accommodations, VIP transportation, and a city tour.
10. Istanbul Smile Center Dental Clinic
Istanbul Smile Dental Clinic provides an all-inclusive dental treatment package. They provide dental implants, cosmetic dentistry, dentures, pediatric dentistry, teeth whitening, root canal etc. International patients can get treatment quotations by sending reports of their dental condition. Depending on that, they schedule an appointment. Doctors are ready to give video consultations as well to the patients. You don't have to wait for a long to get an appointment. Usually, they will arrange an appointment with doctors on the exact day as per your desire or maybe on the next day.
The all-inclusive dental treatment packages where patients can get facilities like airport pickup and hotel stay (only in 4-5 star hotels). They provide airport pickup facilities to their patients. Also, for international patients, they have a provision to pick up and drop facility for every appointment.
Besides the dental clinics, certain hospitals having JCI accreditation, such as Acibadem Bakirkoy, Medicana Camlica and BAU Medical Park Goztepe, provide top-class facilities for dental procedures.
TUV plus JCI accredited Liv hospital Ulus provides excellent care to all domestic and international patients.
Istinye University Hospital combines academic knowledge with superlative healthcare services. In addition, it has highly qualified doctors who ensure complete and effective care with personalised touch.
Other hospitals that provide dental procedure facilities include Acibbadem International, Medipol University Hospital, Acibadem Hastanesi-Altunizade, VM Medical Park Florya and Hisar Intercontinental.
What are the most common treatments performed at dental clinics in Istanbul?
To achieve the desired results, the specialists at these clinics are skilled and trained in both surgical and medical procedures.
The following are some of the most common dental procedures: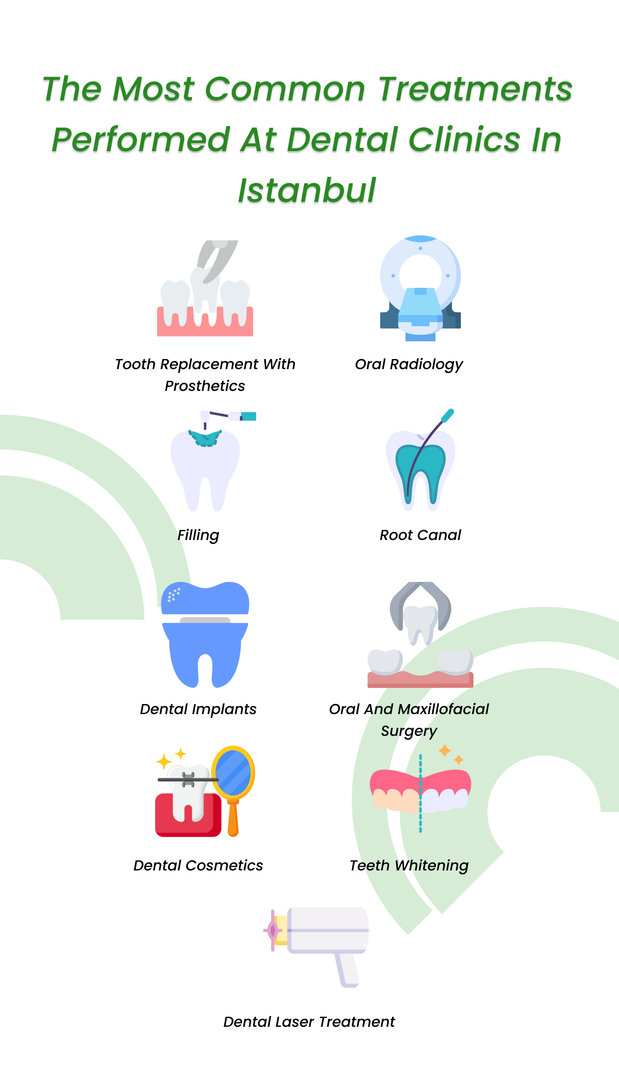 Tooth replacement with prosthetics - It includes various types of Dental Crowns such as Porcelain, Zirconium, Laminate Veneer and Empress Veneer.
Oral Radiology- This is performed when a dentist needs to distinguish between normal and pathological anatomic structures on 2D representations that reflect 3D structures.
Filling- One of the most common applications for fillings is to "fill" a cavity in a tooth that your dentist has removed due to decay. They can be used to repair cracked or broken teeth and teeth that have worn down due to misuse.
Root canal- A root canal is a dental procedure that involves the removal of the tooth's soft centre, known as the pulp.
Dental Implants
- A dental implant is a surgical device that is implanted into the jawbone and allowed to integrate with the bone over time.
- It is a prosthetic tooth root that replaces a lost tooth's root.
Oral and Maxillofacial Surgery- The specialty's scope is broad, and it covers the diagnosis and treatment of facial injuries, head and neck cancers, salivary gland disorders, facial disproportion, facial pain, cysts and tumours of the jaws, and a variety of oral mucosa problems such as mouth ulcers and infections.
Temporomandibular Joint Disorders and Treatment
TMJ disorders are ailments that affect the jaw joints and the muscles and ligaments that surround them. Trauma, an incorrect bite, arthritis, or wear and tear can all contribute to it.
- Jaw soreness, headaches, earaches, and face pain are common symptoms.
- Treated home remedies, diet, pain and muscle relaxant medications and specialized stimulation, injections and Botox.
Dental Cosmetics- It consists of smile enhancing procedures such as teeth whitening, dental veneers, dental implants, dental crowns, teeth shaping and orthodontic treatment.
Any procedure that lightens a tooth's color is referred as tooth whitening. Physical stain removal or a chemical reaction to lighten the tooth colour are also options for whitening.
- Most whitening products contain hydrogen peroxide (H2O2), which comes in two forms: hydrogen peroxide and carbamide peroxide.
Dental Laser Treatment
- Lasers are utilised to eliminate deterioration from a tooth's interior and prepare the surrounding enamel for the filling.
- During root canal operations, biopsy or lesion removal, and tooth whitening, it's also utilised to restructure gums and eradicate bacteria.
Conservative Dentistry - It involves removing as little healthy tooth material as possible throughout the restoration process is an intrinsically desirable dental goal.
Why do people prefer Istanbul for Dental treatment?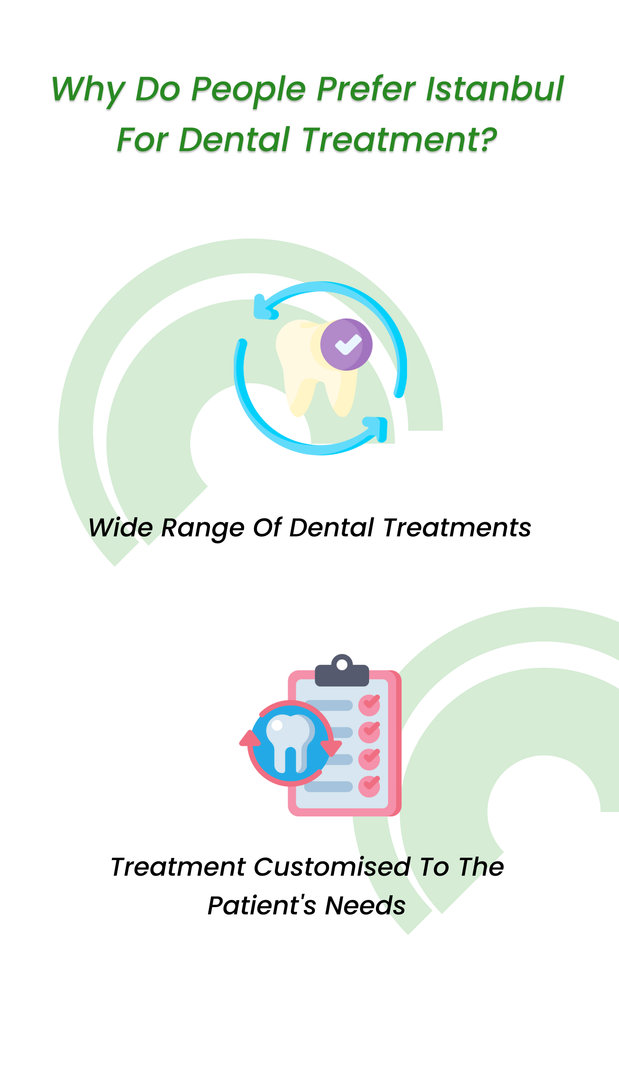 Wide range of dental treatments:
Dental clinics in Istanbul are well-established centres for oral health and dental treatment. They provide a wide range of procedures, from basic tooth whitening to oral and maxillofacial operations.
Dental implants, veneers, tooth restoration, and cosmetic dentistry are all available at these dental clinics equipped with cutting-edge technology and equipment.
Treatment customised to the patient's needs:
They guarantee complete patient happiness and safe therapy, and they have a proven track record of success. These facilities employ a staff of dentists and experts that are highly certified and knowledgeable in their fields. They have extensive experience diagnosing, treating, and managing a wide range of dental and oral disorders and conditions.
Dental clinics in Istanbul, Turkey, see patients from all over the world on a regular basis. A significant number of visitors and medical travellers visit Turkey each year for various operations, including dental treatments. You can also refer our list of adept turkish specialists.
After knowing about best Medical facilities of Istanbul, you can also visit our page of top dental clinics in Turkey.
*The article on dental clinics in Istanbul and information about the treatments provided by each are only for your informational purpose and are subject to change.