Dental Implants in Turkey- Cost Comparison & Clinics
Are you planning for a dental implant in Turkey? We've put our resources to compile a list of the best dental clinics in Turkey, along with price estimates.

Are you thinking about going to Turkey for dental implants or any other dental treatments?
Most dentists in Turkey provide high-quality dental care at significantly lower prices than in other countries, resulting in Turkey becoming a popular dental tourism destination.
The affordable cost of dental treatments in Turkey is the primary reason for patients to visit there, and patients can save up to 70% on their dental bills in Turkey. The high quality of treatment and the affordable prices is the reason which is why dental implants in Turkey are so popular.
Dental implants are the replacement structure for a missing tooth. The fake tooth is connected to the dental implant via an abutment technology. The surgeon implants a screw-like device into the jawbone, which functions as an anchor for a prosthetic tooth called a crown. Crowns look, feel, and work like natural teeth. In this case, a crown is meant to fit the person's mouth and to match their teeth in colour.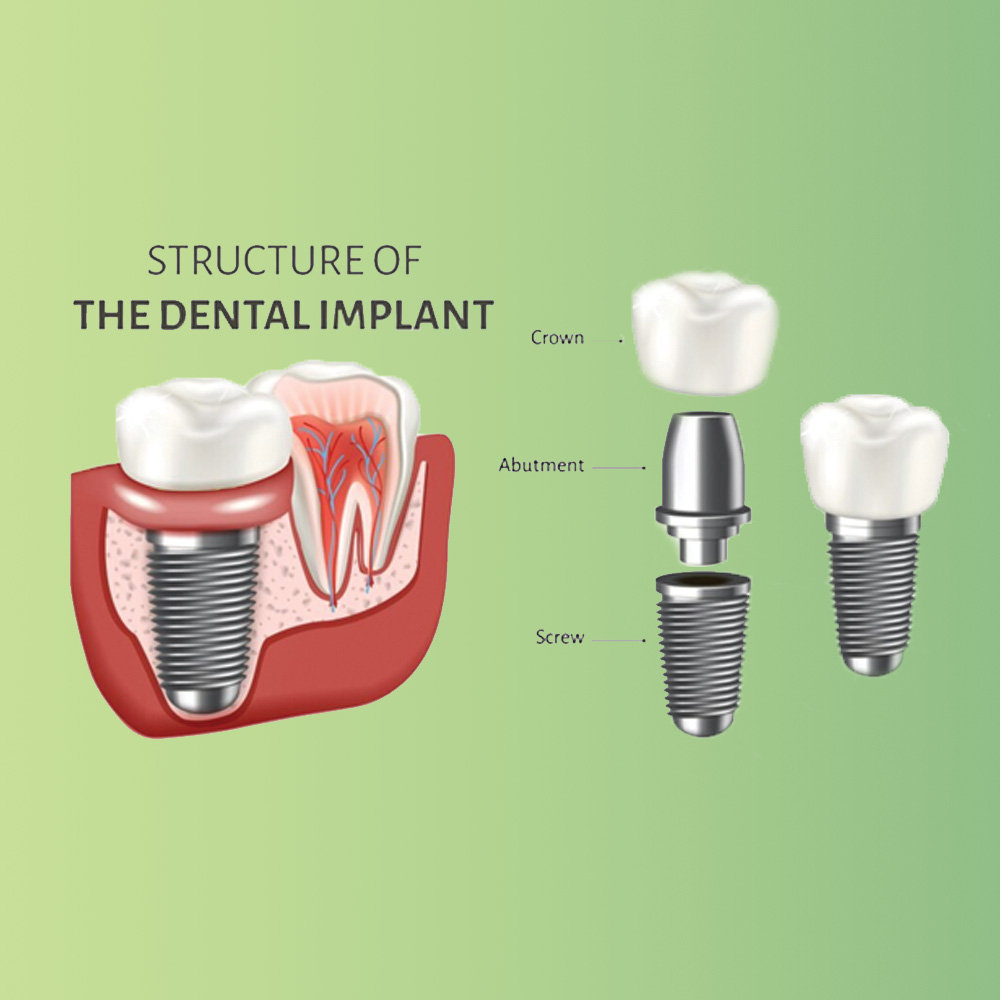 What are the types of dental implants used in turkey?
Not sure which type of dental implants should you go for?

Don't worry! To help you in evaluating and making the right choice, we've discussed both types of dental implants below.
There are mainly 2 types of dental implants available, Endosteal dental implants and Subperiosteal dental implants.
1. Endosteal dental implants are the most often used form of a dental implant. They are usually used as an alternative to a bridge or a removable denture in certain situations. They are implanted into the jawbone by a surgeon, and each one can accommodate one or even more artificial teeth.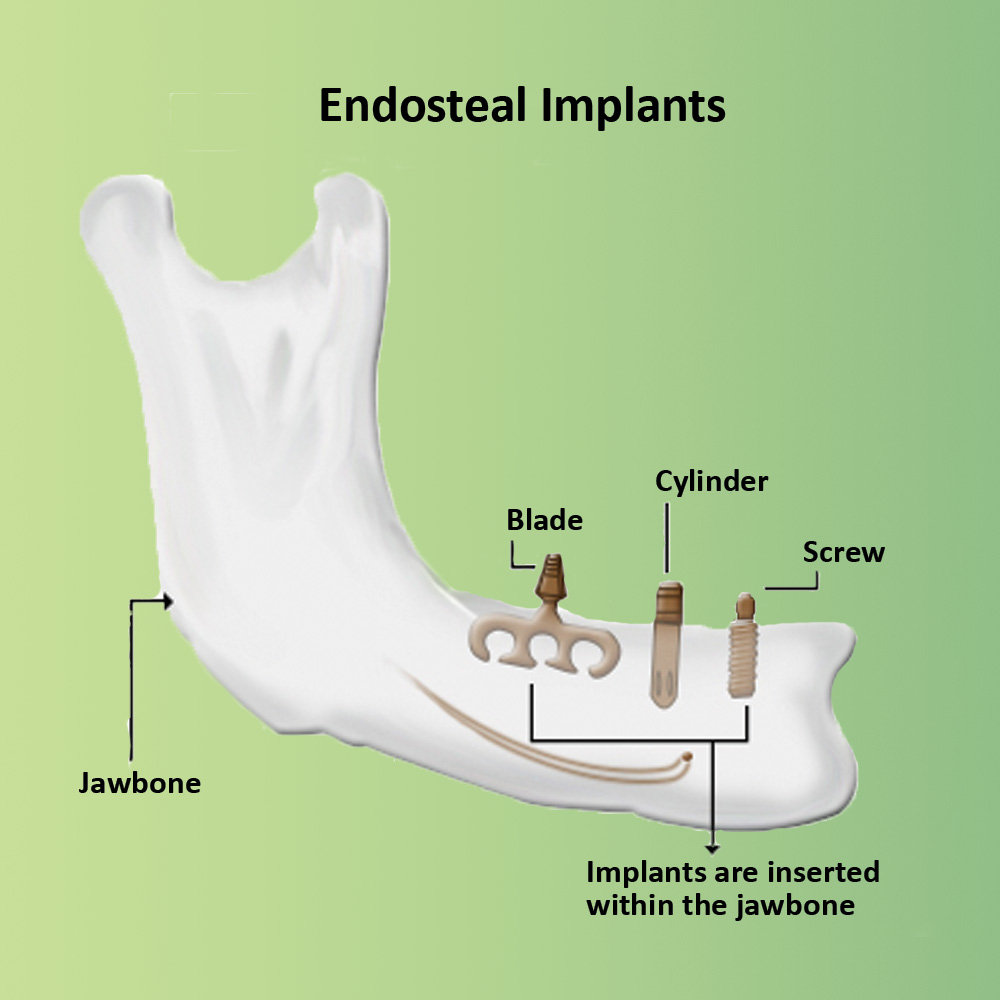 2. Subperiosteal dental implant is inserted on top of the jaw and locked in place using metal framework posts that protrude through the gum. Subperiosteal implants are typically used in people who are unable to wear conventional dentures and lack the bone height necessary to support an endosteal implant.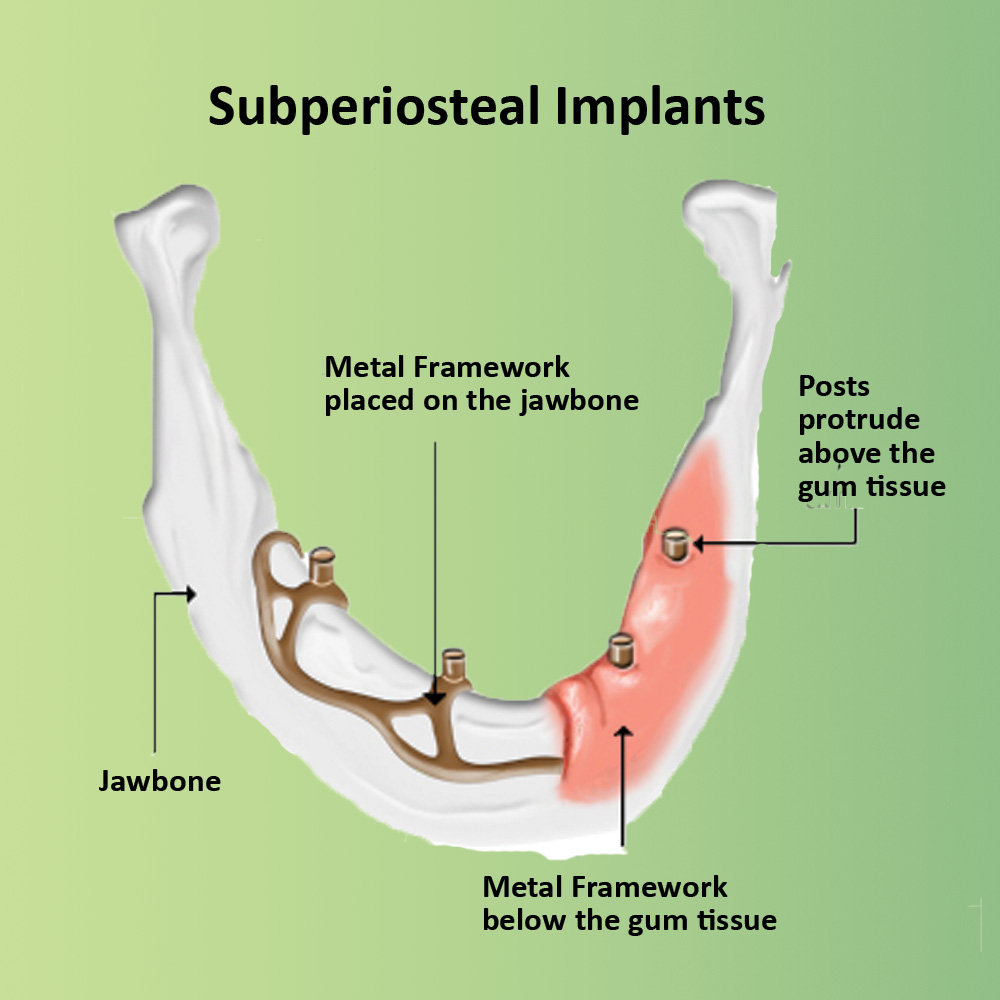 | | | |
| --- | --- | --- |
| Types | Endosteal | Subperiosteal |
| Procedure | In the bone | On the bone |
| Structure | The implant, abutment, and dental prosthetic | Make use of a metal frame that fits over the jawbone and behind the gums. |
| Cost | $450 - $800 | $500 - $ 1000 |
| Stability | Most stable | Less stable |
| Treatment | Couple of months | Done in two appointments |
| surgery | One or two surgeries | Two surgeries |
Different Methods of Dental Implants
Single Tooth Dental Implants - If you are missing a single tooth, a single dental implant can be used to replace it.
Multiple Tooth Dental Implants - If you are missing several teeth, multiple dental implants might be used to replace them.
Full Mouth Dental Implants - If you are losing all of your teeth, full mouth dental implants can replace them.
Sinus Augmentation- This is a surgical treatment that lifts the lower sinus membrane and places a bone graft to enhance the volume of bone in the upper jaw bone near the premolar and molar teeth.
Ridge Modification - Deformities in the top or bottom jaw can result in an insufficient amount of bone for dental implants to be placed.The gum is pulled away from the ridge to remedy the issue, exposing the bone hollow. Ridge alteration has been found to significantly improve the aesthetics of the jaw and increase the likelihood of successful implant placement.
How much do dental implants cost in Turkey?
The average cost of dental implant treatment in Turkey ranges between $500 and $750. However, you can get the same quality of service for roughly $5,000 in the other most European countries.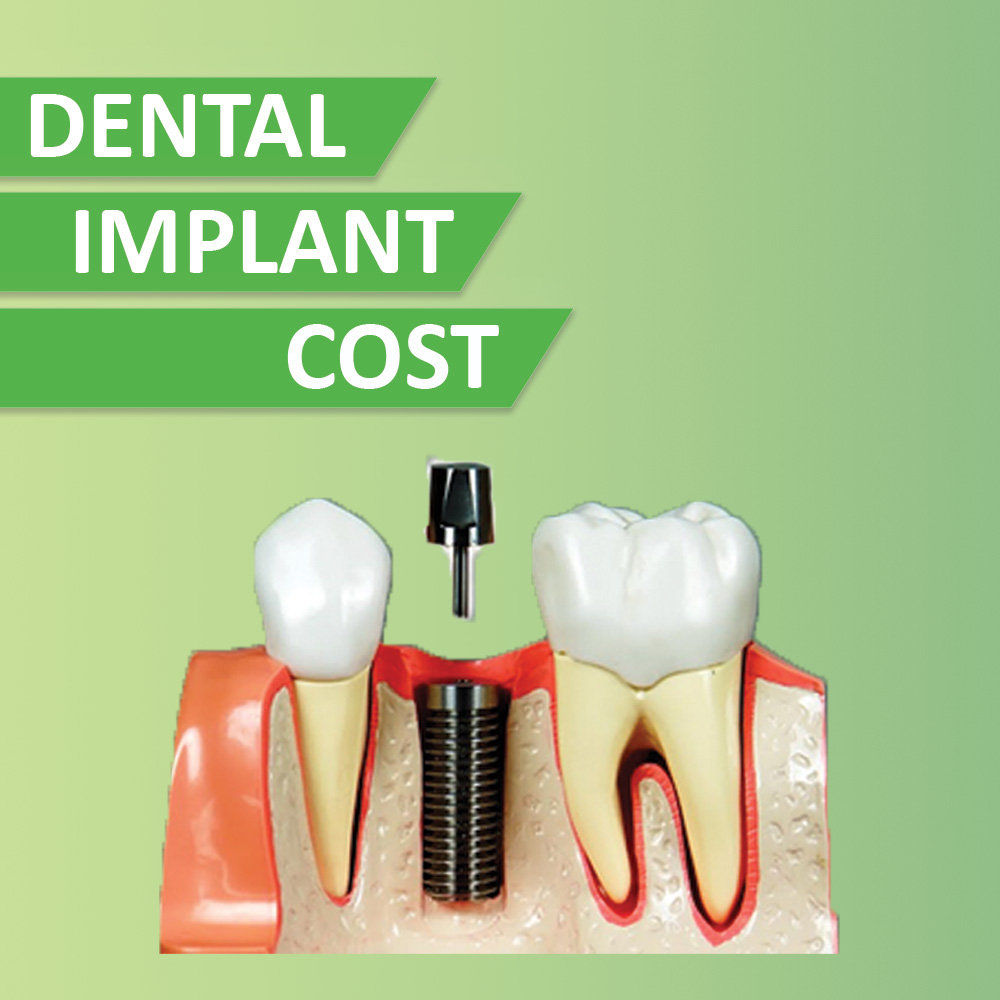 When people heard about the cost of dental implants in the United Kingdom and the United States, they are taken aback. This is because dental implants are the most expensive dental procedure. During therapy, you may encounter additional charges that you are unaware of. The table below provides an estimate of comparison of cost of dental implants in different countries.
| | | | | | |
| --- | --- | --- | --- | --- | --- |
| Type of Dental Implant | Turkey | U.S | U.K | France | Canada |
| Endosteal | $600 | $3600 | $3000 | $3000 | $1,600 |
| Subperiosteal | $500 | $3000 | $3500 | $2500 | $1000 |
Disclaimer: These figures are only estimates based on current information.
Isn't Turkey the cheapest of all?
What happened? Are you wondering why are dental implants so cheap in Turkey?
You are not alone! The majority of patients would be confused as to how this is so cheap.
Usually, lower dental care prices reflect a lower standard of care. That is not the case in Turkey, which aligns with European Union requirements and provides the best quality services.
Below are some reasons why Turkish dental treatment being less expensive for wealthy individuals.
Beneficial currency rate- The Turkish lira is less valuable than the British pound or the US dollar. Patients from the UK, or other parts of Europe may spend less for comparable treatments due to currency conversion rates.
No excessive third-party charges- Apart from clinic charges, Turkey features cheaper laboratory and dentist fees than a number of other countries. Dentists are not as expensive as in other countries.
Traveling is less expensive -Turkey's affordable tourism industry is growing fast. Traveling to Turkey is far less expensive than visiting Spain, Italy, or even Hungary. Everything a visitor requires, such as food and lodging, is relatively inexpensive in Turkey.
Among popular cities of Turkey , Istanbul is also growing popular for its medical tourism and their highly skilled doctors. For you, we have prepared a detailed list of best dentists in Istanbul .
Now, let's discuss,
What is all on 4 Dental Implants?
All-on-4 dental implant is an effective method of replacing many missing teeth. This method functions remarkably well and is resistant to the forces exerted by biting and chewing on the tooth surface.
Individuals who have missing teeth or extensive gum disease frequently experience some degree of bone loss. All-on-4 is a special process in that it utilises all available bone in the patient's jaw to place the implants. It is intended to optimise the amount of bone available in order to avoid the need for additional treatments such as a bone graft, which can be costly and unpleasant. The average cost of all-on-4 dental implants in Turkey is $ 4000, the minimum price is $1500, and the maximum price is $10500.

The procedure involves analysing a patient's jawbone with computer technologies to determine the optimal locations for the implants. They can then be attached to the artificial teeth. The procedure is considered standard and typically lasts approximately 90 minutes.
Remember that each situation is unique, and the dentist will explain the specifics of your procedure to you at the proper time.
What is the best choice for dental implants?
Are you wondering where can you get the best dental implants in Turkey?
The best dental clinics in Turkey are located in cities such as Istanbul, Antalya, and Izmir, all of which have an international reputation. Dental implants come in a variety of types. Depending on the type of dental implants you receive and the treatments you undergo such as bone grafting, extractions, or a sinus lift, your implants will require two or three visits.
Your dentist will go into additional depth about your treatment strategy based on your specific circumstances.
| | | | |
| --- | --- | --- | --- |
| | Istanbul | Antalya | Izmir |
| Clinic Name | All on Dental Clinic | Dental Clinic | DentaPoint Dental Clinic |
| Address | Beyoglu, Istanbul | Muratpasa, Antalya | Karsıyaka, Izmir, |
| Cost | $ 500- $ 800 | $ 600 – $ 1500 | $ 500 – $ 1500 |
How long do dental implants take in Turkey?
Dental implant treatment is a very involved procedure that is frequently performed in phases. As a result, implants can take several weeks to several months to recover properly.
However, this may appear to be a lengthy period, considering what the treatment entails.
Three days is sufficient for your initial visit, but you must wait 2-3 months for healing before visiting for a second three-day treatment.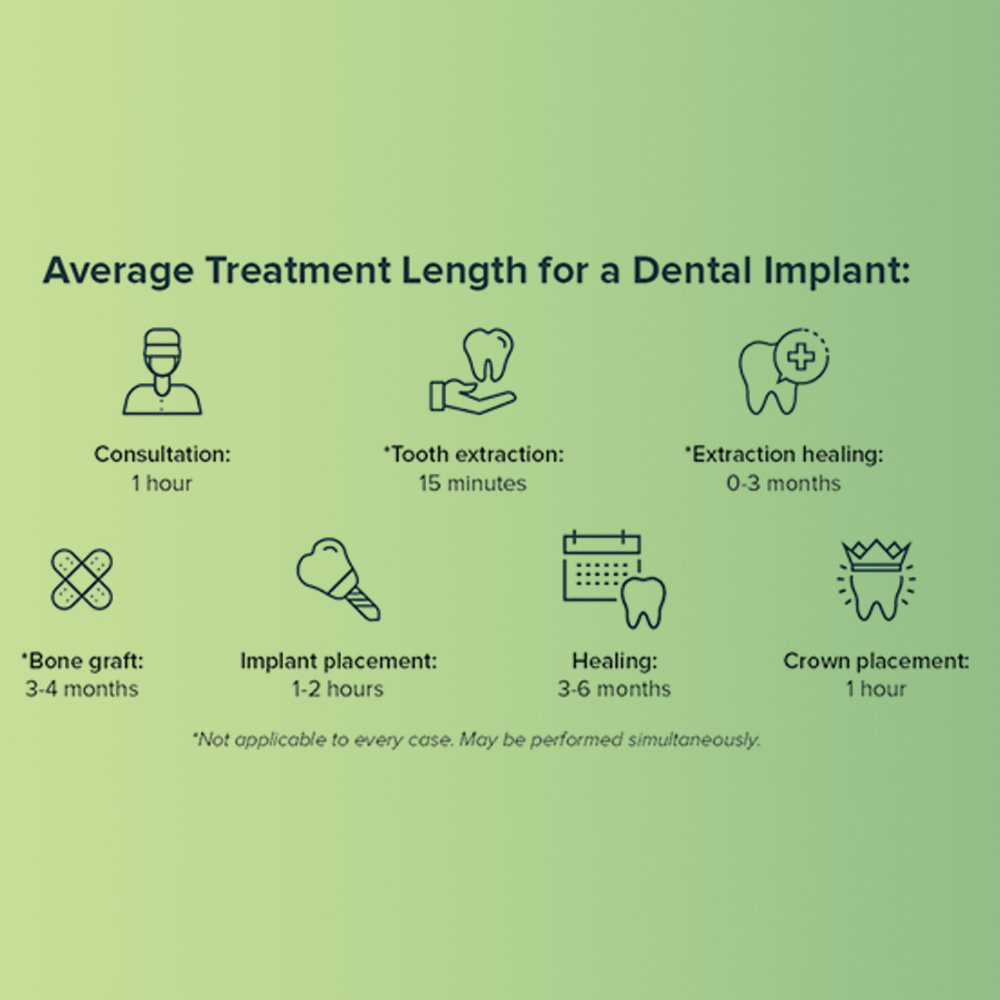 Dental implant treatment in Turkey takes time from 3 months to one year. The average processing time for the first phase is 8 to 10 days, and the second phase is 7 days.
However, it is feasible to complete the first part of the therapy in a single appointment of 24 hours when the patient's jawbone is adequate for it.
Basically, During the first session, the dentist moulds the anchor teeth or implants to ensure that the bridge fits precisely during the second appointment.
Is getting dental implant done in Turkey safe?
Like the majority, are you also worried about the safety of the procedure?

Indeed, safety is a major concern that people have when undergoing any treatment, especially dental treatments.

But do not worry! This section will vanish all your worries regarding the safety of the dental implant procedure in Turkey!
Turkey is a well famous destination for dental implant procedures. When choosing a dentist and dental clinic, it is important to examine their level of experience and talent in the field of dentistry. Otherwise, you will receive the same treatment from a dentist in a normal clinic.
Turkey has emerged into a hub for the fast growing dental and medical tourism industries, with best hospitals and eminent turkish specialists. People travel to Turkey for dental work and vacations from all around the world. Veneers in Turkey and implants are the most common dental treatments, as they are substantially less expensive than in other nations.
Most clinics in Turkey are globally accredited, and the majority of them have a GCR rating. This ranking is determined using more than 25 distinct criteria, including protection, success rate, service quality, and professionalism. When deciding where to get your teeth worked on, many clinics' websites include their GCR score in addition to patient evaluations and testimonies.
So, Turkey is a very safe destination for dental treatments.
So, what are you thinking?
Frequently Asked Questions
Q.1) What is better, a root canal or an implant?
Answer: In many cases, dental implants can last much longer than a root canal or a crown.
Q.2) Which implant is best for teeth?
Answer: In contrast to conventional restorations, a single tooth dental implant completely replaces a lost tooth from root to crown. A single-tooth dental implant can be your best option if you have one lost tooth or several that are not next to each other.

Q.3) Are tooth implants worth it?
Answer: Dental Implants are worth it in terms of expense and time if you need a dental implant.

Q.4) Is Turkey an excellent place to get dental implants?
Answer: Turkey is a perfect country for dental issues due to the following factors:
Availability of experienced surgeons.

Advanced technology

Affordable packages

Reputed clinics and hospitals.
Q.5) Do dental implants hurt?
Answer: Dental implants are not painful surgery. Most of the patients experience no pain or discomfort at all during dental implants.
Q.6) Can you get dental implants with gum disease?
Answer: Short answer: No
It would be best if you had healthy gum to have a dental implant.
About Author
Cost of Dental Treatement Treatment in India
Question and Answers (117)