New Cancer Treatment 2022: The Hope of Cancer Free World On Its way
There are currently more than 100 types of cancer, and the disease affects more people every year. The good news is that the cancer mortality rate has decreased over the last 25 years. However, it continues to be one of the world's most common causes of death. Although various treatment options are available, many have adverse side effects. Fortunately, brilliant minds are working on new ways to detect, develop new cancer drugs to treat, and manage cancer so patients can lead happy, healthy lives following their diagnosis. Let's look at how innovations in oncology may change treatment for cancer patients in 2022.

Table of Contents :
Cancer is a leading cause of death worldwide. According to WHO, approximately 10 million deaths, or nearly one in six deaths caused by it in 2020. Tobacco use, obesity, drinking alcohol, eating few fruits and vegetables, and not exercising account for about one-third of cancer-related fatalities.
In low- and lower-middle-income nations, cancer-causing infections, including the human papillomavirus (HPV) and hepatitis, are thought to cause 30% of cancer cases. Every year, 400,000 children are diagnosed with cancer.
Here are the global stats for different cancer cases in 2020.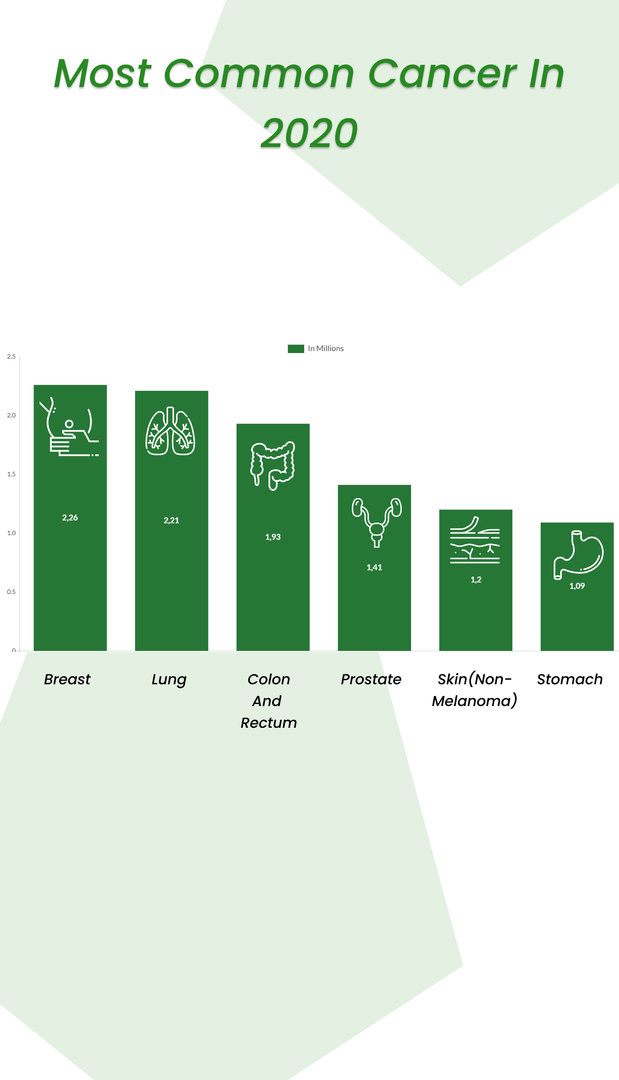 A study estimated that in 2022, 1,918,030 new cancer cases and 609,360 cancer deaths would occur alone in the United States.
The world may soon witness a new cancer treatment breakthrough. For the first time, a new cancer drug trial has shown 100% eradication of cancer in patients at Memorial Sloan Kettering Cancer Center in Manhattan, US.
Well, let's read ahead to learn more in detail about this new treatment.
A small clinical trial has brought hope that cancer can be entirely removed without undergoing long, painful chemotherapy sessions or surgeries. The new cancer medicine is named Dostarlimab. According to The New York Times, Memorial Sloan Kettering Cancer Center administered this drug to 12 rectal cancer patients. According to the clinical study data, researchers discovered that every single tumor has shrunk.
Dr. Luis A. Diaz J. of Memorial Sloan Kettering Cancer Center in New York mentioned that this is "the first time this has happened in the history of cancer."
Furthermore, cancer has not been detected with physical examination or imaging tests like endoscopy, PET, or MRI. This demonstrates that Dostarlimab may be a "possible" cancer treatment for one of the most aggressive tumors.
Now let's check how the study has done.
More about Dostarlimab: The New Hope Against Cancer
Dostarlimab is a type of immunotherapy called a monoclonal antibody. It functions by binding to the PD-1 protein found on the surface of cancer cells. This helps the immune system recognize and attack cancer cells.
In a prospective study of 12 patients with stage II or III dMMR rectal cancer treated with Dostarlimab monotherapy for 6 months. It was given to each patient every three weeks for six months. It makes cancer cells more visible, so the immune system can recognize and eliminate them. All 12 patients had a complete clinical response (radiographic and endoscopic). They did not undergo chemotherapy, radiotherapy, or surgery. Cancer has not returned to any patients who have been cancer-free for 6 to 25 months after the trial ended.
This new approach to "immunoablation" therapy uses immunotherapy instead of surgery, chemotherapy, and radiation to eliminate cancer. The breakthrough results were presented at the ASCO 2022 Annual Meeting and published in the New England Journal of Medicine by Memorial Sloan-Kettering Cancer Center (MSK).
Researchers confirmed that all 12 patients were treated with immunotherapy. A complete clinical response was obtained in all 12 patients with locally advanced colorectal cancer with mismatch repair deficiency (MMRd) treated with Dostarlimab immunotherapy.
How does Dostarlimab work?
This new therapy holds great promise due to its ability to target cancer cells and various advanced cancers selectively.
This drug belongs to a group of medicines known as immune checkpoint inhibitors. These immunotherapy medications stimulate the patient's immune system to perform the task rather than directly targeting the tumor. Although these medications have been used to treat melanoma and other cancers for a while. However, they have recently started being used regularly to treat colorectal malignancies.
Approximate cost of the new cancer treatment
According to the New York Times report, if the medicine is ever approved for widespread use, the cost will be higher because trial doses cost $11,000 each.
Indian oncologists also discussed testing the miraculous medicine "Dostarlimab," which entirely cured cancer. In a news report, Dr. Wesley M. Jose, Clinical Associate Professor, Medical Oncology, Amrita Hospital, Kochi, shared his point of view regarding this new immunotherapy drug.
The price of immunotherapy medications is already a major issue. In a study given at the same meeting where the Dostarlimab data was presented, Tata Memorial Hospital revealed that only 3% of Indian patients could even afford these medications, which is a very miserable situation. Not only do we need medicines, but also policies that make these drugs accessible and inexpensive to the common people.
Is there any risk associated with Dostarlimab?
In general, 20% of patients who use these "checkpoint inhibitors" experience some side effects from their treatments. Most patients (almost 60%) experience significant consequences, such as muscular weakness.
However, none of the participants who participated in the Dostarlimab research experienced any side effects.
Are any further new cancer drug trials required?
The trial is intended for advanced cancer patients (cancer that has spread or grown despite other treatments).
For the second round of this trial, experts are seeking participants with one of the following advanced cancer types:
For advanced cancer, you usually have chemotherapy. This uses cytotoxic drugs to kill cancer.
In this trial, doctors look at another type of cancer treatment called immunotherapy. It boosts the immune system's ability to fight cancer.
Each and every trial participant has taken Dostarlimab. The primary goals of this trial are to:
Learn more about Dostarlimab's side effects.

Learn how effective Dostarlimab is at treating advanced cancer.
We might move towards a cancer-free future if more large-scale trials show similar results.
References:
https://www.cancerresearchuk.org/
https://www.livemint.com/news/world
https://www.nejm.org/medical-articles
https://www.cbsnews.com/
About Author
Frequently Asked Questions