New Prostate Cancer Treatment 2022- FDA Approved Advanced Prostate Cancer treatment
In 2022, treatment for prostate cancer took a big step forward when the US Food and Drug Administration approved a new treatment. That's the view of many in the medical world right now, who are working tirelessly on new diagnostic techniques, treatments, and even preventative measures for prostate cancer. If we continue at our current pace of advancement, these optimists believe that we can almost eliminate the risk of this common cancer among men. So what will change in 2022? Let's take a look…

Prostate cancer is the second most common type of cancer (after lung cancer) in men worldwide and the second leading cause of cancer death. It is the fourth most commonly diagnosed cancer in the world. In fact, around one man in every 9 will be diagnosed with prostate cancer by age 85. According to a study, in 2020, approximately 15 lakhs people were diagnosed with prostate cancer worldwide. It is estimated that almost 220,000 new cases of prostate cancer will be diagnosed in the U.S. alone this year.
There are no reliable early detection tests for prostate cancer. Current treatment options remain limited due to its ubiquitous location beneath layers of dense tissue and its inability to metastasize outside the prostate gland.
On August 5th, 2022, the FDA approved a new prostate cancer treatment. The new prostate cancer drug is Darolutamide combined with Docetaxel for treating patients with hormone-sensitive metastatic prostate cancer (mHSPC). It may also be combined with docetaxel chemotherapy to treat metastatic castration-sensitive prostate cancer.
This article explains how this generation of treatment will revolutionize prostate cancer treatment in 2022.
The Problem With Prostate Cancer Treatment Today
There are two main types of prostate cancer:
Localized prostate cancer (80-90 percent of cases): This type of cancer is confined to the prostate and not spread to any other parts of the body.
Advanced prostate cancer (10-20 percent of cases): This type of cancer has spread to other body parts, most commonly to the bones and/or lymph nodes. Advanced prostate cancer is incurable. A man will die of it. The current treatments for prostate cancer are surgery, radiation therapy, and chemotherapy. Surgery involves removing the prostate. Radiation therapy uses high-energy X-ray beams to destroy cancer cells.
These treatments tend to have serious side effects, including impotence, incontinence, a loss of energy and vitality. Surgery can also have long-term complications, such as damage to the bladder or rectum. There are, however, significant limitations to these treatments.
More about
Darolutamide
: New Treatment for Prostate Cancer in 2022
Hormone-sensitive or castration-sensitive prostate cancer means a patient's tumors are still primarily fueled by male sex hormones (androgens). Previously, metastatic hormone-sensitive prostate cancer was treated only with ADT, which blocks the production of androgens by the testicles.
Darolutamide is a new generation of non-steroidal anti-androgen drugs (NSAIDs) currently being researched to treat prostate cancer. It is an alternative to the current prostate cancer treatment options with a slightly different mechanism of action.

It is a combination of Darolutamide, androgen deprivation therapy, and Docetaxel. For example, Darolutamide works by blocking androgen receptors (green) in cancer cells from binding to androgens (yellow). It prevents actions that can allow cancer cells to survive and increase.
Here is the image that depicts the above statement with more clarity.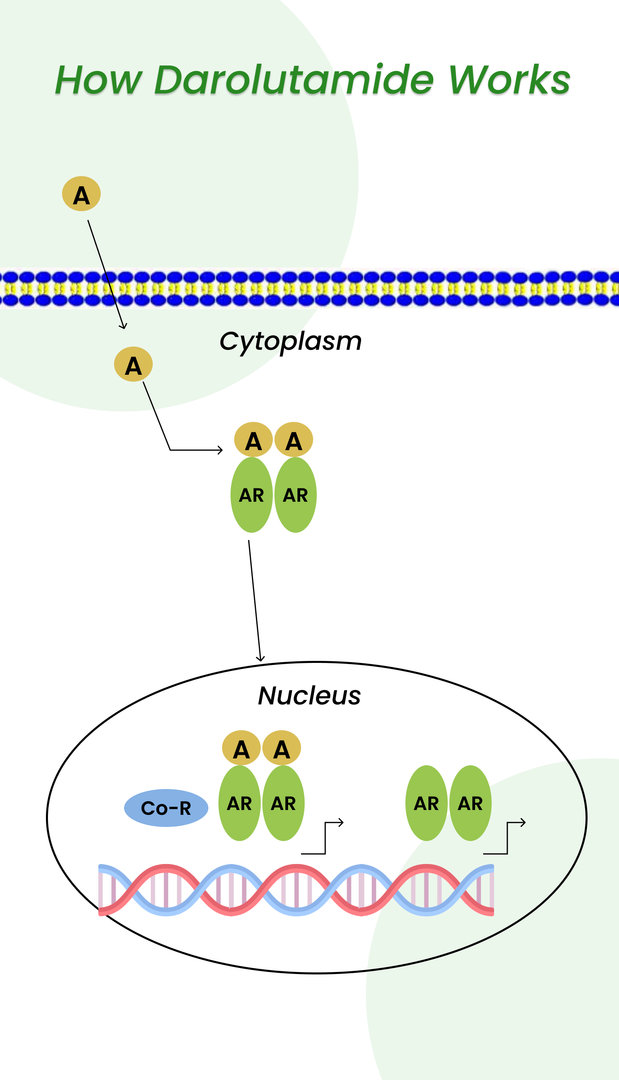 Internationally, the phase 3 ARASENS trial was randomly done on 1305 patients (average age: 67 years) with newly diagnosed metastatic hormone-sensitive prostate cancer. 86% of the patients were newly diagnosed with prostate cancer spreading to the bones or other organs. All the patients received ADT 12 weeks before the trial and six cycles of Docetaxel starting within 6 weeks after the trial.
651 patients received Docetaxel + standard ADT + Darolutamide 600 mg twice daily.

vs. 654 patients received a matched placebo+ Docetaxel + standard ADT.
This trial was published in the New England Journal of Medicine (NEJM) and presented at the February 17th, 2022, American Society of Clinical Oncology (ASCO) Genitourinary Cancers Symposium, held in San Francisco, Calif.
Key points of this latest prostate cancer treatment
This study's results showed that:
Patients treated with Darolutamide are 32% less likely to die during the follow-up period than patients treated with Docetaxel and ADT alone.

About 62.7% of patients who took darolutamide were still alive after 4 years against the approximately 50.4% of patients who received a placebo.

During the follow-up, most of the patients in the placebo group (75%) received other commonly used treatments: including abiraterone and enzalutamide. However, compared to that, the group that received darolutamide even lived longer.

These patients also had improved time to castration resistance (when despite hormone therapy, the PSA increases and the disease worsens),

Decrease the time to pain progression, and

Symptomatic skeletal-related events (i.e., bone fractures, needing radiation to the bones)), and time to subsequent cancer therapy. Significantly, these improved outcomes of triplet therapy intensification were associated with only a modest increase in adverse events.

It does not cause sexual dysfunction, male breast growth (gynecomastia), or a drop in bone density.

It can potentially become a go-to prostate cancer treatment option in the near future.
During a meeting, the study's lead investigator, Matthew R. Smith (M.D., Ph.D., of Massachusetts General Hospital Cancer Cente), stated that according to the findings of ARASENS, Darolutamide combined with ADT and Docetaxel should be the new standard of care for treating patients with metastatic hormone-sensitive prostate cancer.
Side effects of the latest prostate cancer treatment
Darolutamide functions similarly to other androgen receptor inhibitors by preventing androgens from binding to receptors on cancer cells. However,
Darolutamide does not breach the blood-brain barrier, in contrast to other androgen receptor inhibitors.

That's the reason that studies have identified fewer central nervous system side effects (such as seizures) with Darolutamide than with other similar medications.

The frequency of severe side effects—i.e., bone fractures, needing radiation to the bones, and cardiac issues—was similar in the two groups. Roughly two-thirds of the patients in both groups experienced severe side effects, most of which occurred when Darolutamide (or placebo) was given at the same time as Docetaxel.



Dr. Karzai mentioned that more research is required on how the order in which the drugs are given impacts their effectiveness and the frequency of side effects.
As per Dr. Smith, that forthcoming studies could look at whether darolutamide and ADT alone could improve survival as well as darolutamide, ADT, and Docetaxel. He said that removing Docetaxel from the combination could reduce some side effects.
References:
About Author
Frequently Asked Questions