List of Top 10 Ayurvedic Cancer Hospital in India- 2022
Ayurveda is an ancient Indian medical system, and it employs a variety of treatments and methods. There is no reliable data to support its usage as a cancer treatment. Ayurvedic medicine as a cancer treatment has no scientific support. However, it is said that some procedures could help with cancer symptoms or treatment. Let's read ahead in the article to know more about ayurvedic cancer treatment and the best ayurvedic hospitals for cancer in India.

Cancer is considered one of the most dreadful diseases in mankind's history. The most common cancers among people are the breast cancer, lung cancer, bronchus cancer, melanoma of blood, leukemia, etc.
CT scan, bone scan MRI, biopsy test, and PET scan are some imaging procedures which are conducted to diagnose cancer.

In recent years, people have tried every possible way to treat cancer issues, and our scientists are making their best efforts to find an infallible cure for cancer.

However, there is another form of treatment to cure cancer, and it is the use of alternative medicines. Alternative medicines refer to medical treatments that use traditional therapies. It includes Ayurveda medicine, acupuncture, chiropractic medicine, energy therapies, herbal medicine, etc.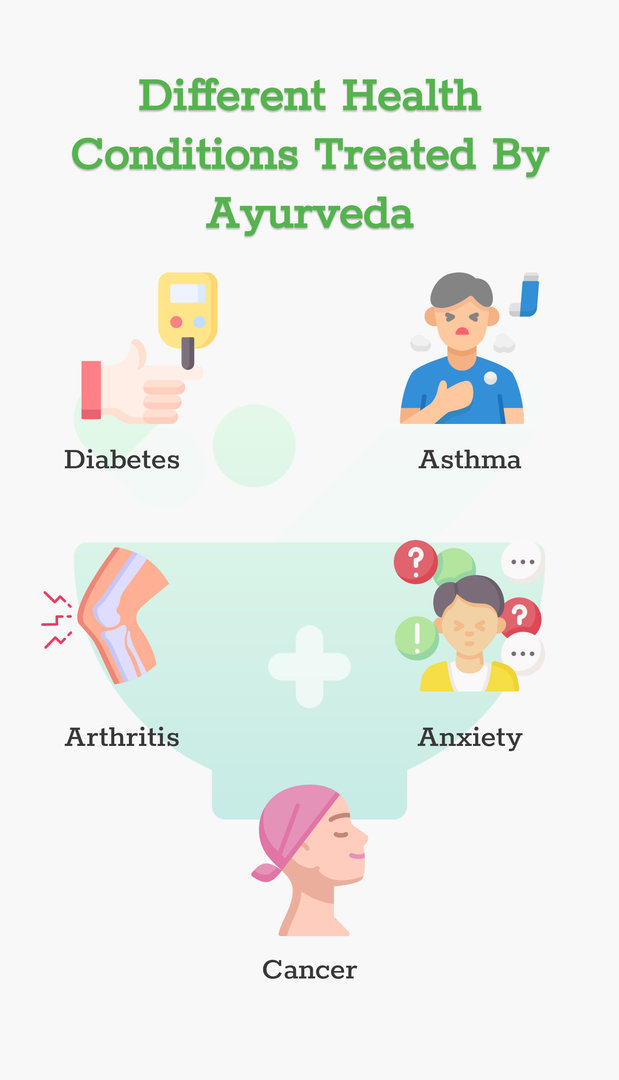 Read on to know which diseases can be brought under control with alternative medicines.
Ayurvedic treatment is practiced by ayurvedic doctors who treat health conditions such as:
Diabetes

Asthma

Arthritis

Anxiety

Cancer

Digestive problems.

Eczema.

High blood pressure, etc.
Applying ancient therapy methods and plant medications have been used to prevent or control certain tumors since ancient times that have extended throughout the Indian subcontinent. People from developed countries also visit India for various treatments.
And among them, one of the most demanded treatments in Ayurveda is cancer treatment.

In this article, we will discuss how ayurvedic medicine for cancer is used to treat cancer. Also will get to know about India's top 10 ayurvedic cancer treatment centers.
List of ayurvedic cancer hospitals in India :
1. Lavanya Ayurveda :
Lavanya Ayurveda is an ayurvedic specialist Institute that redefines healthcare service excellence by bringing together the finest in infrastructure, technology, training, education, and medical intelligence.

Their open medical practices make them one of the most preferred healthcare

Ayurvedic hospitals for cancer

for over 20,000 patients.

Led by a team of highly talented ayurvedic doctors in Lucknow and a dedicated team of researchers and professionals.

2. Athulya Ayurvedic :
The Athulya Ayurvedic Medical Research Centre lives up to the reputation of the world-famous

Kerala cancer treatment

and uses ancient Ayurvedic remedies to improve

Ayurvedic cancer treatment

.

Dr. Zacharia Jacob started the AARMC in 1996.

AAMRC selects scientifically confirmed natural sources of anticancer principles, processes them without degradation, and uses them for cancer therapy.

AAMRC received the Rashtriya Ekatha Samman Award in 2010 and the Lifetime Achievement Award in 2009 for its outstanding contributions to treating cancer.

3. Hospital and Institute of Integrated Medical Sciences :
HIIMS is dedicated to the development of natural treatments for health problems and tries to provide the best

ayurvedic cancer treatment

in India.

HIIMS provides the most effective therapies to improve everyone's quality of life.

The concept of therapy comprises delivering pleasant and trustworthy therapeutic services in order to address the problem at its root.

4.Jiva Ayurveda :
The center's purpose is to mix old Vedic knowledge with modern technology in order to create a happy and healthy community.

Today, this center employs 500 Ayurvedic doctors and support staff who deliver free consultations to over 8,000 patients every day in 1,800 cities and towns across India and worldwide proving to be India's one of the top

Cancer Ayurveda hospitals.

Aside from medicines, doctors advise patients on food and lifestyle changes to help the treatment be more effective.
5. Dr. Shinde's Ayurvedic Cancer care Clinic :
Ayurvedic therapy at Dr. Shinde's Clinic has assisted hundreds of people in having symptomatic as well as systematic changes.

They tried to provide the

best ayurvedic cancer treatment in India

and helped to increase energy levels, effectively treating thousands of cancer patients worldwide, and overall increasing quality of life.

Natural and herbal medications are utilized in many forms of therapy such as extracts, powders, ointments, and so on.
These hospitals bring authentic forms of Ayurveda, yoga therapy, naturopathy and other supportive therapies for all your needs.
6. Rasayu Cancer Clinic :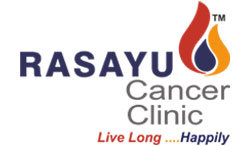 Rasayu Cancer Clinic is a one-of-a-kind company that provides complete answers to cancer patients' unmet requirements.

It is a novel cancer clinic where alternate medicine is used with the help of customized therapy to treat patients.

It is a center that offers Ayurvedic cancer treatment in Pune to cancer patients using the latest scientific data as well as Ayurvedic assessment standards.

Cancer patients from all around the world have been effectively treated with this therapy procedure for their specific goals.

7. Sino Vedic Cancer Clinic :
The Sino Vedic Cancer Research Centre was established in 1985 with the goal of studying the use of herbs and Ayurveda for cancer treatment.

Sino Vedic is a pioneer in the field of Herbal Cancer Treatment, having treated over 50,000 patients over the course of 36 years.

The Sino Vedic Cancer Research Centre has developed a number of sino vedic formulations that aid in the battle against cancer while causing no negative effects with the help of Complementary and alternative medicine.
Address: Flat No. B-003 (Ground Floor), Benzer C.H.S., 2nd Cross Road, Lokhandwala Complex, Andheri (West) Mumbai - 400 053

8. Sri Sri college of ayurvedic science and research hospital :
Sri Sri College of Ayurvedic Science and Research Hospital, also known as Sri Sri Ayurveda Hospital, is a NABH-accredited hospital run by the Sri Sri Ravishankar Vidhya Mandir Trust in Bengaluru.

To get the best outcomes, they treat issues of the body, mind, and spirit through Complementary therapies.

For overall health and serious problems, they offer advanced diagnostic facilities mixed with classical Ayurveda and naturopathy.

Sri sri college of ayurvedic science and research hospital is one the best cancer care centres for alternate therapy. If you are looking for ayurvedic cancer treatment then this is your best option.

9. Amala Ayurvedic Hospital and Research Centre:
The Carmelite Fathers built the Amala Institute of Medical Sciences as a humanitarian organization (CMI).

On its site, they have a new Multispecialty Hospital with 1000 beds, a Medical College, a Research Center, a Homoeopathic Hospital, and an Ayurvedic Hospital with 100 beds.

This is a one-of-a-kind institution that offers both contemporary medical facilities with modern diagnostic and treatment procedures and natural medical facilities based on Ayurveda and Homoeopathy.

Amala Ayurvedic Hospital and Research Centre provide a variety of Ayurvedic Packages for relaxation, rejuvenation, and cleansing.

10. Patanjali yogpeeth :
Patanjali Research Foundation was founded in 2010, research on yoga and Ayurveda began in the institution in 2007.

The Patanjali cancer treatment trust aims to increase the propagation of yoga and Ayurveda as methods of health promotion and healing cancer.

Treatment is of course an important activity in Patanjali Yogpeeth which has provision for 400 inpatients and where 50-200 outpatients are seen every day by 40 qualified Ayurveda practitioners.
Let's take a look at how Ayurveda works in cancer treatment.
Do you know how Ayurveda treats cancer?
Stage 1 - Detoxification (cleaning the body's numerous organs) :
Toxins in the body include unutilized medication waste, cancer toxins, free radicals, metabolic waste, and so on. To receive the best therapy outcomes, it should be cleansed.

Detoxification is done to cleanse the body organs using internal medications.



Stage 2 - Treatment
The treatment process starts with identifying the stage of cancer.

Ayurvedic oncologists develop a treatment plan based on the patients' previous treatment procedures and their reactions to the medicines or treatment.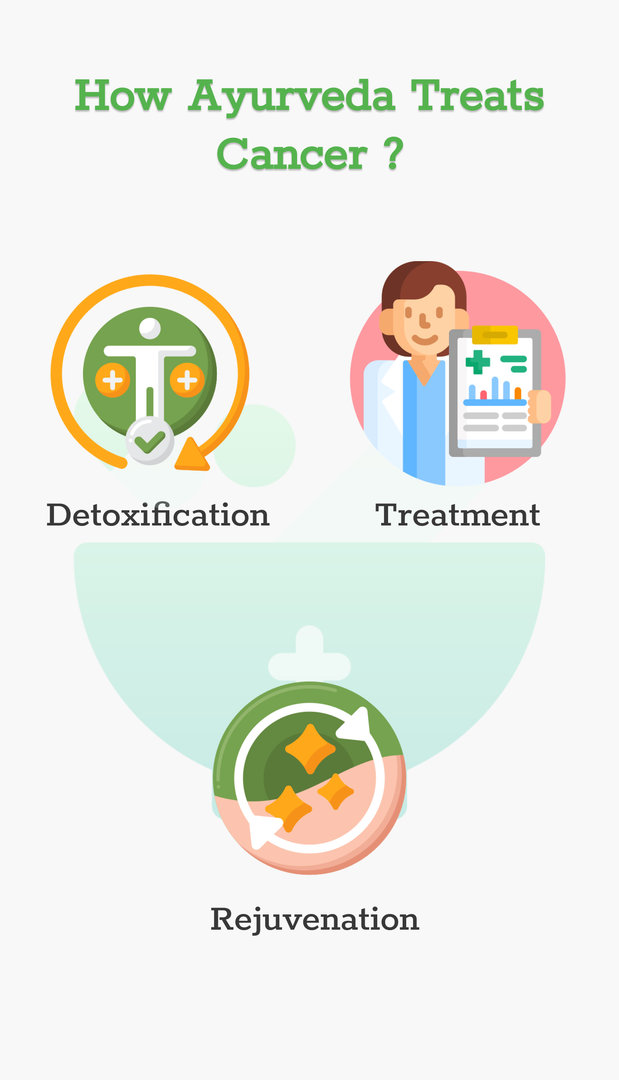 Stage 3 - Rejuvenation
Rejuvenation is the final step of cancer treatment in Ayurveda. When cancer patient discontinues medicine and treatment, their bodies undergo an evaluation to determine if there are any tumors left within their bodies.

If any tumors remain, the focus will shift to completely lowering or treating them with natural medications.
Is it possible to cure stage 4 cancer treatment through Ayurveda?
Ayurvedic stage 4 cancer therapy focuses on curing a disease by addressing the cause rather than just treating the symptoms.

According to the traditional method, the outcome for Stage IV cancer is not favorable. It has a high risk of mortality with a minimal survival rate.

Nevertheless, if you choose to follow ayurvedic treatment for your stage 4 cancer, it will help to achieve the following goals:
Enhances recovery through self-healing mechanisms.

It prevents further loss of health and progressive weight loss.

Boost your immune system.

limits the side effects of ongoing treatments.

It provides sufficient strength and improves the quality of life.
Note: Ayurveda is an ancient Indian medical system, and it employs a variety of treatments and methods. There is no reliable data to support its usage as a cancer treatment. Ayurvedic medicine employs a variety of treatments and methods. However, as a cancer treatment, it has no scientific support. It is said that some procedures could help with cancer symptoms or treatment. Some treatments may have serious adverse effects. These treatments may be harmful to your health or interact with conventional cancer treatments like chemotherapy and radiotherapy.
As a result, before beginning any treatment, you should always consult with a doctor or oncologist.
Reference:
https://www.ayurvediccancertherapy.com/
https://srisriayurvedahospital.org/
https://www.jiva.com/diseases-ayurveda
Cost of Cancer Treatment in India
Question and Answers (394)