Medical Tourism in Turkey Statistics 2023
Medical tourism is an emerging industry wherein millions of travelers from all across the globe migrate from one place to another to get their ailments treated. Turkey has become a major destination for medical tourists. This article will enlighten you on why Turkey is the best choice of medical destination and what options are available for international tourists!

Table of Contents :
According to Glasgow Research & Consulting, there were an estimated 23 million medical tourists worldwide in 2019, with 2.3 million traveling from the US.
Did you know that Turkey is among the top 10 countries for medical tourism worldwide? And over 32% of individuals getting their treatment from Turkey are medical tourists.
From affordability and exceptionally skilled medical professionals, to US-accredited hospitals, Turkey has everything a medical tourist desires.
In 2018, 662,087 foreigners traveled to Turkey only to take advantage of the excellent and affordable medical care offered in Turkey.
In 2020, 388,150 patients preferred Turkey to receive medical services. We can see a notable drop in the number of health tourists, but it is due to the global epidemic. However, as we can see from the above chart, post pandemic Turkey witnessed a significant number of medical tourists and served them with quality.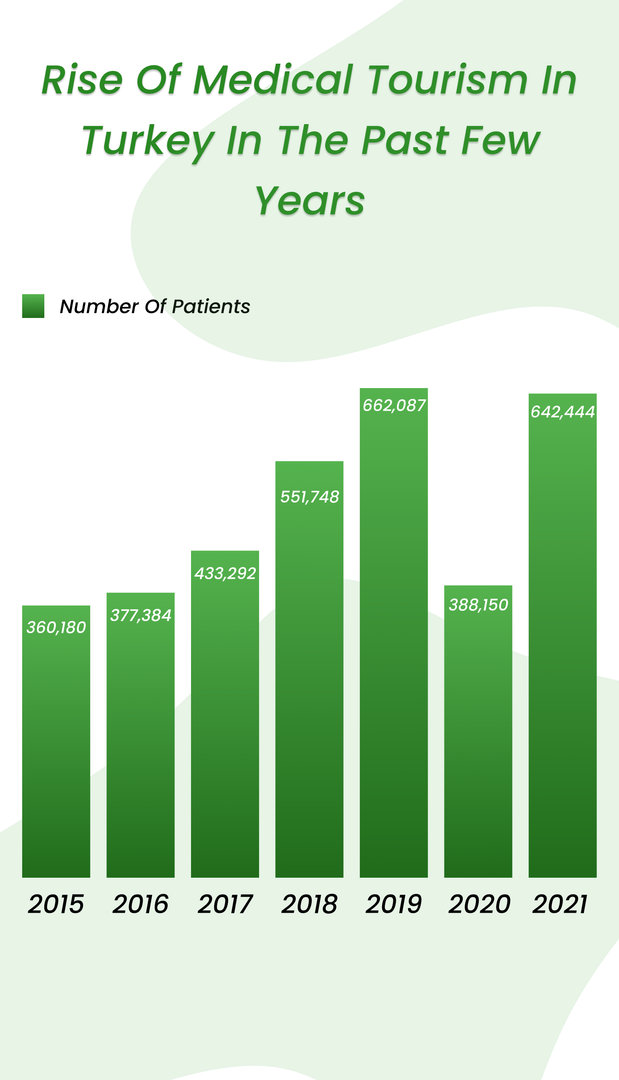 If you are planning to travel abroad for medical care and don't know where to go, Turkey can be one of the most budget-friendly options. This article covers everything related to medical tourism in Turkey. Now you won't have any problem searching for information related to Turkey medical tourism.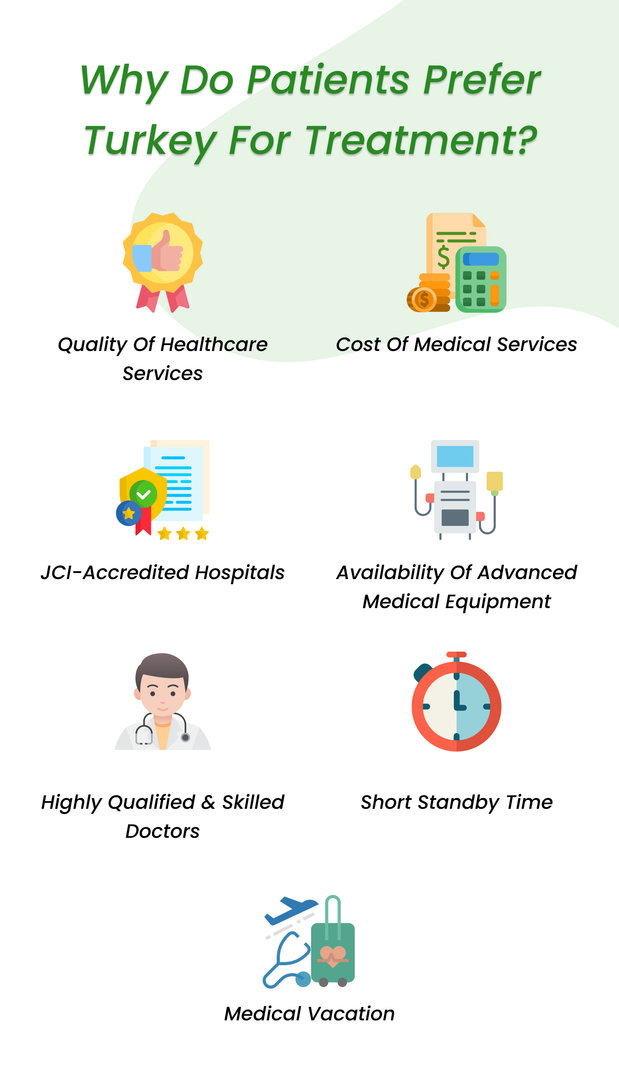 Why has Turkey Become A Key Player In The Field Of Medical Tourism?
Health tourism in Turkey is getting more popular day by day. People from all around the world plan to visit Turkey to get proper and top-notch medical care for themselves and their loved ones. Above all, medical tourism Turkey's prices are the most affordable compared to other countries.
Here is how Turkey has managed to become a key player in the field of medical tourism
These statistics can be attributed to:
Other reasons why Turkey has become a key player in the field of medical tourism are:
JCI-Accredited Medical Hospitals: One of the top reasons why medical tourists prefer Turkey for healthcare is because they are inspired by a large number of JCI-Accredited medical healthcare. Moreover, medical staff and hospitals offer patients high-quality services and top-class infrastructure.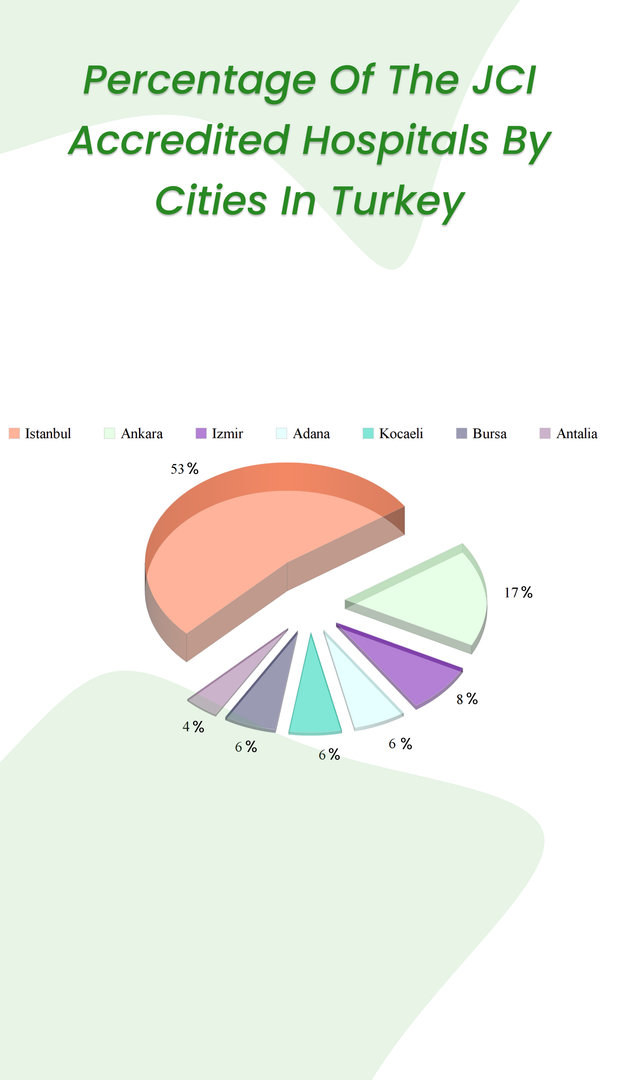 Hospitality: Turkish culture and the warmth of citizens will make you feel at home. Additionally, Turkey boasts of some extremely popular tourist destinations and cuisines for one to savor to their heart's content.
Affordable Prices: Apart from offering top-notch healthcare facilities with no compromises on quality, Turkey is also renowned for delivering affordable healthcare when compared against countries like Australia, UK, Italy, and Ireland.
How do Turkish hospitals build a unique experience for all medical tourists?
Hospitals In Turkey For Medical Tourism
Did you know that many

Turkish hospitals

have attained accreditation from JCI? There are above 30 medical facilities in Turkey that are JCI accredited.

Moreover, many hospitals are affiliated with the top US medical facilities like John Hopkins Medicine, Harvard Medical School, and others.

Healthcare centers here are equipped with

certified staff

, the latest technologies, and over 35% experienced physicians. The physicians working in Turkey are professionally trained in Western countries.

According to the Turkish Ministry of Health, around 552,000 people from abroad preferred Turkey. Additionally, in 2018, 40 million medical tourists visited Turkey to avail healthcare facilities.

According to the Turkish Statistical Institute, 77.5% of the health finances in Turkey are funded by the Government while the rest 17.5% of health expenses are paid by the public from out-of-pocket finances and private insurance.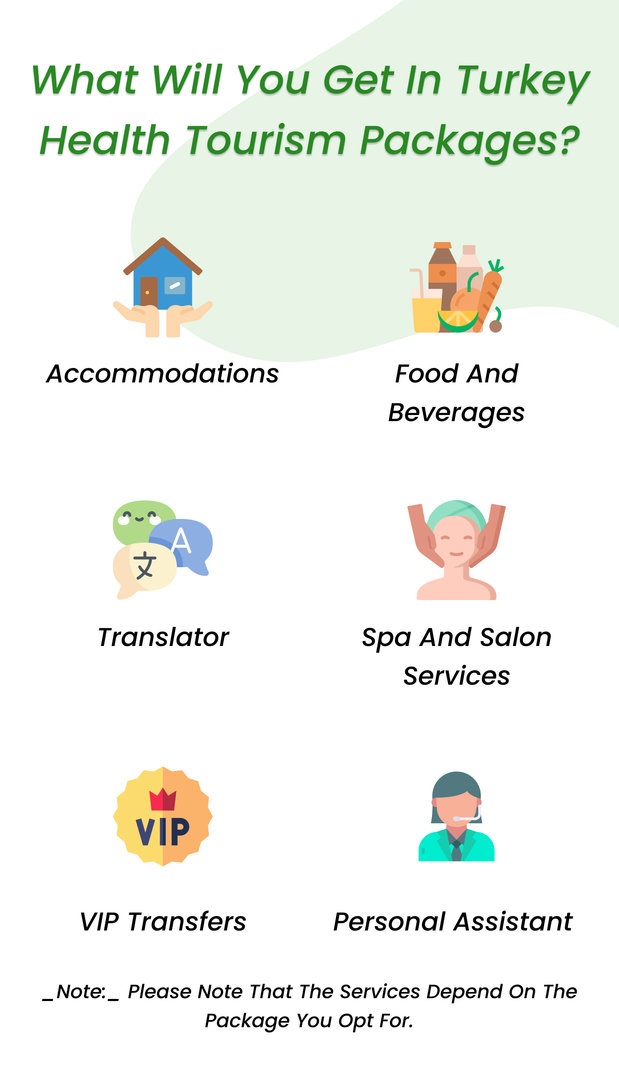 Turkey Medical Tourism Packages
If you plan to visit Turkey, the following services await you. These services are incorporated into Turkey's medical packages so that visitors don't face any difficulty throughout their stay.
In Turkey, medical tourists get access to thermal spas and healthcare programs. The program offers five-star accommodations and various amenities, all so that you can get a relaxing experience!
If you are a medical tourist looking for services beyond healthcare, then Turkey can be your ideal destination.
Services Included In Turkey Health Tourism Packages:
Accommodations: By availing of health tourism packages in Turkey, you can relax with 5-star accommodation at affordable rates.
Food And Beverages: Alongside accommodation, Turkey health tourism packages provide one or two meals per day, depending on the type of package you opt for.
Translator: Turkish facilities have translators who will translate every sentence into your desired language.
Spa And Salon Services: If you are receiving prolonged treatment and your stay in Turkey is for a longer duration, you can avail of spa and salon services.
VIP Transfers: Are you worried about how you will travel to hospitals and elsewhere during your stay in Turkey? Then get ready to enjoy VIP transfers.
Personal Assistant: Tourists who desire extra care or are afraid of living in an unknown country can seek guidance from their personal assistant.
Shopping: Some health tourism packages in Turkey incorporate daily necessity shopping expenditures at a low price or no cost. You can select your desired package.
Most Popular Health Tourism specialties in Turkey
Medical Tourism in Turkey has seen a surge in recent years. After the pandemic hit the world, there was a decline in the number of people visiting Turkey for medical issues.
As soon as the situation was stable, approximately 642,444 people visited Turkey in 2021, contributing to a revenue generation of 1,048,549 thousand USD.
As we see that people keep pouring into Turkey for medical procedures, let's look into which Health Tourism specialties attract tourists to Turkey.
Plastic surgery- One of the most popular specialties is plastic and aesthetic surgery procedures. More than 100,000 people come to Turkey for plastic surgeries like rhinoplasty, blepharoplasty, tummy tuck, breast reduction, gynecomastia, otoplasty, neck lift, forehead reduction, chin implants, lip fillers etc. annually. The cost of these surgeries is also one-third the cost of the same in western countries. As per the Turkish Ministry of Tourism, most foreign patients come from Saudi Arabia, Kuwait, Qatar, the UAE, Germany, the UK, the Netherlands, Italy, Spain, and France.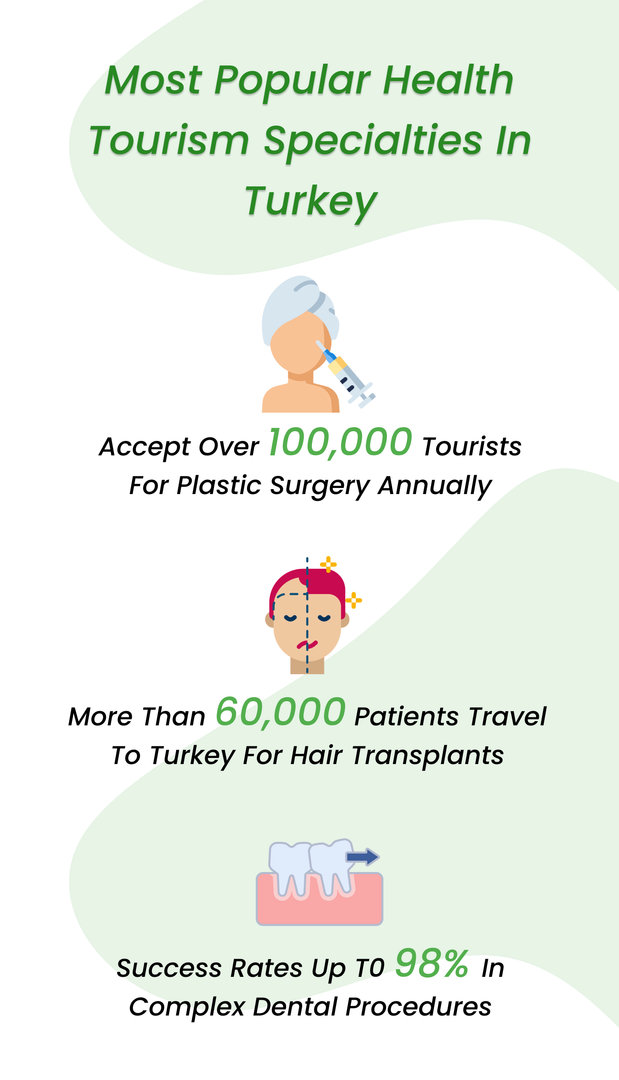 Hair Transplant- This is another procedure very famous among foreign patients, mainly from Spain, the Netherlands, Belgium, the UK, France, and Middle Eastern countries like Saudi Arabia, Israel, Oman, Qatar, and the UAE. The Turkish clinics produce 100% success results in Hair transplant procedures and offer the procedures at affordable costs, making people choose Turkey as their destination.
Oral and dental procedures - Turkey has some of the best clinics for dentistry procedures like veneers, crowns, implants, teeth whitening, etc. with the same quality as most developed countries. The success rate of dental treatments in Turkey is 98%. The dental procedures in Turkey are 70% lower than in countries like the UK or the USA, and the clinics sometimes provide sightseeing and vacation plans included in the treatment package. These things attract a lot of foreign patients to Turkey, mainly from Western Europe or the USA.
While these are the specialties that attract the most patients, there are other specialties like Oncology, Neurosurgery, and Hematology-Oncology, which also pull a considerable number of people to Turkey.
How can medical agencies help you meet your end goals and why are they a crucial part of your journey?
Top 7 Medical Tourism Companies In Turkey
Do you know what the most remarkable thing about healthcare in Turkey is? They have specifically established an entire infrastructure to help tourists overcome every hurdle they may face after traveling from abroad and living in a new country.
There are many medical agencies worldwide that can facilitate a smooth medical journey for you, let's have a look at the best amongst them!
Below we have mentioned the top 7 medical tourism companies in Turkey along with the services they provide to help medical tourists reside and avail healthcare opportunities.
1. ClinicSpots

Clinicspots is based in India.
It will help you navigate through a plethora of hospitals, and help finalize the one that is the most suitable for you based on your needs. They focus on giving you the best assistance in medical care.
Once you reach Turkey, the ClinicSpots team will also put you in touch with a warm and friendly executive to ease your struggles with language, payments etc.

Here is how ClinicSpots will assist you in your medical journey:
Providing data inclusive of hospital location, their prices for all their services, their team of experts, and cost comparison with other medical organizations.

Pickup and drop-off from the airport.

Will help you to make arrangements for accommodation according to your budget.

Assistance with the medical visa procedure.

Medical Q&A platform in case you want second opinions.



Why ClinicSpots?
Tie-ups with more than 250 accredited hospitals!

5700+ medical practitioners on board.

Good patient experience directly results from their commitment and high-quality patient programs.

Ensure patient privacy.
2. Vaidam

Vaidam is headquartered in India.
It can be trusted to help you make the best arrangements for your stay & accommodation no matter which location you choose for your treatment.
Vaidam will prioritize your needs and help you achieve the best deal for your stay & treatment!
Let's understand how vaidam will assist you:
Assistance pertaining to medical Visa.

In finalizing the best airline fares.

Daily travel, language, and food related needs.
Why Vaidam?
NABH Certification.

Research & Accuracy.

International reach spanning 15 countries and aiming to cover more.
3. MedicAbroad
MedicAbroad is established in USA.
You can connect with MedicAbroad to organize your medical tourism journey. They work to provide affordable and world-class healthcare treatment to people searching for medical care outside their country.
Moreover, the MedicAbroad team will connect you with their personal travel agents, that will help plan a custom trip for your medical treatment.
With medicAbroad, you can enjoy:
Affordable prices

Access to hospitals with various medical procedures and treatments in your desired location.

Quality service
How MedicAbroad Work?
First you will have to pay an agent their fee. Then the MedicAbroad team will prepare a customized travel package for you.

Next, MedicAbroad will assign you a personal travel agent for direct communication and assistance.

Finally, you will receive a travel plan to kickstart your medical tourism journey.
4. Remed Health
Remed Health is situated in Turkey.
If you don't have an idea how to consult and plan your medical appointment in Turkey, then you can contact the Remed Health Organization for complete guidance.
The health management team at Remed will review your medical records and schedule your treatment plan accordingly.
You will be offered a treatment plan that will include transportation and accommodation facilities, and you can decide whether to purchase it or not.
This health tourism company in Turkey provides the following services:
A Personal Assistant: The assistant will pick you up from the airport and facilitate you in language translation and hospital transport.
Hospitalization And Accommodations: You will get hospitalization services and support from medical professionals during your treatment process. Moreover, after your hospital visit, you will get accommodation in hotels where you can reside until your stay in Turkey.
Return: After your treatment is completed, Remed health will organize your return back to your country accompanied by a personal assistant until you reach the airport.
5. Doc's Health Tourism Agency

Doc's Health Tourism Agency is located in Turkey.
With over 33 hospitals and 11 translators, Doc's Health Tourism Agency promises to take responsibility for your medical treatment by providing high-quality health services using the latest medical technologies.
They have different packages from which you can select services that meet your needs. The package incorporates:
2-night accommodations.

a translator.

flight ticket.

city travel.

VIP transfer.

Healthcare tests & examinations.
6. Romoy
This agency is headquartered in Turkey.
Romoy guarantees you a stress-free and safe medical trip to Turkey. The organization acknowledges the hurdles of receiving healthcare in a foreign country. And to overcome the obstacles, they offer assistance at every stage of your treatment.
With Romoy, you can:
Reach out to 130 hospitals and more than 1000 doctors.

Experience high-quality services at more affordable rates.

Avail free hotels and airport services, free hospital transfer, ambulance and accommodation organizations.

A medical assistant who speaks your language.

24/7 uninterrupted services.
7. Meditravelist
Meditravelist health tourism company in Turkey offers the most effective treatment packages designed to suit your accommodation and health needs.
From surgeries, transplantations, dental treatments, infertility therapies, routine checkups, and more, Meditravelist is known for providing various healthcare services.
Meditravelist offers the following services in their health tourism packages:
Medical services

Translation services

Transportation services

Tour services
Let's understand what alternatives can an international tourist look forward to?
Healthcare Facilities In Turkey For Tourists
Some other facilities of healthcare in Turkey for tourists are:
Insurance: If you require long-term medical care in Turkey and if the health tourism packages are getting costly, then you can opt for private health insurance policy. The services may vary in different insurance agencies. Private health insurance in Turkey offer the following facilities:

Hospital services

Organ transplantation

Medication costs

Room, bed, and meal services during hospitalization.

Diagnostic tests

ICU treatments

Medical emergency care

SSD (Social Security Directorate): If you want general health insurance, you must apply for the SSD in your region. However, a private health insurance has more benefits to offer.
Emergency Treatments: State hospitals offer free ambulatory and walk-in treatments to both tourists and residents. However, nominal admission charges will be imposed on Turkish residents who get covered by SGK for admission charges, but not tourists. The Turkish Ministry of Health operates around 55% of Turkey's hospitals, while the rest are owned by private companies, universities, and renowned foreign entities.
Alternative Medicines: If you prefer alternative medicines over medical treatments, then Turkey will provide you with certified physicians practicing traditional medicines. For example, cupping and homeopathy. By blending natural products with different plants, Turkey is known for developing natural treatments for residents and tourists. You will also find high-quality spa centers with thermal springs all around Turkey.
Availability of A Wide Array Of Clinical Drugs: Along with alternative therapies, Turkey is equipped with numerous international and local pharmaceutical industries like Pfizer, GSK, Johnson and Johnson, and many more that manufacture clinical drugs for therapeutic use.
Our in-depth research can give you a glimpse into the efforts laid by the turkish ministry to satisfy international standards
Efforts To Meet The EU Standards
Turkey aspires to join the EU (European Union) and to meet this goal, both government & private healthcare institutions have ensured that their services are in line with the EU standards. These standards are constantly being monitored by the health ministry. The Turkish Ministry of Health owns around 55% of Turkey's 1200+ hospitals, and the rest are owned by universities, as well as private & foreign institutions.
Many hospitals have local and international accreditations: Some accreditations that hold a lot of value and have been attained by the Turkish facilities:

JCI (Joint Commission International),

JACHO (Joint Commission on Accreditation of Healthcare Organizations),

ISO (International Organization for Standardization),

Western medical groups and other facilities.

Most hospitals in Turkey have certified doctors and english speaking medical staff: The practitioners are certified by the Turkish Medical Association as well as other specialized organizations such as:

Turkish Dental Association -

visit our list of

certified dentists in Turkey

and our pages additionally cover renowned dentists in

Antalya

as well as

Istanbul

.

Turkish Gynecologist & Obstetric Association,

Turkish Orthopedic and Traumatology Association -

click here

to find leading orthopedists in Istanbul.

Turkish Plastic Reconstructive & Aesthetic Surgery Society -

refer our

listicle

to find reputed plastic surgeons.

Turkish Society of Cardiovascular Surgery,

and more!
Our article on eminent Turkish doctors may help you find the right doctor to undergo any treatment or procedure that you need.
If above information regarding medical practices of Turkey and other facilities have amazed you, then here's how you can plan your trip to Turkey!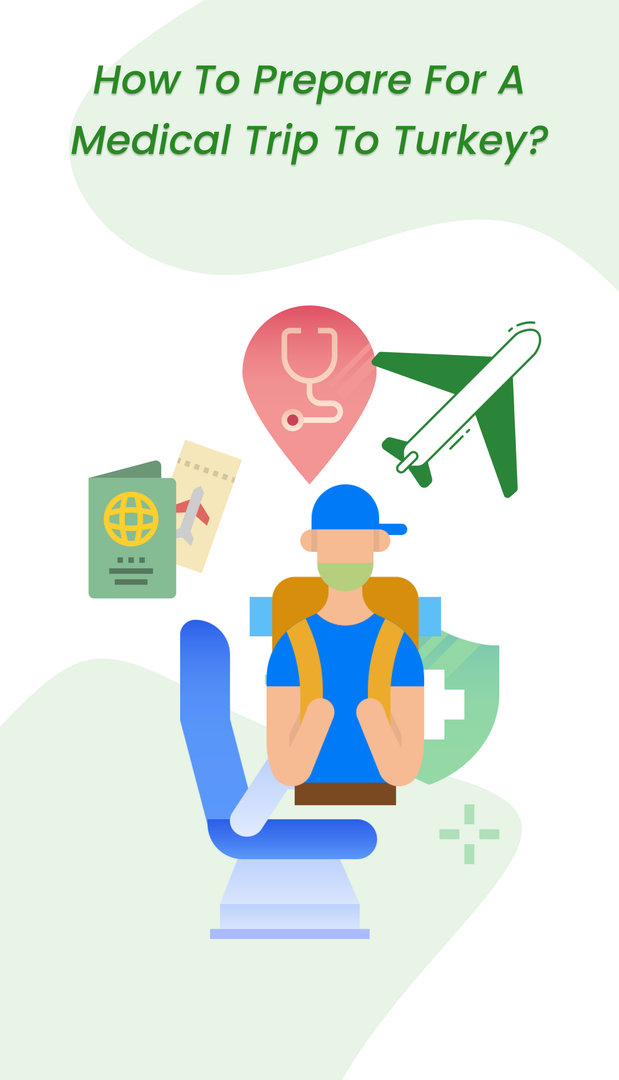 Preparing For A Trip To Turkey
Flight To Turkey: If you are traveling from European countries to Turkey, your flight is a piece of cake. All airlines coming from Europe easily access flights from Turkey. More than 300 flights from several countries land each day in Turkey airports.
Medical Visa To Turkey: If you wish to travel to Turkey for healthcare, you must get a medical visa unless you are from a visa-exempt country.

Except for Zambia and Gabon, all citizens from other countries must have a residency permit or visa from any of the following countries, including the US, Ireland, the UK, or Schengen zone countries.

Excluding India, Bangladesh, Pakistan, Philippines, and Afghanistan nationals, all citizens from other countries must travel to Turkey with any of the following airlines. The airlines include Pegasus Airlines, Turkish Carriers, AtlasGlobal, and Onur Air.

If you want to receive a medical visa to Turkey, you must have a minimum of $50 financial resources for per day expenditure with a hotel reservation.

To get an e-visa, Algerian citizens must be above the age of 35 or under 18. Or else a conventional visa will be mandatory.

If you are a citizen of Afghanistan, Zambia, Philippines, or Iraq, you will not be eligible for an e-visa after arriving at Istanbul Ataturk Airport.

Compulsory Documentation For Medical Visa In Turkey: You must have the following documentation while applying for a medical visa in Turkey:

An original and valid passport until at least 6 months of departure from the country.

Copies of old passports.

Travel Insurance

Two recent passport-sized photographs with 80% face coverage, matt finish, no borders, and a white backdrop.

A cover letter of the applicant, including the applicant's name, travel information, passport details, and purpose and duration of stay. The letter must be addressed to the Republic of Turkey Consulate General, and authorized and stamped by the company.

Hotel confirmation and return air ticket.
If you are interested in knowing more about what things to consider while planning a trip to Turkey and what other facilities this country has in store for you, then reach out to us! We will ensure that we help you in every possible manner just like we've helped other patients.
Patient Stories
Here is a glimpse of how we've helped patients get treated in Turkey.
Cost of Cosmetic And Plastic Surgery Treatment in India
Frequently Asked Questions
Question and Answers (290)