Dr. Sandeep Nayak - Head of Oncology
Dr. Sandeep Nayak is a highly skilled Surgical Oncologist, Laparoscopic Surgeon, Robotic Cancer Surgeon and Oncologist from India.
Dr. Sandeep Nayak,

Qualification: MBBS, DNB (General Surgery), DNB (Surgical Oncology), MRCS (UK), MNAMS (General Surgery), Fellowship in Laparoscopic and Robotic Surgical Oncology

Specialty: Surgical Oncologist.

Experience: More than 20 years.

Expertise: Advanced laparoscopic cancer surgery, robotic surgery, endoscopic surgery.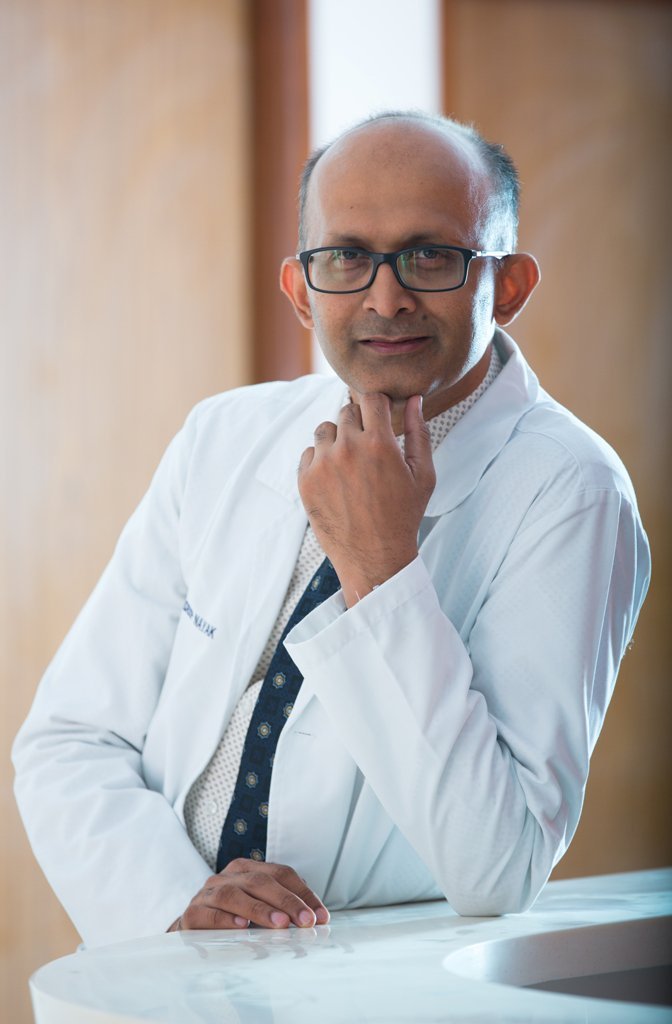 Dr. Sandeep Nayak is one of the leading surgical oncologists in India. He is the Founder and Chief of Surgical Oncology at MACS Clinic, Bangalore, an exclusive specialty clinic for minimally invasive cancer surgery, including robotic, laparoscopic, and endoscopic surgery.
Further, he is the Director of Surgical Oncology, Professor and HOD of Minimal Access Surgical Oncology at Fortis Cancer Institute, Bannerghatta Road, Bangalore.
His major area of interest includes colorectal cancer, digestive tract cancer, head and neck cancer, breast cancer, urinary tract cancer, gynecologic cancer, and abdominal organ cancers.
Over the course of his career, Dr. Sandeep Nayak has treated thousands of patients not only from India but all over the world. They travel from far and wide to get themselves treated by an expert cancer specialist in Bangalore.
They have immense faith in him, which his excellent track record can prove. Very few onco-surgeons are as proficient as him in this field, and rightly so, he is considered one of the best oncologists in India.
He has a keen interest in laparoscopic and robotic surgery and is considered a pioneer of laparoscopic cancer surgery in India. His passion and dedication to his profession inspire him to introduce revolutionary surgical approaches that give patients a fighting chance to overcome cancer.
Dr. Sandeep Nayak and his team of highly experienced cancer specialist in Bangalore offer their patients the best evidence-based, cost-effective treatment options. His top objective is to provide ethical and dependable care that meets the highest standards.
Frequently Asked Questions